About Time You Met: Ricky Walters, Owner and Creative Director of SALON64By Alicia Grimshaw
Having learnt all the scissoring know-how at Daniel Galvin at The Corinthia and John Frieda, Owner and Creative Director, Ricky Walters is the chap behind Soho's hottest new opening, SALON64.
Ricky has already taken the world of hairdressing by storm, working with the likes of international big wigs and A List celebs (hello, Sandra Bullock and Arnold Schwarzenegger) as well as styling stars for Hollywood film premieres, the Brits and BAFTAS. We sat down with Ricky to chat opening SALON64, the inspiration behind the new social hub, and tips for healthy hair.
Tell us a little bit about your journey – what drew you to becoming a stylist? 
Having left school at the age of 16 and gutted to find out that people don't just pay you money for no reason, it was clear it was time to go out into the big wide world and get a job. Out of chance and applying for every job in the area I managed to secure a position as an apprentice in a tiny salon within my hometown. Sweeping floors did not fulfill my appetite for long, and I soon discovered what this amazing industry has to offer. I quickly moved to the renowned John Frieda Mayfair to master my trade, and I spent 5 years with the brand before deciding that I needed a new challenge.
I joined the Daniel Galvin Salon located within the five star Corinthia Hotel. Joining when the hotel first opened its doors, I was instantly taken by the glitz and glamour of both the building and the clients. It was here I built up my extremely loyal and fascinating client base, and it was also here that I realised there was a gap in the market that was crying out to be solved.
Photo Credit: Victoria Metaxas
You've worked at some well known salons such as Daniel Galvin at The Corinthia and John Frieda – what was the biggest learnings you took away from those places? 
I've taken away from John Frieda my hard work ethic as well as the technical ability on how to cut and style hair to an extremely high standard.
Daniel Galvin at the Corinthia has left me with the vision of not only how a salon can be run and managed, but how a five star hotel operates and it's with this inspiration that I have injected into a salon environment to create the first ever social hub of its kind. The skills of the hairdresser with the luxury lounge atmosphere of a hotel lobby that helps us continue to grow and impress.
You recently opened SALON64 in Soho – what's the response been like so far? 
When we first opened our doors the public were curious – they'd walk in, and ask 'what is it?' I'm extremely proud to have a salon that people do not even believe is a salon! Japanese restaurant, hotel, members clubs; a lot of people have strolled in and taken some pretty great guesses at what we could possibly be. We're now creating a name for ourselves within the industry for looking at things differently and turning an industry we take for granted on its head – the response has been overwhelming.
Simplicities such as phone chargers in each section along with the culture that we welcome you to pop in, order a drink and take full advantage of the amenities on offer have proven a massive hit with the trendsetters of Soho.
SALON64 is a social space with far more going for it than just a hair cut – what's the inspiration behind the salon? 
1664 paved the way for the first ever 'salon'. Not as we know it today, the salon was an opulent room where the hostesses from Paris' most lavish mansion houses would take the elite few for a social gathering. A place for the enlightened ladies lucky enough to be invited would indulge in the art of conversation, exchanging tales of the day before dinner.
SALON64 has brought back the salon from its humble roots to create the first of its kind. Although the hair industry is one of the most creative around, too much time has been spent staring at the back of ones head and not looking up at the surroundings. Hairstyles have changed throughout the ages to keep up with current trends, however salons have remained the same for decades. It's time for the salon revolution to change and truly fill the needs of the clients – getting ready bars, Champagne, phone chargers and more.
How do you differ to other salons in London?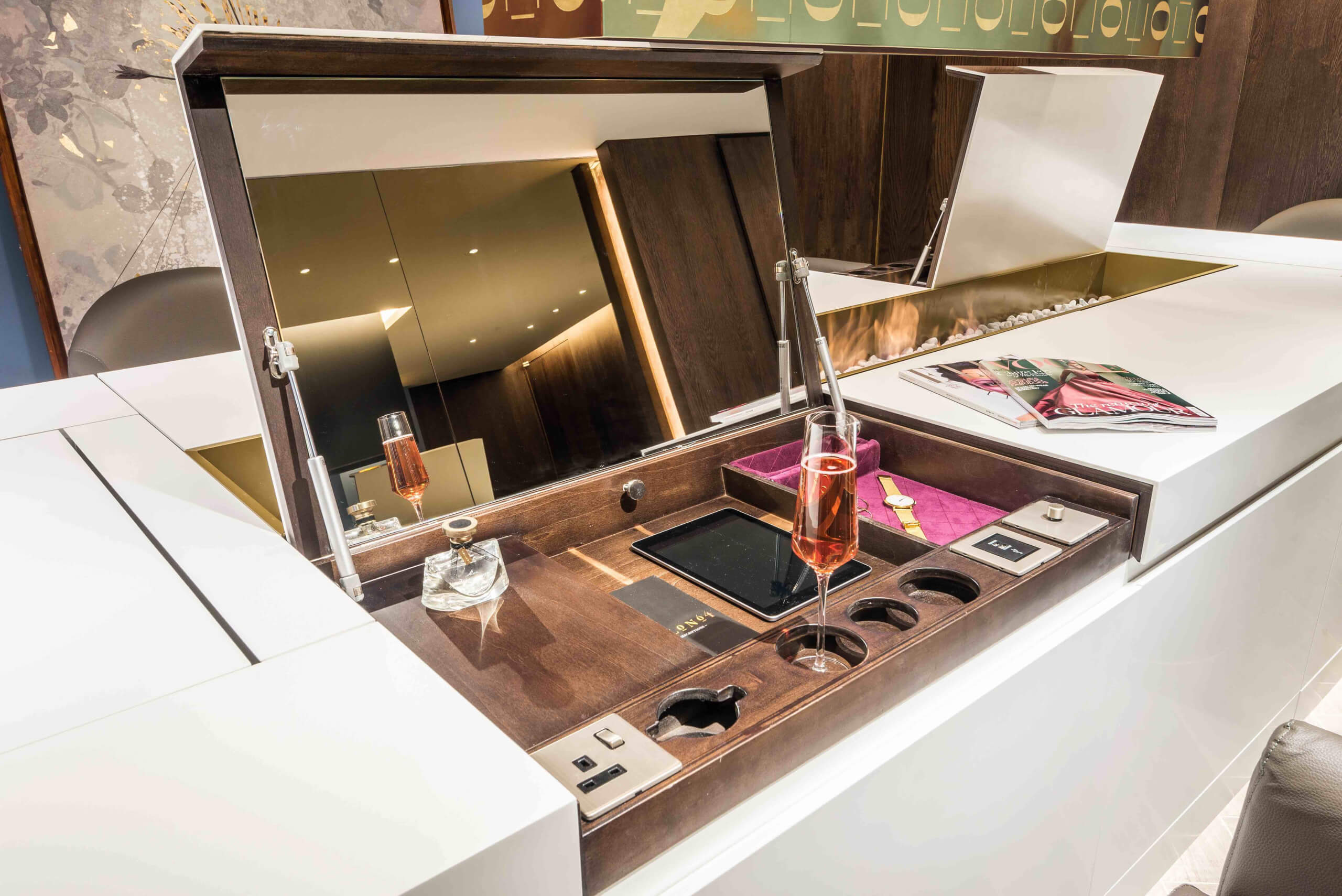 SALON64 is the only "salon" in the world that has designed a space that is multifunctional. A clubhouse without the membership that welcomes anyone to stroll in to use at his or her advantage. Gone are the days of squinting into a tiny compact mirror on a dimly lit bus on the way to work. Our getting ready bar allows you to simply order a drink, flip open the bar top to reveal your dressing room table underneath; from mirrors to phone chargers, baristas to bar staff, SALON64 is like nothing London has ever seen before.
Why did you decide on Soho as the location? 
Having such a unique idea and concept we had to find the most open minded of audiences in London. Soho was a no brainer; patrons of Soho love a new idea and love to walk in and ask questions, lift up lids and find out as much information as they can. Offering more than just typical salon services, Soho seems to be the king of exclusive members clubs – and with such a demand for this lifestyle it only seemed right to launch our modern interpretation on a classic in this area.
What's the current hair trends that are in right now?
Undone hair! Whether its colour, cuts or blow drys, it's all about looking good without looking like you spent all day trying to. Looser more visual ways of colouring hair are taking over and stylists are now marrying the idea with loosely layered cuts that are low maintenance and ready to just wash and go.
What tips would you give for keeping your hair healthy? 
– No heat – A hairdryer is fine, however, for those particularly worried about hair damage or have very very fine fragile hair turn your hairdryer down to a slow speed but keeping the hot heat. This is a less intense way to dry your hair. And stay away from all other heated appliances curling tongs, straitening irons, etc.
– Regular hair cuts – Even if it's just a cm or 2 off the length, having this cut regularly will help improve your hair's condition and even help your hair to grow longer!
– Tension – Tension of all kinds on hair is bad! Too much squeezing or wringing out wet hair will damage your hair, as well as tying your hair up too tight. In some cases this can even cause to not only break, but fall out completely and is called tension alopecia. Two life-changing products to keeping on top of healthy hair are the Aquis hair towel or turban. Just wrap up your hair using these super absorbent towels and it will not only cut down on time spent with a hairdryer in your hand but also improve your hair's condition dramatically! Another miracle product to know about is invisiboble, which is the kinder way to tying up your hair and I recommend anyone using a hair tie to swap to an invisiboble hair tie.
What's the best piece of advice you've ever received?
If it was easy everyone would be doing it!
This is something you have to remind yourself from time to time. We're creating a brand new concept and way of working turning an industry on its head. This takes a massive level of commitment, patience and more than anything, hard work. As the business is progressing and we're seeing the habits of the public changing – it's comforting to see the salon going from strength to strength.
You're owner and head stylist at Salon 64 – how do you keep a work/life balance? 
Extremely easy answer! You can't have a life when starting a new business. In order for the business to catapult its way to the top and take center stage against others that have been around for years, it has to be a round the clock job. Luckily all I think about and enjoy is building the business of SALON64 and very happy and lucky to spend my time doing this.
Where do you like to go in London to switch off? 
On the rare occasion I'm out the salon I find myself hanging around members clubs in the area or on a roof terrace, if I can find one! Swimming in the Akasha spa (although I don't do this as much as I like) is a must and even spending just 20 mins inside the spa can make you relax within seconds.
Favourite restaurant in London is: 
Kricket is a great spot in Soho. The perfect cross of tapas and your favourite curry.
For more information on SALON64, visit the website here. 14 Bateman Street, London, W1D 3AG
All photos (excluding Ricky's headshot and Kricket) are credited to: Francesco Russo