Ollie Dabbous is hot property in the food world.  After his successful head-chef stint at the Michelin-starred restaurant Texture in London, he opened his first venture, Dabbous in 2012, with Barnyard in Fitzrovia opening in 2014. We sit down with Ollie to discuss food trends, his signature dishes and his first memory of food:
Tell us a bit about your journey to where you are now. How has it been climbing the chef ladder?
I just got my head down, worked hard at some good restaurants, then took a risk and set up on my own. Climbing the chef ladder is simply down to work ethic and common sense.
What's your first memory of food? Have you always wanted to be a chef ?
Eating the large flatbreads in Kuwait, where I grew up. Yes, I wanted to be a chef as long as I can remember.
You've worked in some incredible restaurants  –what place has inspired you the most and why?
You get something from everywhere. Le Manoir was probably the most formative as it was my first proper job and I stayed there for 4 years.
You opened Dabbous in 2012 – how would you describe the menu?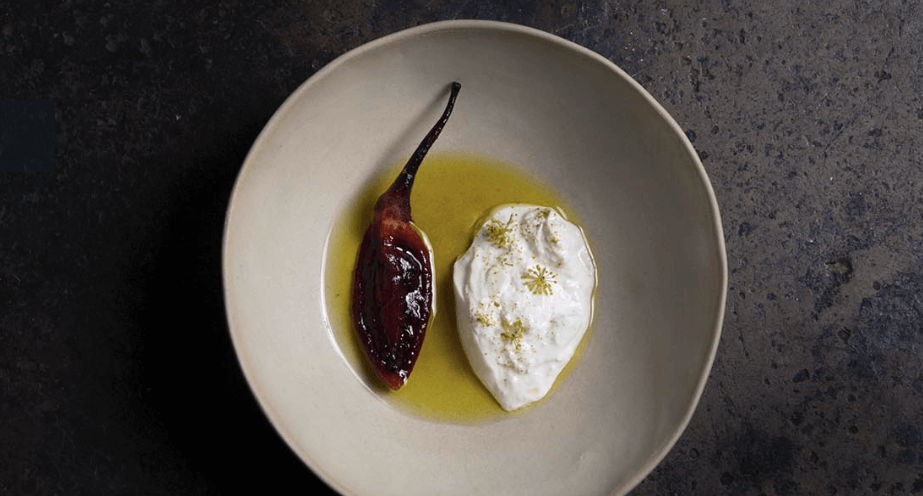 Product-driven, seasonal, light, clean and unfussy.
Plates –do we still need them? How do you feel about serving food on things that aren't plates?
Of course we need them. Function is more important than aesthetic. You can serve food on things other than plates to provide novelty and a sense of context, but plates will never become obscelete.
What's your signature dishes?
It would have to be:
– Mixed alliums in a chilled pine broth
– Coddled egg with smoked butter and mushrooms
– Barbecued Iberico pork, savoury acorn praline and apple vinegar
– Fig leaf ice cream
The best thing about your job:
Freedom of expression
What 3 cooking ingredients should people have in their cupboards at all times?
Salt, sugar and flour
Favourite place for brekkie in London is:
Barnyard
What advice would you give to young budding chefs trying to break into the industry?
There is no short cut. The harder you work, the more you will achieve.
You're helping to judge the 2016 S.Pellegrino Young Chef competition. What's your advice to chefs entering?
Keep it simple and execute perfectly.
Favourite dessert is:
Trifle
If you're cooking a meal at home – what's your go to dish?
Anything that only takes 1 pot.
What's your prediction for food trends in 2016?
I'm looking forward to finding out!