About Time You Met: Oli Brown, Founder and Chef of duck duck gooseBy Alicia Grimshaw
Located in Pop Brixton, duck duck goose is inspired by the old school cafés and roast meat shops that line the streets of Hong Kong. Run by Oli Brown, formerly Head Chef of Le Café Anglais, Executive Sous Chef of the Continental Hong Kong and Rowley Leigh protégé, duck duck goose was dreamt up whilst living and working in south east Asia. We chatted to Oli about Cantonese food, the restaurant's famed crispy duck, and his future plans:
You spent two years in Hong Kong before opening duck duck goose –  where did you love to eat over there? 
Hong Kong has got to be one of the best cities to eat in; there's great food at every level but if you want my advice avoid the posh stuff and head straight for the local spots. Local doesn't necessarily mean Cantonese, every cuisine and province of China is catered for at a truly outstanding level. Take my word for it, as someone who tends to be very easily pleased, but hard to impress. The majority of my time spent living in Hong Kong was spent being very very impressed.
Lao Zhang Gui in Tai Kuk Tsui is probably the best food I have ever eaten anywhere. It's Dong Bei cuisine with a large additional nod to Sichuan; thick dumplings with pork fillings, fried chicken with mounds of chilli and cumin lamb are all dishes which were all a novelty to me, but so good, that I still lust after this place even three years later.
Ho Lee Fook in Central District was the restaurant most instrumental in me opening duck duck goose. The food that Jowett Yu cooks is Modern Chinese in uber cool surroundings, he's a magpie though and the whole menu is thoroughly brilliant. Plus all hail his prawn toast which I stole and put on my menu.
Dim sum is the thing and there are a spectrum of establishments serving dim – my favourites were Dim Dim Sum and Paradise Dynasty. DDM was no frills, cheap but very good. Delicate wrappers, super fresh ingredients and a real attention to detail. And Paradise is slightly fancier, sitting in a smart shopping mall. But the skill in the soup dumplings alone are enough to make the trip.
What do you most love about Cantonese food?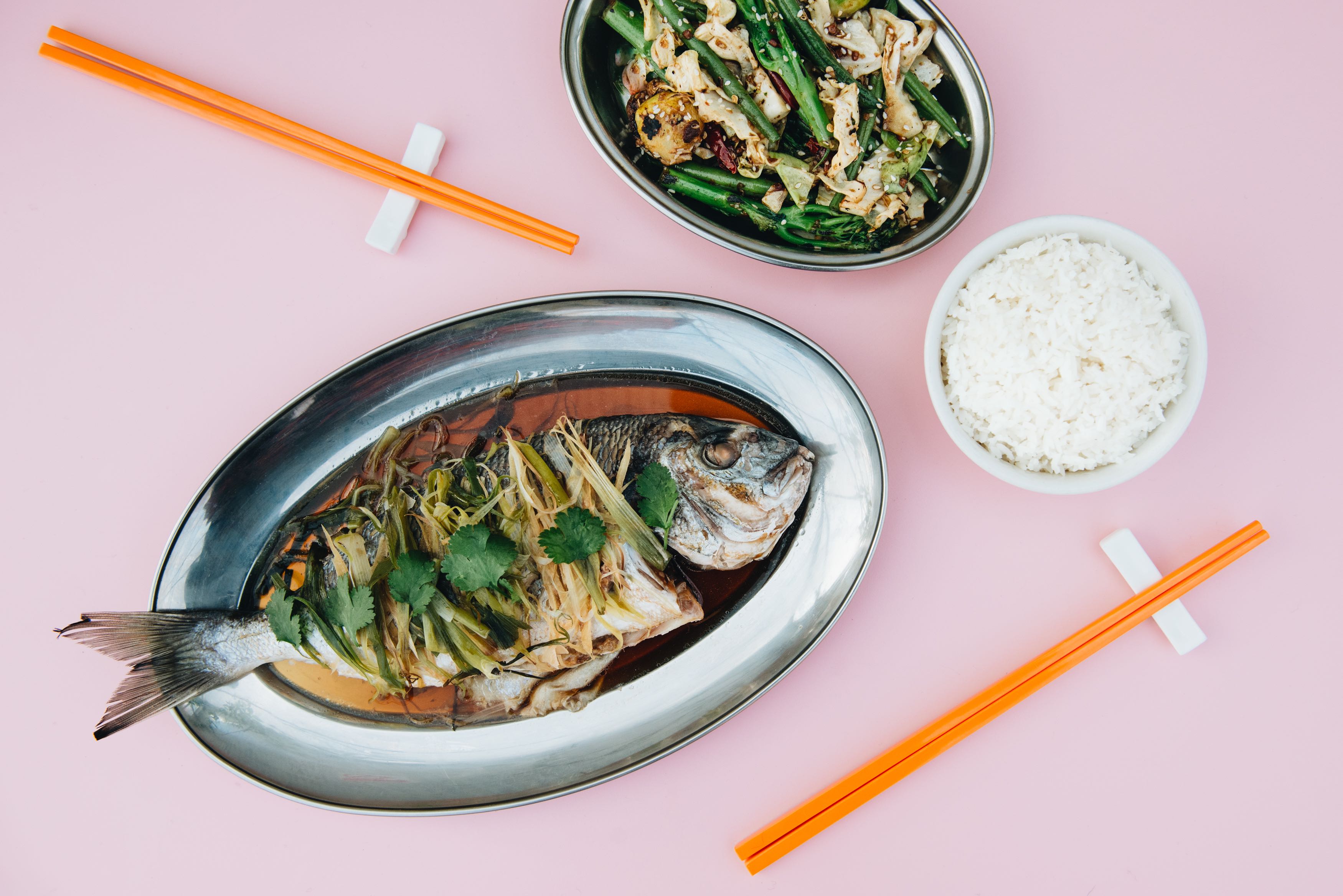 Cantonese food has a seemingly endless repertoire of techniques, recipes and styles which I find alluring. In particular the art of roasting meat, something I have been obsessed with understanding since I first ate proper roast duck in Hong Kong. Also I love the fragrance of  Cantonese cooking – star anise, cassia and mandarin peel – it's all so aromatic and subtle, letting the main ingredients sing. Plus it's all just so delicious!
Did you have any prior restaurant training before duck duck goose? 
Yes, I've been a chef for over ten years, but mainly cooking European food. I've had no formal Chinese training.
What do you think of the Cantonese grub in London?
I thing there's some very good Cantonese/Regional/Chinese food in London. I don't think it compares to Hong Kong, nor does New York or any other city I've visited with a strong Chinese food scene. Shikumen in Shepherd's Bush does the best dim sum I've tasted outside of Hong Kong and New Fortune Cookie in Bayswater is my favourite all-round Chinese restaurant in London. But the other regions are starting to be represented well and I think people are cottoning on to how good the food is outside of the traditional Shanghainese/Cantonese iterations we've grown used to.
Foodies seems to look down on the more westernised dishes that Chinese operators produced to appease the natives of their adopted lands. Perhaps people are a little too precious when it comes to 'authenticity'. But I love them and I think done well, they can be delicious. It's the enormous menus that stress me out though. But most importantly the food has to be good, and then I'll happily forget about all notions of authenticity, regionality and provenance. Mix it up: I think there's space for all incarnation of good Chinese food!
You opened in 2016 – how did you first get people down to the restaurant? 
Through word of mouth mostly, we only have 24 seats inside, so thankfully it's easy to fill.
Let's talk about the roast duck – what's the secret to that crispy skin? 
The duck is a real labour of love. We dip them in a secret solution and then dry them for 4.5 days in a custom built dryer to get that beautiful golden lacquer. So many components have to be exactly right to produce the skin. But we've discovered over the last two years the vinegar is vital. Something really potent really helps along the glass-like crispness on the skin.
What's the most rewarding part of your job? 
End of the night, full restaurant, happy customers, money made, Tsing Tao in hand.
Do you have any plans to expand? 
We're on the hunt for a new site at the moment as Pop isn't permanent. I don't want a roll out, but maybe a couple of neighbourhood sites.
With so many new restaurants opening in London – how do continue to get both regular customers and new people through the doors? 
I see it as a sort of holy trinity of consistently good food, great service and an adept PR firm. Plus an enormous amount of luck and hard work.
Where do you like to eat in Pop Brixton? 
I feel terrible but I've never been to any other restaurants, mainly because I'm mostly working when here. Smoke and Salt looks and sounds delicious. And they're lovely chaps. I'll get there one day! But the kiosks are great for a quick bite between service. The taco place is the one.
What restaurant are you loving at the moment? 
The Fordwich Arms just outside Canterbury in Kent. It's a beautiful pub with a lovely terrace next to a stream, and some willow trees, and the owners are ex Clove Club. You should all go.
For more information on duck duck goose, see here. 
Pop Brixton, 49 Brixton Station Rd, Brixton, London SW9 8PQ