If you're not familiar with GoEuro – here's what you need to know: Naren Shaam founded the app back in 2012 to make booking trains, buses and flights across Europe easy. Since hitting the market in 2013, GoEuro now covers over 80,000 different destinations and has 20 million monthly visitors. With world domination on the cards, we chatted to Naren about disrupting the tech market, holidaying stress-free, and turning an idea into a usable product: 
For anyone who isn't familiar with GoEuro – can you explain the app in a little more detail? 
Essentially, GoEuro makes travel by bus, train, and flight across Europe easier. We show users all the options in terms of departure times, ticket prices, and transport companies, allowing them to pick and book the option that works best for them. It's simpler than searching different websites, often in unfamiliar countries or languages. And, of course, one of the main advantages is that it's possible to book on-the-go.
What was the trigger for creating GoEuro?
After backpacking around 14 different countries in Europe, I was amazed at how disjointed and complex ground transportation was; multiple bus and train providers, with multiple ticket options, their own websites (or not even a website) and no clear way to compare options. This made my trip incredibly complicated and I ended up spending more time planning my journey rather than enjoying it or the destination. I wanted to create a product to solve this issue.
What problems do you think travellers face the most when holidaying abroad?
We know that people are travelling more than ever before, and seeking increasingly personalised journeys. Yet it can be tricky to access all the information needed to make an informed decision. Travellers don't simply want to know where to go, and how to get there; they want to see the range of options and understand the many elements involved in making a journey – for instance, how close is each bus stop, train station or airport to the final destination? Finding out all the things they want to know requires lots of research across many websites, platforms and systems – which takes up too much time and mental energy for the number of trips that people are taking. Add to that, the fact that transportation options to and within unfamiliar locations can be confusing, and seem inflexible to travellers' needs, and overall there's a real problem.
We wanted to remedy this by bringing transport options together in one place. We hope this also helps reinvigorate that element of spontaneity in travel; the very fact that you can see all your options in one place and book on-the-go, means you can change direction, destination or duration at any time.
How long did it take for your idea to become a reality? 
We created the first product – which was just search-based – in a matter of months. But that's a very different product to the one we have today and the one we'll have in a few years! We want to keep evolving to meet travellers' needs.
How did you scale GoEuro and get people talking about the app?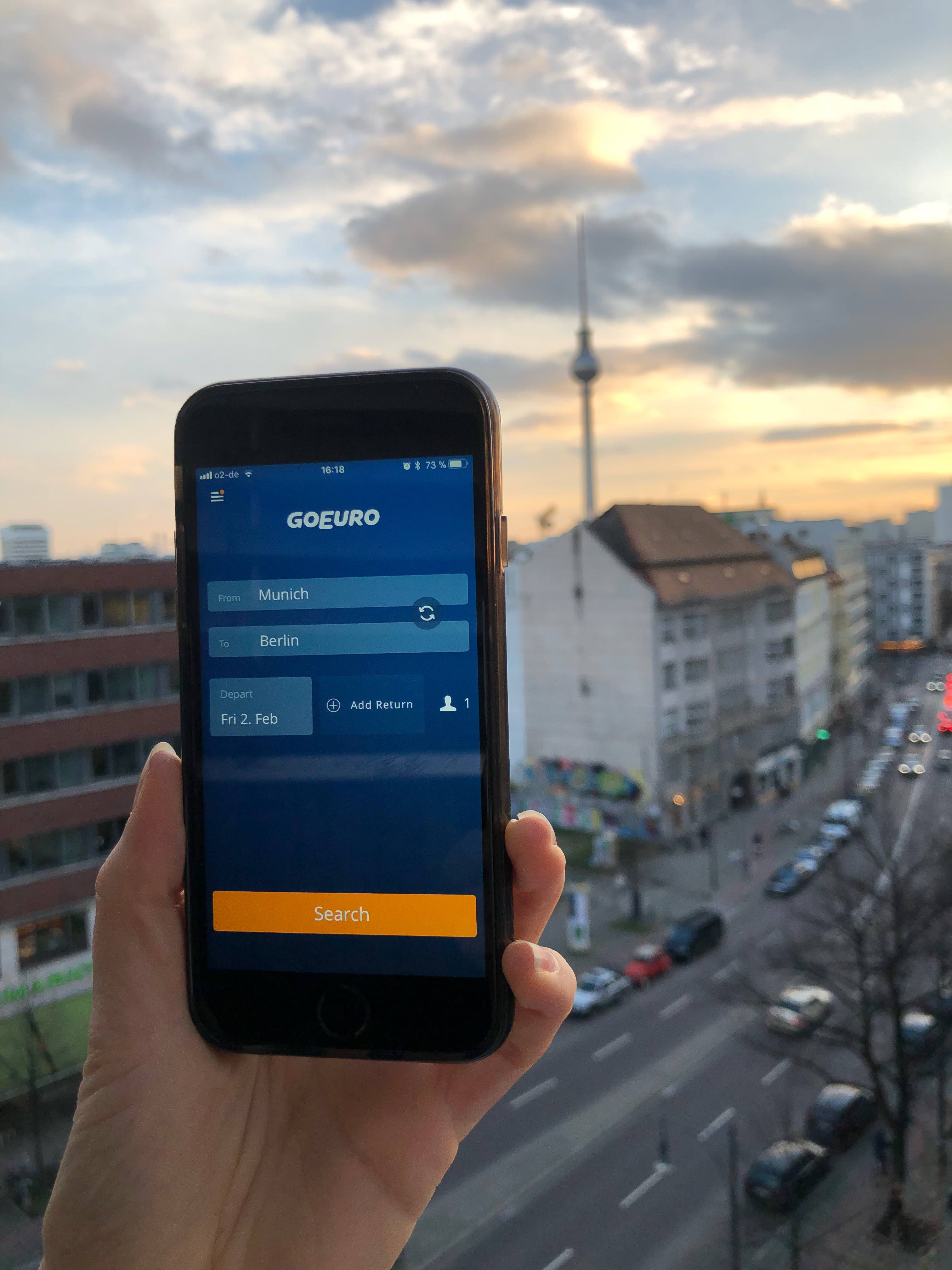 We started off partnering with rail providers in Germany and the UK, and then scaled to new countries through a combination of a very hard-working marketing team, lots of conversations with potential new partners and building a product that people wanted to use. Because of the nature of what we do, scaling was always vital: to bring together transport across different countries means scaling into those countries. Scaling is in our DNA.
What challenges did you first face when starting out? 
No start-up comes without challenges (and they're not just at the set-up phase!). One of the first I faced was encouraging transport providers to give us access to their data. Then, because every country has about 25 airports and 6 to 10,000 stations, there was the problem of mapping them all. We have worked hard to face those challenges head-on and the reality is we've built technology that links all of these many thousands of data points together almost instantly. That's something I'm really proud of.
GoEuro generated $145 million in investment – how did you manage to get people to believe in the app in the early stages? 
The app has a simple vision at its core: to bring transport options together into a single place and make it easy to buy tickets, whether you're traveling from Amsterdam to Paris or Madrid to Granada. Investors really got behind this idea.
Why did you decide to base the company in Berlin? 
Berlin had a relatively new startup eco-system which is now maturing and growing stronger. Even when I researched the options five years ago, it was clear the capital had, and has, all the right ingredients for that growth: capital from all over the world, strong talent within the city, and a vibrant culture and an excellent standard of living which attracts people to move here. I'm excited to have set up here as I believe Europe needs, wants, and has the potential to build $10bn+ businesses.
What was the turning point for the app? 
We've not had one single turning point – more, a series of moments which have helped us become a unique tool for planning and booking travel. Each time we bring a new transport provider on board, we offer hundreds or thousands more routes to travellers; each new market we launch, with its own language and currency, means our product reaches new users, and the significant changes we've made recently to our app means those users will have a seamless experience. We're seeing that it's having a significant impact: in the last year we've doubled the number of users to 20 million per month, which in itself is something of a turning point!
What are the future plans for GoEuro?
I want us to offer every route in the world, to be booked in the easiest way possible. I'm not going to rest until that's done!
Favourite place to holiday in Europe is: 
I love Rome and also Pompeii because of the history they offer. In fact, I am drawn to any place where I can learn more about ancient civilisations.
For more information on GoEuro, visit the website here.