As part of Lizi's Breakfast Week, we're going behind-the-scenes with London's Breakfast Influencers – the bloggers, Instagrammers and chefs sharing their creations with social media, and setting the trends for our breakfast habits.
Here we meet Giulia Mulè – a food and travel blogger and photographer who lives in London. She created Mondomulia as a place to share photos and cooking experiments – in her own words, Mondomulia is a part of who she is and a source of constant excitement, motivation and pride. Here we meet the woman behind it all: 
What inspired you to start your blog?
Mondomulia is a food, photography and travel blog. I started my blog in 2011 as a space to share my food photography, baking recipes and restaurant reviews. I love trying new restaurants and cafés in London and I wanted to share my knowledge and recommend my favourite places to my readers. Instagram is a natural extension of my blog and I use it to share all the tips I don't get to feature on my blog, either for food, coffee or travel. Last summer I co-founded IGBRUNCHCLUB with some of my Instagram friends, so now we meet once a month to have Sunday brunch at a different London restaurant and take photos of their beautiful dishes.
Why breakfast?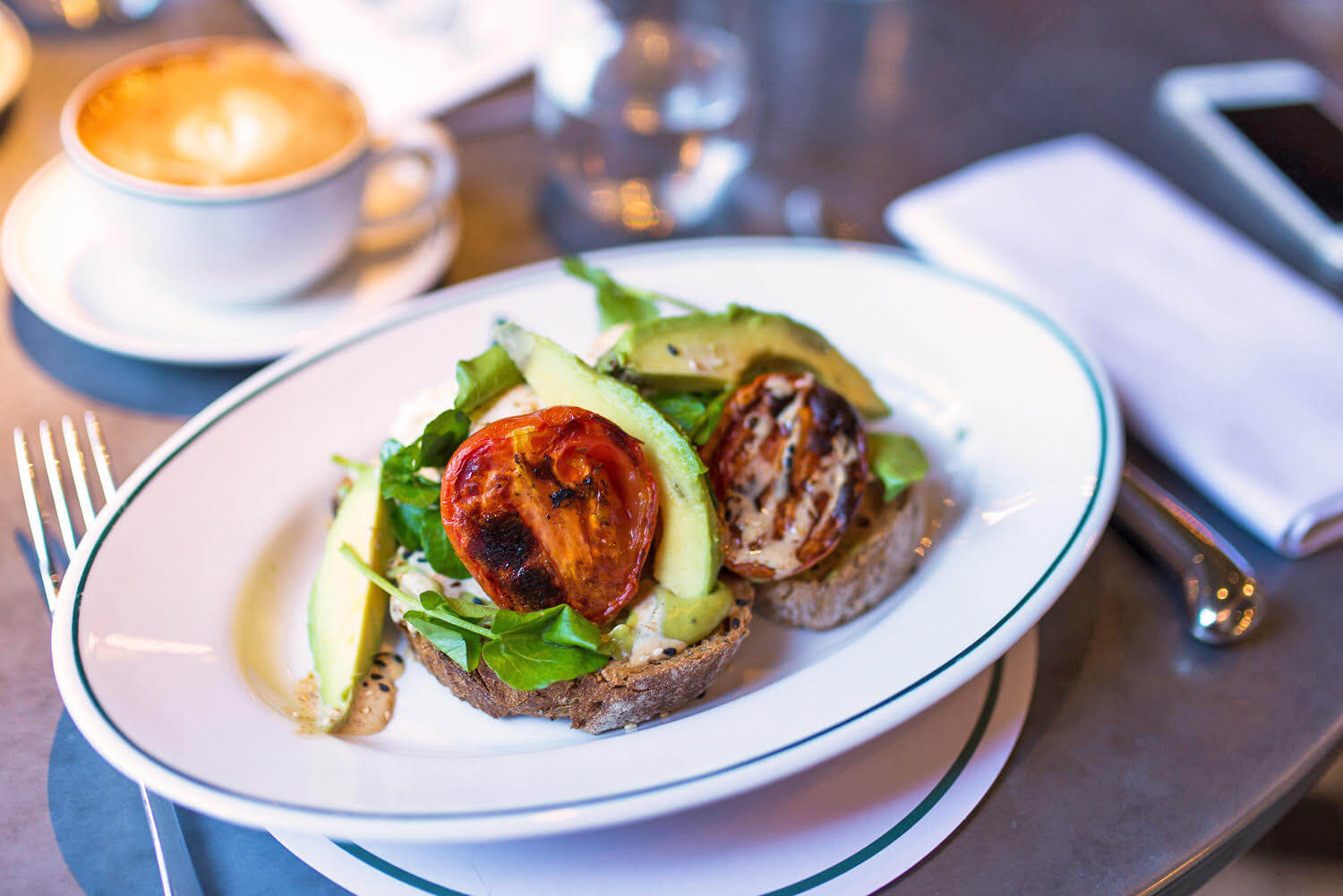 I love the ritual of brewing a cup of good coffee and sitting down at the dining table to have breakfast with my family. If I have time, I'll bake a breakfast cake or some pastries like Cinnamon Buns or Almond Rolls. Breakfast is my favourite time of the day, it's a moment of calm before the day starts, the quiet before the storm. I also like to arrange breakfast dates with friends and client, as restaurants are quiet at this time of the day and it's easy to get a reservation. I go out for breakfast in London regularly, so naturally I started taking photos of my favourite dishes and blogging about them.
What's your ultimate go-to breakfast dish if you're cooking?
For a special weekend breakfast I would prepare Shakshuka, a middle eastern dish of tomatoes, red peppers, spices and eggs slow-cooked in a frying pan. I love Yotam Ottolenghi's recipe from his cookbook "Plenty". I shared it on my blog last summer and it's become one of my most popular posts.
Where do you like going for breakfast in London?
I like trying new restaurants all the time, but I have a few favourites I go back to regularly, especially when I have friends visiting from abroad whom I want to impress. I love Duck and Waffle because of the views and spectacular dishes such as the Full Elvis waffles. M1lk in Balham have one of the best brunch menus in London and they also do great coffee and cakes.
Dishoom is another favourite, with their signature breakfast dish Bacon & Eggs Naan and hot chai. Salon Brixton have recently launched an amazing brunch menu, so when I want to stay local I just walk to their restaurant in Brixton's village for their Scrambled Eggs & 'Nduja on Toast. Finally because I am a coffee geek, I love having breakfast at specialty coffee shops like Workshop Coffee in Clerkenwell, Caravan in Kings Cross or Ozone in Old Street.
What's the best breakfast you've had abroad?
I travel a lot and I love discovering the best brunch spots in European cities like Milan, Copenhagen, Berlin and Brussels. I had a fantastic brunch at Silo Coffee in Berlin a few months ago. Silo is an Australian-owned shop in the heart of trendy Friedrichshain, so they serve Aussie style breakfast dishes and their coffee is from The Barn, Berlin's most famous coffee roasters.
The Herby Avocado, Ham, Wilted Spinach & Poached Egg on crispy Sironi sourdough toast was a nice twist to a traditional poached eggs on toast, with lots of fresh herbs and spices.
London's best coffee is: 
It's impossible for me to pick one, as the quality of specialty coffee in London is very high. The coffee shops I regularly visit are Workshop Coffee, Kaffeine, Ozone Coffee and Terrone & Co.
London's best bakery is: Bread Ahead and St John Bakery
London's best Bloody Mary is: I am not a big Bloody Mary fan, but I like the one from Balthazar.
Brunch cocktails, yes or no?
I usually order a Flat White or freshly pressed juice for brunch, but Vinoteca in Kings Cross have a fizzy Pink Moscato on tap that I cannot resist.
Post in association with Lizi's Granola – like them on Facebook here and follow them on Twitter here. For more information, see Mondomulia website here. Photo credits: Mondomulia.