About Time You Met: Miguel Barclay, Owner of Miguel's PizzaBy Angelica Malin
Miguel Barclay is the brains behind best-selling recipe books, One Pound Meals, and recently opened his first brick and mortar at Buck Street Market, Miguel's Pizza. Famed for his no-nonsense approach to cooking from scratch, Miguel's created a local neighbourhood pizza brand that stands for value, quality and authenticity. We chatted to Miguel about his Insta stardom, beloved pizzeria and cooking inspiration.
Tell us about your journey to becoming a celebrity chef and to where you are now?
To be honest, it really all happened through Instagram. I keep all my Instagram stories somewhere in the cloud so it's almost like a documentary of what happened. I started posting meals that cost £1 and people were interested to see how so did it. I have a very unique style of cooking that's simple, using familiar ingredients that make my recipes accessible. This translated perfectly into becoming a cookbook author and that gave me the opportunity to then open my own restaurant.
Why Miguel's Pizzeria? Has it always been a dream of yours to open a pizzeria?
This whole pizza obsession has been going on for about 10 years. Way before I started my Instagram account I was trying to secure the lease on a restaurant on Caledonian Road to open my first pizza place, that fell through, so I just opened it in my own house. I found a loophole that allowed me to do this by filling out some paperwork with the council and then listed it on Just Eat. The neighbours weren't too happy and my wife had an issue with the huge industrial pizza oven taking up too much room, so I ended up selling it to this guy on Edgeware Road. It looked like the dream was over, but behind the scenes, I've always been working on bringing it back.
Why did you choose Buck Street Market for your first brick and mortar site?
I live in Camden, about 2 minutes from Buck St Market. I'm quite involved with the local community so had the chance to meet the whole team behind the project before they even started building it. I was sold. This was going to be a great venue and I begged them to let me be part of it.
How has the pandemic affected your Miguel's Pizza business?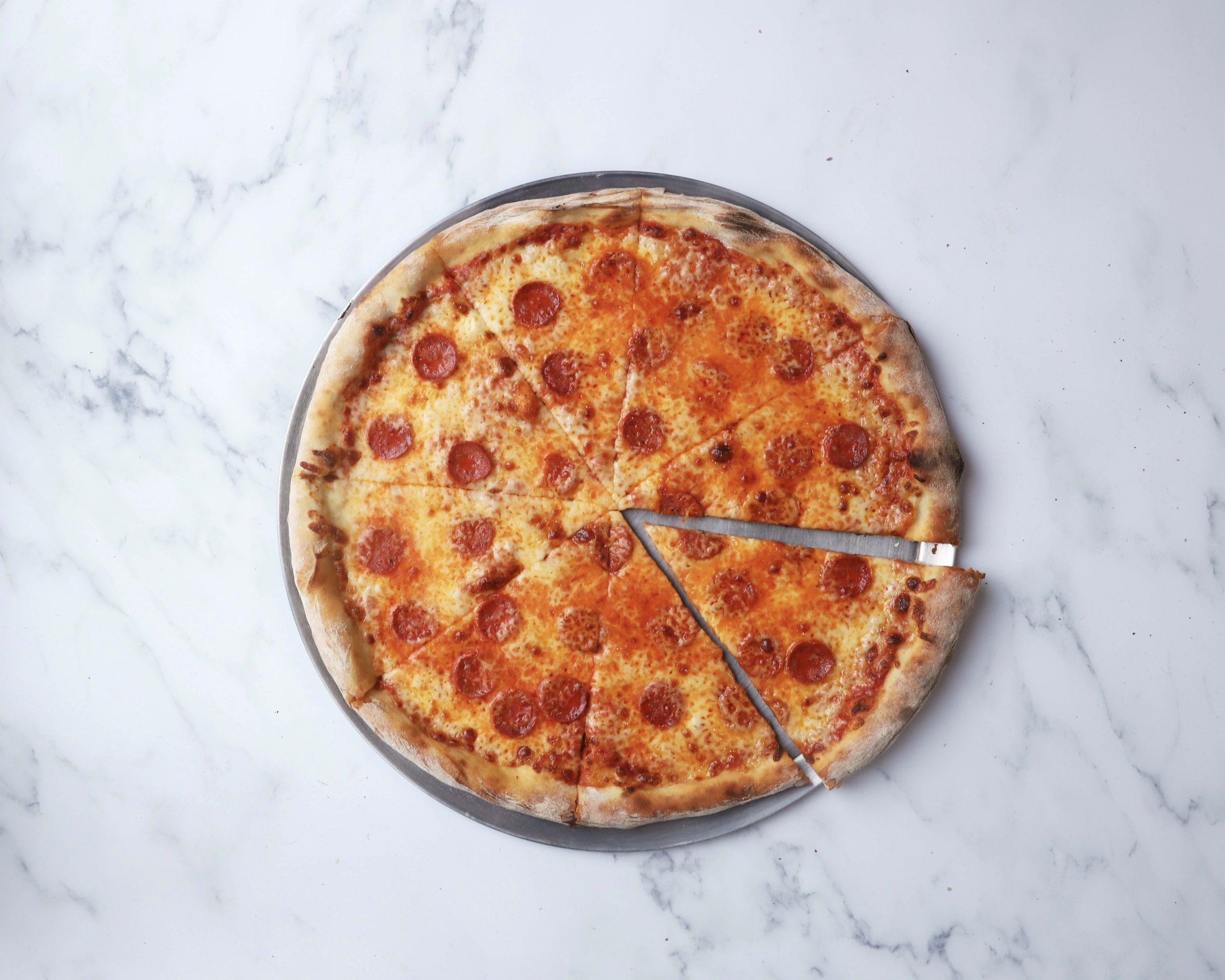 By opening during the pandemic, I don't even know about the good times pre-pandemic. All I know is that we're selling loads of slices and I'm just so happy that people are coming to see me at my restaurant. Maybe the delivery part of the business is bigger than it would have been? I just don't know. But every day I wake up feeling happy, Miguel's Pizza brings me so much joy as this is my dream.
How did you have to adapt your business during the pandemic?
It's pretty easy for us, the market is open-air, so it's a perfect place to be during a pandemic. The government give us guidelines to follow and we just implement them. When you have it written down for you it's nice and simple to know exactly what you need to do.
Why is sustainability important for you?
I'm very passionate about sustainability, it's something we should all be mindful of. Since I have become a father it has become even more important to me.
Are there plans for more sites to open? Will you branch away from New York-style pizzas?
I'm definitely looking at expansion, I have a couple of potential sites and even a few franchise offers, so you'll probably see some more sites the next few years. With regards to my style of pizza, it took me years to created exactly the style of pizza I wanted to eat.
It was based on those 80s Spielberg movies, something that looked like the pizza emoji – the definitive pizza that you imagine when you close your eyes and think of pizza. It's most similar in style to New York pizza but has some Neapolitan aspects to it. There is so much science behind pizza and I've found my perfect formula. So no, I will never deviate or branch away.
How do you balance work/life?
It's definitely difficult with a 2-year-old to take care of, but luckily my cookbook writing and Instagramming can be done at home, so at least I'm home 50% of the time. It's great that the restaurant is only 2 minutes away so we can pop up for family pizza time.
How do you like to switch off from work?
We get a babysitter and go on date night every Thursday and just chill out at home watching TV the rest of the week. I'm always tinkering on my phone so I'm never fully switched off from work, but I'm certainly relaxed and happy, I get so much joy from what I do.