Adam Byatt is behind Michelin starred Trinity restaurant in Clapham. Open for 14 years, this south London favourite has continued to serve seasonal and inspirational food by a team that's the best in the business. Having closed during lockdown, Trinity has re-opened with a new classics menu along with a Sunday Lunch feasting offering. We chatted to Adam about the London restaurant landscape, his love of food, and how Trinity has adapted during the pandemic:
What can diners expect from your restaurant Trinity in Clapham?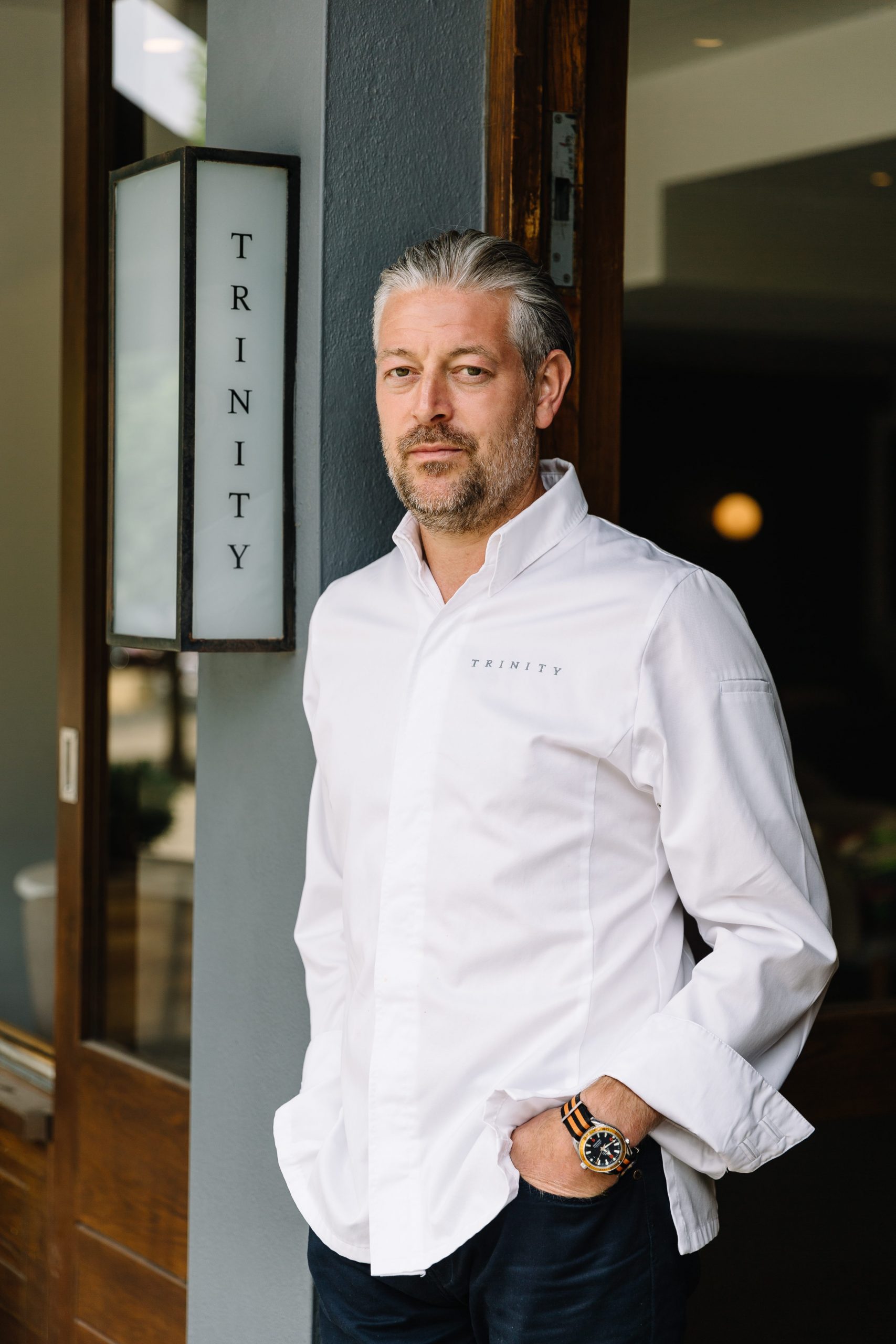 As a guest you should expect a warm welcome, a table for the night in a modern charming dining room, a vast and considered wine list and food that is seasonal, understandable and delivers pleasure and satisfaction, all served by a team of warm hospitable professionals.  
Where did you hone your chef skills? Did you always want to work with food?
I began my career at Claridge's hotel in 1989 as an apprentice, I worked with Phil Howards at The Square and went on to own Thyme in Clapham before owning Trinity. I have always preferred working with my hands and am more of a creative than I am an academic.
Trinity has been open for 14 years – how do you continue to attract both new and regular customers?
I would like to think we have turned those years of experience into a slick and fluid experience rather than becoming stuck in our ways. I believe Trinity a restaurant which is as up to date and as modern as it ever has been.
Talk to us about your Classics Menu – what dishes can guests tuck into?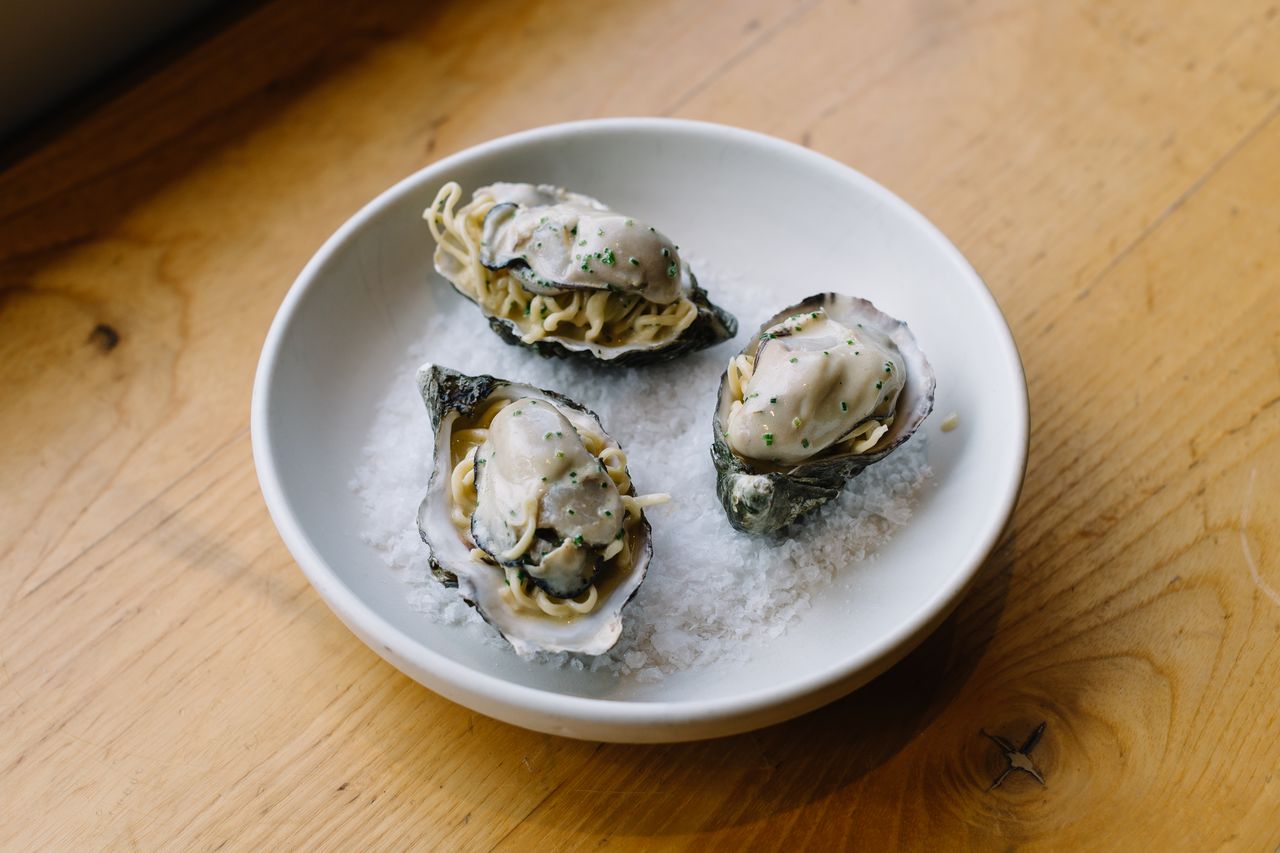 We decided 'post covid' to launch a menu that offered guest to enjoy all the dishes that have been the main staples at Trinity for many years now. The pig's trotter dish is on there, as is the salt caramel custard tart, as well as our cured mackerel dish. This menu has been popular and is something we will continue with.
What was your first memory of food?
At the age of 14, I took my first trip abroad – it was a French exchange. The mother cooked in a floral half-pinney and spoke no English but clearly, she just loved food and the lived for the joy of cooking for others. It must have had a big impact as the detail is very clear and, thinking back to it, makes me feel a little emotional.
It was the globe artichokes with a vinaigrette that really did it for me. At that point in my teenage life, it was the most wondrous thing I had ever eaten. For a moment, I thought I had been dropped onto another planet. Mais non! I was in France, and my love affair with that country – and the way in which the French celebrate food – began then, at that moment, and continues to this day.
The eating of globe artichoke is all about earthiness, enjoyment of life; so, earth feels like the perfect place for this dish. The artichokes have three elements; two are edible. There are the leaves. There is the heart or base. And there is the choke, which is the fluffy bit in the centre of the heart and is not eaten.
First, the outer leaves are pulled away, one by one. The base of each leaf is dipped into the dressing – bite down into the plump base to be rewarded with a small amount the heart. Really, this is just the teaser for the main event… Keep going and watch the pile of discarded leaves grow. You are left with the heart and, in its centre, the fluffy choke. Remove the choke, discard it. Eat the heart. Utterly delicious, and it's also so good for you and, as I remember from that first day on the farm, it feels like time well spent.
What do you think about the London restaurant landscape? What's your go-to restaurant?
London has the most diverse and interesting food scene anywhere and just keeps on getting better. There is so much talent and momentum in the UK right now, our food is a melting pot of the world, I am immensely proud to be a part of that scene
I am not a regular anywhere in particular but eat at places such as Sabor, Chez Bruce, Darby's, the Wolsely, The Sportsman and Noble Rot. These are my personal favourites.
What's the best piece of advice you have ever received during your career?
Be better today than you were yesterday.
You re-opened last month following the UK-wide lockdown – how has it been?
In all honesty, it has been brilliant.
My team and I worked hard on making sure we opening well and with confidence, the appetite from guests to dine with us has never been stronger and I really do think that Trinity is the best it has ever been. Having a slightly smaller more concise business means that we can be more effective, maximise our business and be even better at what we do. Bistro Union is doing really well, and the whole team have been incredible, a real credit to themselves and our industry.
What inspired your love of food?
I am a chef, therefore I produce food day in day out, you cannot really do that effectively unless you love the produce you work with and the environment in which you make it all. I love the produce and find it inspirational and I also love the freedom cooking gives me.
Tell us more about your relaunched Sunday Lunch Club – what's on the menu?
We have offered a set lunch menu Upstairs at Trinity for the past five years and its works very well, three classical Sunday lunch dishes that change weekly for £35. You can expect a classic roast beef with Yorkshire pudding or perhaps a braised ox cheek dish in the depths of winter. In summer we tend to still offer a roast but a lighter option.
Trinity, 4 The Polygon, Clapham Town, London SW4 0JG
Photo Credit: Stuart Bailey Photography