About Time You Met: Marcus O'Donovan, Founder of HUSKBy Angelica Malin
Marcus O'Donovan is on a mission to spruce up the nation's snacking habits, whether that's at home, in a pub, hotel or bar. The snack market has changed dramatically over the last five years, and O'Donovan's brand HUSK is at the helm of the snack-based revolution. Gone are the days of getting a lacklustre bag of pork scratching with your pint, now, it's all about boujee substance – from Wasabi Peas to Peanuts sourced from Nicaragua. We chatted to Marcus about how HUSK adapted to the pandemic, what's next in the snack world, and the rise of home pubs in lockdown:
What made you want to get involved in the snacking industry? 
I just couldn't believe how bad the snacks in the pubs were vs the incredibly high standard of craft beers and spirits. Felt I had to do something about it, and here I am!
People are inherently rooted in traditional brands (KP, Nobby's Nut, Sahara) – were you confident you could cut through the market? 
We stay in our lane and try not to focus on or worry about the competition. We do our thing. If we're good enough people talk and soon enough word gets around (as it did!).
How long did it take for your idea to become a product sold in bars across the UK? 
Our first 'big break' was a launch across Bermondsey Pub Company. Since then we've opened accounts with over 330 customers across the UK and Europe. I'm really proud whenever I see HUSK displayed in a bar somewhere but I can't take all the credit, my Head of Sales (Planky) gets a shout out.
There's so much competition out there at the moment, with food products being released regularly – what makes you stand out from the crowd? 
Taste, colour and 'the serve'. Of course, your taste and quality should be outstanding but in particular we worked really hard to create a premium serve to go alongside a drink and I think that's what sets us apart from other snack offerings.
What was your first thought when covid shut down the entire UK earlier this year?  
It was awful. We lost almost all of our business pretty much overnight. But then came the surge in online sales. Consumers saved us like superheroes to the rescue and we're very grateful to everyone that went to seek out the brand online for the first time. It was only then we realised we had such a following. It's been a very hard time for hospitality and many friends, customers and more have lost their businesses and their jobs. I'm so grateful there was a method for us to generate revenue and keep the business alive.
You changed your business model during lockdown – what was the feedback you received? 
The feedback has been overwhelming. We were hearing from customers or all kind and then there were those who had discovered online shopping for the first time during lockdown. There was one lady who got in touch about an order and I phoned her to explain how to use Amazon. She rang me back a few days later as she was so overwhelmed by the service but also the quality of the products. It was a lovely moment, especially at a time we're all so engrossed in our emails. To have some interaction with a customer like that was lovely as when you're B2B focused you're not often talking with the end user.
Customers wishing to seek out real quality can absolutely relate to what we're doing at HUSK. You can find some nut products in supermarkets and some are 'OK' but these brands have usually poured their resource into packaging, branding and advertising. As a small business, we've put what little resource we have into quality and taste. In my opinion, you can see a vast difference between what we roast and flavour compared to the brands you find in the supermarket, but it's all subjective. We're usually more expensive and with good reason.
Were you nervous about repositioning your company? 
We're not set up for retail as we are a B2B company. I was more intrigued to see if there was a demand for larger packs to be sold D2C. During lockdown, people began searching for ways to recreate the pub at home and HUSK plays a good role in that. Furthermore, you pay a huge premium to buy snacks in little packs and just because customers are seeking out the highest quality it doesn't mean they're not also searching for value so I think HUSK was a winner there, too.
Do you think people's snacking habits have changed over the years? 
Most change has come from people looking for healthier ingredients. I think the industry wants you to believe everyone is looking for new flavours and to some extent that may be true. However, traditional flavours still remain more popular than ever, so, for me, it's often about getting those perfected first. Salted Peanuts and Cashews are still, by far, the most popular. For example, we import our peanuts from Nicaragua, roast them dark and use a really high-grade oil and sea salt. That way you get this beautiful buttery finish to them. You can really taste the difference between these and the peanuts from other markets, such as China.
Do you see the traditional pub snack model ever going back to normal?
Pubs will have to innovate to survive but this was happening anyway. For one thing, fewer people are drinking alcohol now and so it's all about the experience and this is where snacking and other fun additions are going to play such a key role in getting consumers out of the home and into your venue. I've met some incredible landlords over the years and I'm always impressed by the entrepreneurship show by these guys – it looks like a very tough job so respect to them. I'm so sorry for what they're having to go through right now.
How do you think the snack market will fare post-pandemic?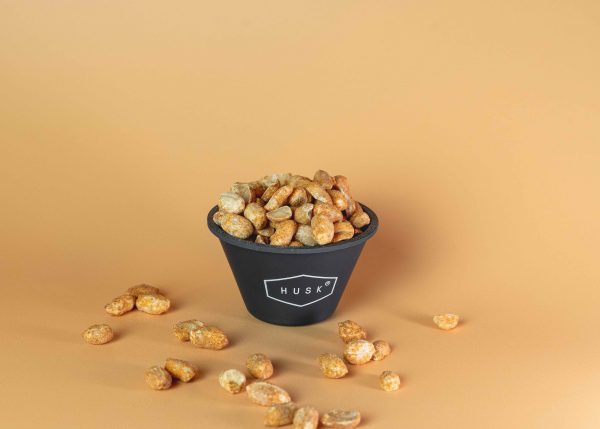 The snack market is booming and will continue to grow. I can't see it slowing down. I've seen some cool stuff coming on to the market. One product I tried recently and really liked was 'Popped Cheese' by a brand called Cheesies. Check it out online (after buying HUSK first, of course).
What advice would you give people who are looking to start their own food business?
WORK FOR SOMEBODY IN THE INDUSTRY FIRST! I regret not getting that level of experience. Ask around for honest feedback on your idea. The hardest thing in the food industry isn't making a great product or branding it well, it's getting your product to market and understanding logistics and manufacturing. There is a lot to learn. It can be very lonely and you may need a lot of funding. Reach out to me if you're just starting, I'm always happy to give someone 15 minutes on the phone.
For more information on HUSK, see here.