About Time You Met: Louise Avery, Founder of L.A BreweryBy Angelica Malin
At L.A Brewery, flavour development starts in the wild. Original and innovative blends – inspired by founder Louise Avery's own experience of getting back to nature – are sustainably crafted in-house in their non-alcoholic brewery in Suffolk.
We caught up with Louise, and talked all things fermentation, foraging and natural ingredients:
Where did the inspiration for L.A Brewery originate and how did you start the company?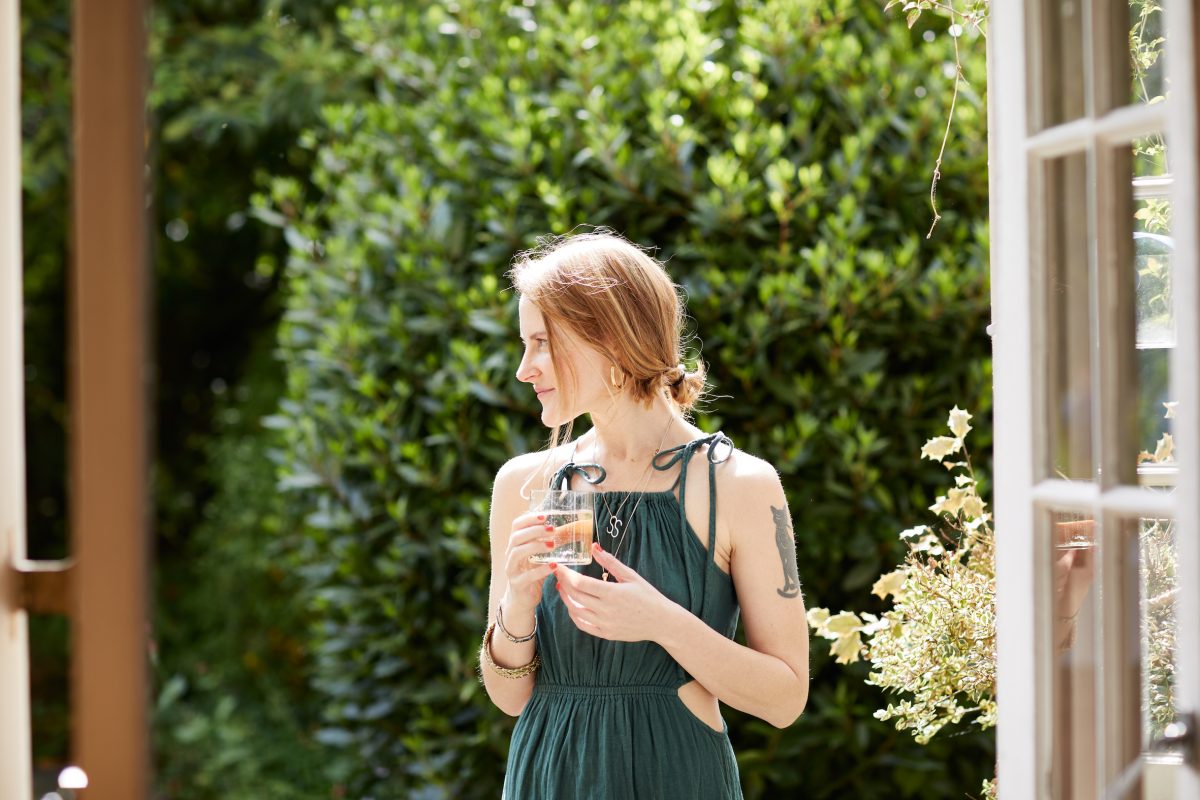 I first tasted kombucha on tap in Vermont 10 years ago, and the taste was so compelling that I started to become obsessed with fermentation as a means of producing unique and complex flavours whilst incorporating my love of wild plants.
I love the natural tart, sweet and sour flavours of kombucha and spent a long time experimenting with delicate green and white teas to work out how to manipulate the ferment towards more Champagne tasting notes, as well as deeper cider flavours. White teas produce more delicate sparkling wine like drinks and black teas will take the tasting notes towards heavier cider brews. At the same time, I was spending a lot of time in Scotland and in Somerset, and was able to take advantage of my mother's fruit orchards, as well as the seasonal gems like elderflower and rosehips to create limited-edition flavours. From my kitchen, I started to stock local independent restaurants and cafes across Hackney and Islington – more often than not, delivering on my bicycle! After 3 years learning my craft, I was introduced and subsequently pitched to my now business partners and we launched L.A Brewery in 2017.
Prior to launch, we found it impossible to find a production partner as there was very little expertise around working with the evolving cultures and fermentation of kombucha, and so we decided to build our own dedicated non-alcoholic brewery in Suffolk. I had recently taken part in the local Aldeburgh festival and I knew Suffolk was a real heartland for innovation in food and drink, so it was a natural home for the business. The brewery is run sustainably using 100% dark green energy, and we are on target to become a B-Corp by the end of 2021.
Photo credit: Helen Cathcart
How did your return to the wild come about and what was the experience like?
Foraging was a very big part of my childhood and upbringing. My mother taught me how to identify edible plants and how to use the natural environment around me on the Isle of Mull in the Hebrides where we lived…. She still has bookcases full of botanical books that we reference frequently.
At the same time, I first tasted kombucha, I also made the decision to leave my London job and return to the Hebrides to reconnect with nature.
On the island, I found a job in a 1920s weaving mill and re-learned how to live lean, spend time in nature and re-discover the process of fermentation whilst experimenting with making drinks. At that time, I went fully native – collecting seaweed off the rocks, baking sourdough and drying out the huge patches of chanterelles we would find in the woods. Making my own drinks and studying fermentation on a microscopic level was naturally complementary to this life.
Scotland has an abundance of incredibly flavourful and medicinal plants. My favourites include bog myrtle, lavender and gorse flowers. I learnt quickly how to unlock the different properties of flowers, fruits and botanicals to affect and enhance the fermentation process.
Considering the future, I wanted all of my creations to be non-alcoholic, but also a naturally healthy choice for everyone who chooses a low sugar, gluten-free or vegan diet. Looking back on those 2 years in Scotland before I returned to London, it seems like a fairytale, but actually, it forms the real backdrop of L.A Brewery and our mission to craft balanced, complex and enticing flavours from nature.
Have you always been fascinated by flavours, or was this something that developed later on in life?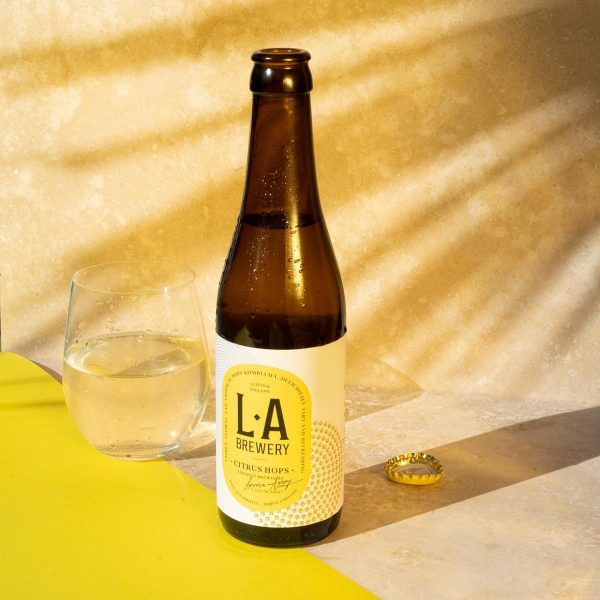 I've always been an avid food and drink lover, albeit with no formal training. Many of my friends work in the food and drink industry, so I am surrounded by lots of creativity and knowledge in this space. With regards to flavour, I find it totally enthralling. We all have specific taste receptors on our palate: sweet, sour, salt, bitter and umami, and I wanted to factor all of these in when designing the L.A drinks – getting that precise balance between sugar and acidity.
It's quite unusual to see this in drinks even though it's commonly practised by chefs.  I saw the opportunity to bring this to the drinks world and create non-alcoholic drinks that were exciting and innovative and could bring a bit of sparkle to the days when you're not drinking. The possibilities are endless with the world of fermentation and seasonal plants, and it really excites and motivates me imagining the future of both moderation and drinks.
Talk us through foraging, if someone wanted to get started how would they go about it? What are the ingredients you tend to forage for?
A great place to start for beginner foraging is to look for easily recognisable ingredients that are safe to consume – at the moment, elderflower is in season and beautiful for cordials, syrups and homemade Champagne. In spring, there's an abundance of wild garlic in wooded areas which you'll be able to easily smell and this is great for pesto, salads and also wilted in butter. In the autumn, crab apples, rosehips and sloes are superb, but they do need a little more careful processing and cooking – they can all be used in syrups and infused into gins. Once you're feeling a bit more adventurous, you can forage for seaweed in the spring and chanterelles in late summer. Adding wild food into your diet is hugely beneficial for your microbiome, along with also being a boost for your mental health by connecting with nature. You can also take a look at the Woodland Trust foraging guide online for more ideas.
We still prioritise going on foraging trips as a team to continue learning about ingredients, especially during new product development where we always seek to begin with ingredients plucked from the wild.
In your eyes, what does the future of moderation look like where it comes to no and low? It seems like a big turning point in the category, what do you think will happen next?
There is a lot going on with multiple trends and behaviours playing a role! We have younger generations who often avoid alcohol completely, others who have grown up with a deeper understanding of their own health needs and the older generations who no longer wish to imbibe after growing up in the Mad Men era.
With all these considerations at play, the future should favour drinks that focus on taste and quality first. We see people using our drinks on their '4 nights off' during the week, whilst others drink L.A as part of their teetotal consumption. One new habit emerging has been nicknamed a 'wedgie' – a non-alcoholic drink in between alcoholic drinks which is a fun idea.
The clear pattern is that younger generations have a much less 'black & white' attitude towards alcohol. The idea that an alcoholic drink was needed around 6.30pm to draw a line under the day and transition to home life/relaxation is now old school. Work/life balance is much more prevalent now with a greater understanding of alternative ways of relaxation and often a need to feel good about what you consume – this means that taste, health and ethics all come into our drinks choices. I think this is where we come into our own league at L.A as we prioritise taste, whilst being naturally very healthy and have been lucky enough to build our own sustainable production site where we have full control of the process from ingredient to bottle to dispatch.
What does a typical day look like as the founder of L.A Brewery for you?
Today, I've been foraging for pineapple weed, which is currently in season, as I'm making a syrup for a special founder's seasonal non-alcoholic drinking kit. Foraging and working with wild ingredients is one of the elements that I love the most about L.A Brewery. Often day to day I'll be working on product development, speaking to our brewery, along with meeting new potential customers and supporting marketing needs.
We've just launched our latest flavour, Tropical Ginger with Yuzu, so there's a lot of work going on behind the scenes for this and so I'm looking forward to our customers' response! Yuzu is a fascinating, Asian ingredient, that brings a captivating zesty aroma to the drink, balancing with the rich ginger and tropical hops – it's our take on ginger ale and incredibly refreshing in the sunshine.
What's your most exciting flavour to date, and where did the inspiration come from?
I do love all of our flavours – each and every one went through an intricate and timely development process. The most challenging flavour, and perhaps the one I'm most proud of, is the Citrus Hops. Since my time in the Hebrides I've been working on Citrus Hops and it's taken a few iterations to get it spot on.
My mum used to brew beer at home, so I'm used to seeing fresh hops whether at home or in the wild or in the hedgerows in Somerset. Citrus Hops was very much inspired by this experience and is my interpretation of a New England IPA which typically features tropical, citrus & floral hops which complement the natural sweetness and acidity of the kombucha perfectly. We've launched Citrus Hops in a beer bottle too, so it feels like a fantastic non-alcoholic option, that still has the sense of occasion of enjoying a drink.
Where are you based and what does the new normal look like for you and your team? 
I'm based in Hackney, but I travel once or twice a week down to the brewery in Suffolk. Our team is dotted around London and Suffolk. Our new normal means many more video calls with the team, as well bringing forward the decision to create and successfully launch our new online shop. It's also given us an opportunity to focus more on our story as a team and the importance of being outside and preserving nature. For us as a brand, this has been an invaluable piece of the L.A Brewery journey so far.
For more information on L.A Brewery, see here.