About Time You Met: Jonny Wilkinson, Founder of No.1 KombuchaBy Angelica Malin
Former England rugby union star, Jonny Wilkinson, has set up a new business: No.1 kombucha. A healthy drink made from fermented tea, No. 1 Kombucha is an alternative soft drink, full of flavour, lightly sparkling and naturally rich in live cultures. We sat down with Jonny to ask him all about the idea behind the beverage, and the growing number of kombucha brands in the UK:
People will recognise you from your rugby career – what made you start a beverage business?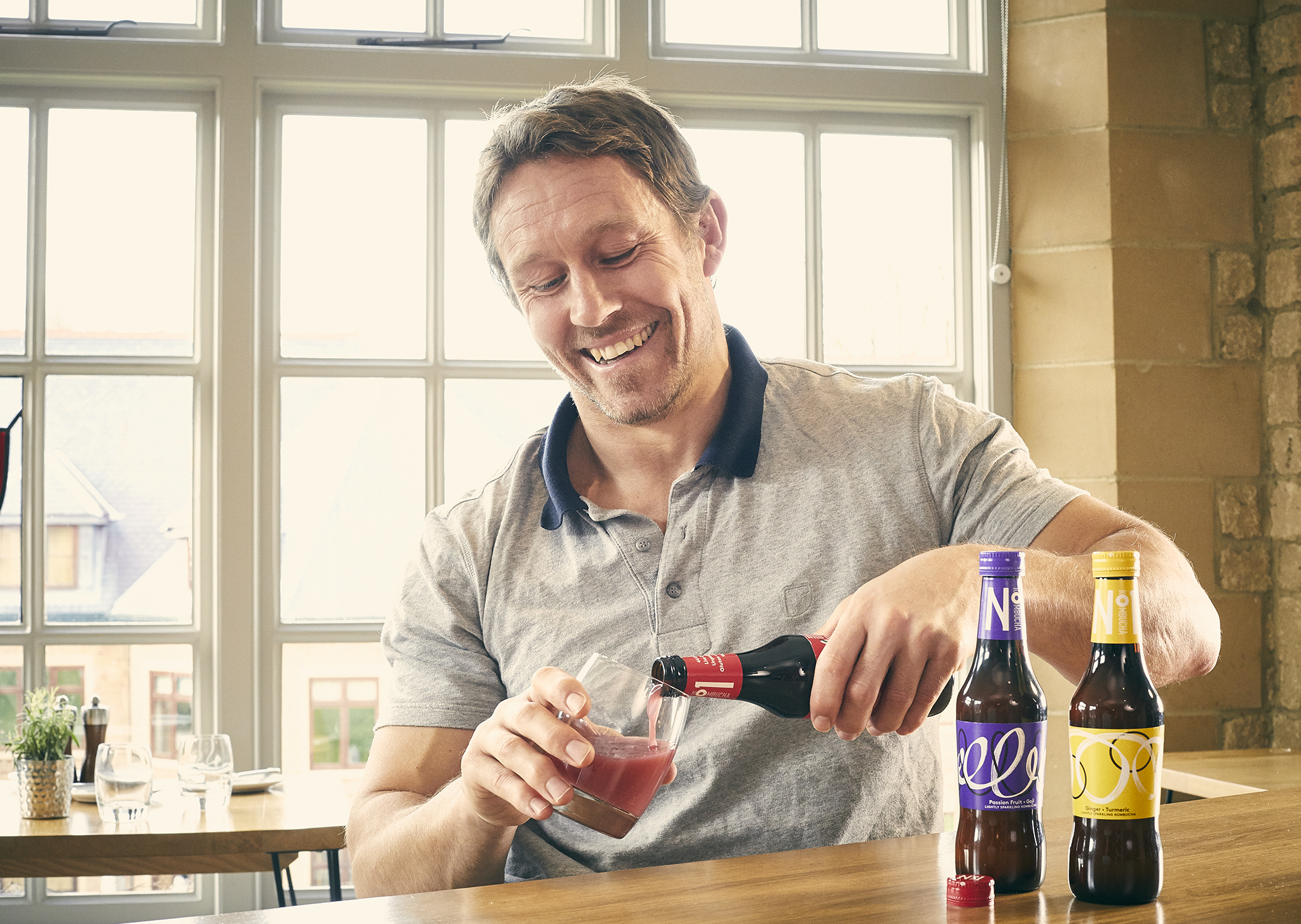 I decided to launch a kombucha brand after years of treating my body like a machine on the rugby pitch and realising that health and wellbeing are the basis of the living experience and that looking after my mind and body is key to fitness and performance too. I began to change the way I view my body, focussing on becoming more in tune with it; as part of my new found commitment to giving total thought to energy sourcing and consumption, I formulated something I hold close to my heart – kombucha. I consume living foods on a daily basis as they are an essential part of my lifestyle and help me to thrive.
When did you first discover kombucha? 
My wife is studying nutrition and she really enjoys experimenting in the kitchen.  About three years ago, we started fermenting foods at home – soaking ingredients and investing a lot of time into the process of producing drinks, including kombucha and yoghurts containing probiotic cultures. We discovered that the time and effort that went into making these things, kombucha in particular, gave us so much to appreciate. I then decided that it would be great for kombucha to be accessible to the masses and set out upon that path.
How did No.1 Kombucha first come about? 
I wanted to launch a product that would offer a healthier choice for consumers and capture my passion for livings foods.  I wanted to create a healthier and more accessible choice for everyone, with the vision to make it easier for people to take their own steps towards unleashing their potential.
There's been a wave of companies founding new kombucha brands in the UK – what makes No.1 Kombucha different? 
The authenticity of our product is hugely exciting: we take great care to make sure that it remains true to its roots and packs beneficial health properties. A key reason I drink kombucha every day is because I love the taste, so we have worked hard on bringing the flavour through with natural fruit juices.  We are also very environmentally conscious and strive for a sustainable future, which is why we use recycled and recyclable brown glass bottles.
What flavours are in the range? 
The No.1 Kombucha range is available in three varieties: Ginger & Turmeric, which is quite a fiery and invigorating blend of organic ginger and powerful turmeric; Passionfruit & Goji which is a tropical and rich with passionfruit and goji juice and finally, Raspberry, Pomegranate & Hibiscus, an innovative fusion of red raspberries, crisp pomegranate and the floral notes of hibiscus.  My favourite constantly changes, but at the moment I am really enjoying the unique sharpness of the Passion Fruit & Goji edition.
Do you think kombucha is a trend that's passing or here to stay? 
Kombucha has been around for more than 2,000 years, allegedly originating from China so it definitely has deep roots. It's also a product that carries a lot of suggested health benefits from liver and cardiovascular improvement to immune system assistance and not to mention, the presence of probiotics and antioxidants. The health and wellbeing of mind and body will always be fundamental in life, regardless of who you are, where you live or what you do, and living long and fully engaged lives is not something I see as a passing craze.
What's been the feedback so far? 
The response so far has been fantastic. People are embracing No.1 Kombucha as part of a wider shift towards a healthier and happier lifestyle, and are enjoying all three editions in the range.
What are the future plans for No.1 Kombucha? 
We are obviously eager to expand the range and enhance its impact upon those that consume our products. We always want to work towards developing our relationship with wellbeing, in a mental, physical and environmental sense. The journey is without limits; it is about exploring potential and that's what is so exciting.
For more information on No.1 Kombucha, see here. 
Available in Sainsbury's nationwide