Knoops' founder Jens discovered his love of chocolate growing up in rural Germany, and years later, still harbouring the same passion for the confectionary, he opened his first bricks and mortar site in Rye, East Sussex, in 2013. Coincidentally, a career in chocolate was written in the stars as Jens' Dutch surname 'Knoop' translates as 'button' – the perfect name for a chocolate drink that is lovingly made from real chocolate buttons.
We sat down with Jens and talked about all things chocolate – from his second London outpost to  the 'Knoopology' process (a periodic table like menu of chocolate): 
You've had a strong relationship with chocolate since your childhood in rural Germany. What was the moment you knew you wanted to open Knoops?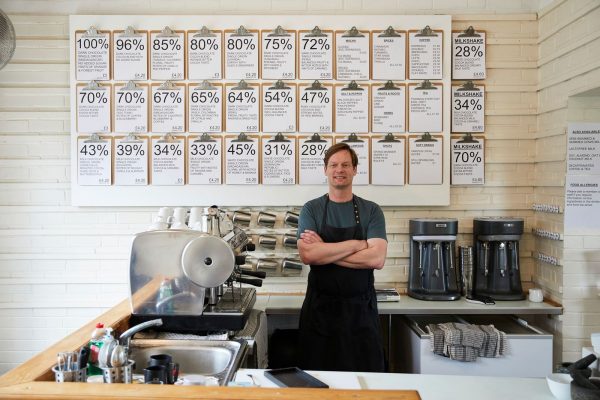 The moment came in 2012, when I started thinking of becoming a full time chocolatier. I wanted to create new, exciting hot chocolates, better than anybody else's, but I hadn't looked into premises. A friend of mine then introduced me to a local photographer who wanted to move his gallery, and I immediately fell in love with the small shop, next to the iconic Landgate in Rye.
Knoops in Rye opened in 2013, – how have the past seven years been like? Would you change anything? 
The years 2013-2019 were consistently good as we slowly built up our reputation and received some national press coverage. And then of course everything changed in 2019, when we started looking at the bigger picture of expanding to London. 
We are improving every day based on customer feedback, with small and big changes being implemented all the time, in order to achieve that perfect chocolate drink. 
Why did you decide on Clapham Junction for the second Knoops?
A great opportunity was presented to us; a shop on a corner, with big windows, parks and schools nearby and a busy, yet residential, area with high footfall. I saw a lot of potentials to bring Knoops to the local community.
What does your typical day in chocolate entail?
When I'm in the cafés I'm introducing our Knoopologists to new chocolates and bakery items, discussing improvements and customer feedback, and making chocolate drinks when it gets busy. When I'm at home or in the office, I explore and sample new chocolates, develop new recipes and I research further the history and science of chocolate. I also connect with chocolatiers around the world to exchange ideas and discover new food trends.
What's your favourite hot chocolate combination?
My favourite ingredients are rosemary and sea salt in a 70% chocolate, Madagascan vanilla and mint in 80%, a 54% with our seasonal spice mix, the classic 34% milk chocolate with cinnamon and sea salt, and my latest favourite: white chocolate with matcha.
And what are customer favourites?
The bestseller is a classic 34% milk chocolate, which appeals to our young customers as well as grown-ups, this is followed very closely by our range of mild dark chocolates – such as our 54%.
You have a process called 'Knoopology' with a periodic table like menu of chocolate. How does it work?
'Knoopology' is about making the perfect personalised chocolate drink for you. This can be done in our cafés or it can be done at home using our Knoopifier and a range of chocolates that can be ordered online. First step: you choose a hot chocolate, cold chocolate (chocolate milk or milkshake) or a mocha. Second: what percentage do you prefer? There is a range of 22 different strengths for the hot chocolates and 6 for the cold chocolates. Third: how about adding some ingredients? There are some classic as well as exotic flavour combinations which can be created. Fourth: we have a whole variety of dairy milks as well as plant-based milks on offer.
How do you continually create new combinations? Have you tried things that haven't quite worked? 
I listen to customers and their feedback. There are always ingredients that I haven't thought of adding to the menu, which sound intriguing. But I also connect to other chocolatiers and chefs to discuss food trends. Yes, I have tried combos that didn't work, but I would always let someone else try it as well. Just because I don't like it doesn't mean that it's not the ultimate chocolate drink for someone else. 
When you're not at work what do you like to do?
I don't consider working as a chocolatier as work. When I'm not in the office or in the cafes, I am still cooking/eating/exploring as well as researching history, psychology and chemistry. I watch a lot of movies as I originally studied visual arts, but this is usually accompanied by some chocolate treats. My choice of exercise is swimming and walking in the East Sussex countryside.  
How did you feel when you had to shut Knoops during lockdown? 
Certainly surreal. Suddenly our busy cafés which brought so much happiness to our customers had to shut their doors, but the priority was to keep our customers and staff safe. Lockdown gave us time to focus on our online offerings (the chocolate flakes, our Knoopifier, etc), as not every customer knew at that stage that Knoopology could be done at home. Using social media, we were able to show our followers that lockdown doesn't stop you from having a Knoops at home.
Finally, what led you to Kensington for the newest Knoops? 
Mainly from a lot of research and the experience we gathered from Rye and Clapham Junction. Also, walking around the neighbourhood and speaking to local traders as well as Knoops customers, who live in the area. And of course, the shop layout itself, the wide glass frontage and the ideal positioning on the corner of a busy high street was an opportunity we couldn't resist.
For more information on Knoops, see here. 
Photo Credit: Nick Warner