Vegan street food has exploded in London. What was once seen as a niche dining experience, plant powered grub is now becoming widely available across the capital. Grace Regan started SpiceBox, a vegan street food stall a few years ago, with the aim of bringing meat-free munch to the masses. Regularly featuring in 'London's best vegan street eats' articles, SpiceBox has earned themselves a cult following thanks to their comforting daals, and tandoori cauli steaks. We caught up with Grace to chat starting a business and the vegan scene in London:
You're behind SpiceBox, a street food stall dishing up plant powered Indian food. How did the idea come about?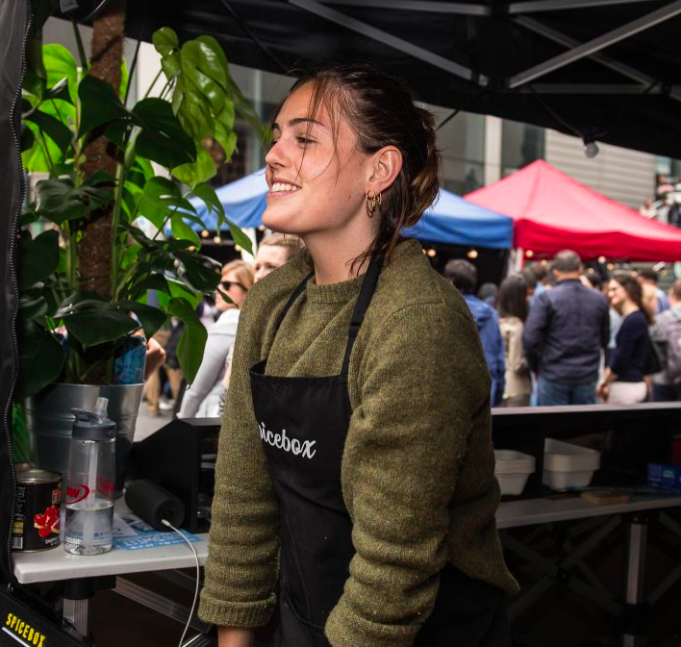 About three years ago I had the idea for a sexy Indian take-away/delivery chain, out of my own frustration for not being able to find a decent takeaway curry in London that wasn't steeped in oil. I was still working on my previous start-up (Clippet News) at the time and, shortly after I came up with the Indian takeout idea, I moved out to Silicon Valley to focus on growing Clippet.
Whilst I was living in California, my attention was constantly turning to food; within my first week in San Fran, I became vegan and really threw myself into the Cali food scene. I loved how convenient, nutritious and damn right delicious most eating options were out there. Naturally, the food business idea was always on my mind. Now that I'd seen how quickly the plant-based food movement was growing in California, it made sense to put two and two together and so I came up with SpiceBox – plant-powered Indian food!
Within a few months, I'd quit tech and booked my flights back to London. Within a month of returning to London, I'd set up shop outside my front door on Columbia Road.
What challenges did you face when you first started out?
First it was visibility and how to get noticed, I started out doing delivery and takeaway orders from my home so it was very hard to get the word out. I started street food in February and that was a whole other challenge! I'd spend every weekend standing outside in the freezing cold trying to sell curry to whoever was brave enough to venture outside!
What did you decide on Indian grub over other cuisines?
Because I LOVE it, which helps a lot! I also think vibrant, fresh Indian food is underserved in London, especially where I live in east London. This is surprising considering I'm surrounded by curry houses, but I have to venture further afield to find the sorts of curries that I'm used to eating when in India. I also wanted to show how inherently nourishing proper Indian food is – curry has this stigma in the UK of being incredibly bad for you, and I want to change that.
What was the turning point for SpiceBox?
As a young business, there's constantly turning points as we continue to grow rapidly – the first was Kerb does Alchemy Festival in May 2016. That was when it all really kicked off. Shortly after that, we were nominated as a Young British Foodies street food finalist – that gave me the assurance that the food I was cooking was going down well within the industry. This summer we were at lots of festivals; there were lines of people waiting to eat our food, we had amazing feedback and loads of customers came back for every meal over the 3 day festival. There's hopefully another one round the corner – but that's top secret for now!
Congrats on opening your first permanent site at KERB Camden – what can people expect?
There's a new dish, our tandoori cauliflower steak served on grilled naan in a rich makhani sauce – two people called it the best thing they've ever eaten at the launch party! We may even try out some new recipes there for a limited time so make sure you check out our social media. And we will, of course, be bringing back our Crimbo Curry.
What do you think of the vegan food scene in London?
It's thriving. London is such an exciting place to be a vegan entrepreneur. When I first tried to go vegan four years ago it was almost impossible; I couldn't eat out anywhere and I had to cook everything from scratch as it was hard to find convenient and tasty vegan food in the shops. Over the past six months the vegan scene in London has exploded (especially within street food). When we started, Club Mexicana were the only other vegan traders with KERB, now there are at least four of us and many more at other markets. We traded at Vegan Nights at Boiler House the other week and it was packed – people were queuing for almost two hours just to get in. That night really felt like a gear shift – I remember looking around the room and thinking wow, it's happening.
It's also so great being surrounded by fellow entrepreneurs who are all working towards the same goal. I've already made some fantastic friends and there's such a great energy when we all get together.
What advice would you give to people who are looking to start their own food stand/business?
Have a long hard think about how much you want it. The food business is a notoriously hard nut to crack and, as the market becomes even more crowded, it will take a lot of hard work to break through the noise. It's also worth accepting just how physically, as well as emotionally demanding it is. Street food is hard graft; early mornings, late nights, hours on your feet, freezing winter days, rain and wind and a million other problems that crop up around every corner. My main piece of advice would be to really refine and define your end goal – why are you getting up at 5am every morning to buy cauliflowers from the veg market? Why are you sacrificing your Saturdays to stand on your feet for 12 hours in the freezing cold? In the stressful haze of it all it's easy to lose sight of your end goal, and as soon as that happens it's very hard to keep going.
There's been many street food stars who have opened a bricks and mortar site – do you see SpiceBox opening a restaurant in the future?

Yes, this is what I'm focusing most of my time on at the moment. I'm not going say too much at this stage but we're currently exploring ways we can update the classic street food to brick and mortar trajectory in ways that serve shifting consumer habits.
Where do you like to visit in London to switch off?
My boyfriend lives in Crouch End and I love going to stay with him there as it feels like you're leaving London for the night. I really recommend walking along the Parkland Walk from Crouch End to Highgate for a taste of the countryside in London.
Favourite place to grab a vegan dinner in London?
My answer to any London restaurant-related question is always the same – MORO! Their mix veg mezze is my death row meal and the best thing is that it changes with the seasons, so it's rarely the same. For a quicker and cheaper dinner, I love the Black Cat in Clapton. The new Mildred's in Dalston is also great.
Favourite place to grab a coffee?
I'm a super fussy coffee drinker – my time in California turned me into one of those coffee snobs who only likes 'drip coffee'. My local is AllPress on Redchruch Street and they do a good drip. When I'm feeling really fancy I'll go for an Aeropres – Coffee Circus in Crouch End does the best Areopres in London.
Catch SpiceBox at KERB Camden seven days a week. Follow SpiceBox on Twitter to see what markets the team are heading to next.