Youtube and Instagram chef Gaz Oakley has torn down all misconceptions about veganism and made the world envious with his rich, indulgent recipes. His success tells the story of a man who uses his passion for food to make dishes that look and taste better than any chicken dinner, using the power of natural ingredients.
As a former weight trainer, Oakley knows the importance of good nutrition in a diet and his recipes explore everything from easy high protein meals to how to make vegan BBQ ribs. With exciting collaborations around the corner and the launch of a cookbook, we took some time to speak to Gaz about his incredible journey and future plans.
What was the food scene like growing up in Cardiff?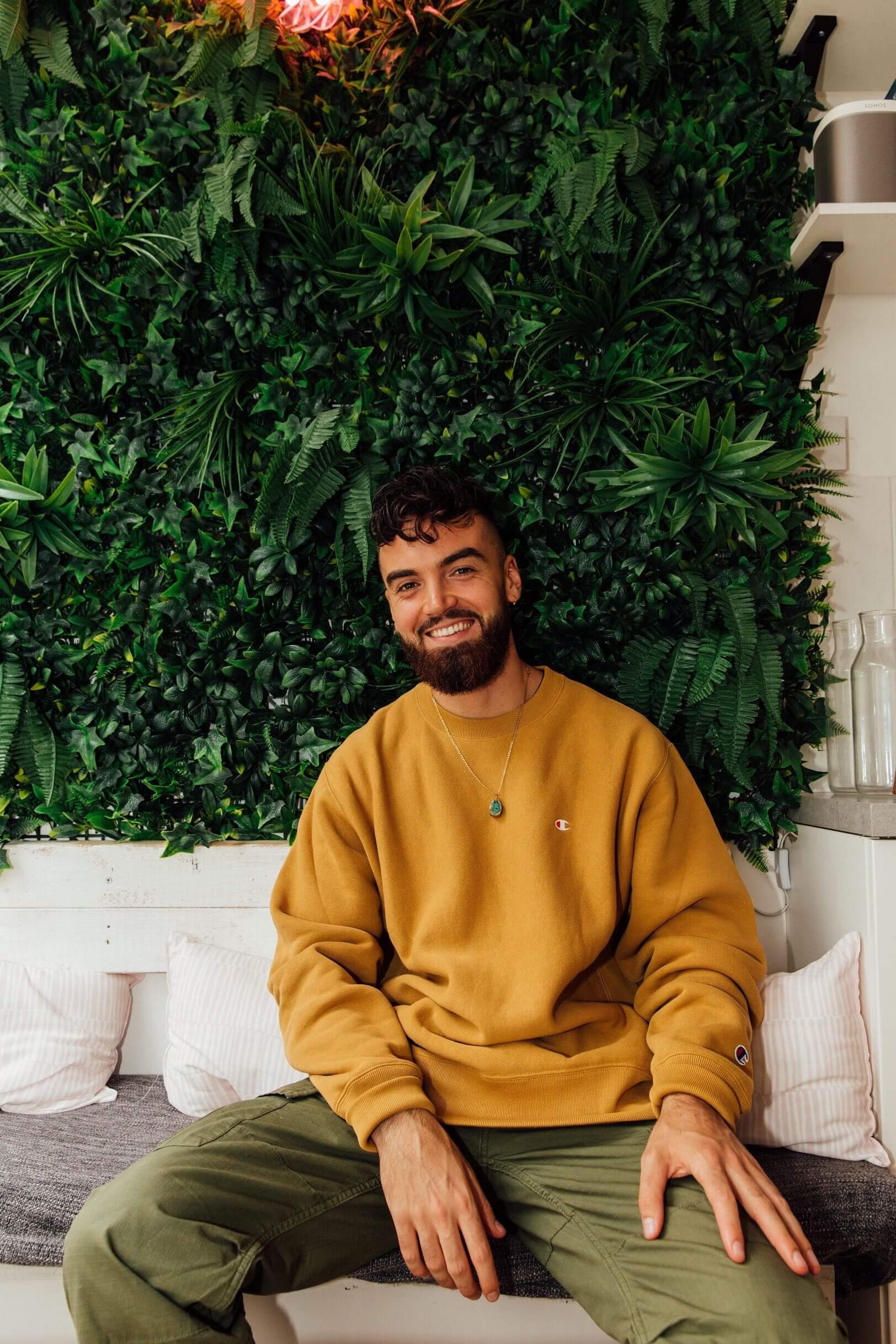 Not very good to be honest. There was a couple of nice restaurants, but it's so much easier here in London. The chain restaurants are the only ones that can make money. One day I would love to own a restaurant there.
You started off on Instagram then made the big move to Youtube. What was it like going from being the man behind the camera to the man in front of it?
It was hard; I felt very awkward doing that at first but I really enjoy doing it now. It was very difficult but people were asking how I made the food on Instagram, so I knew I had to show people how to cook and prepare the dishes.
Was there a pressure to glamourise yourself when you started on Youtube?
Yeah, at first, but then I realised that it just wasn't me. When I see people doing that it makes me cringe. I just try and be myself, and at first I thought that I would be a bit too awkward and boring and chilled, but actually it's gone down quite well.
Many people grow up eating meat before going vegetarian and vegan. Is there a pressure to mimic meat in vegan cooking? 
There's not a pressure because there's so many nice things to eat without replicating meat. I do experiment with textures – and I think I'm doing a good job because I've been doing this for a while and I know what I'm doing. I was a meat eater for years and there are textures that you do become accustomed to as a meat eater, but eventually you get used to it.
How do you market your food to non vegans?
By making it very indulgent. I think people have very low expectations of vegan food anyway. Some people think it's just a plate of grass or rabbit food, I always aim to make the dishes look 'normal' and extremely decadent.
You started creating Caribbean burgers. Where did the inspiration come from? Have you been there?
I wish! Sadly not, but I fell in love with those kinds of flavours; I love scotch bonnet chillies, and I love plantain. That burger just came about because it's all of my favourite things. I'm inspired by travel and that's all I want to do really. My inspiration comes from all different cultures.
Have you come across any hurdles?
I feel like I know what I'm doing now! I know how to make things work, to be honest, I can't really think of anything. If something fails I can normally always turn it around and fix it – but with baking things can always go wrong!
What was the transition like going from a high pressure kitchen to working for yourself?
I left the chef industry 4 years ago – I got so burnt out because the hours were so intense. Then when I went vegan three years ago I started experimenting in my kitchen at home again. The key thing for me was coming up with new exciting things.
What has the support been like from family and friends?
It's been really, really good. Both my parents now eat vegan at home. They're so supportive and they're happy that I'm enjoying it.
Have you experienced much criticism? 
Only on Youtube, but most of those negative comments are from uneducated people who don't understand what I'm doing. Other than that, they're pretty much positive.
Was there a defining point where you realised you wanted to go vegan?
I used to weight train and eat a bodybuilders diet and that's what brought me to eating a plant-based diet because I was sick of eating so much meat and dairy for protein.
What is the best way to spread the message and get rid of the protein myths that surround veganism?
Watch some of my videos! I've got videos that show how to make high protein meals and my most viewed video has 2.4 million views where I cook three quick high protein meals.
Do you think there's a stigma about veganism? Why?
I guess people think that vegans like to force it down people's throats instead of realising that we're just passionate and we care about people's health. I don't think there's should be anything wrong with expression. When you learn what's good for the planet, of course you're going to want to share it. I'm lucky that I do my work in a kitchen because I let the food do the majority of the talking without preaching.
What's your favourite thing to cook?
I love cooking plantain and my favourite food is just anything simple.
You've got a collaboration coming up with vegan queen Linda McCartney. Tell us more: 
Linda McCartney are trying to make their food more appealing to a younger audience, like students. I've come up with three really tasty and indulgent simple to make recipes using their products, and we want to encourage students and young people to make more meat-free dishes. We're going to do a uni tour and take a truck around to different universities and see if people like the food.
What are your favourite vegan restaurants in London and Cardiff?
Vurger Co, Eat of Eden in Brixton, Redemption, Essence cuisine, Temple of Seitan, Wulf and Lamb and Purezza in London. There's only one vegan restaurant in Cardiff called Anna-Loka.
For vegan recipe ideas, see Gaz's videos here. 
All Photos credit to Gaz Oakley