About Time You Met: Gareth Stevenson, Head Chef at Palé HallBy Angelica Malin
Situated in the rolling Welsh countryside, Palé Hall boasts high-end accommodation including 22 individually styled rooms, distinctive charm and exceptional food, along with breathtaking scenery of Snowdonia. Head Chef Gareth Stevenson chatted to us about the hotel's recent Michelin green star award, menu development and his favourite seasonal ingredients: 
What inspires you the most to cook?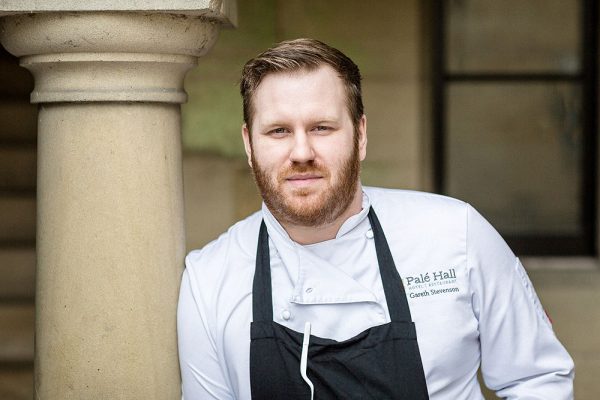 Hard not to look at our surroundings and be inspired; whether that is the green valleys and rolling hills where we are situated or the grandeur of Palé. Nature dictates what we put on the plate, through the seasons though, so I would say nature.
How long does it take to build good relationships with local farmers, producers and suppliers?
It's an ongoing process based on trust and respect. If a local farmer comes to me and I'm honest with him about the produce, whether it is positive or negative, it starts a conversation. We have worked directly with our butcher since pre-opening at Palé and I have a great relationship with Haydn as a result, we created the breakfast sausages together to a unique recipe. He knows exactly what we want because of how we have worked together in the past. Similarly, our rare breed lamb farmer, David Ogilvie, knows how much of a fat spread we want on the lamb, how long we want it hanging for, to create the product we want to use. It didn't happen overnight and things only get better with time, but it usually takes 6 months as a minimum before we are fully in tune with each other.
Congratulations on the Michelin green star award – is that something you expected?
No, in a word! We know through working practices we have brought in with the teams and suppliers, we are in a good place in that respect, obviously supplying our own electricity helps as well! We try to get better continuously, 'Kaizen' I think the Japanese call it. Not huge bounds every 6 months, but a bit better every day.
What systems have you put in place to make the food offering more environmentally friendly?
We preserve a lot, so we aren't buying things out of season with the food miles that usually entails. We cut down on sous vide cooking to reduce single waste plastics, it's also made our chefs better cooks. We have cross seeded elements from the tasting menus into the casual dining offering, to reduce waste, and we compost what we can from kitchen waste which helps grow us things like cucumbers, tomatoes, radishes, all of our micro herbs, salad leaves, courgettes etc.
Do you cook much when at home?
I try to cook every day off. So obviously the last 12 months I've cooked a lot still! Usually, one pot wonders as I hate washing up.
 Who do you look up to most in the chef world?
Obviously, I've worked indirectly for Michael Caines for 8 years, so he has been a huge influence, I try and instil the lessons and values he taught me in the kitchen team, we still use recipes that Michael shared with me to create our dishes, alongside my own recipes. To achieve what he has in this industry over the last 30 years is incredible
Why is it called the Henry Robertson dining room?
It is named after the gentleman who had Palé Hall built, 150 years young this year! Some of his descendants still live down the road, so it is a nod of respect from the owners.
Do you eat out locally, if so, where?
Not very often, we have two young children and no nearby relatives, so combining my time off with my better half, and then getting to go somewhere doesn't happen often, unfortunately. We do love the village pub where we live for just really well-done pub food – Tyddyn Llan is in the village but haven't got to eat there as often as we would like. Probably the place we have eaten the most since we moved here from Chester is Stile Napolitano in Chester.
What is your current favourite ingredient?
Hard to narrow down, I love ox cheeks, Jerusalem artichokes and rhubarb. We missed so much last year, and I know in the scheme of things it is irrelevant, but I really hope we get to have some forced Yorkshire rhubarb on the menu this year.
For more information on Palé Hall, see here.