About Time You Met: Felipe Preece, Founder of Sugoi JPNBy Angelica Malin
Sugoi JPN is inspired by Tokyo's 'Piss Alley' street food market and Latin America's street food stalls. A hybrid between Japanese nori and Mexican tacos, the brand prides itself on championing NoriTacos, a crispy seaweed tempura shell shaped like a taco and packed with sushi rice and Japanese-Latin toppings. We chatted to founder Felipe Preece about the Sugoi JPN concept, how his business is dealing with the pandemic, and how dark kitchens are on the rise:
Tell us about your brand and the inspiration behind your concept?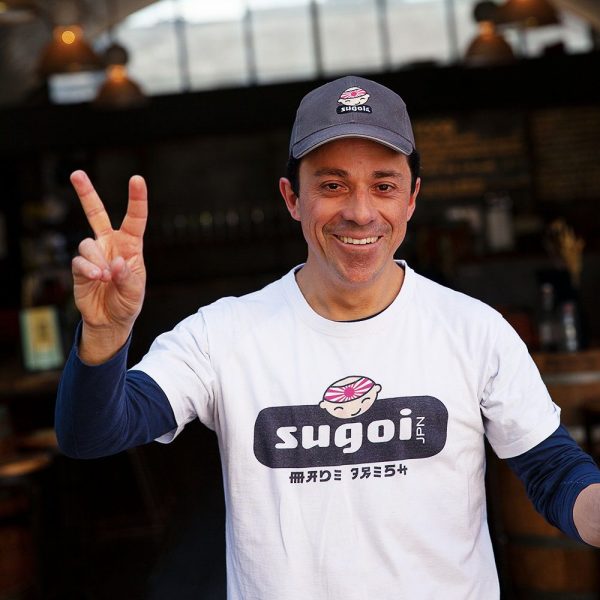 For more than fifteen years my wife Veronica and I had been developing Japanese restaurants concepts together. Some might say we are a couple that knows the Japanese fine dining and casual restaurant scene – we have a proven record of successful concept development and we have also advised and eaten in different Nihon restaurants in cities around the world!
However, in 2012 we lost everything and came to London to start again. When we arrived, we realised that online food delivery was becoming an important aspect of the hospitality industry, and the Japanese food market was saturated – you could find a fast-food chain, fine dining, family-fun traditional restaurant, you name it! So, we decided to be different, to be cool, and as a result of our travels and experiences with food, we gave sushi a vibrant and hardcore Latin twist and came up with Sugoi JPN and the idea of NoriTacos, a Japanese-Latin street food fusion.
A year later we mastered our recipe and decided to bet on the dark delivery kitchens to try our new idea, and we found one in Bethnal Green. The kitchen was located down an alley under a railway arch which was coincidental, considering our concept was mainly inspired by Piss Alley in Tokyo. We launched in 2018 and we are now a multi award-winning concept!
What made you decide a franchise expansion plan would be the right path for your brand, considering the hospitality industry is struggling as a result of lockdown?
Just before lockdown, we were in the process of moving out of our kitchen in Bethnal Green because we had secured a partnership with a national department store on Oxford Street and we were planning to take over their rooftop this summer. So when Covid-19 hit, we ended up without our Bethnal Green kitchen and without the rooftop.
Most restaurants that closed were pivoting their business to delivery and takeaway, however, to continue to generate profit, this is almost impossible. Whist we were closed, we thought about how we would tackle the issue whilst supporting our fellow hospitality entrepreneurs and we decided on an exciting expansion plan!
As so many people know already, owning your own business is not always a piece of cake. It's very rewarding, but it involves more of your time, energy and dedication. So we wanted to give entrepreneurs an opportunity to run their own delivery kitchen and professionals who would like to maximise their restaurants or delivery/takeaway business, by adding a successful and multi award-winning concept to it.
We don't want to be thought of as someone who only sells 'franchises'. Our business model was designed to support and grow the hospitality industry during this incredibly challenging time. The industry has been hugely impacted by Covid-19 and we must get through this together.
How many sites have you launched so far – have they been successful?
We currently have two Sugoi JPN sites open; one in South Wimbledon and the other in Palmers Green. We are delighted with the reaction. Both sites are operating successfully – better than we expected! Our Palmers Green site has enabled a former Italian restaurant to continue operating as a takeaway and delivery service too – win win!
Simultaneously our amazing team have launched a new concept inspired by traditional Venezuelan food, called Arepita Sliders. We created the concept with the vegan and gluten-free market in mind, and with the aim of improving sustainability within the hospitality industry. We are also on a mission to tackle one of the biggest challenges we are facing globally: food waste. We have already launched in Tooting Broadway and we hope to launch 20 sites across London over the coming year, with a target of 50 overall. 
What would you say is the reason for the continued success of your business?
We are Sugoi! But seriously, it's because we are passionate about our concept. Without passion, there is no success. You need to believe in your concept.
The industry is constantly changing, now more than ever, and so we need to think ahead and adapt our strategy to stay relevant and ahead of the game. We listen to what the public needs, and we deliver by constantly thinking of new ideas and adapting.
What's an average day in the life of a food business entrepreneur during a pandemic?
It is really challenging, we are dealing with a lot of issues we did not have in our operations before, like reducing hours, shortage of products and limited services. It makes it difficult to accomplish your daily goals as it requires extra effort to do whatever you did before easily and on a normal basis.
How do you keep your team motivated?
The pandemic has certainly caused a lot of change within the industry, and change can often take us out of our comfort zone and create uncertainty. However, we ensure there is always strong communication and a collaborative relationship amongst the team. We make sure the team feel supported and are totally on board with any changes we've had to make. With social distancing guidelines always in mind, we are no longer working every day, only from Thursday to Sundays and our opening times are based on hours when public transport is quiet so our team feel more confident when travelling.
As an industry, given how quickly things can change, we face new challenges, but we are confident will get there together, as a team.
What are the future plans for Sugoi JPN? Can you tell us about any other sites that you have in the pipeline?
We are very excited to announce that Sugoi JPN and Arepita Sliders are opening in Chelsea at the start of November and will be working alongside The Chelsea Lodge on King's Road! We are also currently in negotiation to open more Sugoi JPN sites in East London.
With regards to the future, our plan at the moment is to focus on London with a controlled small expansion, with different trading options such as takeaway shops, shared kitchens, dark kitchens, etc, with delivery being the driving force. After that, we can think about opening internationally, maybe in the Middle East, who knows! Things can change so quickly, as we have seen with Covid-19, so it's about being flexible, and having the capability to adapt to drastic changes quickly and calmly.
Also we would like to think that in the future our nori shells could be available in retail stores and supermarkets so our customers can make their own noritacos at home.
What does the future of hospitality look like to you?
It has to be different! If we continue to operate as we did before lockdown, I don't see it improving. We must all work together to find a new way of building the industry successfully.
I personally believe dark kitchens are the way forward which is why we created UOK (Under One Kitchen). The idea is that we partner with hospitality operators to help support and build the hospitality industry by opening multiple dark kitchen spaces across London or by maximising the operators' current existing kitchen or restaurant structure. We offer awarded food delivery license, increased sales, an improved food offering with a low labour cost and an easy to operate an affordable multi-concept business. It's the perfect solution for anybody wanting to start a food delivery/takeaway business and it allows professionals to maximise their restaurants or delivery/takeaway business too. It allows brands to work alongside each other to cut down on costs – it's a no brainer.
Any advice you can give to budding entrepreneurs trying to start up their own food business during a pandemic?
I always say, do not see this as a crisis, but an opportunity! Be positive and open your mind and think outside the box. Everyone is starting from scratch, take advantage of it and make this new start work for you, and be passionate about your idea!