About Time You Met: Emily and Dan Watson, Founders of BumbleZestBy Angelica Malin
BumbleZest, founded by husband and wife team, Dan and Emily Watson, was born out of a desire to create great-tasting, high-quality drinks packed with natural ingredients without comprising on taste.
We chatted to Dan and Emily about starting the company for their Battersea home, the challenges they faced, and their exciting new line of premium mixers:
What were you doing before BumbleZest?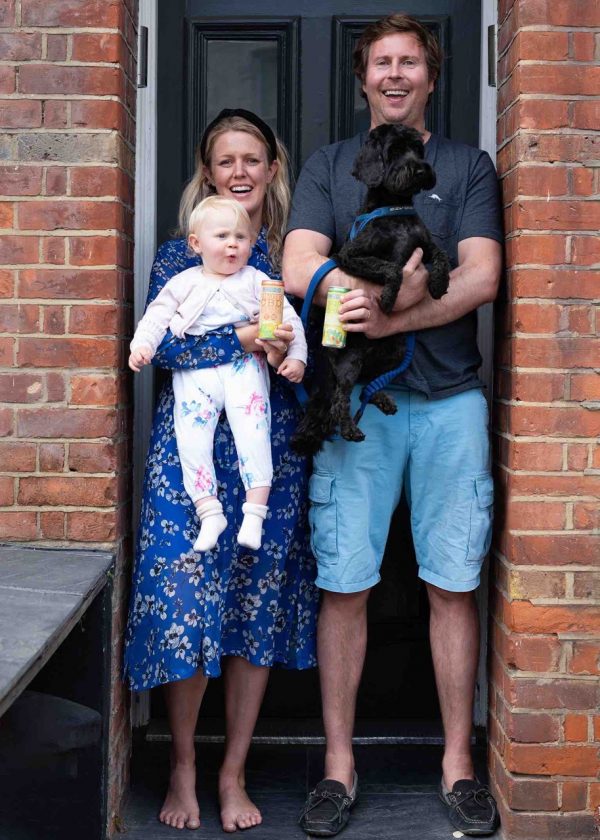 Dan: I'm a qualified chartered surveyor, I previously worked in commercial property in the city and then went on to run my own residential property development company. I experienced high levels of stress and anxiety in this line of work, which along with other health issues led me to develop BumbleZest. 
Emily: I worked in marketing/advertising agencies on some exciting brands including Sainsbury's (mainly Groceries Online), The Food Warehouse by Iceland, BSkyB, NowTV, Dixons Carphone, Time Inc., Battersea Dogs and Cats Home… There was a constant buzz and I loved working alongside all the fun, creative personalities. However, the role involved very long hours and was very fast-paced. 
What prompted you to get into wellness and drinks?
The long hours, commuting and the general lifestyle we were living in London started to take a toll on our health. We were not sleeping well, drinking too much coffee and alcohol, plus developed anxiety and high levels of stress. We had a cupboard bursting with different ingredients so that we could make drinks at home, we were drinking particular recipes at different points of the day for varying functions. Instead of having a coffee in the morning we were drinking boosting Matcha, Moringa and Ginseng drinks, if we wanted to relax after a hectic day we would create a herbal drink with Lavender and Chamomile. We thought how great it would be to open the fridge and have a drink ready for all the different challenges life throws at you. 
What (if any) were the challenges when launching your own drinks brand from scratch?
Launching any new company has challenges. We have always been very open to feedback and have made tweaks and improvements at every step of our journey. Even when making the changes is a logistical nightmare or will cause a lot more work for us in the short-term. 
Any advice for others dreaming of launching their own business?
That there will never the perfect time to start your own business, you will never think your product is completely finished or your packaging is spot on, or that it is the right time in your life to take a jump from a steady income into the unknown. But our advice would be to trust your gut and just get on with it and do it. Make changes and tweaks along the way. 
Do you have a favourite product from the range?
Dan: The Detox + Defend health shot is my daily drink first thing in the morning! It is packed full of purifying ingredients which gives me the boost to get up and go. It is our punchiest shot to taste and is packed with Apple Cider Vinegar, Milk Thistle and Activated Charcoal which if taken the morning after a pub session will sort you right out!
Emily: I love our Flourish + Flow can, it is the perfect thirst-quenching, low sugar and low-calorie soft drink for me. It's light, refreshing and really helps me to unwind. I find it hard picking a soft drink when I go out to pubs or restaurants as find they often all have a high sugar content and leave me wanting to brush my teeth! 
What would you recommend from the range if someone is after some immunity-boosting products to help them through winter?
Our firey Ginger, Turmeric products would be the go-to in the winter as the ginger warms you. All of our drinks are packed full of up to 9 different natural functional ingredients. 
 Do you ever mix the range with other drinks alcoholic or non? Do you have any recommendations?  
Our light, low sugar and calorie CBD tonic water is designed to be drunk either as a sophisticated and healthy non-alcoholic drink on its own or of course as a mixer with your favourite premium spirit. It is a light zesty tonic designed to help enhance and compliment the taste of your chosen premium spirit. 
Our firey Refresh + Relax: Ginger, Turmeric and CBD Sparkling can work wonderfully well alongside your favourite rum, dark spirit or as a stand-alone punchy low sugar low-calorie soft drink.
Below are also some suggestions of delicious cocktails made using some other BumbleZest drinks: 
Light & Wavy  
Ingredients: 
40ml Duppy Share Spiced Rum 
25ml Kumquat Liqueur 
15ml Lime Juice 
Top Up Ginger&Turmeric Bumblezest 
Method: Add all ingredients except sparkling water to a shaker, add ice and give it a good shake. Pour it into a glass filled with ice and top up with Bumblezest Ginger and Turmeric sparkling water. Garnish with a ginger peel.  
Bumble Spritz 
Ingredients: 
40ml Tequila 
20ml Grapefruit Liqueur 
5ml Aperol 
10ml Lime Juice 
10ml Honey  
Top up with Bumblezest Tonic 
Method: Add all ingredients except tonic to a shaker, add ice and give it a good shake. Pour it into a glass filled with ice and top up with Bumblezest Tonic. Garnish with a dehydrated lime wheel 
We also recommend the below for some delicious Winter warmers: 
Fire + Fortify / Revive + Restore Shot (Both Our Ginger Shots)  
Warming firey drink to help if you are feeling under the weather or need warming up from the inside out.

Method: Pour health shot in to mug, add hot water, a slice of lemon and an extra drop of honey

Propel + Protect Shot 
The Matcha shot could be hot as a hot alternative to a hot coffee in the morning or to combat an afternoon slump to get you through the rest of the day.
Method: Pour health shot in to mug, add hot water, an extra sprinkle of Matcha and a slice of Lemon.  
What motivates you?
Each other! We bounce ideas off each other, we run all business ideas past each other and if one of us is having a 'slow day' then the other one tends to pick the other up with encouragement and good energy. Our daughter Willow also motivates us, as we have put our lives and souls into BumbleZest over the past 4 years and everything we do is for the future of our family. We are expecting our second baby in March next year, which is motivating us further. 
What's next for BumbleZest? Are there any new drinks in the pipeline?
We have a few exciting new mixers up our sleeve, watch this space… 
Do you have any South London tips? Name one local hidden gem?
Battersea Park has lots of hidden gems, we spend a lot of time stomping around there with our daughter and dog. In the summer we look out for terrapin turtles sunbathing on logs (they are much more common than you would think!). There are loads of green Parakeets to spy in the trees too. We always pick up our favourite local cup of coffee from Sendero for the walk. 
For more information on BumbleZest, see here. Instagram: @bumblezest