*Calling all gin lovers*. This week we've teamed up with one of our favourite tipples, Rock Rose Gin, for a special-themed Gin Week on About Time. During #RockRoseGinWeek, you can expect all the gin goodness: London's best summer cocktails, awesome gin recipes, gin-inspired travel guides and much more. To kick off the week, we sat down with the founders of Rock Rose, husband and wife duo Martin and Claire, to find out more about the brand:
Hello guys. So, tell us a little bit about your distillery – how did it all begin?
Martin: I actually learned distillation at Heriot Watt University when I was studying my Masters in Chemical Engineering, but it wasn't until over 10 years later that Claire and I started talking about turning our shared passion for gin into an actual business. Prior to this I was working in the oil and gas industry, mainly offshore, and being back with my wife and family was a real driving force behind the decision.
Claire: Gin has always been my spirit of choice and so it was a natural choice for us! We live in Caithness which is pretty much as north as you can get in Scotland, in fact we're the most northerly distillery in mainland Britain, so have such as abundance of plants and local botanicals that we thought we could utilize to make something truly unique.
Martin: When we started out we worked with a local ranger, Mary Legg and a local herbalist, Brian Lamb, who helped identify local botanicals growing in Caithness that would be suitable for gin. We had many experiments (much to Claire's enjoyment!) to perfect the Rock Rose Gin taste, in fact I think we trialed over 50 different recipes in total.
What's unique about Rock Rose Gin?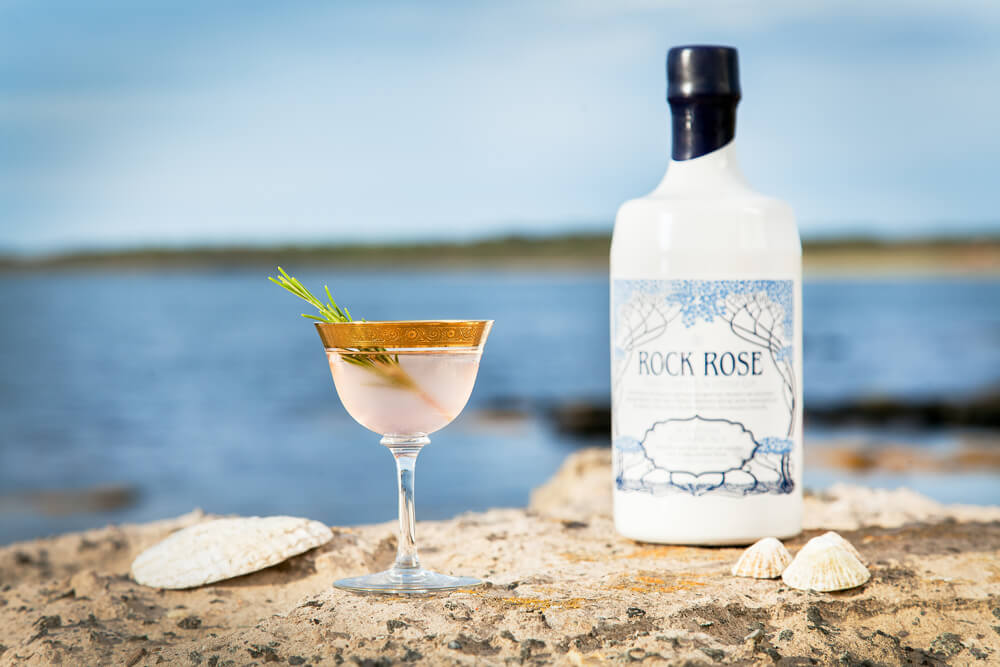 M: Many things! We hand-forage botanicals from local cliffs and forests and are growing our own botanical garden at the distillery. Our name actually comes from one of these, the Rhodiola Rosea (a rose in the rocks), which was discovered on our first botanical forage with Brian Lamb – it gives the gin a unique floral note. Other botanicals include hawthorn and rowan berries from Dunnet Forest, mint from a local stream, and sea buckthorn from our gardens.
What's the ethos behind the brand?
M: Both Claire and I grew up in Caithness and we really wanted to create a spirit that showcases the provenance and heritage of the area we are so passionate about. It's great to be spreading a wee taste of the Highlands across the UK. Plus, we love innovating and experimenting too, it's great to have so much fun whilst you're working.
What's your favourite gin cocktail?
C: Oh now that's a tough question! We recently made a Rhubarb Leaf using rhubarb from the distillery gardens, and it was amazing. Martin read about it in Ryan Chetiyawardana's book – it's so refreshing on sunny days.
What makes Rock Rose different to other gins on the market?
M: As well as our unique mix of botanicals, we also slowly distil gin using a vapour infusion process at the distillery, which is pretty unique.  Our pot still, Elizabeth, is also bespoke to us and was created by the oldest still makers in the world. We are very much a small batch gin maker, as well as hand-distilling, each bottle is filled, hand-waxed, batch numbered and signed before it leaves our distillery.
Do you think more women are getting involved in the drinks industry than before?
C: In our experience there has been an upsurge. Whether it's brewing, distilling or blending there seems to more women showcasing their talents.
What's the secret to making the perfect gin and tonic?
M: Break the rules and experiment. Everyone has a different taste, so I would start by slowly adding tonic until the ratio is to your taste. Then experiment with garnishes until you find a match that works for you. 
What's your plans for 2016?
M: We have just announced that we'll be releasing a series of Seasonal Editions throughout the year.  Our Spring Edition was an immediate sell-out, so we'll be distilling more of the Summer Gin, which will be released towards the end of July.  The Summer Edition features meadowsweet and elderflower to bring a light, summery floral note to the gin. Orange and lemon thyme from the distillery's geodome bring a complex citrus flavour to it and clover brings a tangy, sweet, lemongrass flavour.  All the botanicals are harvested at the distillery of within one mile of the gardens. 
Sponsored post in assocation with Rock Rose Gin – follow them on Twitter here and like them on Facebook here