Eric Lanlard is the mastermind behind Cake Boy, a boutique cake cafe in South West London. Not only does he create some downright delicious cakes and sweet treats, he's author of 5 cooks books, presenter of four television series and has recently unveiled his Market Café on board the new P&O Cruise Ship Britannia. We sit down with Eric to discuss his biggest passion: baking.
What made you set up a French patisserie in London?  
It's a modern patisserie and we're a bit different and didn't want it to be too classic.  I had always dreamed of owning my own patisserie, since being a little boy back in Northern France.  It was all about timing. We used to be wholesale and for some time we were supplying Fortnum & Mason and high end patisseries and cafés, we did that for 10 years.  The nature of the business was changing and I was getting disillusioned with the wholesale climate. We needed a smaller kitchen and we found a space that was situated in a luxury housing development, it was a perfect space to open a café lounge and cookery school.  Teaching was something that I enjoyed doing and the timing was right and baking was about to become the new 'rock and roll'. It's funny to think that all those years ago, nobody was interested in publishing cake books. I was told that time and time again – funny now when I look at the magazine racks nearly every food title has a picture of cake on the front cover! 
Why do you think Cake Boy has become so popular?
I think that's a combination of things.  The UK's obsession with baking, my television series and my books.  Also, we run a very lovely outfit – we offer quality goods, a great atmosphere and good service.  It helps that I'm there most of the time, customers often have a look of surprise when they see me walk through the shop.  Cake Boy is my work place/office so when I'm not travelling or doing shows – it's where you'll find me. Afternoon tea has made a big come back with people having a better understanding of pastries and cakes, they want good quality and feel it's ok to treat themselves to a slice of cake – it's a little luxury with a feel-good factor.
Why do you think Brits enjoy French pastries and cakes so much?
They see it as glamorous and fashionable.  The French have a well-earned reputation for creating incredible pastries so the Brits feel they are eating the best.  Food and the celebration of food has become so accessible and everyone can join in – I think the internet and social media has had a large part to play.  Suddenly the world seems much smaller and we are all better informed – we can share our experiences and recommendations.
 How do you keep up with the latest food trends and creating new cakes?
I travel lots, enjoy eating out and I  keep up to date with reading and just seeing what my peers and fellow chefs are doing.  I've always enjoyed experimenting with flavours and new ingredients, so that inspires new recipe creations.
What's the most popular item on the menu?
During the week it's probably our very generous sized muffins filled with fresh fruit compote closely followed by our red velvet cake.  On Saturday the cake counter is full with a variety of pastries – classics with a very modern twist and we try to encourage our customers to try something different.
For anyone who hasn't visited Cake boy – what can people expect?
A welcoming space in which you can enjoy a slice of cake in an elegant, yet laid back atmosphere.  It's a very cool space, we have great wines and champagne too and of course there is our very beautiful and well furnished cookery school.  I wanted to create a café lounge that people would want to come back and visit time and time again.  Everything is made on the premises and you'll find me there most days – unless I'm doing food shows or filming TV shows.
You're appearing at the Cake & Bake show – what can people expect form your demonstrations?
Lots of laughs – I will be demonstrating a few recipes from my Home Bake and Chocolat books. I always encourage the audience to ask questions, it's always great to share tips and help them with any baking problems they may have.  I really enjoy being part of the Cake & Bake family and look forward to catching up with my fellow bakers and to meet the fans – it's incredible to see this great community of 'mad about baking' people in one big space.
What's your advice for people wanting to start baking?
Baking is a science and there are no short cuts. Follow the recipe, weigh your ingredients and invest in a good pair of scales and an oven thermometer!
What's the secret to making a good cake?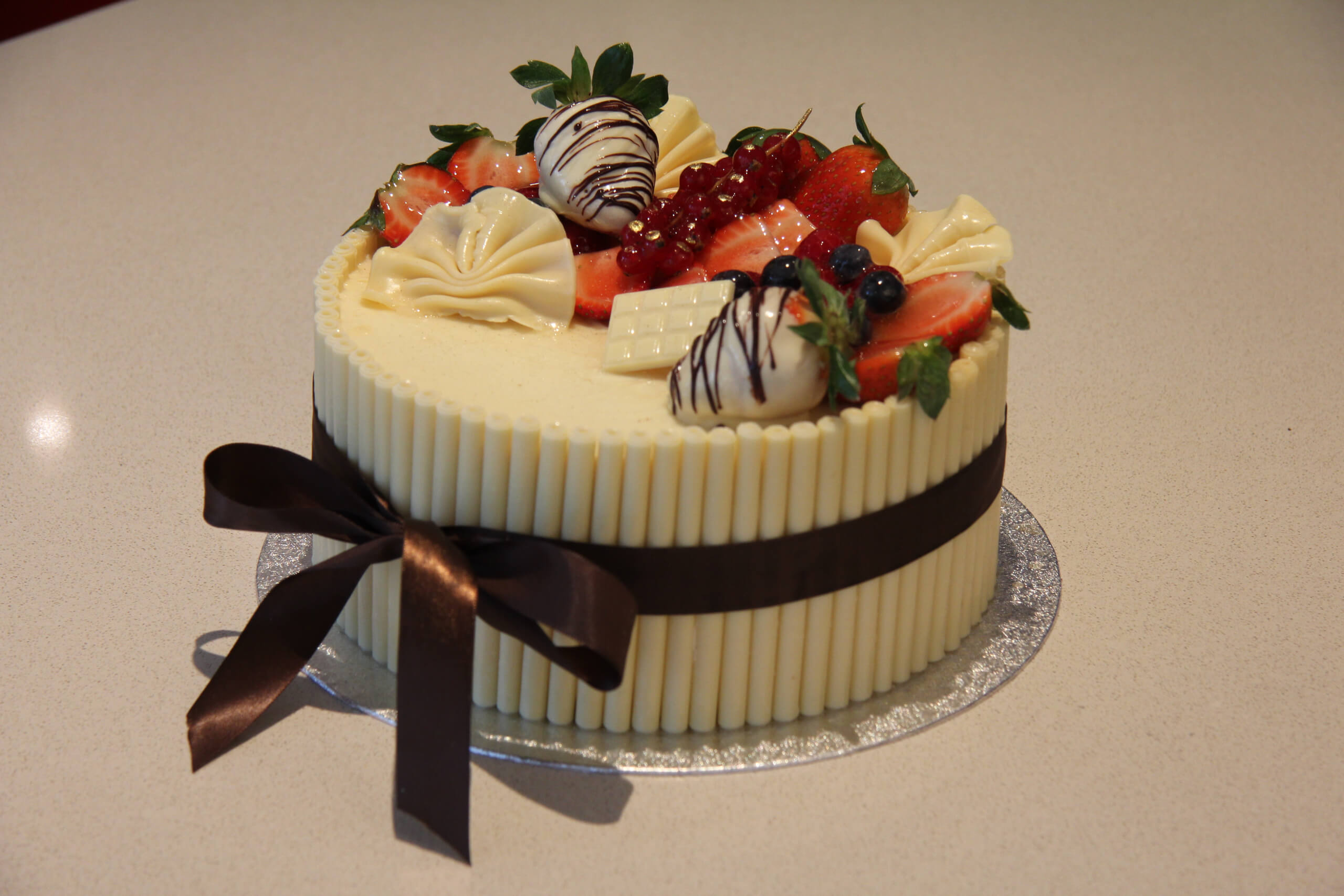 Use the best ingredients that you can lay your hands on and don't skip on quality (unsalted butter, pure vanilla extract and golden caster sugar), that way even if your bake doesn't come out looking as it should it will taste delicious.
What excites you about baking?
There is always something new to learn and it's a great therapy – bake a cake for someone and you are guaranteed to see a happy smiling face.
What's your favourite British cake/dessert?
I love a well baked fruit cake and you can't beat a home-made apple pie with real custard.
The Cake & Bake show is running from the 2nd-4th October at London's EXCEL Centre. Buy your tickets here.