The wellness movement in London is growing at a rapid pace. And we're pretty pumped about it. Ludovic Rossignol-Isanovic is Co-Founder and Director of Balance Festival – a new fitness and wellness event taking place next year. We sit down with Ludovic to discuss what we can all expect at Balance Festival. We won't spoil it, but you're in for a treat:
Tell us about yourself. What's your career background?
My background is in events. I am co-founder of the London Coffee Festival, the UK's largest coffee and artisan food event. We've now launched the event in Amsterdam and New York – celebrating good coffee across the globe! My goal has always been to curate fantastic events that both celebrate and elevate industry standards whilst delivering an incredible experience to guests.
What is Balance Festival and what inspired you to create such an event?
Balance festival is the new destination for Londoners interested in embracing a healthy lifestyle. Whether this means being a fitness aficionado or simply dipping a toe into the water of wellbeing, this event will bring together well-travelled foodies, fantastic fitness trainers, awe-inspiring yogis, and most importantly – real people, with a common vision – simply to achieve a better self. The event will take place at Old Truman Brewery in East London between 12th-14 May 2017.
We created Balance Festival because our goal is to create a cutting-edge portfolio of urban fitness and wellness festivals, and to inspire people from around the world to achieve a healthier lifestyle. Two years ago when we started conceptualising Balance Festival, we wanted to design an event that was accessible, approachable and welcoming to all. We wanted a festival that would be highly inspirational, progressive and cutting edge – an event that we would want to attend ourselves. We have the opportunity to change the way people live; to help people live longer, healthier, fitter and ultimately happier.
What will take place at Balance Festival? What can people expect over the course of the festival weekend?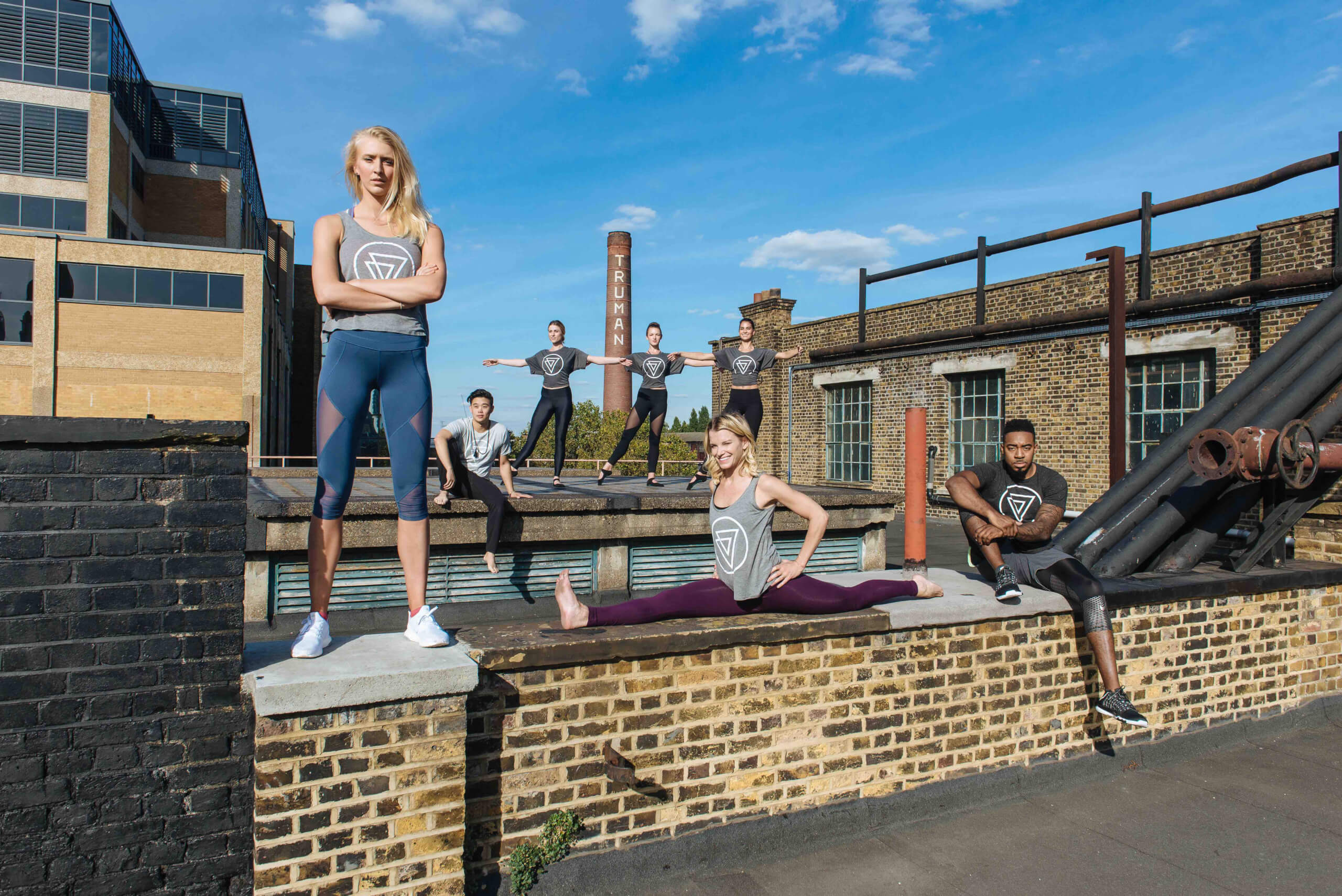 Over the course of the weekend, Balance Festival will showcase the very best in fitness and wellness, all under one roof! The festival will see 230 fitness classes and 10,000 workouts from some of London's most progressive studios including the like of Another Space, Barry's Bootcamp, F45, Third Space, Xtend Barre, Core Collective and Triyoga to name a few. The festival will also host an EPIC collision style fitness programme which pair two different instructors from completely different disciplines to create a workout perfectly choreographed to a live DJ set. Expect a fitness experience like never before!
There will be a large food market, offering everything from gourmet burgers to avocado on toast. There will be protein shakes, a nut M*LK Bar and the Refuel Café, plus 100+ progressive food brands. Guest will be able to shop the very latest in athleisure, with Active in Style, The Active Man, and Kit and Ace. There will be live cookery demos lead by top chefs and influencers, a careers clinic, a running zone – plus much, much more! It should be a truly amazing weekend and we are extremely excited to be hosting Balance Festival.
Tell us a bit more about the people of Balance Festival and who is involved?
We are lucky enough to bring a whole selection of industry experts, nutritionist and personal trainers on board, all of whom have completely different discipline. The People of Balance  are a hand-picked selection of real, inspirational Londoners who've made a name for themselves amongst the food, fitness, wellness and travel communities.
We are working with personal trainer and blogger Zanna Van Dijk, who will be curating certain parts of the event including workouts, inspirational talks, and cookery demos. We are working with expert chefs and nutritional experts such as Rhiannon Lambert and Dale Pinnock aka 'The Mindful Chef' and Julie Montagu aka 'The Flexi Foodie'.
Expert yogis are on board such as Michael James Wong, not to mention runners and sprinters including Max Willcocks, plus many more. The list is growing! We are really excited to have all these amazing people on board and can't wait to work with them further over the next six months. As well as contributing regularly to the Balance Festival Journal, they'll be hosting a series of interactive talks, workshops and demonstrations at the launch event in May.
How can readers get involved? Is there anything we should look out for from now until the event?
Even though the festival takes place in May 2017, there is lots to look out for between now and then. Sign up to the Balance Festival newsletter to find out about special events, news and offers. Jump online and read articles from our expert contributors on the Balance Journal. People can also get involved now by signing up for the Balance Festival Urban Tri and join our run clubs and training camps launching in January in preparation.
Launching on Saturday 13th May as part of Balance Festival, our very first Urban Triathlon will kick-off from the Queen Elizabeth Olympic Park and finish at the festival. No need to be a triathlete here (no swimming or cycling involved). Places are strictly limited to 1,000 entries – participants will take part in a 25 minute HIIT workout, followed by a 6k run and a 30-minute cool down yoga session at the festival.  All profits will be donated to Project Waterfall – a charitable initiative supporting clean drinking water projects in deprived communities in Africa.
What does a typical day in your life look like?
Most days either start with a workout or finish with a run back home.  In between anything goes. I have the luxury of working with a team of highly talented creative minds, and we do spend a lot of time daily discussing new ideas and fresh perspectives. We plan, plot, research, strategise and conceptualise new event concepts all the time – we are day dreamers but we listen to our hearts too, that's in our DNA. Pushing boundaries and challenging the status quo is what gets us out of bed every morning.
Do you have a fitness regime? Do you have any favourite classes or fitness studios in London?
I try to exercise three to four times a week and keep my regime varied.  I am a huge fan of Barry's Bootcamp and the Box HIIT class at Another Space. Researchers have found that people are more likely to adhere to HIIT sessions, as it is one of the most time effective and fun way to get your fitness fix, burn tons of calories and build muscles. High intensity workouts can be intimidating for the non-initiated at first but guaranteed highly addictive after a few sessions only.  I also like to squeeze a couple of runs on my way home weekly – it's meditation for me.  Running is the simplest, purest form of exercise in existence – it's the most basic fundamental move we know. Running along the Thames or around Hampstead Heath are among my favorite running routes. Lastly to strengthen my core and increase flexibility, I try to visit my local Fierce Graze studio weekly.
What's your top place for breakfast in London? Do you have any favourite coffee shops, juice bars or brunch spots?
Caravan Coffee Roasters in Kings Cross for their all-day brunch antipodean menu and impeccable coffee credentials, or Granger and Co in Clerkenwell for a perfect breakfast meeting, their sweetcorn fritters are to die for. I am a huge foodie and always love to explore new places, but we always go back to a tiny, unpretentious local sushi restaurant in Primrose Hill.  They probably make the best sushi in town and one of the best kept secret north of the river.  Enough said.
What does living a balanced lifestyle mean to you and how do you do so – any top tips?
Eat unprocessed, nutrient dense food that you actually love eating.  There is no point in eating healthy if you don't like the taste of the food on your plate. Healthy food doesn't have to be boring and can be incredibly tasty. Irena Macri's prawn arrabiatta is a prime example of this. Bio individuality plays a key role here – what works for you might not work for your friends.  It's all about finding what works for your body and most importantly finding a way of life which is healthy, sustainable and enjoyable. I personally have completely cut out refined sugars as I never had a sweet tooth. I have also considerably reduced eating refined and processed carbohydrates as it works for me.  I do however enjoy a glass of red wine or two and that's absolutely fine.  Fitness-wise, I also recommend sweating at least 3 times a week and try to integrate some mindful practices into your life, it could be a daily 10 minute meditation before dinner or simply banning digital devices from the bedroom.  Sleep is also essential to achieve a healthy life balance.  Again here there are no rules, it's all about finding your own balance.
Balance Festival will take place at Old Truman Brewery from 12-14th May 2017. For more information or to secure early bird tickets, visit here.