About Time You Met: Anshu Ahuja and Renee Williams, Co-Founders of DabbaDropBy Alicia Grimshaw
DabbaDrop is a sustainable takeaway service run by female co-founders, Anshu Ahuja and Renee Williams, delivering plant-based curries in reusable packaging, direct to doors. Proud to be London's first plastic and emission-free takeaway, DabbaDrop feeds over 1000 people every week. The business is steadily expanding across the capital and the plan is to reach other cities in the UK. We chatted to Anshu and Renee about DabbaDrop's menus, the company's sustainable principles and what's next: 
What is DabbaDrop and how does it work?
DabbaDrop is a subscription-based food service, delivering freshly-made plant-based set meals-for-two across London. Our food is based on authentic recipes from India and South Asia. Dishes are vibrant and colourful from the seasonal produce, fresh herbs and spice blends we use.
Deliveries are plastic-free, packaged in reusable dabbas (metal tiffin tins) and are completely emission-free, making us one of the most sustainable food delivery services out there. Based on orders from subscribers, we know exactly how much food to cook each week meaning there's almost no food waste.
Tell us about what people can expect from the menu?
The dabba tiffin tins are stacked each week with a salad, curry, dal, rice and roti to feed two people. There's a rotation of nine set menus to alleviate decision fatigue. DabbaDrop's food is always flavour-packed, nourishing and vegan friendly.
We have a selection of tasty sides like Punjabi-Spiced Potato Samosas, Avocado Raita and Coffee and Cardamom Brownies for those wishing to 'pimp' their DabbaDrop experience. We also change the menus seasonally and reinvent dishes that aren't as popular, so it's a constant process. Recipe development is one of our favourite things about the job!
What are you most proud of at DabbaDrop?
DabbaDrop are proud to be London's first plastic and emissions-free takeaway service. Since we started in November 2018, our customers have helped us save over 100,000 plastic containers from being used by delivering in our reusable dabbas. We've also made over 25,000kms of emission-free deliveries. Through this, we hope we've offered some inspiration and encouragement to others on their journey towards a more waste-free lifestyle.
 What are your favourite dishes on DabbaDrop's menus?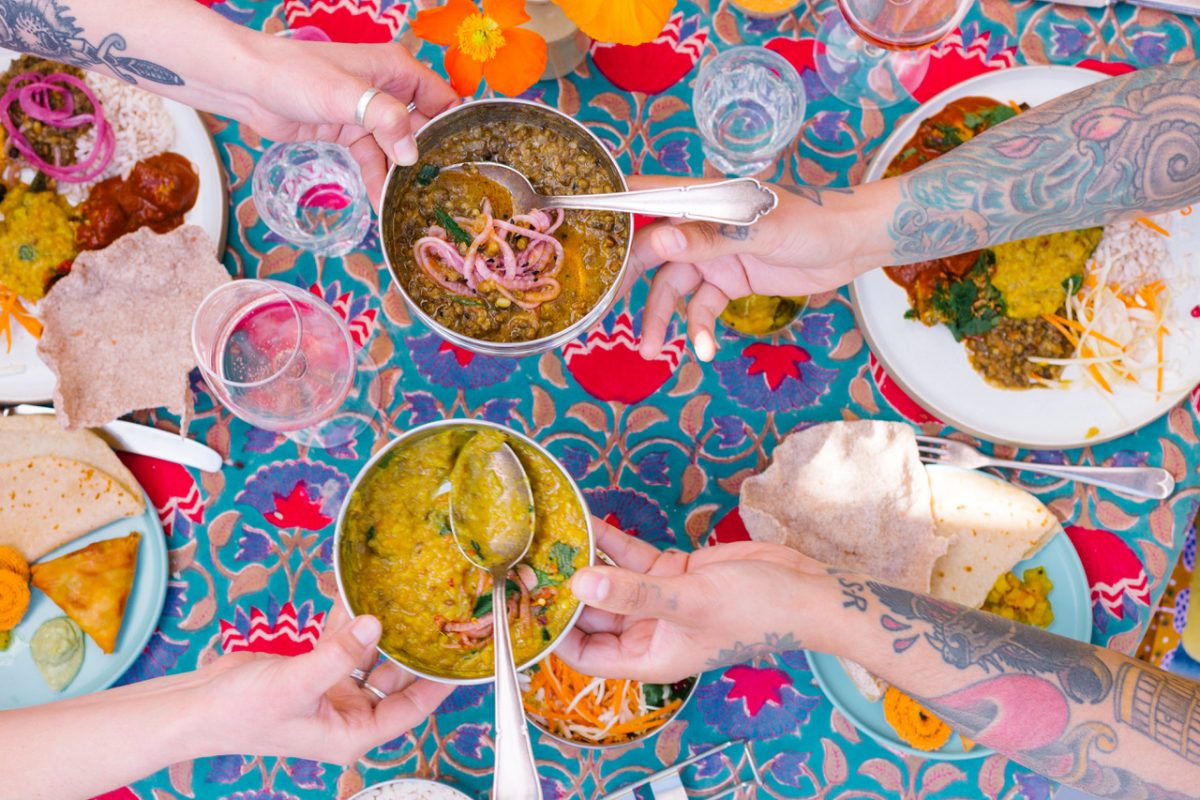 Our favourites change quite often as there's so many hits on our rotating menus. We're currently obsessed with the No-Prawn Curry which features on the brand new Goan menu. It's a tantalising mix of coconut, tamarind, curry leaves and spices, with tofu as the substitute. It's so moreish! A DabbaDrop team favourite is the Beachside Bhel; a crunchy spiced salad mix of puffed rice, kala chana, red onion, green chilli, mango, potato, cucumber, tomato and coriander which features on a couple of our menus. It's ridiculously tasty as well as being filling, unlike some salads.
What advice would you give to someone planning on starting a sustainable food business?
There are several factors to consider when choosing to run a food business sustainably. Quite often the initial costs can be more significant than choosing a non-sustainable route. That's because things like packaging will be more expensive in comparison to using cheap, single-use plastics. If you're setting up a delivery business, then finding reliable and emissions-free transportation will take time. The ingredients you use are integral to how the final product will taste so be sure to use trusted (and local where possible) suppliers who work with the seasons. And finally, to be a sustainable food business is also to ensure fair treatment of your own staff and as much as possible, those in the supply chain. Treat your people well and your product will sing!
What's next for DabbaDrop?

We're in the process of setting up a zero-waste online shop. We already have a wonderful community of DabbaDroppers who are helping with our mission to reduce plastic waste, and we plan to offer them a thoughtfully selected range of products that can aid a plastic-free lifestyle.
There's also a couple of exciting projects in the pipeline, including development of some of our pickles and chutneys. We're slowly expanding our current delivery radius across London and eventually we'd like to see Dabbadrop in other major cities across the UK.
DIY recipe kits are also on the cards. It would be much simpler and cheaper for us to choose single-use packaging for such things but that's not what we set out to do. This means the development takes a little longer but we're nearly there so watch this space!
What do you think of the London food scene?
We've always been so inspired by the London food scene. It's so culturally diverse and is becoming even more so with restaurants championing cuisines like Nigerian, Burmese and Singaporean. What we're loving right now is that restaurants are taking real care over ensuring delicious vegan dishes are available. We love MOTHER in Hackney Wick for their plant-based menu and weekend tacos. The Spread Eagle in Homerton is another place doing exclusively vegan food and we go for their delicious roasts. You never miss the meat! Caravan have a great selection of vegan dishes and our absolute favourite is the chilli-crusted tofu.
For more information on DabbaDrop, see here.