About Time You Met: Anastasia Datsenko, Co-Owner of TAKABy Angelica Malin
TAKA is a newly opened restaurant which offers an intimate Japanese dining experience situated in the charming and increasingly thriving Shepherd Market, Mayfair. Centred on offering high end Japanese food in a chic location, TAKA is a treasure trove of sake, sashimi and sushi. We chatted to co-owner Anastasia Datsenko about Japanese cuisine, starting a business, and London's growing love for matcha:
You're co-owner of newly opened restaurant, TAKA. What's on the menu?
We wanted the menu to be accessible to everyone, so we made sure there's a lot variety. It doesn't matter whether you are a vegan, pescatarian or under the age of 10 there will be something on the menu at TAKA you will love. We have also tried to keep it quite healthy; all the dressings are light, but most important of all, our ingredients are of the highest quality.
What drew you to Japanese cuisine?
I think it is in my blood – I was born and grew up in Tokyo.  Japanese food is a healthy option too and I'm a huge believer in the way you eat can help you live longer, so in that way this type of cuisine fascinates me.
What do you think of the Japanese food already on offer in London?
I honestly think London has some of the best Japanese restaurants in the world. Alongside the obvious high-profile restaurants like Zuma and Nobu there are more and more smaller Japanese restaurants that keep opening. It's here that you can find some of the best sushi and hearty ramens.
How long did it take for the idea of TAKA to become a reality?
It took over a year from the initial idea to actually being ready to open. My older brother Andrey and I are business partners, but we're also perfectionists. Even though TAKA is our second project together (we opened The Melt Room in 2015) it's our first full-on restaurant project. We were actually a month late opening because we wanted it to be completely perfect!
What's your favourite dish from the menu?
That is such a hard question! We worked really hard to perfect the menu and I love everything on it. I eat the yellowtail carpaccio almost every day, and it's also our best seller. I first tried the Tskune (minced chicken skewer) when I was a baby in Tokyo and still absolutely love it so I would say that is probably my favourite. But I also love matcha and our matcha tiramisu is amazing. I eat that at least once a week.
Why do you think Londoners love matcha so much?
In Japan everyone drinks matcha more than water so I am happy it's starting to catch on in London. Matcha gives you loads of energy and is actually good for your body – instead of being full of sugar, and it's a great alternative to caffeine too. 
Within TAKA you have a lower ground bar – who devised the cocktail menu?
To be honest when we started to create the cocktail menu I thought it would be easy, but I was shocked at how much time it took. We hired a professional cocktail adviser and did so many tastings – which was pretty fun. Every time we had a tasting something would change; the ingredients, decorations and even glasses. Eventually we finally got the perfect list, and it was definitely worth the time we spent as we always hear compliments about our drinks.  Three of my favourites are the Shochu Martini, Courgette and Sake refresher, and the Plum and Thyme Prosecco Smash.
 The design of the restaurant is pretty striking – what did you want to achieve from the decor?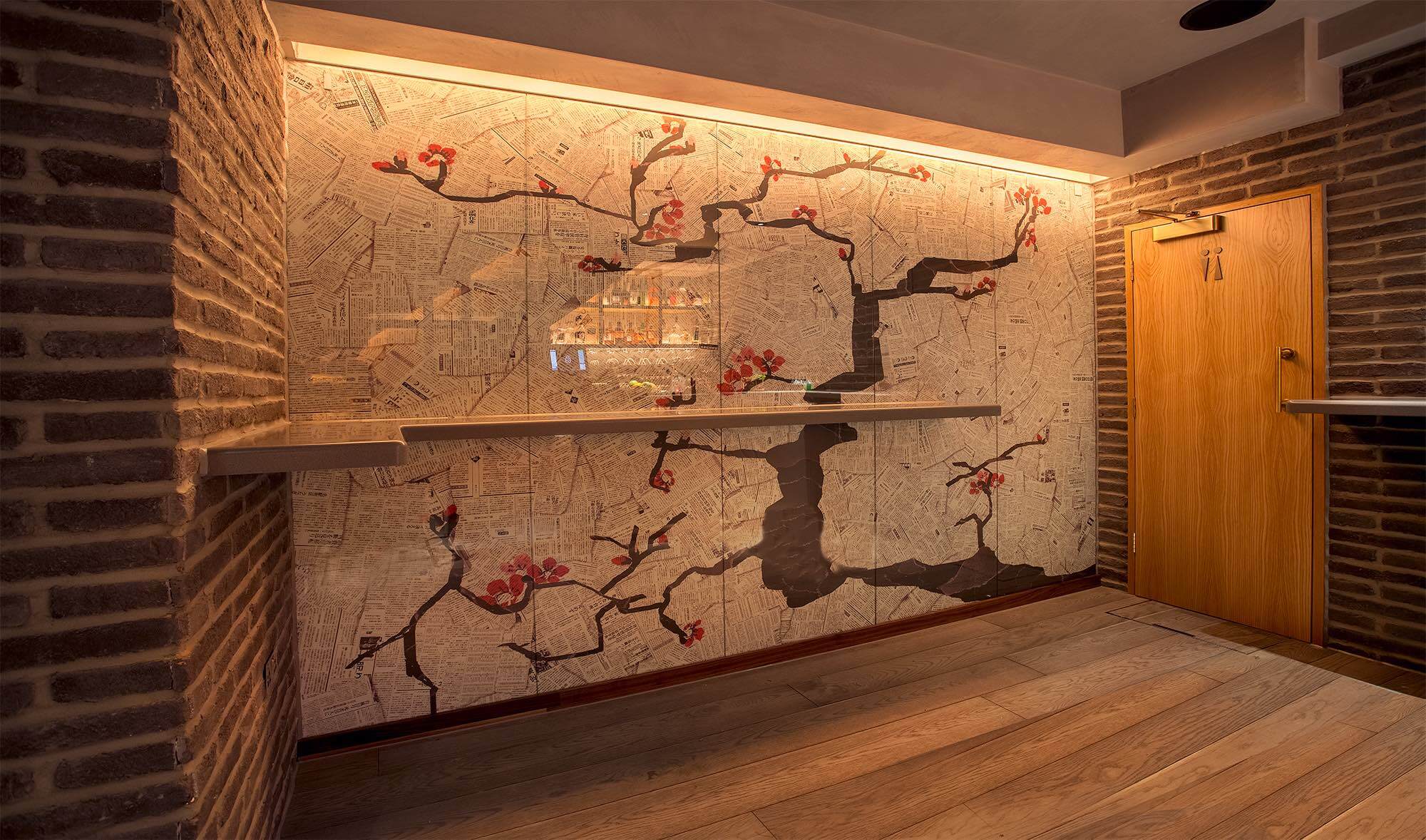 Both my brother and I agreed that the restaurant must be cosy, wooden, minimalist and with the perfect lighting. We had a great team of designers and architects, Object Space Place, who encapsulated our ideas and managed to make the space modern, but still managed to incorporate traditional Japanese touches.
What do you think of the foodie scene in London?
It's great! There is literally everything here. Whatever you feel like you can find – sometimes it can be an issue because you just can't decide where to go. 
What advice would you give to other female entrepreneurs who are just starting out?
Firstly I would say that London is one of the best places to be a female entrepreneur because there are so many highly respected women in the business. Secondly, I would tell them to listen to themselves; women have fantastic intuition which is a huge gift and I always trust my gut instinct. And finally, don't be scared! It's always hard to start and you're guaranteed to have issues and stressful situations along the way, but it will be worth it in the end.
Favourite place for brunch in London is:
I'm not really a brunch person even after living in London for 7 years. My Sunday tradition instead is going to Zuma or China Tang for a late lunch with my friends.