We first met Alex Head last year and we were instantly bowled over by her passion and refreshing approach to food. Alex has come a long way from selling sarnies as a teenager in Riyadh; fast forward to today, and Alex is founder and head chef of Social Pantry, a catering company with several sites across London. We sat down with Alex to talk food trends, charity partners and what's next:
What's your first memory of food?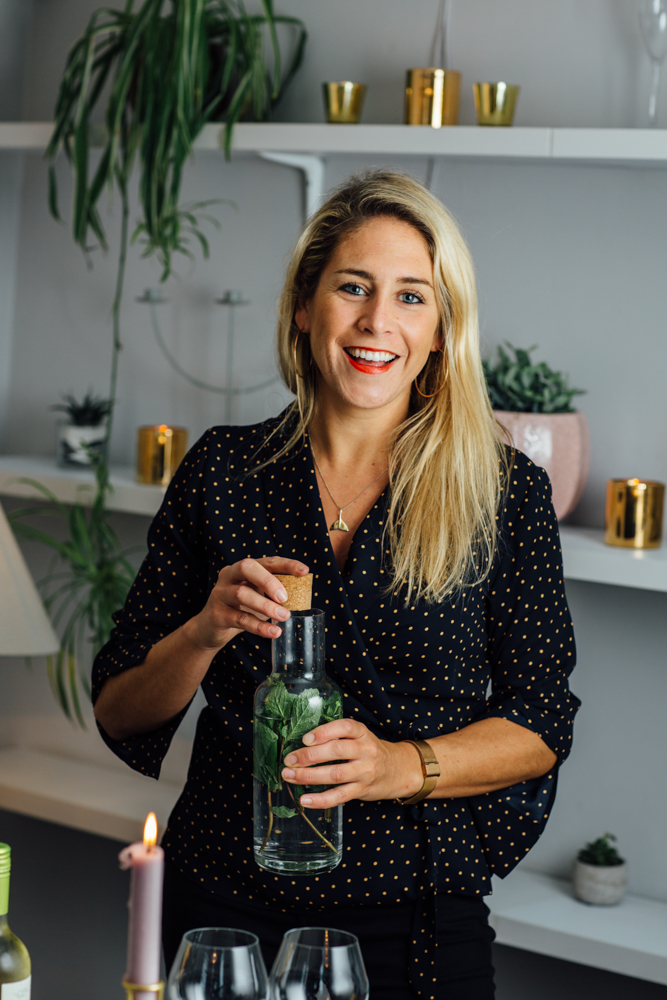 Probably baking with my Mum and Granny. I loved spending the weekends helping in the kitchen, and being part of a big family meant there was lots of cooking to be done.
You're behind Social Pantry – can you tell us what people can expect from the menu? 
Our menus are fresh, seasonal and delicious. It's important that our menus are memorable and stand out, so we work hard to ensure they always make an impact with taste and appearance. I love to work with small, local and artisan suppliers where possible.
What first drew you to a career in food? 
As I was a very naughty child, my mum tried to keep me busy in the kitchen so I developed a passion for food from an early age. I suppose it was a natural path for me and I felt confident in the kitchen.
Social Pantry now has seven sites across London – how to you handle and oversee the operations across them all? 
I have a fantastic team, I have a couple of managers who oversee numerous sites and they are incredible. They are organised, passionate and brilliant in so many ways. We work hard to train staff on brand and standards from the moment they join Social Pantry, which ensures all sites are operating at the same level.
Social Pantry is big on sourcing from local suppliers and having a minimal impact on the environment – what small steps can people and restaurants take in becoming greener?
It's challenging from a cost and processes point of view to implement systems when you are a small business but there are simple steps which one can take. We've got food waste bins at our production unit and work closely with a local company who pick it all up. We also went back to our suppliers and put pressure on them to deliver with as little packaging as possible which helps; for example our vegetable supplies are decanted into containers on arrival at Social Pantry.
Social Pantry has worked with young ex-offenders charity, Key4Life, since 2015 helping rehabilitate young men post release from prison. How did the partnership first come about? 
I love this side of the business; it's my real passion. I was naughty when I was younger and given plenty of chances, so now I offer chances to others who join Social Pantry. I visit gentlemen in prison just before they're released as part of the recruitment process as well as meeting them on their release. I try to maintain 10% of my workforce being ex-offenders. They are fantastically passionate, talented and driven employees who I am so proud to employ.
Do you have any charitable events coming up? 
In April, I hosted the second Social Supper where we teamed six of London's best chefs with six ex-offenders and all cooked a five-course meal for 120 guests. It was great fun, we had the likes of Dave from Smokestak, Nud from Breddos Tacos and John from SomSaa to name a few. The young men loved it, they worked with the chefs at their restaurants for three days ahead of the event and then helped cook on the night! Watch this space for next year….
Social Pantry also works with Brixton prison's Bad Boys' Bakery – why do you think making a meaningful impact through food is important? 
For me it's really important. As well as delivering great events and food across London, I want to be making a difference. If everyone chooses to make a small difference, together we can really make an impact on changing lives for the better.
What chef do you most admire? 
Thomasina Miers is a brilliant role model to me: she's a great chef, a businesswoman and a mother who also finds time for charity…what a hero!
What's next in the pipeline? 
We're getting ready to open our 100-seater restaurant in Ealing in early July, which I am so excited for about. We won it as part of a wider tender for Pitzhanger Manor, which also includes a Kiosk in Walpole Park and the Manor House catering.
The restaurant will be a hybrid of a restaurant and a supper club space, bringing something different and exciting to Ealing; think a take on Petersham Nurseries with an accessible, seasonal menu which (in time) will be grown in the walled garden the restaurant sits in. Please do pop in and visit us!
What food trends are you seeing this year? 
So many and I love it!
Bread and butter….F**k yeah….sod the bikini body! Artisan breads are already pretty statement on the food scene with brilliant bakeries dotted all over but now butter is coming through with some great artisan suppliers hitting the London scene. Butter culture is my current favourite…you can try it at my café in Battersea!
Tea is making a comeback ,whether the tea is infused into a duck breast being used in a sharing salad or baked into a cake there are floral notes popping up on all sorts of menus.
Root to stem is still going strong and people are getting braver with the likes of broccoli rice (where the stem is blitzed into rice) and carrot top pesto becoming the new faves.
Favourite place for breakfast in London is: 
Social Pantry café, of course. But….if it is full then I love heading East. Morty and Bob's is great or Red Rooster for their Gospel brunch, it's incredible.
For more information on Social Pantry, visit the website here.