We may be spending our days indoors, staring into screens and out of windows, being coerced into Zooming with people we never even speak to IRL, and wishing we could get out to the cinema or go for a glass of wine with a pal. But what we do have right now is time. Oodles of it. And if an incredibly unofficial twitter survey carried out earlier today by moi is anything to go by, what we most want to do with said time is to read more. So, people pleasers that we are, we have rounded up the best releases hitting online bookstores this month. Here are the top non-fiction books we're excited for in April:
Our favourite tidier-upper is back, and this time she has joined forces with organisational psychologist,  Scott Sonenhein, to show us how to apply her famous 'Konmari' method to your work life in order to develop more creativity and better focus at work. Just the productivity boosting tool we need during this period of WFH.
Out 7th April. Available to buy here.
Sunday Times Style columnist, Raven Smith, does what he does best and explores the minutiae of everyday modern life and modern culture, only this time in book form. Contemplating life's big questions such as 'Is being tall a social currency?', 'Am I the contents of my fridge?', 'Does yoga matter if you're not filthy rich?' and 'Is a bagel four slices of bread?', his take on the way we live now manages somehow to straddle being both completely unique and painfully relatable. We're huge fans of Raven and if you haven't discovered him up until now you must get your hands on a copy. Sure to be one of the non-fiction books you'll be most excited for in April.
Out 12th April. Available to buy here.
From prize-winning author of international best sellers The Lonely City and Crudo, comes a collection of essays on the power of art in the time of crisis (timely or what).
Funny Weather brings together a career's worth of Laing's writing about art and culture, examining its role in our political and emotional lives. She profiles Jean-Michel Basquiat and Georgia O'Keefe, interviews Hilary Mantel and Ali Smith, writes love letters to David Bowie and Freddie Mercury, and explores loneliness and technology, women and alcohol, sex and the body. With characteristic originality and compassion, she celebrates art as a force of resistance and repair, an antidote to a frightening political time.
Out 16th April. Available to buy here.
In 2016, Isabel Hardman's mind, in her own words, 'stopped working' as she fell prey to severe depression and anxiety. She took time off on long-term sick leave and despite several relapses has returned to work with a much improved ability to cope.
Hardman credits her recovery from severe depression and anxiety – along with more conventional treatment – to her passion for exercise, nature and the great outdoors from horse-riding to botany to running. In The Natural Health Service, Hardman draws on her own personal experience, as well as interviews with mental illness sufferers and psychologists, and taps into the latest mental health research to examine precisely the role wildlife and fresh air can play in helping anyone cope with mental illness.
A brilliantly insightful read, and if anything is going to encourage you get out of the house during your allotted daily exercise window, allow this to be it.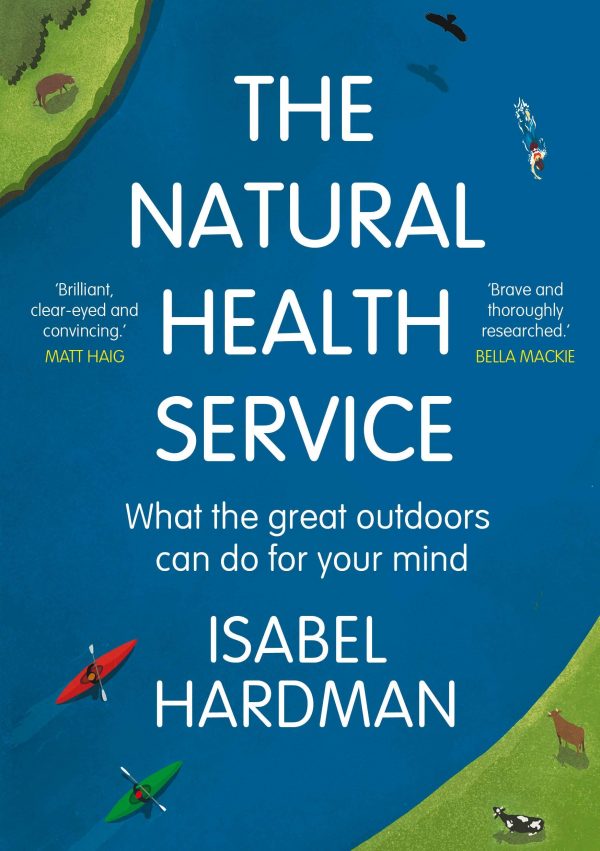 Out 23rd April. Available to buy here.
If you needed any more convincing that getting dressed – like, really dressed – during lockdown might make you feel a little more human, read this to dispel any notion that clothes might be frivolous or meaningless. It is, for this reason, one of the non-fiction books we're most excited for in April.
In Clothes… And Other Things That Matter, ex-editor of British Vogue, Alexandra Shulman delves into her own life to look at the emotions, ambitions, expectations and meanings behind the way we dress. From the bra to the bikini, the trench coat to trainers, the little black dress to the Chanel jacket, she explores the meaning of apparel in women's lives and takes a deep dive into how our wardrobes intersect with the larger world.
Taking pieces of clothing and examining their role in both her own life and women's lives in general, she explores issues such as climbing the career ladder, motherhood, romance, fame, celebrity, nostalgia, sexual identity, ambition, power and body image.
Out 23rd April. Available to buy here.
You can find more inspiration for what to read in isolation here.