My mum is a massive fan of Tom Kerridge. Hell, I'm a big fan of Tom Kerridge. Tom is all about good, solid cooking – and that's something we approve of. We sit down with the man behind the fantastic Hand and Flowers restaurant in Marlow to discuss his venison chilli and the secret to the perfect crispy spud:
Congratulations on the Hand and Flowers retaining its Michelin stars – how do you continue to stay current? 
I don't think we've ever actually tried to be current in the first place! I like to concentrate on ingredients so the Hand and Flowers is entirely ingredients led. Of course there are so many fantastic, fashionable restaurants and places out there that are the place to be seen in, but for me being current is irrelevant. When we first opened it was all about celebrating fantastic British food and produce and it still is, so I guess we are current because luckily people still choose to eat with us!
What's your fondest pub memory? 
My fondest pub memory was when I was a very, very young child. I remember being given a bottle of pop with a straw and a packet of pork scratchings. I was out in the beer garden of the pub with all my family, playing on the swings with the other children. A pub is such a sociable place, where people and family come together to hang out and have a nice time.
What person or place has influenced your cooking style the most?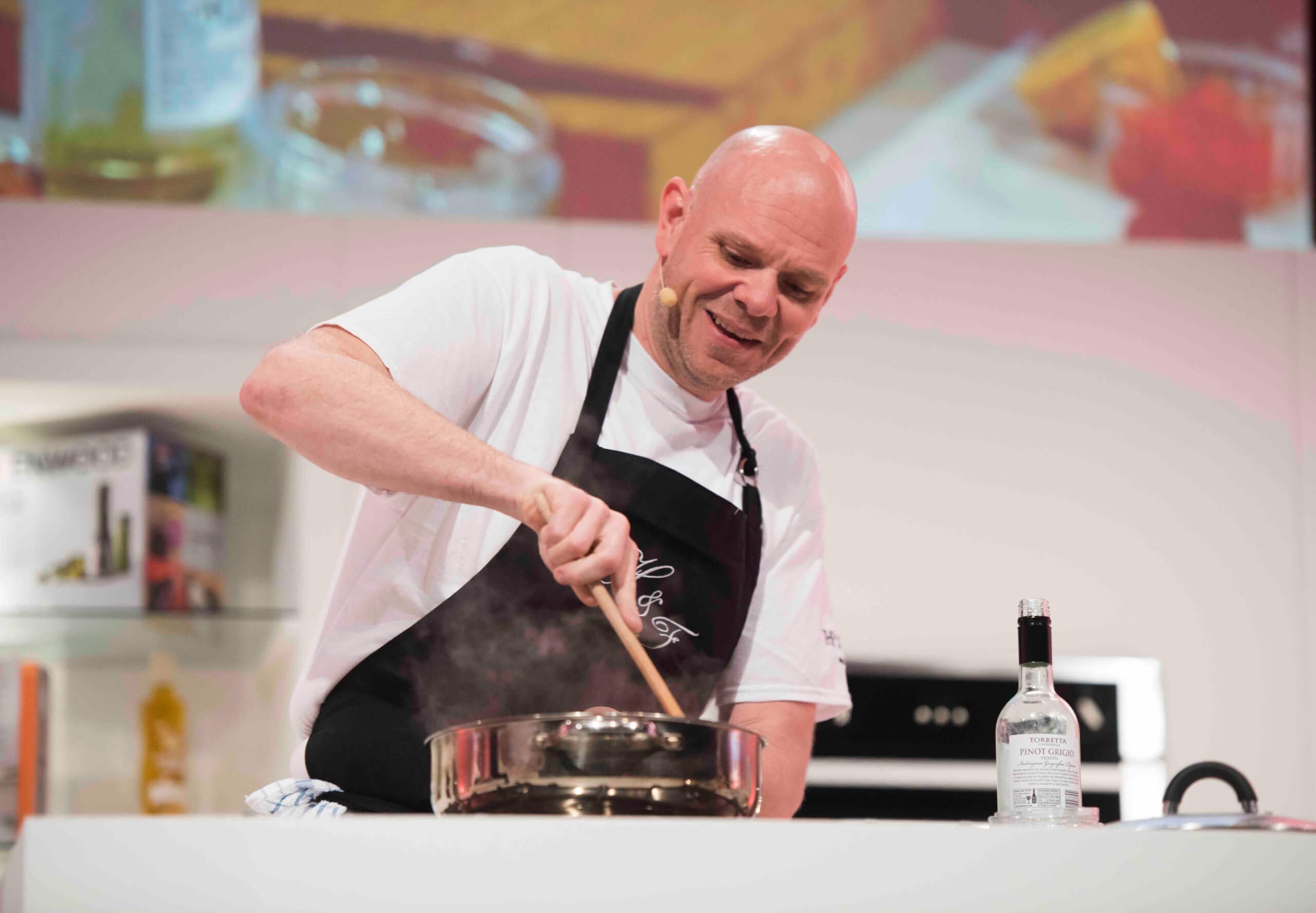 Well the place has to be Britain; I love the seasonality and fresh produce, as well as all the people that work within the food industry. By that I don't mean just chefs, I'm talking about the fish mongers, the fisherman, farmers, butchers, all the inspirational characters that are part of the entire food journey. I love the journey that food takes before making it on a plate and it's never down to just one individual. The whole journey is what inspires me when I cook.
Photo Credit: Ashley Bingham 
What three ingredients are you looking forward to cooking with this season? 
Well the autumn/winter season is one of my favourites – I absolutely love the hearty flavours and embracing styles like slow cooking. I always look forward to cooking with root vegetables – swedes, turnips, carrots etc. And I guess it's more of a style but I enjoy taking cheaper cuts of meat – shin of beef, neck of lamb, shoulder of lamb and slow-cooking them, it's great during these colder months. And the third ingredient has to be apples and blackberries, they are the exact sort of ingredients I love cooking with, making a really hearty apple and blackberry pudding. They are instantly recognisable as great British produce and are very tasty!
What up and coming chef should we look out for? 
Oh wow. There are so many great young chefs around! For me, one who has quietly built a successful business and is now making lots of noise is Paul Ainsworth at No.6 in Padstow. He won a single Michelin Star a few years and he would be my top tip for 2 stars shortly. Oh and also, Peter Sanchez-Iglesias and his restaurant Casamia in Bristol. He is a fantastic chef, making a big name for himself. And obviously both in the good old West Country!
Would you ever open a restaurant in London? 
Yeah, possibly – never say never. People talk to us a lot about opportunities and potential sites but so much depends on my staff and most importantly the organic growth of the staff. If we need to grow, if people are excelling through the ranks quickly then we will definitely look for another site, but only if it feels right. But yes, I imagine we would look at London first.
My mum swears by your venison chilli in your Tom's Table book, what's your favourite recipe from the book? 
To be honest I am a massive fan of the venison chilli too! Your mum has good taste. But there is another recipe, green chili con carne in the book that is also very good. I'm all about embracing minced meat, it doesn't have to be seen as something rubbish. All cuts whether its fillet of beef, oxtail, shin or indeed minced meat come from the same whole animal. There is no reason why we shouldn't embrace all cuts, it's just about knowing how to utilise every bit.
Last year you set up a special Tom's Table pop-up at Harrods, will you be doing anything similar in the future? 
No, not at the moment actually. Although we are running a three week pop-up cinema in Marlow called 'The pop-up picture house' over Christmas. We can seat 50 people who will come and watch some classic movies and eat something hearty like cottage pie, proper family style.
What's the secret to crispy roast potatoes?
Ok, so my secret is to poach (not boil as the potatoes take in too much moisture) them fully in hot, salted water so that they are cooked all the way through. Carefully lift them out with a slotted spoon, I don't do all the fluffing up in a saucepan that other people suggest. Instead I gently place them on a cake rack to drain, this dries them out and lets them go crusty and dry. Then I add them to a thin layer of oil that has been heated in a pre-heated oven to roast. Turn the potatoes three or four times and the real trick is not to crowd the tray – do them in batches if you have to.
Favourite place in London to grab breakfast: 
Oh there are so many really good places and hotels to eat breakfast. The Charlotte Street hotel do a very good breakfast. And another favourite is Dean Street Townhouse around 8am on a Sunday morning, in the summer when Soho is dead quiet. And I would go for a full English in both places with loads of brown sauce!
Tom Kerridge will be cooking live at the BBC Good Food Show, Olympia London 11-13th November. Tickets on sale now.