5 Minutes With: Laura Peterson, Head Pastry Chef at The Salt RoomBy Angelica Malin
Laura Peterson is the incredibly talented head pastry chef at the award-winning Salt Room restaurant in Brighton. At 23 years old, Laura has earned a number of accolades including clinching 3rd place in 2016 Chocolate Dessert of the Year, and her epic Taste of the Pier dessert is known as Brighton's 'most Instagrammable dessert'. We sat down with Laura to chat career advice, foodie memories and, obviously, desserts:
Tell us a bit about your journey to where you are now. How hard has it been to climb the chef ladder?
I love living in Brighton and started my career at The Ginger Pig in Hove, as a pastry commis then moving up to chef de partie. After two years there I moved to their sister restaurant The Gingerman, a small fine-dining restaurant in the centre of Brighton before moving in February 2015 to be part of the opening team for The Salt room. Soon after joining I was promoted to head pastry chef. The biggest move in my career is yet to come – as I am moving to London in September to head the pastry section of our flagship restaurant The Coal Shed at One Tower Bridge set to open mid-October.
For me, climbing the ladder hasn't been too hard, as I decided to stick to pasty from the start because I wanted to excel in one field. Knowing that pastry chefs are becoming a niche, I wanted to prove the need is still there and hone my craft.
Do you think being a woman in the food industry is a help or a hindrance?
For me, it hasn't made a difference.  I think if you work hard enough, and have the ambition it doesn't matter who you are, it certainly hasn't held me back. The job is obviously physically demanding on everyone and we all respect that. I think I like being the only girl! The boys can be protective like annoying older brothers.
You've had previous stints at Raymond Blancs Le Manoir aux Quat Saisons, and at Dan Barber's Blue hill and Stone Barns – whats the best advice/training you've taken from these establishments?  
Both restaurants are as amazing as each other but all in very different ways. From Le Manoir I would say the work ethic. Raymond Blanc aims to maintain the standards they have created (2 Michelin stars) and works hard to look after his team. The head chef and pastry chef have worked for him for over 30 years – that's a long time in this industry. He changed the work pattern making sure the chefs weren't working more than 12 hour days.
What's your first memory of food? Have you always wanted to be a chef? 
I have vivid memories of baking with my grandma – cliché I know. But she was great in the kitchen, homemade cakes and jams etc. The thing that really sticks out in my mind is her homemade lemon curd – there's nothing quite like it. I used to have lemon curd sandwiches for breakfast when I visited and I still use her recipe today.
Being a chef was never in my plans, I have always been creative – I studied fashion and photography at A level. I was planning on going to university but took a gap year as the fees had just been increased and I wanted to make sure it was definitely what I wanted to do. I managed to land myself a job in a local restaurant in the meantime. I cooked my signature dessert for a friend who happened to be a chef and he offered me a job on the spot and I haven't looked back since.
There are lots of components to your dishes – how do you set about creating them?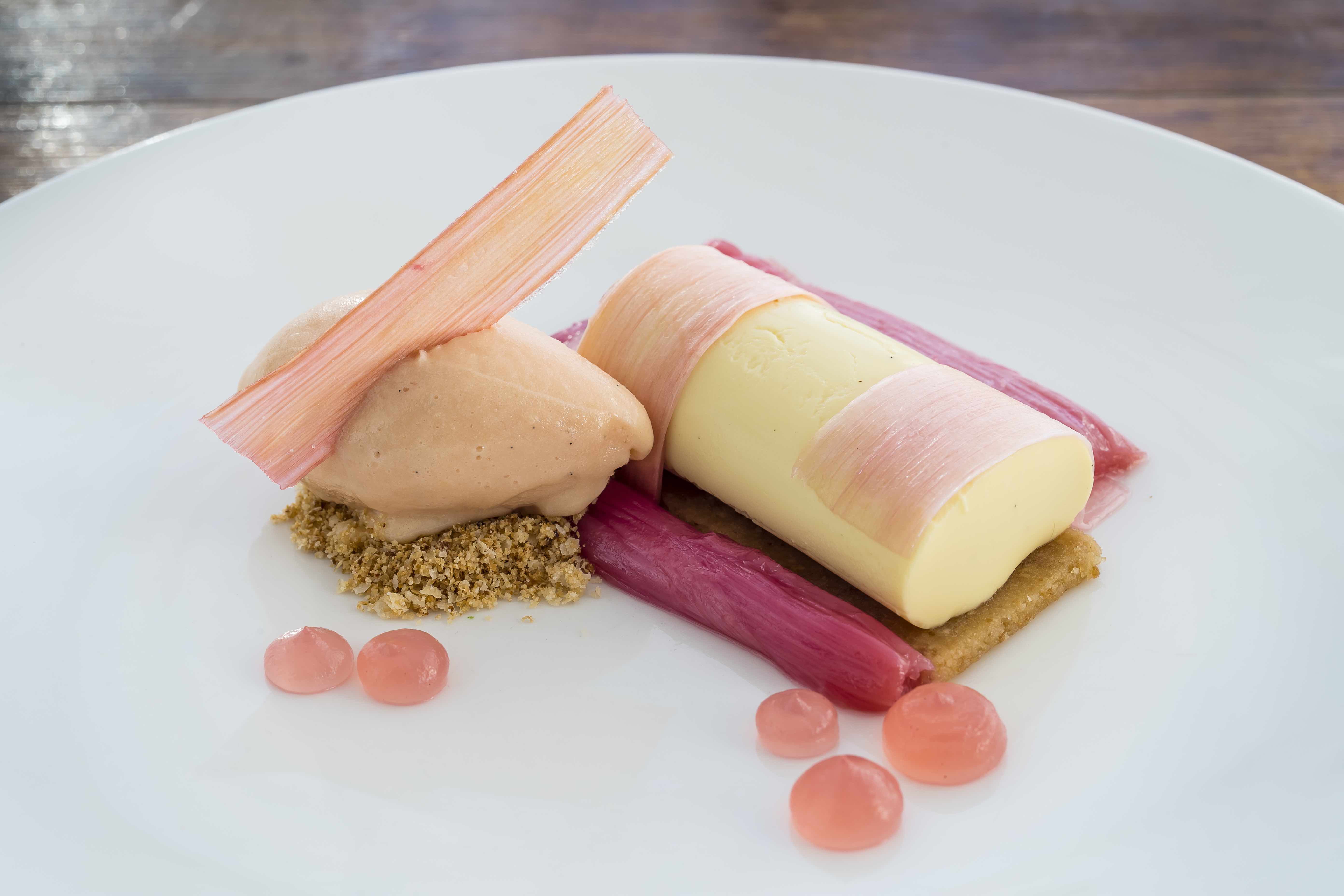 I always believe in cooking what I enjoy eating as I feel the passion will come through, and I always look back to nostalgic dishes which evoke memories or reminders of my childhood. I work only with what's in season so that is my starting point for choice of ingredients and it all falls into place from there. Although there are a lot of elements to our desserts, I like to make sure each one is there for a reason and brings something to the dish – for example different textures or flavours to balance the sweetness.
What's your favourite dish to make?
I think it would have to be a soufflé – well practised from my time at The Gingerman. Difficult to make but so rewarding when you succeed, and equally satisfying to eat!
Your desserts are a take on British seaside classics, incorporating nougat, candy floss, ice cream and doughnuts, what's your favourite thing about living by the seaside? 

I love living by the sea and I will definitely struggle when moving to London. Nothing like walking across the road for swim after work on a hot summers day, followed by a beer, fish and chips and some candy floss, of course!
What's your go to dish if you're cooking at home? 
My go to sweet dish is for sure a crumble – mine and my dad's favourite. Simple but so comforting, even in the summer I like to make a peach crumble and serve it from the fridge with crème fraiche. My guilty pleasure is definitely having it for breakfast the next day.
Favourite restaurant in Brighton? 
Bincho yakatori – amazing Japanese style tapas and great value for money. A real chef hotspot in town. Korean cauliflower is my favourite dish.
What's one piece of advice for people looking to get into the food industry?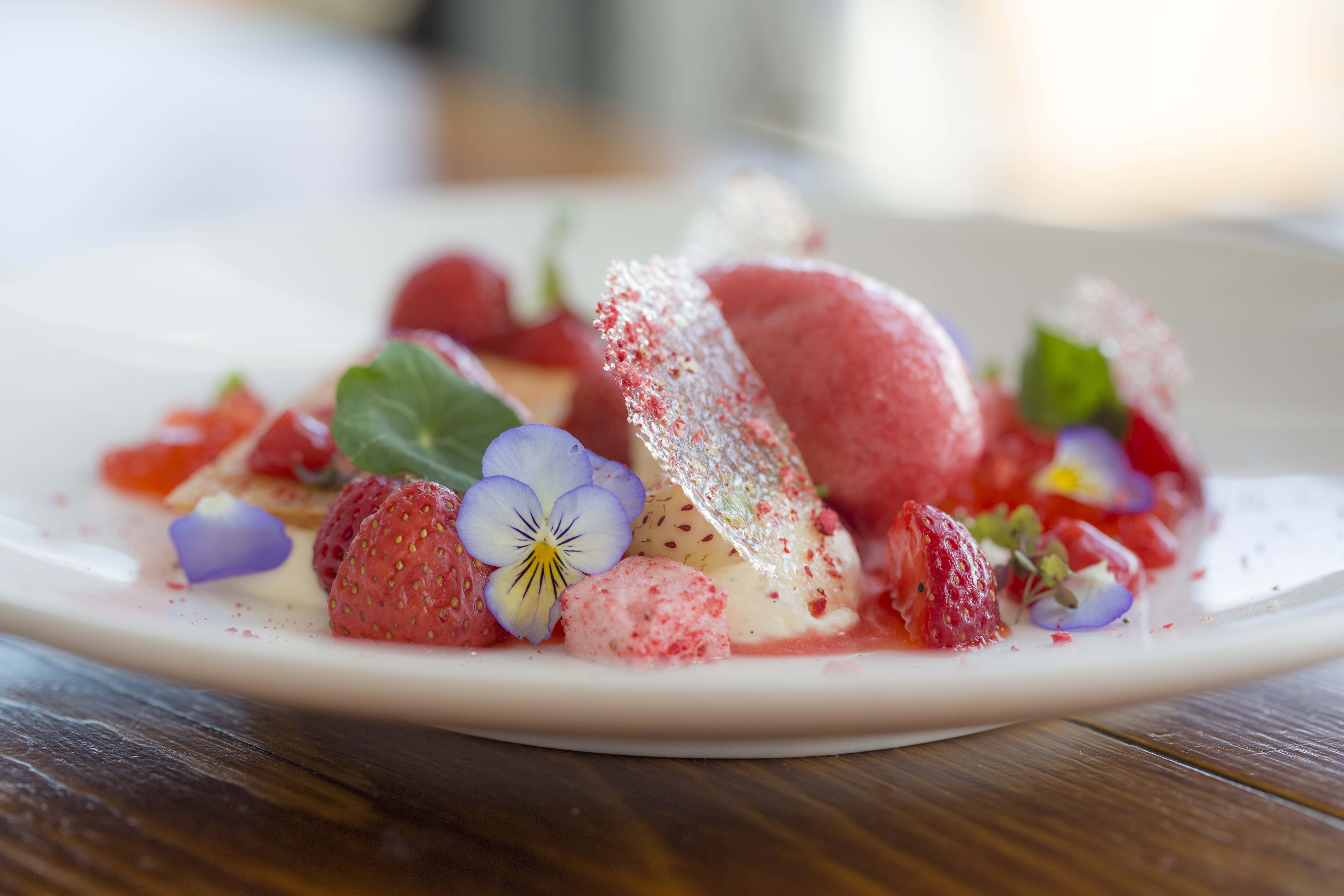 I would say you have just get stuck in, for the people who aren't sure if it's for them, give it a go because you don't know unless you try! I wasn't sure, but as soon as I stepped foot in a professional kitchen I knew it was for me and I've never looked back.