Chocoholics get ready, as this Sunday 7th July marks World Chocolate Day 2019! Unleash your sweet cravings and celebrate World Chocolate Day in London with our roundup of the very best chocolate-lovers activities and treats in the capital. We've got everything from praline masterclasses to chocolate gin, delicious recipes, discounts and more – dig in:
What: The Montrose Collection are offering a delicious 50% discount on their brands Benefit Chocolate, Danny's Chocolate and Cox & Co for World Chocolate Day 2019. 
The Details: What's on offer? Benefit Chocolate, which won Best Confectionary Innovation at the World Food Innovation Awards 2019, combines the best single-origin chocolate sourced directly from the CasaLuker Estate in Columbia. Their three chocolate bars are aptly names Energy, Protein and Vitamins. Cox&Co. also source their chocolate from single-origin farm-to-bar cacao from Columbia. Sustainability, quality and taste are at the heart of the brand's ethos and their sumptuous bars come in four varieties: bee pollen and honey, coconut and chia, raw cacao nib and single origin pure cacao. Danny's Chocolate adds a heavy dose of fun to their ethically produced chocolate – their adventurous creations are made with only the best ethically sourced Columbian cacao. They have eight bars to choose from, including Strawberry and Cream, Mighty Milk and Banoffee Caramel. 
Where: Use code WCD50 to get 50% off when you spend £10 or more at www.montrosechocolate.com
What: Earlier this year, the iconic London gin brand Sipsmith launched their new Orange and Cacao Gin – it makes for a perfect tipple to cheers World Chocolate Day with. 
The Details: Not just your usual gin, Sipsmith's Orange and Cacao Gin is a zesty and chocolatey concoction with unmistakable juniper undertones. Handcrafted at the Sipsmith distillery in London, it has 50% more gin than their London Dry Gin recipe. Chocolate and gin lovers can pair it with a premium tonic for a fresh and citrusy Orange & Cacao G & T or add Gomme syrup, lemon juice and egg white to make yourself a deliciously sweet White Lady. 
Where: Get yourself a bottle online here for £25
What: Ahead of World Chocolate Day 2019, Airbnb has collated a round-up of UK-based chocolate experiences nationwide all bookable through their site. 
The Details: Fancy trying your hand at making your own pralines, or preparing your own chocolates with a chef? Get to know chocolate inside and out with a whole host of fun activities and masterclasses to join. Taste some of the best chocolate in the world, learn from the most talented master chocolatiers and even take home a selection of your own handmade treats to satisfy your chocolate cravings.  
Where: Book your chocolate experience through Airbnb here. 
What: Founded by husband and wife, Simon and Helen Pattinson, Montezuma's is the perfect independent chocolate brand in which to indulge your sweet tooth this World Chocolate Day. 
The Details: Montezuma's pride themselves in creating innovative British chocolate; based in Chichester, the brand manufactures all their own products so they have exact control over what they're making. This small family-run business is passionate about equity and integrity so they only use sustainably sourced cacao to create the best quality chocolate. This World Chocolate Day 2019, discover flavours that you've never even dreamed of or challenge yourself to try their Absolute Black range with 100% cacao. You can even get creative and build your own personalised bar of chocolate to take home and enjoy. 
Where: Your nearest Montezuma's stockist can be found here otherwise order your chocolates online. 
What: Celebrate World Chocolate Day 2019 with a bit of glitz and glam by exploring Paul A Young's heavenly chocolate concoctions. Your tastebuds will thank you, trust us. 
The Details: Widely regarded as one of the world's most exciting chocolatiers, Paul A Young is at the forefront of the British chocolate scene and also a bit of an alchemist. Trained under Marco Pierre before launching his own chocolate career, Paul's cutting-edge creativity has earned him international acclaim. Often incorporating experimental and daring flavours, his weird and wonderful chocolates include Aperol Spritz, Fizzy Ginger Beer, Salt & Vinegar 'Chip' Shop Caramel, Innes Brick Goat's Cheese, Smoked Cornish Sea Salt and Honey Chocolate alongside his award-winning Sea Salted Caramel. 
Where: Paul A Young's flagship chocolate shop is at 143 Wardour Street, Soho, London W1F 8 WA. His other shops include 33 Camden Passage, Islington N1 8EA and 20 Royal Exchange, Threadneedle street EC3V 3LP. 
What: Famed for his memorable desserts and exquisite patisserie, Jean-Didier Gouges, Head Chef at the renowned Petersham Restaurant in Richmond, shares his wonderfully decadent recipe for homemade chocolate truffles. Why not celebrate World Chocolate Day in London by making your own delicious chocolates at home?
Ingredients: 
300g Dark Chocolate (over 70%)

300ml Double Cream

50g Unsalted Butter

Cocoa powder (to finish) 
Method: 
Break the dark chocolate into small pieces and place in a large bowl. Heat the cream and butter in a saucepan over a gentle heat and melt, warming until the cream reaches simmering point. Add the chocolate and stir until the mixture is smooth before pouring into a plastic container. Leave to cool for at least 4 hours in the fridge. 
Shape the truffles using a melon baller dipped into hot water. Alternatively, lightly grease your hands with sunflower oil and roll into balls. Place on a sheet of greaseproof paper. 
Coat your truffles immediately by rolling them in cocoa powder or an alternative coating of your choice – chopped hazelnuts or desiccated coconut work well. 
Add to small gift bags and tie with a festive ribbon ready to give as a present.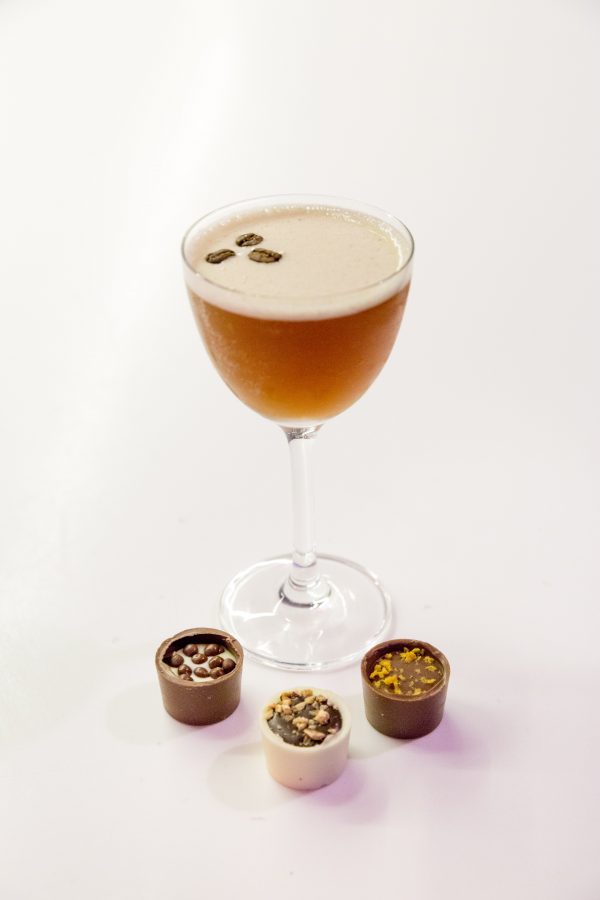 What: Created by the award-winning Irish chocolatier, Lily O'Brien's, this cocktail is intense dark chocolate scented with double roasted arabica bean espresso and roasted hazelnuts all marbled with smooth, creamy white chocolate. It's an ideal World Chocolate Day drink to raise your glass to.   
Ingredients: 
30ml Vodka 

20ml Frangelico 

15ml Espresso

15ml Fair Coffee

5ml Agave       
 Method: Shaken and double strained in a chilled coupe glass and garnish with 3 coffee beans.