Looking for some food and drink inspiration in London? Wondering where to eat in London this week? We've got you covered with London's best foodie events, pop-ups and experiences in the capital this week. Get involved:
What: Secret Gin Garden, a botanical pop up secret speakeasy showcasing all things gin. The one night event on the 8th May will combine Q&A's from leading experts and ambassadors, an array of gins for tasting, food pairing menus and much more!
The Low Down: For one night only, guests will be able to escape to a hidden oasis in the heart of the city to discover a careful selection of premium gins from old favourites to distinct artisan offerings. Just as suited to gin enthusiasts as newbies who are keen to learn more, the evening will include live music, masterclasses, mixologists and food pairings to stimulate senses.
Where: The Secret Gin Garden, Clifton Nurseries, 5A Clifton Villas, W9 2PH.
Tickets: speakeasy.standard.co.uk
What: Sardinian Chef Alessio Piras, who previously worked at Margot Restaurant in Covent Garden and Albert's Club in Kensington, is at the helm of St Luke's Table, housed in the exclusive ambience of the LIBRARY members club and now open to the public for bookings.
The Lowdown: Alessio's cuisine – a combination of his Italian roots and the best of British produce – is now complemented by a brand new plant-based menu, offering options for vegans, vegetarians and the veg-curious. The selection includes delicacies including Spicy Tomato and Pepper Soup, Grilled Asparagus, Beetroot Risotto, Linguine with Artichokes and desserts such as Pineapple Carpaccio or a luxurious dairy-free Chocolate Mousse.
Where: St Luke's Table, 112 St Martin's Lane, London WC2N 4BD
What: Oliver Peyton's restaurant, The National Café, has launched a brand new all-day brunch menu. The National Café's new brunch menu is pretty picture perfect and is available every day from 9.30am right through to 5.00pm, making it the perfect pitstop for gallery-goers, locals and families looking for a tasty food fix with a side of culture.
The Lowdown: Offering a modern, healthy take on all the brunch classics, the new menu features the likes of Shakshouka – baked eggs in tomato sauce with chorizo; avocado on sourdough toast with organic feta, chilli and tomato; duck hash with Clarence Court duck eggs and chilli and acai bowl with bananas, peanut butter, homemade granola, fresh fruit.
Where: The National Café, East Wing, The National Gallery, Trafalgar Square, London WC2N 5DN
What: Looking to do something different in London? Get down to a BBQ and Beer Masterclass on Regent's Canal in King's Cross.
The Lowdown: On Saturday 18th May,  Head Chef Jai Parkinson will conduct a masterclass on BBQ marinades and how to pair them with different meats and vegetables. Expect to get involved and make your own unique marinade which you will take home with you. Jai will then demonstrate how to cook on the Big Green Egg BBQ before you sit down to eat, accompanied by a tasting of three craft beers.
Price: £39.50pp – Take a group of 5 or more for a 10% discount.
Where: Rotunda Bar and Restaurant, Kings Place, York Way, London N1 9AG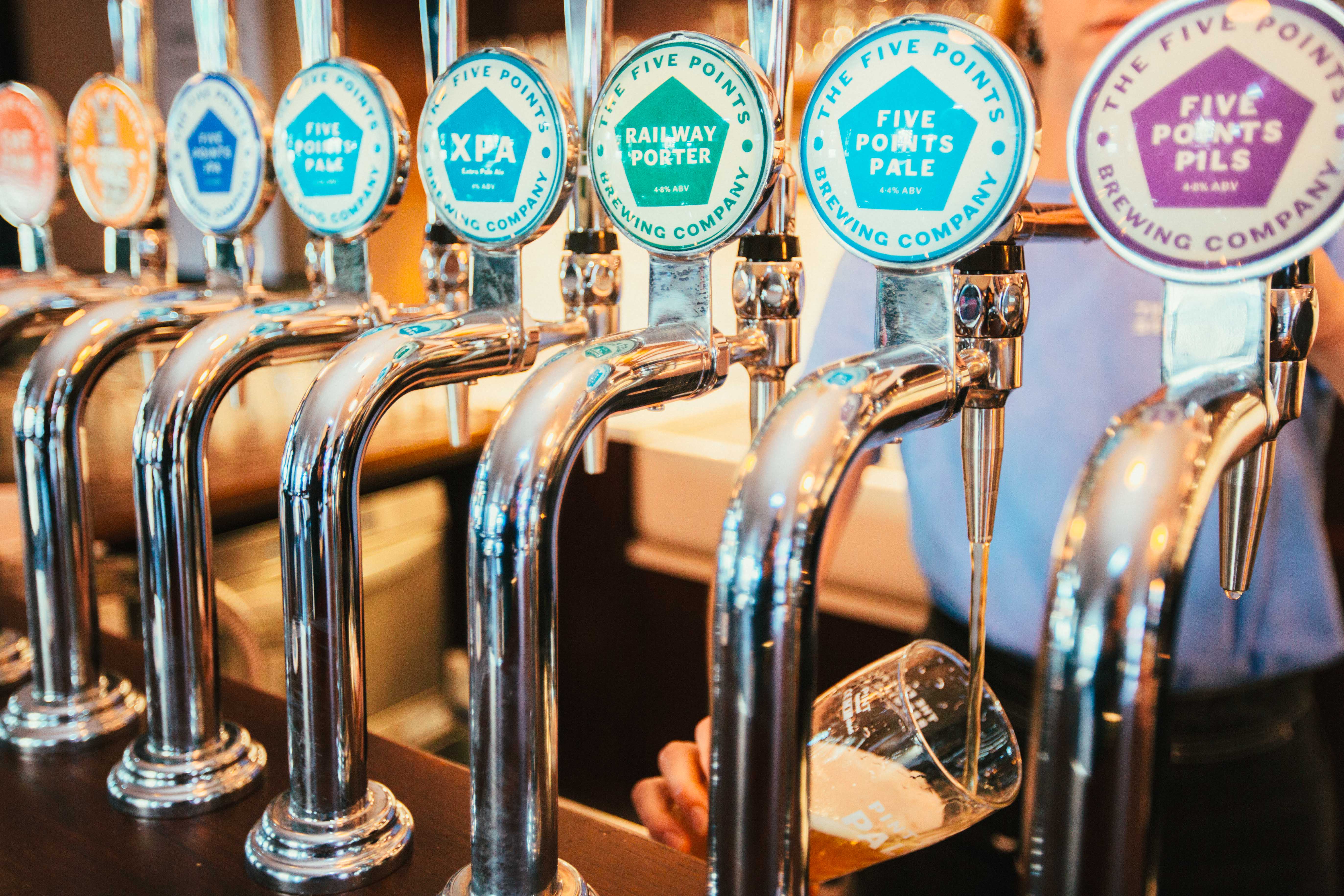 What: Join The Five Points Brewing Company and four stand-up heavyweights as they Stand Up for Mental Health with a night of comedy and charity at The Pembury Tavern.
The Lowdown: In support of Mental Health Awareness Week (13 – 19th May), Five Points have curated a stellar line-up of comedians; including comedy couple Harriet Kemsley (8 Out Of 10 Cats) and Bobby Mair (Comedy Central) with Pierre Novellie (The Mash Report) and Kate Barron (Just For Laughs), in an evening of comedy and charity at The Pembury Tavern. All proceeds from the evening will be donated to charity partner Mind.
According to research by the Medical Research Council, sharing a round of drinks with friends in the pub has a positive effect on mental wellbeing, allowing men to open up and talk about their emotions – helping them to look out for each other and lift their spirits.
When: Monday 13th May, 6.30pm-10.30pm
Where: The Pembury Tavern, 90 Amhurst Road, London, E8 1JH
What: Francesco Mazzei will be launching a brand new Pasta Brunch this Saturday at his Savile Row restaurant: Sartoria. The new menu will offer playful brunch-inspired twists on classic Italian pasta dishes and will provide the perfect fuel for Saturdays spent strolling through Mayfair.
The Lowdown: Francesco's take on the classic Eggs Royale will see the traditional muffin replaced with a crispy pasta rosti and topped with the usual smoked salmon, poached eggs and Hollandaise sauce. Traditionalists will love Sartoria's Spaghetti carbonara whilst the Cresta l'uovo will see a freshly made ravioli filled with a perfect runny egg yolk centre. As no brunch menu is complete without avocado, Sartoria will be incorporating this weekend staple into a creamy and zesty Avo, shrimp, Amalfi lemon and tagliolini gratin topped with poached eggs. To complete the full Pasta Brunch experience, there will be an elegant sweet pasta dish of Deep fried tortello filled with marsala zabaione and chocolate sauce.
When: Pasta Brunch will be available every Saturday at Sartoria from 11am.
Where: 20 Savile Row, Mayfair, London W1S 3PR
What: Galvin at Windows, the Michelin-starred restaurant located on the 28th floor of London Hilton on Park Lane, will deliver mother nature to the table with a limited edition three-course Vegetarian Menu exclusively available over National Vegetarian Week from 13th-19th May.
The Lowdown: Created by fearless Head Chef, Joo Won and new vegan assistant general manager, Gilles Louis, the fresh, vibrant menu will feature a combination of the finest French, British and Korean ingredients and flavours. The new plant-based dishes will include but not limited to: exquisitely delicate English pea soup, with mint royale and herb oil; Vegetable dumpling 'Mandu', served with truffle, tofu, shiitake and kombu broth and root vegetable pie, with merlot dressing and onion jus. Guests can indulge in two vegetarian desserts: Custard tart, vanilla ice cream, prune & Armagnac and Mille-feuille, crème diplomat & strawberries.
Where: Galvin at Windows, 22 Park Lane, Mayfair, London W1K 1BE
What: In celebration of the newly launched Naan'ery, Executive Chef Santosh Shah at award-winning pan-Indian dining destination, Baluchi, has created a series of culinary masterclasses, giving you the chance to get hands on in an authentic Indian kitchen.
The Lowdown: Offering the ultimate gastronomic experience for any Indian food fan, guests will join Chef Shah on 11th May at the Naan'ery, the dedicated bread bar within Baluchi, for the chance to take their culinary skills to the next level. Guests will try their hand at traditional tandoori naan cooking, as well as creating and tasting their own three-course masterpiece, complete with paired wines. Alongside a raft of new recipes and skills, guests will receive an apron to take home as well as a selection of Indian spices, and a few more surprise treats. The series of masterclasses will tackle different aspects of Indian cooking, and are suitable for amateur cooks, through to confident chefs and foodie fanatics.
Where: The LaLiT London, 181 Tooley Street, London, SE1 2JR