Vegetarians look away now. For this is an article that is (unashamedly) devoted to the humble, but delicious chicken wings in London.
London's appetite for wings has been growing at a voracious rate. In fact, over the past few years, wings have gone from niche food group to a mainstay on menus across the capital's eclectic dining scene. So much so, that a variety of places now offer hundreds of varieties of wing. From classics flavours like buffalo, jerk and barbecue to the more unusual Sriracha, peri-peri, miso and Korean style – wings now appear everywhere, and in all shapes and sizes. It's never been a better time to be a fan of the wing.
Whether you're an long-time lover of the wing or a newbie to the scene, no up-to-date guide exists online to help you discover London's pre-eminent poultry purveyors from the vast number of options out there. It's a glaring (and disappointing) omission in London's cartography landscape, and one I hope to slowly correct through these series of reviews.
Now to put some meat on the bones, I'm planning to visit a number of London's wing outfits over the next few months. At each one, I'll choose the most popular wing dish on the menu; be it drum, flat or tip, buffalo, honey BBQ or jalapeño – and review that. All reviews will focus solely on this one portion of wings, and ignore the likes of sides, drinks, service and ambience. This is as much for my personal health, as keeping reviews succinct and to the point.
It's an old, and well known truism, that "no one wing can rule them all". In that, no one wing will win the hearts, minds and stomachs of every Londoner. Like the wing choice available to us, we're just too diverse a bunch. Therefore, The Weekly Wang plans to break up all of its reviews into a number of categories (a bucket list might one say) so readers can see why I've disliked/liked a certain wing. Therefore, final ratings aside, you can decide whether the wing might still be right for you.
To get the ball rolling, I'm going to start with one of London's most famous joints. Without being too cliche (and losing your attention here), if you haven't been, and you love wings, it's really About Time you did.
The Orange Buffalo: The Facts
Name: The Orange Buffalo
Location: A food truck in the Truman Brewery Yard (Spitalfields), with a handful of outdoor tables (so you're at the mercy of the weather).
Opening Hours: Every day. 12:00-8:00/9:00/10:00pm (day dependent)
Time of Visit:  Sunday, 1:30pm (surprisingly, no line)
Weather: Fair. Cloudy with sunny spells. It's key to go on a good day.
Wing of Choice: 8 x original sauce, New York-style buffalo wings
The Orange Buffalo: The Ratings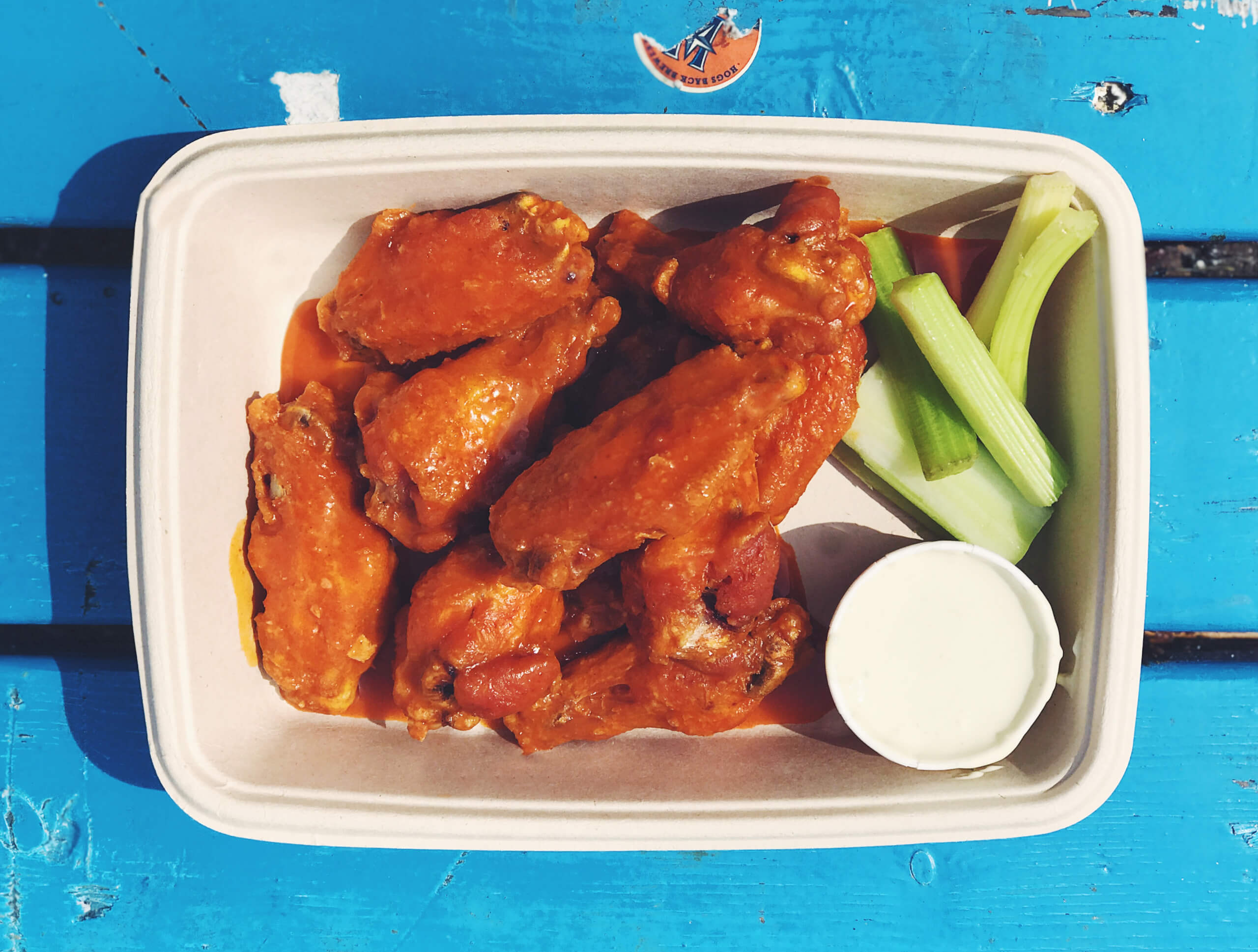 Presentation: I was served a good looking portion of flats and drums. All of which were well drenched in buffalo sauce, which I love. It all comes in a simple cardboard box that does the job and retains the sauce well. Blue cheese dip accompaniment is generous – but there could always be more.
Temperature and Texture: Wings were freshly fried upon order, and were piping hot when served. They do cool down quickly though as you're sitting outside. Nonetheless, they had an awesome crunch to them, which is crucial. And if you like them extra crunchy, you just have to ask.
Size: Nothing unordinary about the size of these wings. I was about 4/5 bites to the wing. The portion size is pretty reasonable.
Flavour: The sauce is authentic buffalo and is incredibly flavoursome. It had a lovely orange hint to it, and the meat is succulent.
Heat: Original flavour was the perfect temperature for those who like a little heat in the mouth but don't want to be chugging down pints of water/milk. For the brave, Orange Buffalo's Viper flavour is notoriously hot. Like, extremely hot.
Accessories: The blue cheese dip is not overpoweringly cheesy. It cools the wing without taking over and masking its flavour. A perfect accomplice.
Cost: At 8 for £7, I think these are a great deal.
Extra: Hand sanitiser was available and paper towel was freely supplied; a critical but often overlooked factor of a great wing establishment.
The Orange Buffalo: The Bottom Line
Orange Buffalo take a classic, stick to the basics, and do it really well. They win awards for a reason.
Header Image Credit: Jenni Sparks