"You're vegetarian? Do you, like, really love stuffed peppers?" 
Being a veggie can sometimes be a struggle.
When vegetarian, failure to plan is planning to fail. After a 6-month relationship and one too many sad, sad meals consisting of just the side dishes, I came to the conclusion that there's no such thing as a spontaneous veggie if you want to eat really well. But never fear, About Time is here. After a year vegetarian in London, I can honestly say I've tried it all – the good, the bad, the bland – and have found solutions for every veggie scenario. Consider me an agony aunt for the plant people… Your problems solved:
1. Friends who say "Do we ALL have to eat plants?"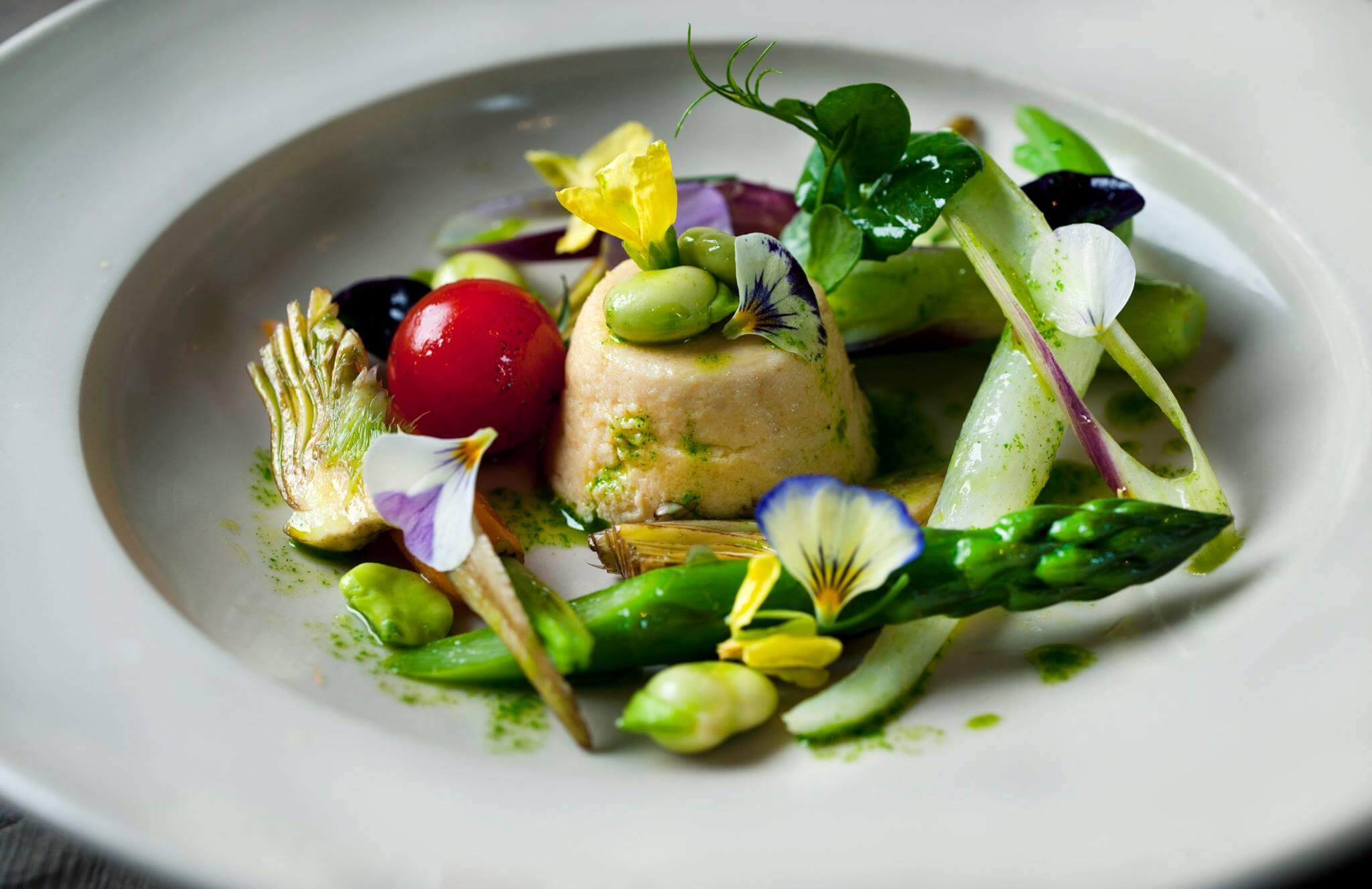 The Issue: You love aubergines. Your friends see a meal without steak as a criminal offence. Birthday party? Dinner with friends? It's all a question of balance, and finding a great restaurant that caters to all.
The Answer: Grain Store, Kings Cross
Order: Baked beetroot & lentil salad, horseradish, homemade duck pastrami, minus the pastrami (£7.50)
Why: This restaurant is fantastic for everyone, veggies and carnivores alike. They've got some sensational meaty mains, so the whole group will be happy – try the unusual Caesar Salad with chicken falafel and a pureed caesar's dressing. It's a vegetarian haven, – and the Chilli Con Veggie is great for the Mexican food lover. The kind of place that everyone will love, and no-one will roll their eyes when you order a plate of sprouted seeds.
2. "There's no such thing as a good veggie burger"
The Issue: Generally speaking, veggie burgers can be an arid nightmare, and veggie patties are sad, sweetcorn-stuffed affairs that no-one really wants.
The Answer: Shake Shack's 'Shroom Burger
Order: Crisp-fried mushroom with melted cheese, Shake sauce and all the salad-y bits (£5.25)
Why: Falafel can be the veggie's nemesis. The Middle-Eastern dish has its time and place, but controversially I'm going to say falafel doesn't belong in a burger. This burger is banging – crispy on the outside, lovely melty cheese, you really can't go wrong. A veggie burger that stops you getting burger envy off your dining companions? There's a winner. Get some signature frozen custard to finish and consider yourself a champion.
3. Restaurants that only serve mushroom risotto 
The Issue: Yes, I do mind. The struggle is real people. Here's the problem: you've been eating out all week and you're bored of having the least exciting dishes on the menu for your order. It's time to spice things up.
The Answer: Dishoom, Kings Cross
Order: Lentil dahl, tikka panner, grilled okra (from £4)
Why: This is the home of varied and colourful vegetarian food. The Indian spices in their curries are amazing, and you really don't feel like you are missing out at all. The atmosphere at Dishoom is always fun and buzzy, and guaranteed to make your night fantastic. Don't miss their Indian-inspired cocktails, and fantastic fresh juices. The strawberry juice with black pepper is sensational.
4. "But vegetarian food is so heavy"
The Issue: Rice stuffed aubergine, rice stuffed peppers, rice stuffed everything. Veggie food can often be a little heavy on the carbs and leaves you feeling totally stuffed. Not chic. Discover one of London's best small, sharing plates restaurants instead.
The Answer: Jago, Shoreditch
Order: Pumpkin & celeriac gratin, chicory salad (£11) and Grilled beetroot polenta, goat's curd, kohlrabi & sorrel (£7)
Why: This is the home of the delicious light, healthy vegetarian sharing plates. They serve truly fantastic, exciting tapas-style food that will allow you to share with your friends (if you must) and won't leave you feeling weighed down by the burden of a million lentils. Order the delicious, colourful and unusual dishes like grilled manouri, cherry tomatoes & sweet herbs and roast cauliflower, almonds and pomegranate. Their brunch on the weekends is also top – try the gluten-free apple bircher with chia, blueberry, date, goji & yoghurt. Brunch heaven.
The Answer: Coya, Mayfair
Order: Peruvian beans, gem lettuce, purple potatoes and radish 
Why: Peruvian food is another great cuisine for vegetarian's. We love Coya with its healthy salads and beautiful salads of purple potatoes and ceviches. They also do an unusual Peruvian brunch on Sundays which is well worth trying.
5. "You're missing out on the Full English"
The Issue: Serious case of breakfast envy. Everyone's hungover and your soggy breakfast just doesn't cut the mustard. It's all a question of planning – London has some fantastic vegetarian breakfast options, you've just got to find them.
The Answer: Pont St, Belgravia
Eat: Arabic Inspired Breakfast – Ful medames with tomato, red onion and parsley. Lebanese cucumbers, olives, grilled akawi cheese, zatar, labneh and olive oil with warm flat breads
Why: It's true: sometimes a Full English hits the spot in a way that veggie breakfasts cannot – but the trick is to get something varied and beautiful, that would fight any plate of sausages. Middle-Eastern breakfasts are a great option for veggies – Pont St. do an awesome one, with some great juices too. If you want something a little more naughty, here's our guide to London's best vegan fry-ups.
Photos by Paul Winch-Furness
The Issue: Tofu is everywhere. And if you don't like it, you're pretty stuffed. That said, it's normally just done quite badly.
The Answer: Jin Kichi, Hampstead
Eat: Fried beancurd (£5.80)
Why: This little restaurant in Hampstead is totally the one. They do the most incredible fresh, simple sushi and have a beancurd dish worth crossing London for. The outside is crisp, the inside soft and melty, served with spring onions and soya rich sauce, it's beautiful. Forget bland tofu dishes, and get yourself a Japanese flex. There aren't many tables and you might have to wait for a table, but it's totally worth it. This place is so authentic it took me over an hour to find a decent photo… No Instagramming here.
The Issue: Late night kebabs are off the menu. What's a gal to do?
The Answer: Wahaca
Eat: Black bean tostada, sweet potato tacos, fried plantain (prices from £3.50)
Why: To be honest, Wahaca is always the answer. But if you need something quick with a slightly indulgent naughty food vibe, then head to Wahaca for a vegetarian feast. The service is always super quick, and the veggie Mexican food is brilliant. Try the sweet potato tacos and currently veggie specal – roast squash & cauliflower on white sesame Oaxacan emulsion with crisp corn and amaranth. For brunch, try the Mexican classic – two fried eggs on blue corn tortillas with frijoles and both roast tomato salsa and green tomatillo salsa. Also try the crispy sweetcorn fritters topped with avocado mash, roast chipotle salsa- they are a total highlight. Don't leave without getting some churros with extra chocolate sauce. Mexican food heaven.
8. "Are you always super healthy?"
The Issue: Your mates think you're like Deliciously Ella. In reality, you love sugar as much as the next girl. Being veggie doesn't mean being virtuous, after all.
The Answer: You've got to take them for a blow-out brunch and prove that your hips do lie.
Eat: Hazelnut waffles, berries and cream at Berners Street Tavern
Why: Why the hell not. Pancake party. If you're looking for great pancakes, you can also try Pont St for their classic ones. Seriously beautiful breakfast comfort food.
Happy #MeatFreeWeek one and all!