Everyone is going mad for nut milks.
Whether it's pictures of their nutty smoothies on Instagram, tweets about the best 'mylks' in London or a gaggle of ladies supping on their freshly-made chai drinks, people can't get enough. London is home to endless places serving up the finest cold-pressed juices and smoothies, so we went on a quest to find the best. We wouldn't say we're experts, but we certainly know our nuts. In association with Meridian Foods, as part of #MeridianNutWeek (follow Meridian Foods on Twitter here and like them on Facebook here), here's London's best nut milk drinks – drink up, London:
1. Best Date Nut Milk: PRESS London
Order: Vanilla Leche – almond, dates, vanilla bean, filtered water, pink Himalayan salt
The Story:  Other cold-press juice fanatics who got a taste of the food stuff over in America, Georgie and Ed founders of Press decided to set up shop in London to pack all the fruity and veggie loving into carefully made juices. We're taking about some pretty creative ingredients from their Garden Juice containing sweet potato, carrot , apple and red pepper to the hangover tonic – activated charcoal, ginger, lime, aloe vera and dandelion root. Not quite the same as a bacon butty.
The Mylk Lowdown: The juices really are sensational. The vanilla leche uses almond milk as a base and is sweetened with dates and vanilla bean. It gets better – if you visit one of their stores they blend in banana and almond butter if you wish. You'd be silly not to. It's an absolute taste sensation and we don't use those words lightly. Good news, they've just opened a new branch near St Paul's. Milk win.
Where: Locations here 
2. Best Fruity Nut Milk: The Pressery
Order: Berry – almond milk, raspberries and blueberries
The Story: Made in East London, The Pressery create all their juices with their homemade almond milk from activated raw organic almonds, with no preservatives, additives or artificial sweeteners – not a carton in sight. On the menu is four juices- original, berry, turmeric and cacao.
The Mylk Lowdown: If you're after a shed load of juices that contain the shelves of a health food shop, The Pressery aren't into the fancy ingredients – just nutritious, simple and balanced goodness. Their berry juice contains their home-made almond milk which is creamy and way better than the shop bought ones. Throw in some berries and you've got one hell of a juice. Sometimes, the fuss-free ones are the best.
Where: Stockists here
3. Best Secret Vegetable Nut Milk: Mojo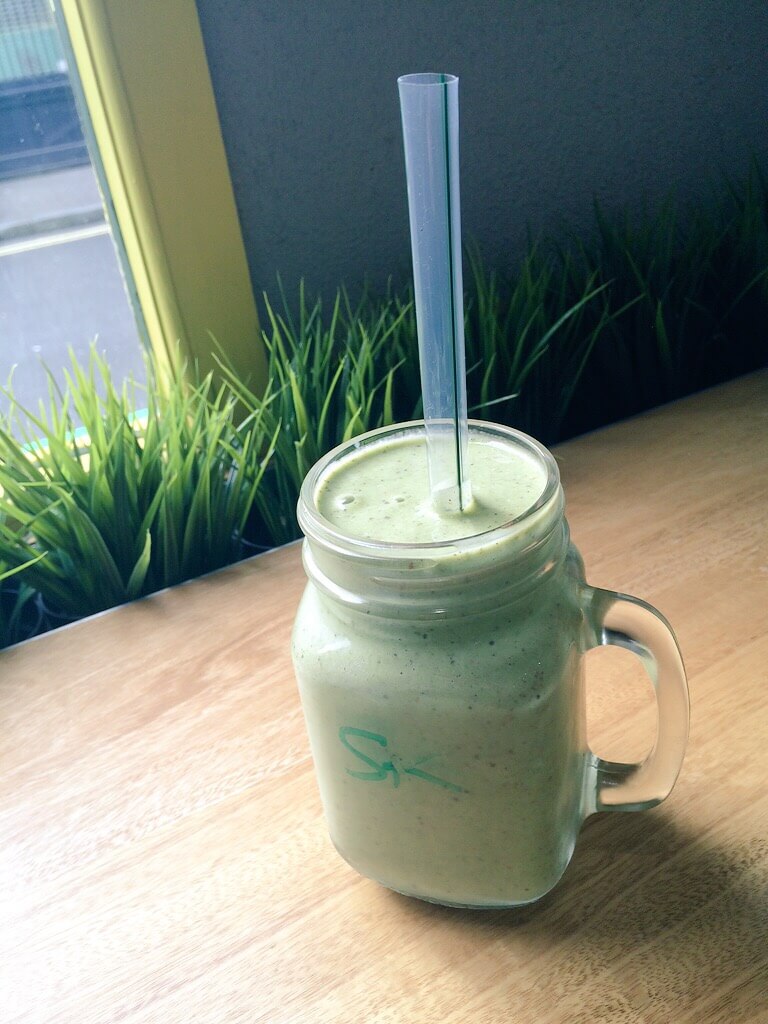 Order: Sweet Like Kale – kale, banana, almond, dates, coconut butter, almond milk and cinnamon
The Story: Mojo is all about creating a healthy experience by finding the perfect balance of nutritious yet outrageously good food. Using wholesome and responsibly sourced ingredients they have created an easy to navigate breakfast and smoothie menu. Grab one of their juices for on the go – we can seriously vouch for the watermelon cooler – it's the one.
The Mylk Lowdown: Their sweet like kale smoothie is a green juice with a difference. Using almonds and almond milk gives the smoothie a totally nutty taste.  It's one for those with a sweet tooth, as the dates and banana make it slightly on the sweet side, but it's totally dreamy. Whoever turns their nose up at kale in a smoothie, give them this – they'll be proved wrong.
Where: 8 D'Arblay Street, London W1F 8DP
4. Best Vanilla Nut Milk: Crude Juice 
Order: Vanilla Cream
The Story: We first stumbled on Crude Juice when visiting the Crosstown Doughnuts shop in Soho when it first opened, we tasted their vanilla cream mylk and we were hooked. Guy Robinson, the brains behind Crude Juice saw the rise of the cold-pressed juice movement stateside and decided to bring his own creative ideas to London.
The Mylk Lowdown: All of the mylks use organic cashews as a base and jazz it up with South American super foods of the moment – maca, raw cacao and chia seeds. These lactose free high-protein little bottles of heaven are a perfect for a grab and go brekkie. The vanilla cream is thick, rich and the nuttiness compliments the vanilla. Ooft.
Where: Check out stockists here
5. Best Pistachio Nut Milk: Crussh
Photo courtesy of Aj finnie
Order: Green Nut Milk: pistachio, cardamom pods, figs, Himalayan pink salt and filtered water
The Story:  Crussh is the high-street chain that knows what goes into making fine smoothies – fruit, yogurt and 100% juice. None of this 32 different artisan ingredients nonsense although they do sell wheat-grass shots if you fancy it. They jumped on the cold-press juice bandwagon, selling 6 different favours and they're all absolute belters.
The Mylk Lowdown: While others favour your classic nut flavours, the guys at Crussh have decided to mix it up offering their green nut milk with pistachios – the aromatic spice from the cardamon and the sweet taste from the figs is a cracking combination.  There's nothing wrong with the high-street, Crussh is fantastic.
Where: Find your nearest Crussh here
6. Best Sweet Nut Milk: Daylesford Organic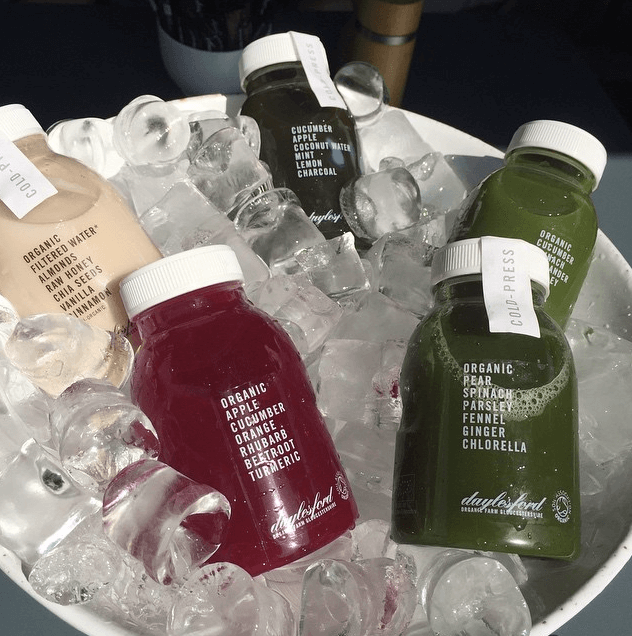 Order: Filtered water, almonds, raw honey, chia seeds, vanilla and cardamon (not suitable for vegans)
The Story: Daylesford is all about the 'farm to fork' ethos, using fresh, seasonal produce straight from their own farm garden, baking their own bread and making their own cheese, milk and yoghurt from their creamery. The restaurant uses all organic products and the menu largely features veggie options. No food nasties – just natural, honest, great tasting grub.
The Mylk Lowdown: Recently launched, their cold pressed juice selection is pretty impressive. Their cucumber, apple, coconut water with mint and charcoal is an ideal post gym drink. For something sweeter without the sugar their B Calm juice with almonds, raw honey and chia seeds is delicious. Any drink that includes cardamon gets a yes in our book.
Where: Locations here 
7. Best Quirky Nut Milk: Andina
Order: Chaska with lúcuma, kiwicha, banana and hazelnut milk
The Story: Andina is by Martin Morales, the mastermind behind Ceviche Old St and Ceviche Soho – he knows what goes into making killer dishes. This Peruvian restaurant loves quinoa and avocado which is a win in our books. Their menu caters for gluten-free, veggies and vegans – no one is getting served a sad vegetarian tart here.
The Mylk Lowdown: As well as breakfast, lunch and dinner they have a specially dedicated juice bar open early doors. They have a range of cold-pressed juices made from seasonal fruits, roots and vegetables alongside a variety of Peruvian superfood ingredients. Their chaska superfood smoothie has a tropical twist thanks to the lucuma and adding kiwicha dubbed 'mini quinoa' makes the smoothie filling and hearty – throw in some banana and hazlenut milk and you've got one yummy drink.
Where: 1 Redchurch Street, Shoreditch, London E2 7DJ
8. Best Coconut Nut Milk – Blend & Press
Order: Energise Smoothie – activated almond milk, coconut meat and water, raw cacao, cinnamon, maca, banana and hemp powder
The Story: The guys down at Blend and Press are all about feeding your body from the inside. Founded in 2013 by Emma Wood, Blend and Press create cold pressed juices with added heaps of nuturional value from aloe vera for digestion and beetroot for an extra boost of stamina. They use one of the best juicing machines around making sure it retains all of the good stuff – vitamins, minerals and fibre.
The Mylk Lowdown: Not only do they do fine cold-pressed juices, but super food smoothies are also their forte. The energise smoothie is for anyone who can't resist a chocolate bar, only this smoothie is super healthy, one sip and you'll probably sign up for the gym and a yoga retreat.
Where: 16a Neal's Yard, London WC2H 9DP
9. Best Cashew Nut Milk: Lab Organic
Order: Sweet & Salty Cashew Mylk – cashews, purified H2O, Medjool ates, flax seeds, hemp seeds and  Himalayan salt
The Story: Walk into Lab Organic and you feel like you've already lost 2 pounds (in weight, not cash). They've fully embraced the healthy lifestyle by creating nutrient-rich organic cold pressed fruit and vegetable juices and heap of snacks, nut free mylks and anything virtuous you can think of.
The Mylk Lowdown: They make a range of mylks including their turmeric mylk, cacao hazelenut mylk and a green tea mylk – a mixture of cashews, almonds, spinach, kale and parsley. Their sweet and salty cashew mylk is a silky smooth texture packed full of everyones favourite superfoods – flax and hemp seeds. It's also packed full of Omega 3 fatty acids for the ultimate healthy drink.
Where: 58 Neal St, London WC2H 9PA
10. Best Honey Nut Milk: Roots and Bulbs, Marylebone
Order: The Bee – almond milk, banana, bee pollen, honey, dates, cinnamon and sesame seeds (not suitable for vegans)
The Story:  Cold pressed organic juices, superfood smoothies and naturally sourced food is the order of the day at Roots and Bulbs. The menu is small and refined – what it lacks in size, it makes up for with their fresh tasting, healthy and just generally yummy products. The folk at Roots and Bulbs have got  'healthy drinks' down to a tee.  Whilst their cold pressed juices are killer (they're pressed twice and are utterly dreamy), their smoothies are also worth a shout out.
The Mylk Lowdown: If you're a peanut butter fan and lets be honest, who isn't? Order their gym freak a combination of peanut butter, protein powder, banana and almond milk. We're here for the bee smoothie – the bee pollen adds a floral hint to the smoothie while the cinnamon adds a subtle spice.
Where: Locations here 
Post in association with Meridian Foods, as part of #MeridianNutWeek – follow Meridian Foods on Twitter here and like them on Facebook here.