If you care: it's National Afternoon Tea Week (13th-20th August). We don't need an excuse to chow down on freshly baked scones – every week is suitable for finger sarnies and a glass of bubbles. If you're on the hunt for a classic, new or boozy afternoon tea, we've handpicked the best in London we're totally loving at the moment:
Afternoon Tea Week in London: The Classics
The Run-Down: Afternoon Tea at The Goring is a world-renowned affair which celebrates the much-loved English tradition in all its quintessential splendour.
Eat and Drink: Complete with delicate pastries, scones and sandwiches, served with the finest blended and first-flush teas from around the world, and topped off with a glass of Bollinger Champagne, the Afternoon Tea service is reason alone to visit The Goring (the only hotel in the world with an official Royal Warrant by Appointment to Her Majesty the Queen). Afternoon Tea is served in the luxurious, five-star surroundings of the Bar and Lounge every day between 3.00pm – 4.00pm.
Price: From £49 per person
Where: 15 Beeston Pl, Westminster, London SW1W 0JW
The Run-Down: The London address for afternoon tea, The Dorchester's serve theirs in The Promenade, surrounded by rich coral coloured silk draperies and custom gold-framed mirrors for an indulgent feast, accompanied by the soothing soundtrack of the resident pianist.
Eat and Drink: Delicate finger sandwiches, such as the Norfolk Black leg chicken with ginger, lime, garlic, mayonnaise and shallots are followed by warm scones and a selection of pastries, including a raspberry lychee rose and a strawberry champagne tart. And a choice of house blended teas and Champagne compliment the menu.
Price: From £70 per person
Where: 53 Park Lane, Mayfair, London W1K 1QA
The Run-Down: The Landmark London's classic and award-winning afternoon tea is a one-of-a-kind dining experience; perfect to celebrate Afternoon Tea Week, a special occasion or those looking to indulge in the quintessentially British tradition.
Eat and Drink: Highlights from the menu include an assortment of sandwiches, scones and sweet delicacies in one of most enchanting settings in the city, as well as a selection of freshly brewed leaf and herbal teas. Those looking to push the boat out even further can opt for the Chocolate Afternoon Tea, where pastries and scones are replaced with chocolate delights.
Price: £48 per person
Where: 222 Marylebone Rd, Marylebone, London NW1 6JQ
The Run-Down: Served in the magnificent surroundings of Thames Foyer in the heart of The Savoy, Executive Pastry Chef, Ludwig Hely, and his team have created a signature selection of classic pastries, cakes, and sarnies.
Eat and Drink: Alongside the afternoon tea regulars, the pastry menu includes: Cornish strawberry tartlet (strawberries paired with rhubarb and hints of vanilla); dark chocolate cake (60% dark chocolate from Ghana sprinkled with American cherries covered with chocolate shavings); choux pastry creation, filled with roasted apricot compote with fresh passion fruit pulp and pistachio praline; and peach macaroon filled with an almond velvet, topped with different textures of white, yellow and blood peaches.
Price: From £65 per person
Where: Strand, London WC2R 0EZ
The Run-Down: Indulge in a slice of one of the finest British traditions and take Afternoon Tea at The Ritz in St James'.
Eat and Drink: Enjoy a selection of finely cut sandwiches, freshly baked scones with Cornish clotted cream and strawberry preserve, and a mouth-watering range of exquisitely presented pastries and teacakes. As well as 18 different types of loose-leaf tea to choose from, you can also opt for Champagne to add some extra sparkle to the occasion.
Price: From £57 per person
Where: 150 Piccadilly, St. James', London W1J 9BR
The Run-Down: Treat a loved one to an Afternoon Tea experience in St James's with Fortnum & Mason's award winning afternoon tea, served in their iconic Diamond Jubilee Tea Salon.
Eat and Drink: Dig into an array of sandwiches featuring rare breed hen's egg with mayonnaise and chives; cucumber with mint cream cheese; glazed ham with English mustard; Fortnum's smoked salmon; and coronation chicken. Freshly baked scones are presented with clotted cream along with Fortnum's Strawberry Preserve and Lemon Curd and on the highest tier, a delicious plate of patisserie. Plus, all afternoon teas are served with a selection from Fortnum's 52 blends.
Price: From £49 per person
Where: 181 Piccadilly, London W1A 1ER
Afternoon Tea Week in London: Our Favourites
The Run-Down: This year, celebrate Afternoon Tea Week at the fashionable Thomas's Café in Burberry's flagship store at 121 Regent Street. Take a front row seat in the heart of London while sampling a quintessentially British afternoon.
Eat and Drink: Afternoon Tea includes unlimited pots of 2016 2nd Flush Grand Reserve Darjeeling India, a glass of Nyetimber classic, and an assortment of finger sandwiches and tea cakes, served on a brass and glass shelved cake stand. Miniature British favourite finger cakes, including Victoria sponge cake and lemon meringue tartlet, are served alongside Thomas's signature pale orange fondant fancy and walnut whip.
Price: £32 per person
Where: 5 Vigo St, Mayfair, London W1S 3HA
The Run-Down: The cocktail lounge at the Zetter Townhouse Clerkenwell and Seymour's Parlour at the Zetter Townhouse Marylebone put together a divine afternoon tea that runs right into their cocktail hour.
Eat and Drink: Choose between Aunt Wilhelmina's lighter menu, with a selection of dainty sandwiches such as honey roast ham with mustard mayonnaise, and the smoked chicken Caesar, or Uncle Seymour's heartier menu, which includes the likes of truffled sausage roll with homemade brown sauce and mini croque monsieur. Sweets include dark chocolate and passion fruit choux; orange blossom sponge with orange Crème Chiboust and pistachio; and the raspberry and English rose mousse.
Price: From £33 per person
Where: Locations here
The Run-Down: sketch's afternoon tea is served in The Gallery, their artist-conceived restaurant where David Shrigley has been residing for over four years. With a dedicated 'tea master' and 'caviar man' ensuring everyone is well looked after, afternoon tea at sketch is an occasion to remember.
Eat and Drink: Assorted finger sandwiches are filled with coronation chicken; green asparagus with cucumber and ricotta; salmon and Jacob's cream; and eggs truffle gougere. Sweet treats include vanilla and strawberry Battenberg; pistachio and apricot cake; caramel and chocolate eclair; and, of course, scones with clotted cream and homemade jam.
Price: £59 per person
Where: 9 Conduit St, Mayfair, London W1S 2XG
Afternoon Tea Week in London: New Serves
The Run-Down: A first of its kind for afternoon tea in London, The Hari's Truffle Afternoon Tea has been designed by Executive Chef Claudio Covino and Head Pastry Chef Riccardo Zanetti – and is available from Thursday 16th August to Sunday 16th September.
Eat and Drink: The Truffle Afternoon Tea uses summer truffle from Italy within each of the savoury and sweet treats. On the savoury side, there's truffle pears and porcini salad; burrata and truffle; beef carpaccio e truffle bruschetta; and arancini truffle. And for sweet, scones have been replaced with hazelnut bignè; cream cheese cannolo; caramel salted truffle; milk chocolate bombolone; and cream bombolone.
Price: From £65 per person
Where: 20 Chesham Pl, Belgravia, London SW1X 8HQ
Photo Credit: James Bedford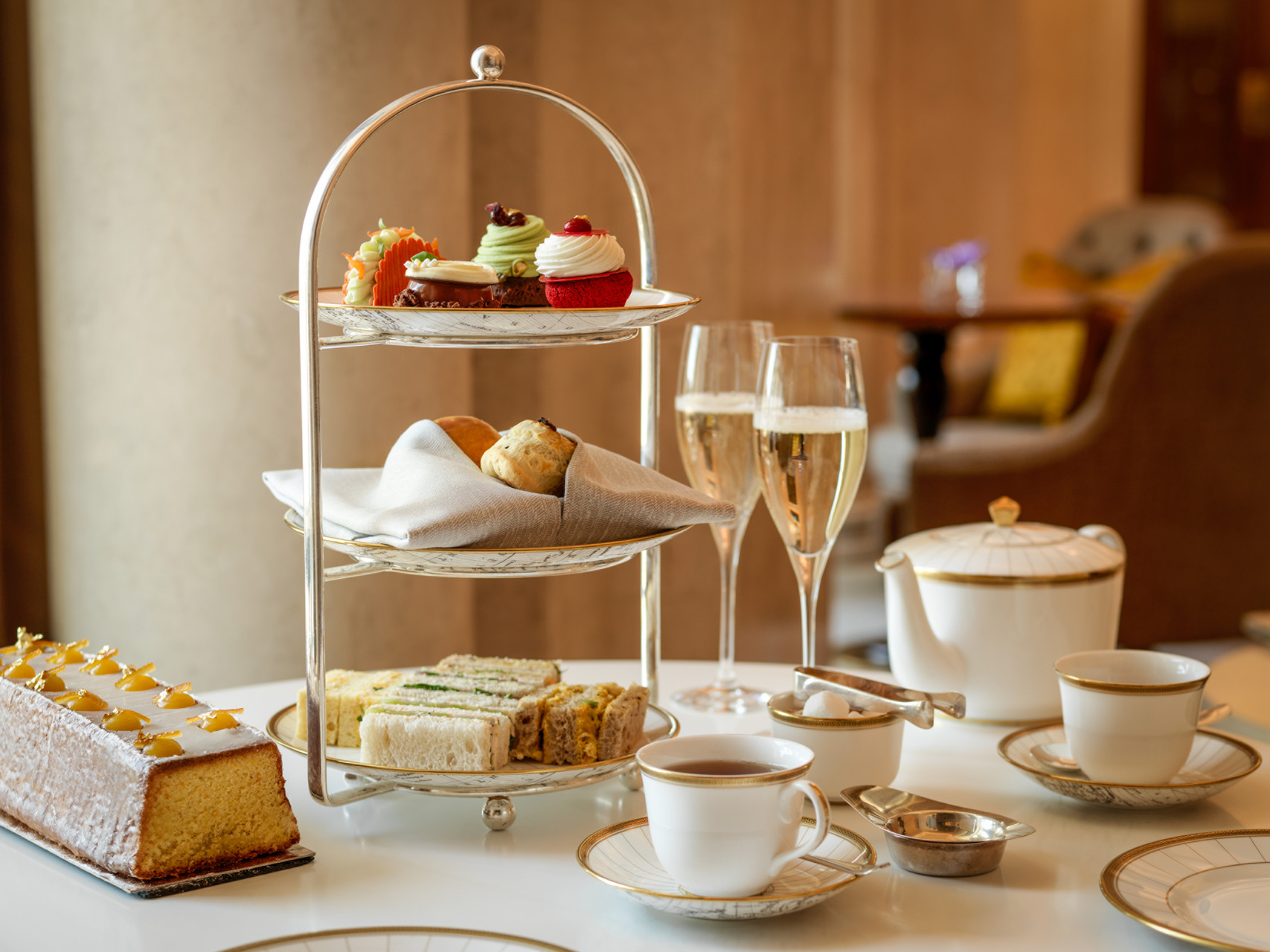 The Run-Down: Rotunda at Four Seasons Hotel London at Ten Trinity Square has unveiled its new Heritage Afternoon Tea, based on the iconic building's history. As the headquarters of the Port of London Authority, Ten Trinity Square was once at the heart of global trade and the gateway for the tea routes to enter London.
Eat and Drink: Laden with traditional finger sandwiches created by Rotunda's new Executive Chef, David Greenhill, the tea stands celebrates British classics including: egg mayonnaise with truffle oil; coronation chicken; and the classic minted cucumber. Alongside the sandwiches, there's seasonal pastries such as strawberry and sansho; apricot and verbena in an almond sponge; and passion fruit ganache atop chocolate sablé and chocolate mousse – not forgetting the essential homemade scones with seasonal jams and Devonshire clotted cream.
Price: From £35 per person
Where: 10 Trinity Square, London EC3N 4AJ
The Run-Down: Afternoon tea at the newly opened Palm Court at The Principal London is a quintessentially English experience, with playful twists on classic dishes. Executive chef, Roger Olsson (ex-Dorchester) and executive sous-chef, Ryan Thompson (ex-Dominique Ansel) along with pastry chef  Thibault Marchand have created a menu full of British bites.
Eat and Drink: The menu includes finger sandwiches like tandoori chicken on raita caraway bread; goat's curd and fig mustard on onion bread; and smoked trout, fennel and apple on beetroot bread. There also a variety of pastries and  freshly baked scones in flavours such as camomile and lemon, matcha and sesame, and earl grey.
Price: From £38 per person
Where: 8 Russell Square, Bloomsbury, London WC1B 5BE
The Run-Down: Dorchester Collection's contemporary Mayfair hotel, 45 Park Lane, has recently launched their first ever American afternoon tea 'CUTcakes and Tea', which replaces delicate porcelain, dainty sandwiches and piano music, with a feast of delicious American teatime favourites with a contemporary twist.
Eat and Drink: With menu highlights including cola cake with caramel corn, S'mores, wagyu beef slider, lobster Po'Boy, black truffle grilled cheese and American craft beers, CUT at 45 Park Lane's american afternoon tea brings an original twist to the British tradition.
 Price: From £46 per person
Where: 45 Park Lane, Mayfair, London W1K 1PN
The Run-Down: JING Tea has partnered with Four Seasons Hotel London at Park Lane to create a limited-edition Fruit and Floral afternoon tea experience in the heart of Mayfair.
Eat and Drink: One of the menu's signature sweet treats is The Beehive; a pastry combining oats, honey, blueberry and almonds with an almond cream hiding a liquid honey centre, partners perfectly with JING's Pineapple and Osmanthus tea. Another highlight of the menu includes the wild strawberry and poppy macarons and Head of Tea at JING, Tom Price, recommends pairing this sweet delight with JING's green apple and hibiscus tea.
Price: From £42 per person
Where: Hamilton Place, Park Lane, London W1J 7DR
The Run-Down: Sheraton Grand London Park Lane has teamed up with the world's oldest hat shop, Lock & Co., to create a one-of-a-kind afternoon tea. After talking through the intricate designs with their milliners, the hotel's pastry team have finely crafted each sweet on the new menu to replicate Lock & Co.'s classic designs.
Eat and Drink: The hat-shaped pastries are: The Worsley, a cocoa nib tart with pineapple jam; The Bowler, a kalamansi and caramelised chocolate mousse with Oreo biscuit; The Fedora with mandarin jelly, alunga chocolate mousse and red velvet biscuit; and The top hat, a carrot cake sponge with mascarpone and lime cream. The menu will also feature their traditional, fluffy Victoria Sponge, freshly baked scones and a luxury selection of finger sandwiches.
Price: From £39 per person
Where: Piccadilly, Mayfair, London W1J 7BX