Ultimate Guide to: 4th July Celebrations in London 2018By Angelica Malin
Whether you're a homesick American or just want an excuse to eat a mountain of ribs, there's a wave of 4th July celebrations taking place across the capital – and we're in the know. Deep-fried, alcoholic, or just downright delicious – here's the best 4th July happenings in London 2018.
1. For a Big 4th July Bash: French's mustard and Frank's RedHot
What: Two of America's greatest sauces, French's mustard and Frank's RedHot are joining forces to host the biggest all-American Fourth of July party at East London's Last Days of Shoreditch.
Eat and Drink: Featuring a line-up of some of London's finest street food; burger champs Cheeky Burger, BBQ experts Smokey Tails, pizza pros Crust Bros and more will be serving up a riff on American classics. And that's not all – turn up the heat with the supersize 6 ft Frank's RedHot sauce fountain and cool off with French's mustard ice cream (trust us, it's delicious).
Where: Last Days of Shoreditch, 288 Old St, London EC1V 9LA
Tickets here
2. For Collaborative Cocktails: Sailor Jerry x MEATliquor
What: Sailor Jerry and MEATliquor have teamed up to celebrate American Independence Day with the launch of the Hawaiian Style Hot Link. Available at MEATliquor restaurants across London throughout July, the all-American Hawaiian Style Hot Link is a kick-ass spicy hot dog piled high with Sailor Jerry-infused pineapple chutney.
Eat and Drink: Perfectly paired to compliment the spice, try the new cocktails like the Sailor Boy, a malty milkshake made up of Sailor Jerry, banana and caramel. Feeling fruity? The Pink Ticket is a refreshing blend of Sailor Jerry with lime juice, crème de cassis, ginger syrup topped with soda, and if you're feeling like a big dawg, the House Grogg, a secret mix of Sailor Jerry combined with light and dark rums, packs a major punch.
Where: Locations here
3. For Pies and More Pies: Balthazar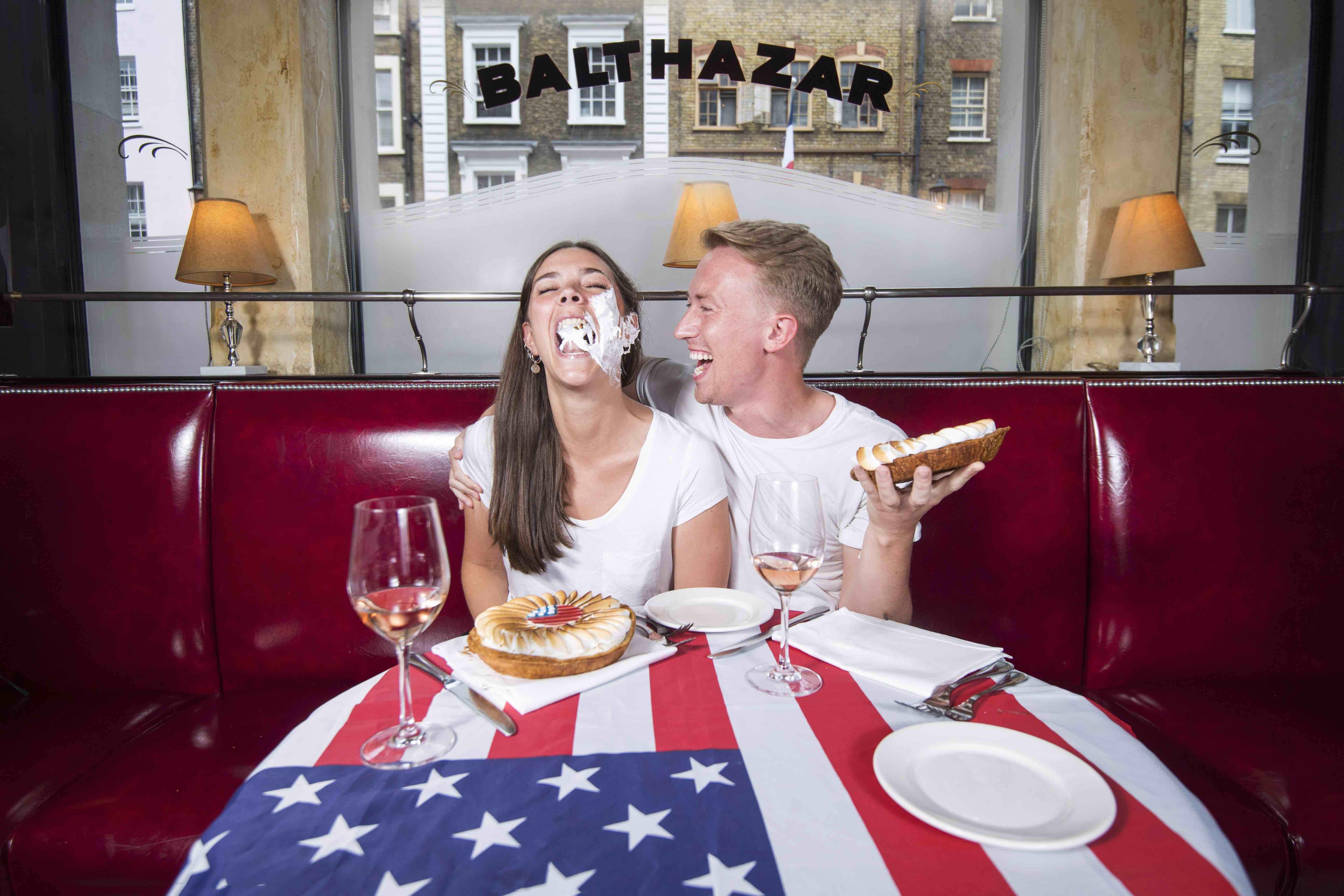 What: Balthazar restaurant is paying homage to its heritage this Independence Day with a week-long celebration of all things American. Join in the #YouGotPied fun from Monday (2nd July), for an American pie feast, a game of real-life Pie Face and a special guest appearance from New York DJ, Alexandra Richards.
Eat and Drink: On Wednesday (4th July), the Balthazar Boulangerie will transform into 'The American Pie Shop' with an amazing range of individual and giant homemade pies. Take your pick from zingy Key Lime, indulgent Banoffee, classic Apple and Blueberry, traditional Pear and Plum and of course, the famous New York Cheesecake. Enjoy in the shop with your choice of cream, ice cream or custard or pre order a large one to go.
Where: 4-6 Russell Street, London WC2B 5HZ
4. For Burgers and Booze: Jim Beam x The RoadHouse
What: Party on down to The Roadhouse, Covent Garden, as the bar hosts their best ever American themed Rockaoke special, with a little help from Jim Beam.
Eat and Drink: As well as American-themed decorations and music, they've also got 50% off burgers (try the classic buttermilk fried chicken bun), U.S hot dogs, burger and cocktail specials, Happy Hour drinks from 5.30pm – 10pm and most importantly, will be partying right on until 3am. If you can stomach any more food, the chocolate brownie and ice cream sandwich is devilishly good.
Where: The Piazza, Covent Garden, London WC2
5. For Ribs Galore: The Big Easy
What: Big Easy will be holding its 27th annual rib eating contest on 4th July to celebrate in true American fashion. You can either watch or participate in the ultimate foodie test while slurping on the very patriotic and highly alcoholic red, white and blue frozen margarita.
Eat and Drink: At each of the three Big Easy locations, ten lucky participants will have 30 minutes to consume as many ribs as possible – the single winner at each location will be the entrant who manages to fully consume the most ribs within the time limit. The winners will have their name inscribed on the infamous Big Easy board and win a £100 Big Easy experience voucher plus a trip for themselves and three friends to have a VIP tour of Fuller's Brewery in Chiswick… including free grog.
Where: Locations here
What: Make like "The Boss" and belt out Born in the USA while enjoying a brand new modern Californian menu at Studio 88 in the West End.
Eat and Drink: Embrace the star-spangled banner and show up in red, white and blue to feast on all the new dishes – think classic hot dogs and curly fries, fried California rolls, and S'mores chocolate brownie. And it's all half price. Then after the eating, don your dancing shoes and request all your U.S of A favourites from the live house band.
Where: Studio 88, 47 Whitcomb St, London WC2H 7DH
What: To commemorate American Independence Day, The Gallery in West Hampstead will be throwing their own transatlantic festivities in a Whisky 101 event on Thursday (5th July). Everyone is invited to gorge on a banquet of Southern American-style food, beer and bourbon to celebrate the traditions of the United States.
Eat and Drink: On offer will be a delicious Southern American-style feast, including pulled pork sliders and crispy fried chicken. This can be washed down with a range of whiskies provided by classic Kentucky distiller, Heaven Hill or paired with refreshing beers from London-based brewers FourPure, while American rock n roll, funk and soul DJs will provide the soundtrack to the evening and keep the Americana party spirit going.
Tickets cost £15 and includes the food and one cocktail and beer. Please email info@ilovethegallery.com.
Where: 190 Broadhurst Gardens, West Hampstead, London NW6 3AY
8. For American Eats: Christopher's
What: Covent Garden based Christopher's, will be celebrating 4th July with an all-American, week-long celebration of Stateside classics. The one-off menu will include the likes of Surf'n'Turf, Blueberry Pecan Pie and the Kansas Corn Dog, alongside the Bourbon Revolution cocktail special.
Eat and Drink: Start the feast with BBQ pulled pork tortilla with guacamole, Charleston slaw and hickory sauce, before moving on to showstopping mains. These include the likes of chimichurri-rubbed wagyu rump steak and seared harissa-rubbed halibut. Sweet tooth? There's blueberry pecan pie with salted caramel ice cream and sunflower tuile or peanut butter blondies, coated in Valrhona chocolate sauce and pistachio ice cream.
Where: 18 Wellington St, Covent Garden, London WC2E 7DD
9. For a Birthday Party: Shake Shack
What: Shake Shack are celebrating their 5 Year UK Anniversary with a 4th July Summer BBQ collaboration at their new Mansion House Shack. Shake Shake have teamed up with one of the best global BBQ pitmasters: Billy Durney of Hometown Bar-B-Que in Brooklyn, New York to create an exclusive, one-day-only feast.
The Lowdown: The limited edition menu features dishes like the Hometown Shack: Shake Shack's custom-blend Aberdeen Angus beef patty topped with smoked and sliced dry-aged top loin , Oglesheild cheese, caramelised onions, and jus; and Hometown Fries: Crinkle-cut fries topped with Shack cheddar cheese sauce and pastrami smoked bacon. For drinks, there's the Smoked Caramel Bourbon Shake, a blend of vanilla frozen custard with smoked caramel and bourbon, topped with whipped cream, smoked salt, and speculoos cookie crumbles.
Where: 45 Cannon St, London EC4M 5SB