With mirth and laughter let old wrinkles come – William Shakespeare 
Stepping into the Hyatt Regency last Thursday night, I was hesitant about what was about to come. As a Londoner who spends a large amount of their time looking down at a phone screen, and secretly hoping that no-one will strike up conversation on the Jubilee Line, the thought of a dinner that involves some level of interaction scares me.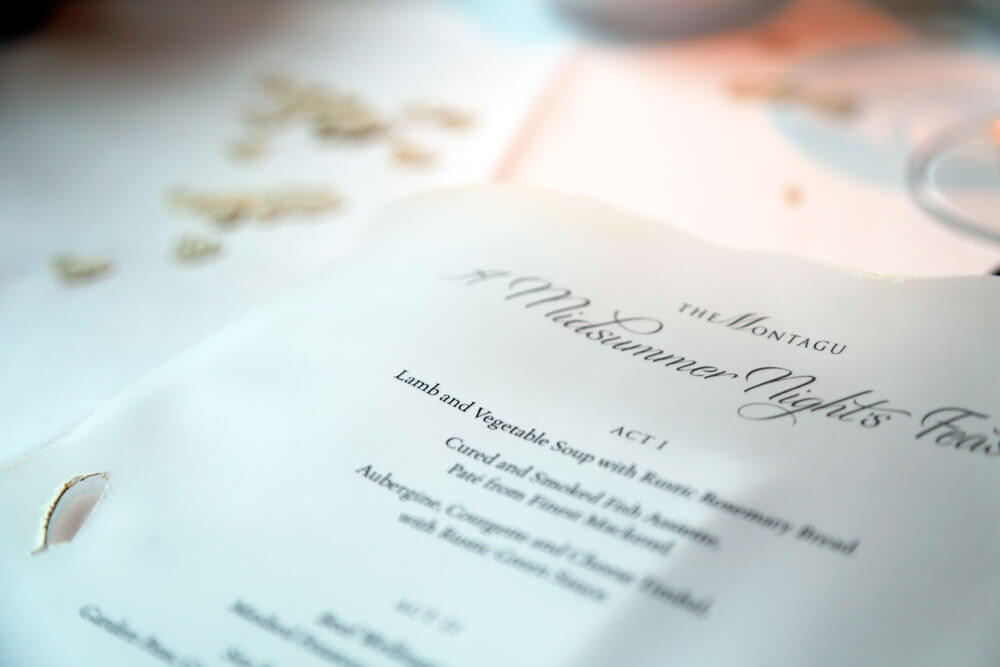 But the Shakespearean dinner at the Hyatt Regency is just the right amount of interaction; enjoy a Elizabethan-themed feast to the sound of lute music (niche), with costumed waiters and a fun vibe, while safe in the comfort that at no point will you be asked to act. No, in fact, there are actors to do that (genius) who perform sections of Shakespeare's most famous works (I've always thought that a touch of Romeo and Juliet is just what the starter course is missing) during your meal. If you've looking for an unusual night out in Central London, here's what you need to know:
A Midsummer Night's Feast: The Idea
To celebrate the 450th birthday of good old Shakespeare, London's Hyatt Regency The Churchill Hotel is hosting a special feast every Thursday with special Elizabethan performances and food. It costs £35 per person for a set three-course meal and welcoming cocktail – bookings from 19.00 to 21.30, every Thursday until 24 July 2014. The hotel has a nice vibe; with an open-plan kitchen and big bay windows, it doesn't feel like a stuffy at all. There's plenty of things to keep you amused on the evening; and not just the waiter's outrageous outfits, but also Shakespearean themed games and of course, plenty of strong cocktails.
A Midsummer Night's Feast: The Food
The menu takes place in three acts and is inspired by English classics; some of which, perhaps, should remain as relics. Starters include a soup served into a rustic bread loaf, and cured fish plate (winner) with a pretty smoked salmon roulade.
For main course, go for the Beef Wellington, which is served with a delicious thick gravy and literally melts in the mouth.
Steer clear of the salt-crusted sea bass unless you want to be thirsty for the next 2 days. The traditional puddings are, traditionally, cream-heavy – think Gooseberry Fool with lashings of thick whipped double cream and a sprinkling of fruit.
A Midsummer Night's Feast: The Drinks

Drink a Love's Labour Won; a mixture of nettle-infused malmsey, Clouded Yellow wheat beer and Bushmill's Irish Whisky, served in a silver tankard with a cute feather quill. It's delicious and will get your Thespian self sozzled in no time.
A Midsummer Night's Feast: Our Verdict 
A fun, quirky night out. It's not right for a date (unless you like your dinner being disturbed by verse) but would be a nice treat with your mum. The menu is modestly priced for what you get, just be careful not to have too many mead cocktails or you'll be doing far too much duelling on the Met line home.
Midsummer Nights' Feasts at The Montagu cost £35 per person and are available to book every Thursday evening from 12 June to 31 July from 19.00 to 21.30. For reservations, please contact montagu.hrlondon@hyatt.com or tel. +44 (0) 20 7299 2037
Photos by Angelica Malin