It's been a voyage of discovery, but I've eaten my way around the high-street's Christmas sandwich selection. The veggie gang is growing, and it's comforting to see a better and tastier meat-free alternatives available to us Brits. Here's the all important details:
Veggie Sandwich Guide: Crussh
The Sandwich: Roasted Carrot and Mushroom Nut Roast (vegan)
Ingredients: Carrot, mushroom and lentil nut roast, spinach, and vegan mayo on malted bread
The Verdict: Although the malted bread was interesting, I generally found this sandwich very upsetting. The carrot played a much bigger role than advertised on the packet and my thoughts every bite were "oh, more carrot". The thick slices were crunchy and not very 'roasted' as stated on the packet, making it overshadow the more interesting filling of the mushroom nut roast which I could barely taste. There was no texture other than the slightly slimy carrot which was being sponged either side by the quite stodgy bread. This isn't what Christmas is about. With veganism a growing trend, more meat and dairy alternatives have become more readily available – so I think the wedge of carrot is fairly insulting whether you're vegan or not.
Moisture Level: Saliva sponge – needs lubrication
Veggie Sandwich Guide: Eat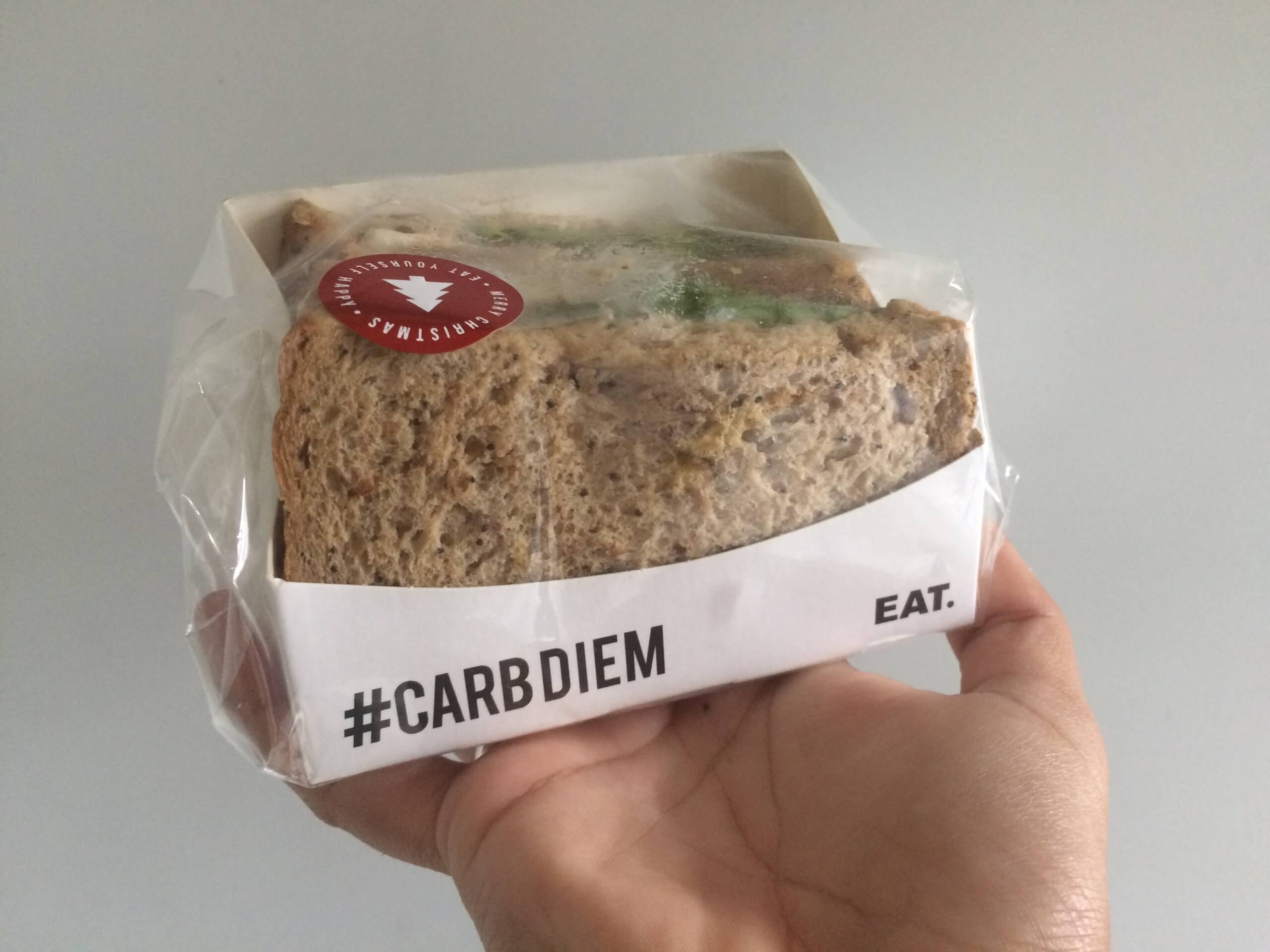 The Sandwich: Eat Bloomer – Goat's Cheese, Pear and Date
Ingredients: Goat's cheese, mulled wine pears, date chutney, spinach and peppered mayonnaise
The Verdict: Cheese and chutney is a classic Christmas combo, but this Eat bloomer has gone one step forward and created a divine Christmas concoction. The creamy slices of goat's cheese dominate the buds at the first bite before the mulled wine pear speaks up with its sweetness and boozy undertones. I was slightly worried when I heard about the mulled wine pears as they sound like part of a dessert that I would avoid, but they aren't in any way overpowering or gross which was a relief as I don't like flavours that steal the greatness of goat's cheese. While the cheese/pear pairing takes centre stage, it's the date chutney and peppered mayonnaise that keep the show running with their small but important roles in the sandwich.
Moisture Levels: The hills are alive with date chutney and juicy pear!
The Sandwich: Roasted butternut squash, seedy stuffing and slaw (vegan)
Ingredients: Roasted butternut squash, cranberry slaw, spiced vegan mayonnaise, rocket, malted bread
The Verdict: The butternut squash gives the sandwich a down-to-earth warmth as its buttery texture goes well with the slight sharpness of the rocket and tart pickled cranberry. The contents work well together and give the sandwich a satisfying density, especially with the accompaniment of the malted bread. The mayonnaise and slaw gave the sandwich an extra creaminess  I enjoyed the crunchy seeds against the softness of the bread, and was happy to learn that the fillings were evenly distributed, meaning all the ingredients were able to work together in unison to deliver happiness in every bite.
Moisture Level:  Saved by the bell   mayonnaise
Veggie Sandwich Guide: Tesco
The Sandwich: Bubble and Squeak Fritta With Cabbage Roll
Ingredients: Carrot, potato and cabbage bubble and squeak, braised red cabbage, egg-free mayonnaise, sage and onion stuffing and coconut flakes with smoked paprika
The Verdict: Although the filling sounds like part of a fry up ran away and turned up to a Christmas party uninvited, I have to applaud Tesco for pushing the boundaries on this one as they've done a pretty great job. It's a bold move experimenting with Christmas sandwiches and Tesco clearly wanted to be different with the optional coconut flakes or the "wild card" as I call them which took me by surprise! The real charm behind this sandwich is the Britishness of the bubble, and along with the spiced red cabbage where given a unlikely festive fusion.
My only real trouble with this sandwich was the bread, which became slightly obstructive as its roundness made it quite hard to take a bite.
Moisture Level: Bubble, bubble, toil and trouble – could you pass me the sauce, the bread's a bit dry.
Veggie Sandwich Guide: Asda
The Sandwich: Brie and Cranberry
Ingredients: Thick chunks of brie and cranberry sauce on malted bread
The Verdict: Brie and cranberry is nothing new in terms of Christmas combos, but we know it works so it's a guaranteed win with this sandwich if you are in fact a fan of brie and cranberry. If you're looking for something innovative and out there then you shouldn't shop at Asda, but this sandwich does what it says on the tin.
Moisture Level: Oh sweet juiciness! You'll be moist alright.
Veggie Sandwich Guide: Pret
The Sandwich: Brie and Cranberry Baguette
Ingredients: French brie with port and orange cranberry sauce, toasted pistachios and a handful of wild rocket in a baguette
The Verdict: This is identical to the Pret brie and cranberry sandwich however, it's in a baguette. I liked their brie and cranberry sandwich and I like baguettes so it's a winner. I'd recommend this if you're looking for a slightly more filling munch, as the baguette has more substance.
Moisture Level: Juicy like a ripe plum
The Sandwich: Veggie Christmas Lunch
Ingredients: Roasted butternut squash, nutty Christmas pesto and rocket, served with yoghurt and mayo dressing.
The Verdict: This sandwich was filled to the brim which is good considering it's called a veggie Christmas lunch. The butternut squash is hearty and goes well with the yogurt mayo dressing. I'm not quite sure if the nutty Christmas pesto added much to the experience, but nevertheless it certainly didn't offend. I wouldn't call this sandwich particularly Christmassy, but it fills a hole.
Moisture Level:  Silky, like an Italian scarf
Veggie Sandwich Guide: Sainsbury's
The Sandwich: Brie and Cranberry
Ingredients: Brie cheese and cranberry sauce with rocket and black pepper
The Verdict: This is the first Christmas sandwich that I've seen that isn't with brown bread. This provided a more cushioned bread experience for me which worked as a good shell for the generous brie filling. Unlike many, this sandwich had the correct amount of cheese as it filled the entire bread area right up to the crust. This was amazing as my last bites near the crust weren't pathetic empty memoirs of the sandwich, but in fact crust with filling.
Moisture Level: Hallelujah! I'm quenched.
Veggie Sandwich Guide: Marks & Spencer
The Sandwich: Brie & Grape
Ingredients: Brie, grape, ruby port chutney on oatmeal bread.
The Verdict: The sparks are flying with this one!  If you're vegetarian you'll probably have brie and cranberry coming out of your ears by now, but worry no more as M&S have saved the day with a cheeky tweak as they've paired brie with grape. Yes, actual grapes in the sandwich. This adds a nice juicy crunch to each bite followed by mellow boozy notes from the ruby port chutney. This sandwich oozes love and festiveness, and I can even imagine Santa Claus himself enjoying one of these. Out of all the sandwiches, I think this one steals the show and remains my favourite out of the lot.
Moisture Level: Washed away with merriment and port.