This is our 2015 guide, for our 2017 guide, see here. Oh, it's just the most glorious time of year. Whatever you're celebrating, this is simply the best month. To quote my friend: "December is the Friday of the year". Couldn't have put it better myself. December is a month full of festive joy, fun and delicious things to eat. In the spirit of Chanukah, here's our top 10 doughnuts to eat to celebrate. Let's get cracking:
1. For Jewish Doughnuts: Carmelli Bakery
What: Mini Doughnuts with jam, caramel, chocolate, custard or cream (50p)
Expect: The freshest breads, desserts and cakes as well as bespoke speciality cakes tailor-made to your every desire. They pride themselves on providing the highest quality produce, with dedicated chefs committed to creating delicious and imaginative treats.
Why: For the last three decades Carmelli Bakery has provided the Jewish Community with traditional and innovative delights and old favourites. They remain faithful to traditional methods and are still baking bagels by hand, giving each one full attention, to ensure that once they leave the stone ovens they are always perfectly bronzed and delicious.
Where: 126-128 Golders Green Rd, London NW11 8HB
Photo Credit: Instagram – Christina Ross
2. For a Family Bakery: J Grodzinski & Daughters
What: Yum Yums, jam doughnuts, flavoured doughnuts (from 85p)
Expect: Delicious freshly baked doughnuts in a variety of flavours. The classic jam is our favourite – you just can't beat it.
Why: One of the oldest Jewish bakeries in London. The bakery had expanded to six locations, and even the original Fieldgate Street location's demise in a 29 December 1940 German air raid could not halt expansion. By the mid-1960s Grodzinski was the largest kosher bakery in Europe, preparing both fine pastries and a range of breads, and adding to their retail business a thriving wholesale operation distributed through such British institutions as Selfridges, Marks & Spencer and Harrods. Enough said.
Where: 4-6 The Promenade, Edgware HA8 7JZ
Photo Credit: Instagram – H Lee
3. For Fun Doughnuts: Ben's Canteen
What: Doctor's DIY Doughnuts (£6)
Photo Credit: Ben's Canteen – Facebook
4. For a Doughnut Sandwich: BIRD
What: Ice Cream Doughnut Sandwich (£4)
Expect: A scoop of vanilla ice cream, filled with whipped cream, chocolate sauce and caramel, inside a daily-changing doughnut flavour.
Why: BIRD is all about the chicken. All of their ingredients are of the highest quality, and delivered fresh daily – you'd be surprised how rare that is when it comes to fried chicken. 'Free Range & Fried' describes our product and how it's prepared, but it also describes their attitude to what we do – naughty but nice. It's not Southern fried chicken.  It's not Korean fried chicken. It's BIRD Free Range & Fried. Go taste the difference for yourself.
Where: 42-44 Kingsland Rd, London E2 8DA
Photo Credit: Paul Winch-Furness
5. For Fusion Doughnuts: Rinkoff Bakery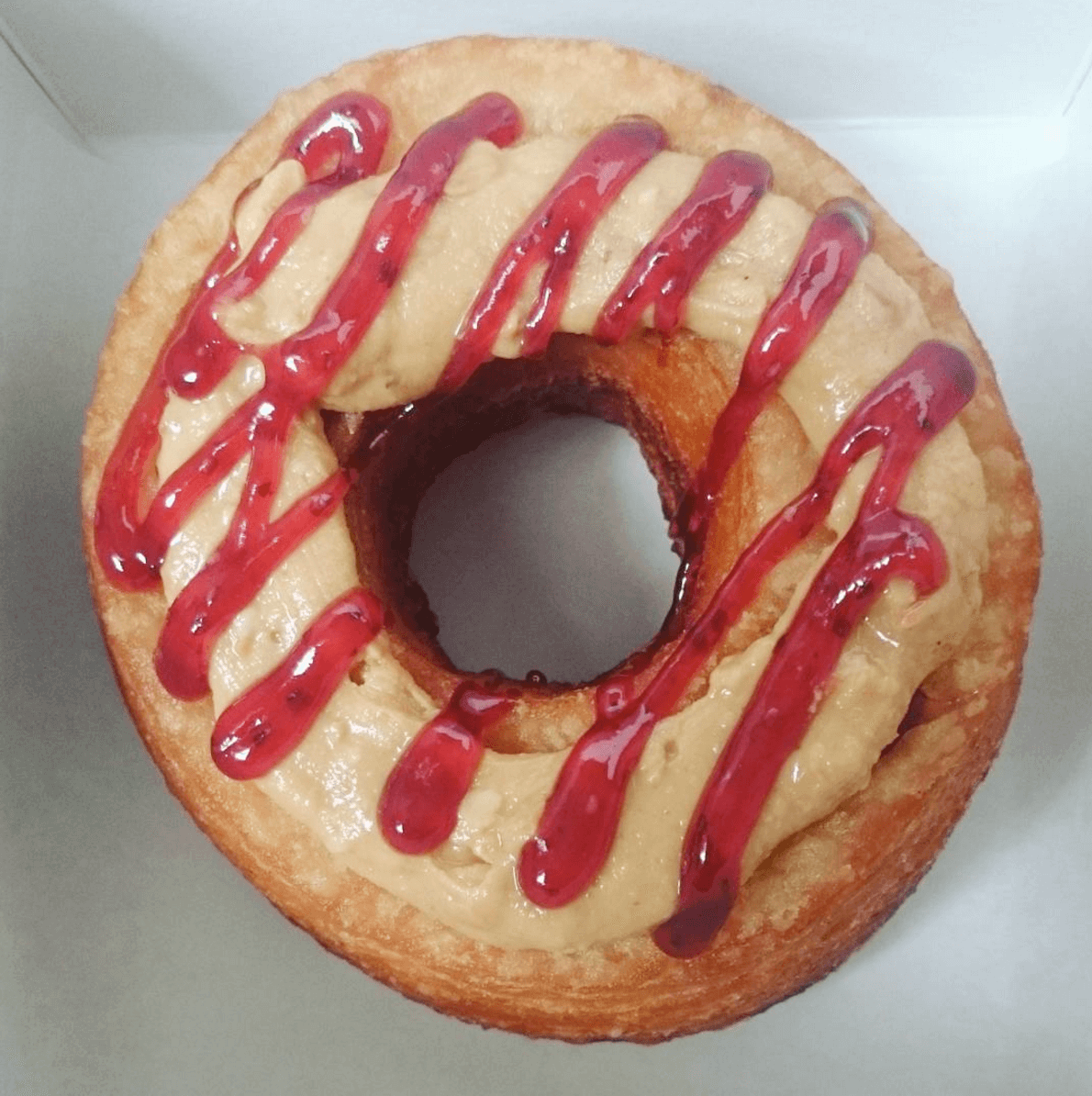 What: Salted Caramel and Pistachio Crodough (£3.50)
Expect: Salted caramel is injected through the layers of this delicious crodough. and covered with roasted pistachios. So naughty and so nice.
Why: Rinkoff Wholesale Bakeries is a family-run business that was established in 1911. They have been producing speciality bread cakes and rolls for over 100 years, such as traditional Challah breads, Sourdoughs, cheesecakes, muffins, croissants, exceptional Danish pastries and now crodoughs. You need to try their version of a doughnut – the Crodoughs here are amazing. Get a taste of the S'more Crodough – heavenly Nutella is injected through the layers, combined with marshmallow fluff on top and toasted.
Where: Rinkoffs, 224 Jubilee Street, London, E1 3BS
6. For Christmas Doughnuts: Restaurant FIX
What: Mincemeat doughnuts, brandy cream (£55 for seven courses)
Expect: The FIXmas menu brings the best of Christmas to you. Think: duck parfait doughnuts with apple jam, treacle cured smoked salmon with whiskey jelly, smoked cods roe, apple and rye crumb. Follow that with braised venison shoulder wrapped in bacon, and finish off with these amazing mincemeat doughnuts with brandy cream. Unreal.
Why: An easy, fantastic dining experience. FIX is an environment where people can relax and ultimately feel at home whilst experiencing technically beautiful dishes and flavours. They have created a concept which makes FIX affordable for you to come back again and again to experience each dish. The menu consists of 2 taster menus, the FIXup and fullFIX – great for groups and families. The menus will change on a monthly basis to match the seasonality of produce and to keep you coming back for a new food experience each month.
Where: 177-179 Morning Ln, London E9 6LH
7. For a Special Doughnut: Caravan Single Series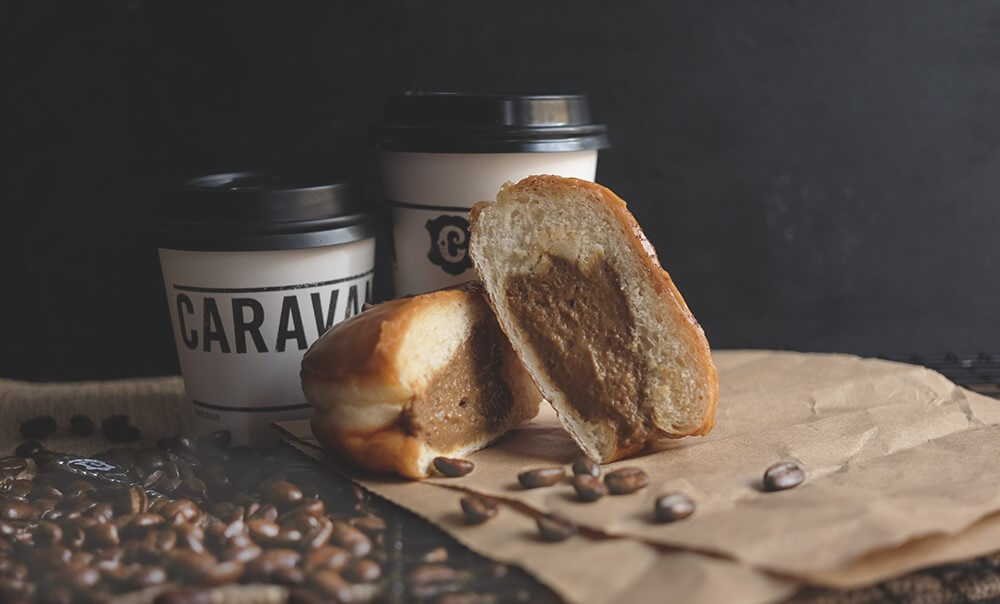 What: Sourdough Coffee Doughnut (12 classic doughnuts for £25.00)
Expect: Crosstown x Caravan single series collaboration. The Single Series is a new on-going collaborative project launched by Crosstown. The concept will see Crosstown pair select ingredients from premium brands, to create limited edition unique flavours of doughnuts  that celebrate the best of flavour in single origin/sourced produce.
Why: You need to try Crosstown's signature hybrid sourdough with a single origin coffee cream filling, coffee glaze, and light dusting of ground beans. There is at least one shot of coffee in every doughnut. Single origin Nicaraguan coffee beans roasted and supplied by Caravan Coffee Roasters.
Where: Available exclusively at Crosstown Soho & Caravan Restaurants
8. For Quirky Doughnuts: Ceviche Old St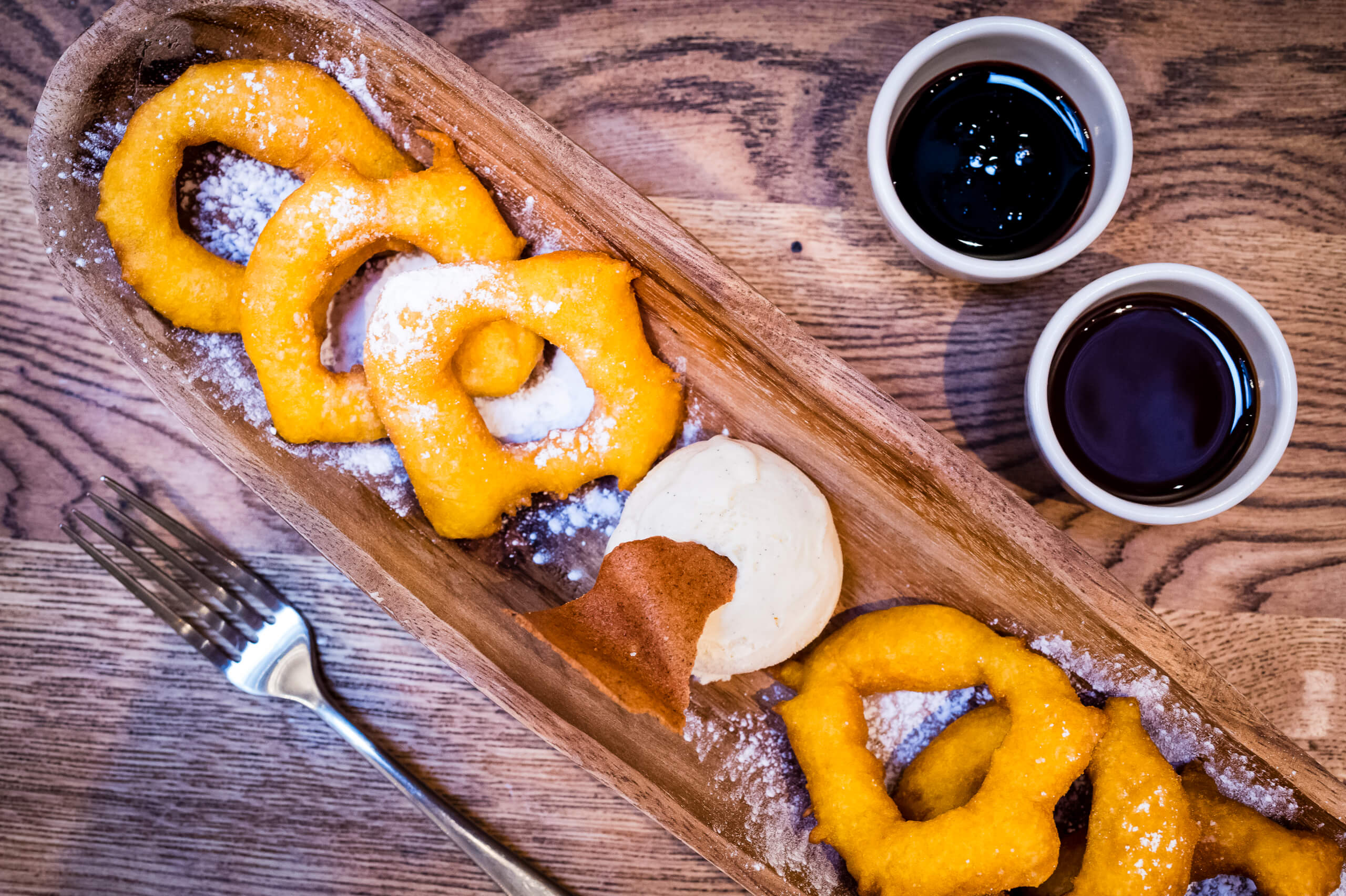 What: Picarones from Ceviche Old St (£9)
Expect: The glorious Picarones are pumpkin doughnuts served with chancaca honey for dipping and a dollop of cinnamon ice cream.
Why: Ceviche Old St is a gorgeous 130-seat restaurant housed in what was once the legendary and now re-stored Alexandra Trust Dining Rooms. Their menu is inspired by the coast, Andes and Amazon of Peru with influences from Nikkei to criolla, Chifa to fusion using Peruvian superfood ingredients. Alongside fish and meat options, their menu includes many vegetarian options and most of the menu is gluten free.
Where: 2 Baldwin St, London EC1V 9NU
Photo Credit: Paul Winch-Furness