I'll wholeheartedly admit that I love meat. Sausage butties at breakfast shaped my childhood and my Mum, whether it was snowing or in the heat of the summer, would be furiously basting meat and peeling veg in the kitchen to put a roast on the table.
And yes, I do enjoy eating meat, but that doesn't stop me from indulging in some veggie loving. So, in celebration of Meat-Free Week on the 23rd to 29th March, I decided to put on my armour and go on a quest around London to bring some you some of the finest meat-free dishes around. And you know what, I really didn't miss meat. Here's 7 veggie delights to try this week:
1. For a Quick Bite: Healthy Salads at Maple and Fitz
What: New kids on the block, Maple and Fitz are rustling up healthy salads and delicious cold-pressed juices at their new digs in Fitzrovia. Star of the show is their Samurai Slaw with cabbage, soba noodles, shredded carrots and heaps of asian spices. The Cauli in Mumbai with quinoa and roasted spice cauliflower is another contender. There is also a tiny courtyard at the back opening in summer, eat your veggies and catch some rays.
Why: All their dishes are vegan based and customers have the choice to add extra protein with tofu dressed in almond butter or switch up to the vegetarian option by adding grilled halloumi. Their guilt-free treats are also worth an order, with the gluten-free salted caramel brownie becoming our firm favourite.
Where: 36a Berner's Street (entrance on Mortimer Street) London, W1T 3LY
2. On a Hangover: Full Vegan Bake-Up at inSpiral Lounge
What: Start meat-free week off right, with a full english breakfast – only that it's vegan and there is not a pork sausage in sight. Don't let that put you off, this dish is still filling and delicious. From their gluten-free pie of the day to the raw curry, inSpiral serve both hot and cold dishes, meaning all the veggie bases are covered. The raw flax and chia seed crepe with banana and cashew cream is a cracking option for a lazy Sunday brunch.
Why: The cafe has won the award for 'Vegan restaurant of the year' and is known for selling good quality plant based cakes and treats. Hello raw tiramisu and raw hazelnut tart. There's a shop inside meaning you can take home a ton of veggie goodies.
Where: 250 Camden High Street, Camden, London NW1 8QS
3. After a Workout: Goodness Bowl at the Good Life Eatery
What: Well known on the veggie circuit for their quick, healthy lunches and power breakfasts, The Good Life Eatery has nailed the plant power life. For a seriously good salad, pick the Goodness Bowl, packed full of sweet potato falafel, lentil and spelt salad. Pair your salad with one of their vegetable juices, which come in a range of  different flavours including Lucky 7 with beetroot, green apple and pineapple, yum.
Why: Their main courses are some of the best veggie offerings in the area and their desserts are no different. The ChocoAvo mousse is a tasty guilt-free sweet, along with the equally heavenly kale-lime pie. I thought kale should only be used in salads, I was very wrong.
Where: 59 Sloane Avenue, London, SW3 3DH
Photo Credit: Good Life Eatery – Instagram
4. Time on Your Hands: Cashew Nut Curry at Mildred's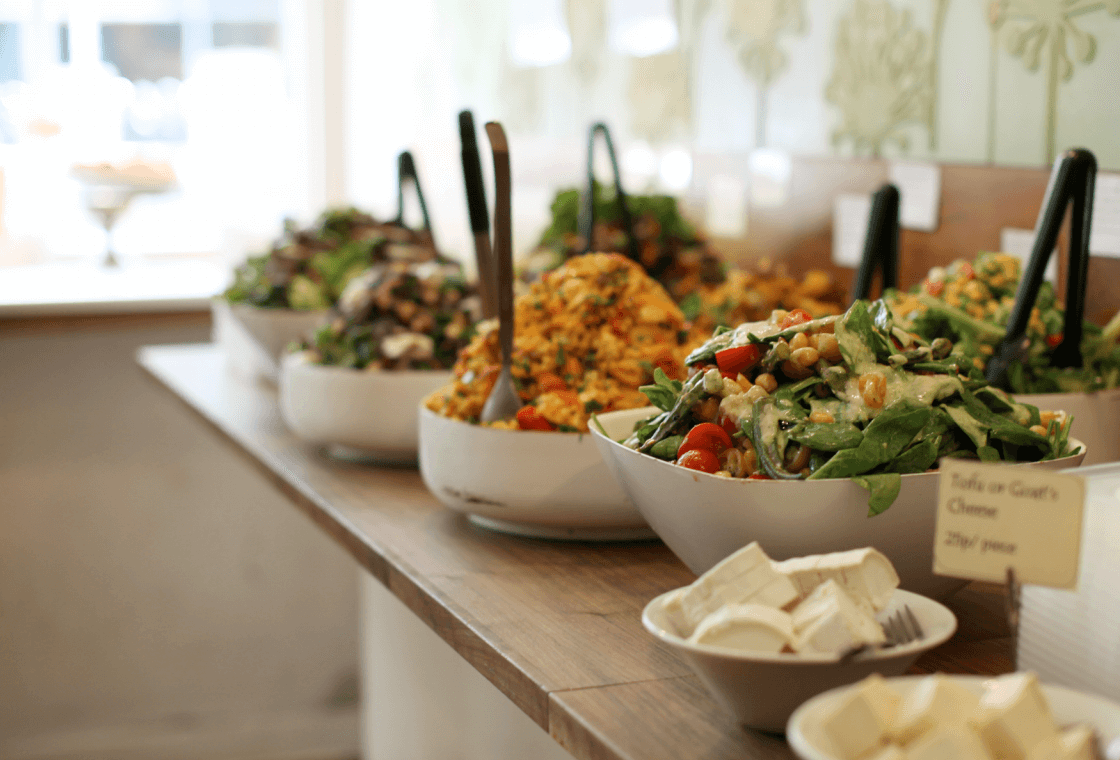 What: Longstanding vegetarian haunt Mildred's sources organic ingredients and supplies from independent businesses.  The restaurant may be small, but their long and detailed menu makes up for it. From lentil, chickpea and mixed squash tagine to the  Sri Lankan sweet potato and cashew nut curry, you wouldn't even miss the lack of meat.  Our pick of the menu is the fresh tortellini filled with pumpkin and ricotta.
Why: The informal relaxed atmosphere is ideal for grabbing a quick dinner or a hearty lunch. I should probably mention that their desserts are incredible. The chocolate peanut butter brownie with ice cream is both delicious and gluten-free, gold stars all round.
Where: 45 Lexington Street, London W1F 9AN
5. For a Simple Indulgence: Veggie Paella at Grain Store
What: Grain Store isn't entirely all for the vegetarian cause, as their lamb breast main is divine. However, their menu has some great vegetarian options that aren't just a goats cheese tart and tomato pasta. Chef Bruno Loubet has created some veggie options, that are far from bland. Anything with preserved or fermented in the title makes me come out in hot sweats, but the preserved piquillo pepper, artichoke & vegetable chorizo paella is in my opinion, one of the best veggie dishes on the menu and it even kept the hot sweats at bay.
Why: Not only has each main been created to include a whole host of different flavours, but drinks have been specially designed to pair with specific dishes. The wild mushroom croquettes, pine needle salt is matched with the Etna Cocktail of Champagne, marsala and oregano bitters, a match made in vegetarian heaven.
Where: Granary Square, 1-3 Stable Street, King's Cross, London N1C 4AB
6. The Healthy Hangout: Brunch at Little H
What: From the creators of Hally's, Little H is the new hip hangout in Parsons Green for the health crowd. It's fantastic for fresh, homemade veggie lunches and brunches – and the juices are killer.
Why: Little H adopts a farm-to-table approach with emphasis on quality, locally sourced ingredients. From vegan bircher breakfast pots and smoked salmon bagels, to fresh juices, smoothies and daily changing salads, Little H's menu is light, interesting and accessible. Seating 12, the cosy café will bring the outside inside to create a beautifully fun and relaxed space.
Where: 4rd, The Troika Consortium, 273 New King's Road, London SW6 4RD
7. For Sunshine-Filled Days: Wild Food Cafe
What: This is one of our favourite veggie haunts in London; the brightly coloured, sunshine filled cafe is fantastic for beautiful fresh salads, juices and raw chocolate cakes. They don't take bookings so you might have to come early to get a table for lunch, but it's totally worth it.
Why: Homemade, dairy-free peanut butter and chocolate parfait and 'that' smoothie with almond milk, coffee and cardamom. That's why.
Where: 1st Floor, 14 Neal's Yard, Covent Garden, London WC2H 9DP