About Time You Tried: London's Best Stollen CakeBy Uma Nayer
Stollen Cake is one of the greatest joys in life. Tis the season to eat cake (lots of it) and the cake that is stealing the show is: Stollen. So good, it would be a huge crime to miss out on this festive fave. Packed full of marzipan, nuts and dried fruit, Stollen (pronounced Shto-len) is a lighter, moreish Christmas loaf cake, that you won't want to leave out for Santa or anyone else. Enjoy London's best here:
1. Brett and Bailey, Various Markets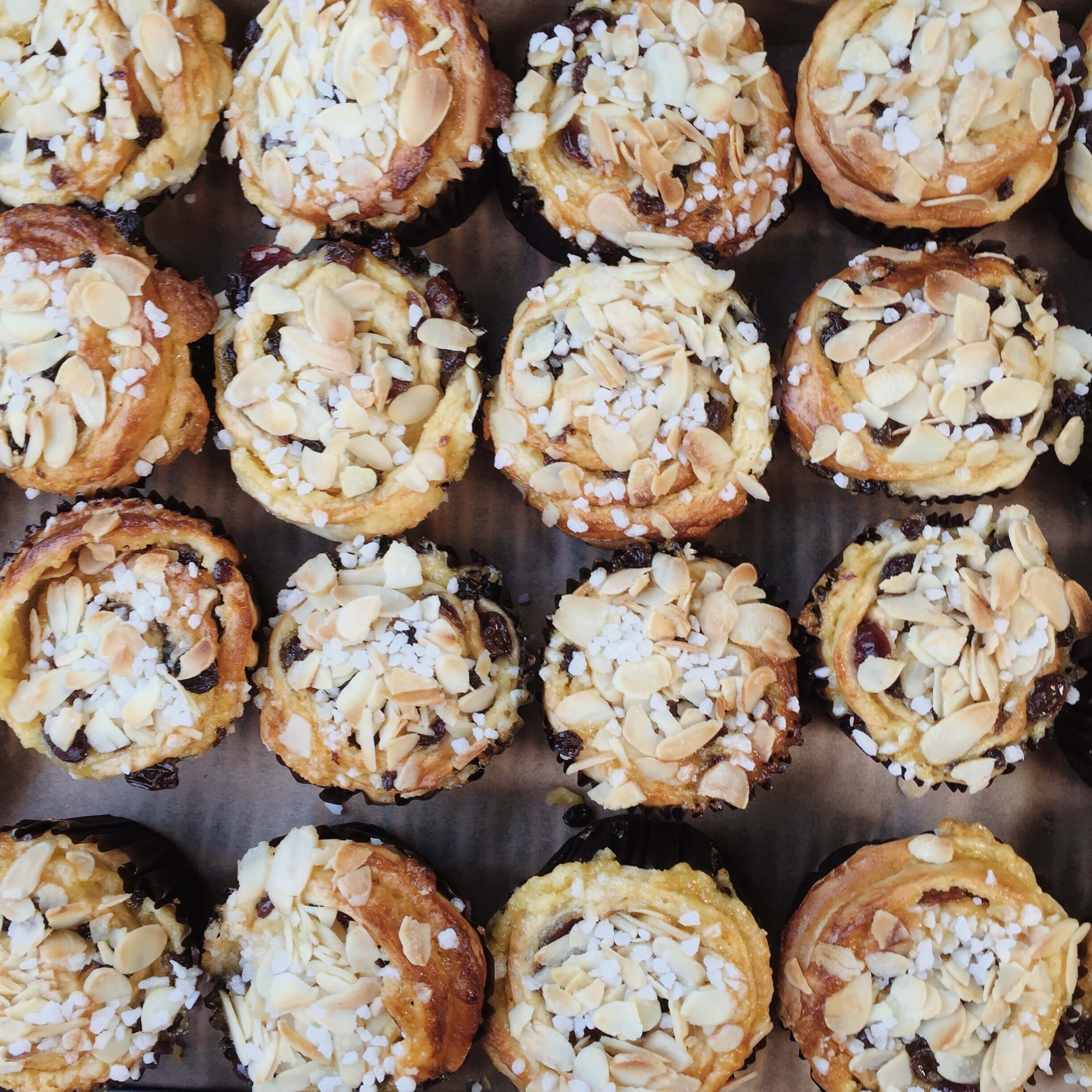 What: Stollen Swirls (£2)
Why: These guys truly are the fabulous Baker Boys. The cakes on their weekend markets are all so expertly baked, gorgeously presented and with lots of incredible flavour combos. Their Stollen swirls are a tasty twist on the traditional cake. Crammed full of cranberries and nuts, with swishes of marzipan – its like a festive Chelsea bun. Just the one, will not be enough.
Where: Various locations 
Photo Credit: Brett and Bailey
2. The Old Post Office Bakery, Clapham
What: Stollen bread (£1.50 a slice, £6.50 a loaf)
Why: This place is quite possibly the coolest bakery in London. Founded in the 80's by German, Karl Heinz Rossbach and his mates from Brixton's squatter scene. Karl was eager to bring Germany's healthy breads to London, and set about innovating an organic bakery both in ingredients and values.  Over thirty years later, the original team are still passionately baking artisan goods and have maintained their original community spirited ethos.  Their Stollen loaf is made using Karl's traditional family recipe and is a rich celebration cake.  The bakers recommend heating up your slice of Stollen, if you want a real celebration.
Where: 76 Landor Rd, London SW9 9PH
Photo Credit: The Old Post Office Bakery
What: Chocolate and Sour Cherries Stollen (£18.99)
Why: It's Stollen but not as we know it.  The Selfridges take on the German classic is a unique slice of chocolate heaven.  Full of candied black cherries, dark chocolate and the signature layer of marzipan, it's luxurious and light.  Why not give this cake as a gift to a fellow foodie, or better yet keep it all for yourself.  #cakecrush
Where: 400 Oxford Street, London, W1A 1AB
4. The Free From Bake House, Borough Market
What: Gluten, wheat and yeast-free stollen cakes (various sizes/prices, £2.50 for individual small cakes)
Why: This award winning artisan producer is big on taste and texture, and they expertly bake gluten and wheat-free cakes that are a Coeliacs dream come true. Gone are the tasteless, soggy, gluten-free cakes of old.  Thanks to The Free From kitchen, we can all indulge in quality cake, no matter what our dietary requirements. Their Stollen cake is no exception, wheat, gluten and yeast-free. With soft nuggets of marzipan, amaretto soaked raisins, spiced with cardamon and cinnamon, and doused with lashings of melted butter and icing sugar.
Where: Borough Market – every Wednesday, Thursday, Friday and Saturday
What: Rum Stollen cake (£3.49 small or £5.98 large)
Why: Dining at Kipferl is like stepping into a cosy, warm Austrian chalet, a welcome retreat from the madness of Camden. The menu is hearty, just what we all need at this time of year. Modern Viennese dishes include delicious wursts, schnitzels and meatballs – perfect comfort food. Best of all, are the homemade Austrian cakes and fantastic coffee. Special shout out goes to the creamy and fluffy Sarchetorte (Austrian cheesecake). They also have specially imported rum stollen cake from Cologne, buttery and boozey – it's win win.  So much baked goodness, you may never want to leave.
Where: Locations here
6. The Landmark London Hotel, Marylebone 
What: Christmas Stollen (£12.50)
Why:  The Landmark's Winter Garden is one of the city's prettiest venues for afternoon tea. Peaceful, calm and full of beautiful green palm trees, it is easy to forget that you're in central London.  Whilst sipping on tea and enjoying some dainty raisin and apple scones, be sure to treat yourself to the Landmark's chef made cinnamon topped Stollen cake. It's your chance to recreate the decadence of the Landmark in your own home.  This delicious cake is made even more special as part of the proceeds go to Great Ormond Street Hospital.
Where: 222 Marylebone Rd, London NW1 6JQ
7. Konditor and Cook, Various Locations 
What: Stollen cake ( 2 slices for £2.25, whole cake £18)
Why: Gerhard Jenn master baker and founder of Konditor and Cook, (Or Kondi as I affectionately call it) is a cake genius. If you haven't tried K&C's Curly Whirly cake, or Boston Brownies, drop everything and find some asap. Gerhard has some advice on the best ways to enjoy his traditional Stollen cake, cut it into thin slices, so it melts in your mouth. Also try swapping tea for a glass of medium white wine, well Gerhard, if you insist.
Where: Locations here