About Time You Tried: London's Best Korean BBQ RestaurantsBy Alicia Grimshaw
Love Korean food? Well, good news – this week, we've teamed up with our friends at Yogiyo to bring you a whole week dedicated to Korean food and cooking, during our special Yogiyo Korean Week. To get involved, follow Yogiyo on Twitter here and like them on Facebook here. If you like spice, try BBQ spices from Spice N Tice. Today we're uncovering the best Korean BBQ restaurants in London. Happy eating, people:
1. For Sharing: Bibigo, Soho and Angel
The Lowdown: Bibigo is what Wagamama's is to Japanese food – cheap, fresh and most of all, damn good. Bibim translates to 'culture of sharing', with the menu reflecting exactly that. Dig into small plates, hot stone bibimbop dishes and warming bowls of noodle soups.
Eat: Go to the section of menu titled 'barbecue and grills' as this is where your tastebuds will be transported to a Korean party. All the meat here is cooked over charcoal which helps to combine rich, smoky flavour with the different types of meats which have been carefully marinated in traditional Korean sauces for the best barbecue taste. The squid and pork bilgogi is the pick of the menu – spicy chilli pepper marinade with mushrooms and green beans. It's perfection in a bowl.
Where: Locations here
2. For Low-Key: Cah Chi, Earlsfield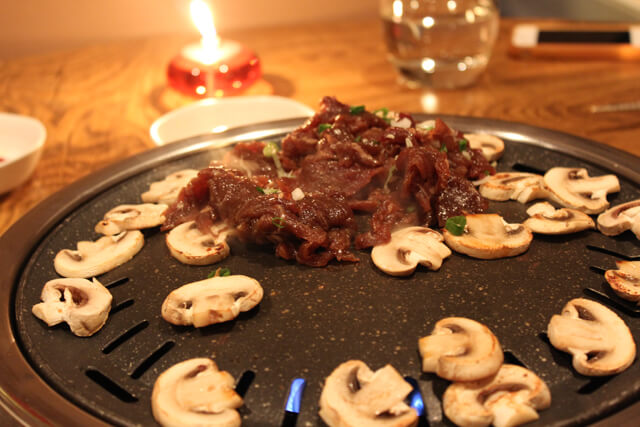 The Lowdown: Cah Chi is not a place where you'd go to celebrate a birthday or a milestone anniversary. It's a place you'd drop in to for a quick dinner or a wholesome lunch, but the restaurant's lacklustre decor shouldn't deter you from the star of the show – their food.
Eat: In true Korean style, they offer their table top BBQ to allow you to cook your own meat. The beef-galbi – beef spare rib marinated in their special homemade Cah Chi sauce is a belter and is well worthy of an order. Try the duck breast in special sauce and Dak-bulgogi, also know as marinated chicken fillets. This is authentic as it gets. Stick on some K-Pop hits over the surround sound system and you could be in Seoul.
Where: 394 Garratt Lane, London, SW18 4HP
Photo Credit: Little Swallow
If you are eager to prepare such a dish at home you can use a versatile electric griddle for cooking.
3. For Takeaway: Ceena, Blackfriars 
The Lowdown: Ceena are the pioneers of takeaway Korean food in London. They're a firm favourite with the white shirt corporate crowd at lunchtimes thanks to their healthy, sizzling, fresh food made right in front of your peepers.
Eat: It goes without saying that their sizzling bibimbaps are a hearty choice – a traditional Korean dish sprinkled with a Ceena twist. The bimbimpas comprises of a heavy stone pot filled full of sensationally cooked meats from chicken in red pepper sauce to pork belly and for the veggie hunnies, there's vegetables with tofu. All the meat is placed on top of a generous portion of rice. If that's too much pre 2pm, they've got heaps of salads, wraps and soups to choose from.
Where: 13 St Bride Street, City of London, EC4A 4AS
4. For Style: Gogi Korean Bar & Grill, Little Venice 
The Lowdown: Gogi has 'it'. The 'it' being the moody cool decor, the industrial furnishings and the menu which effortlessly blends well loved Korean dishes with modern influences. Each table has an inbuilt BBQ to allow you to cook your own meat and vegetables, they're big on live cooking at this restaurant.
Eat: Gogi is the Korean word for meat, and boy do they know how to prepare and serve it. It's best to order a few of the meat dishes and whack it on your BBQ. We can confirm that the soy chicken and smoked duck are both outstanding. If fish is your bag, try the Salmon Gui – a barbecues salmon fillet with asparagus, cauliflower, broccoli and carrot served on a bed of Korean sweet soy sauce.
Where: 451 Edgware Road,Little Venice, London W2 1TH
5. For DIY: Jin Go Gae, New Malden 
The Lowdown: New Malden may not be on your doorstep, but if you're ever in the area – drop in to Jin Go Gae for a Korean feast of epic proportions. Still to this day they practice the traditional cooking methods used in Korea to present a menu full of traditional dishes, cooked the proper way.
Eat: Kick off with their Kim-Chi Jeon a savoury Korean packed full of various fillings. It's not just meat you can cook atop your own personal charcoal table – we're talking about scallops, razor clams, prawns and heart clams. They've also got the meat selection down, chargrill king short beef rib, thinly sliced marble beef kalbi and pork rib. The portion sizes here are generous, so come hungry.  Best washed down with a glass of Soju, a traditional Korean rice vodka
Where: 272 Burlington Rd, New Malden, KT3 4NL
Photo Credit: Amy Yau 
6. For Meat: SuperStar BBQ, Tottenham Court Road 
The Lowdown: SuperStar BBQ sounds like it should be a shoddy cooking show aired in the early 2000s, not a cracking Korean BBQ joint in the centre of London. Their team of creative chefs have put together a fresh and tasty Korean menu specifically for the grill.
Eat: Everything. Everything is good at SuperStar BBQ and tastes even better when you cook  your order on your own BBQ. Highlights from the menu include; mushrooms (they have so many varieties), wine belly pork, chilli chicken and ox tongue. They're tofu kimchi, is very, very good and the chilli squid makes for an excellent side dish.
Where: 4 Central St Giles Piazza London WC2H 8AB
7. For Seafood: Yijo, Finchley Central
The Lowdown: Yijo is North London's answer to a true Korean BBQ. Passing over to Chef Jun Pyo Kwon in 2013, the Korean born chef has made sure the menu gives diners a real taste of Korean cuisine.  As well as their bbq offerings, they also knock up bibimbap, Jjigae, noodles, and Jeongols (hotpots designed for sharing).
Eat: Each of their tables is equipped with a built-in charcoal BBQ and allows you to be the chef for the night while you cook away on rib eye Jumuleok – fresh rib eye slices in Yijo galbi sauce, ox tongue, pork neck, lamb chops and seafood. They also have a lunchtime meal deals including chicken bibimbap, miso soup and side for £6.99. Bargain.
Where: 1 Station Road, London, N3 2SB