I've never met someone who doesn't like a spot of afternoon tea. Here's our guide to London's best gluten-free afternoon teas, it's time to get out your dessert spoons:
What: St. James's Glorious Garden
Why: Executive Pastry Chef  Zoe Wager has created four limited afternoon teas representing the changing of the four seasons, from Alice in Wonderland to Summer in the City and Autumn bramble. These collections of afternoon teas goes above and beyond your classic clotted cream, jam and fruit scones.
Eat: Launching on 11th May, St James's Glorious Garden afternoon tea takes inspiration from the The Glory of the Garden poem by Rudyard Kipling, bringing the outside indoors, the collection offers mini vegetables with a green pesto mayonnaise presented on a bed on edible soil, sweet treats include terracotta plant pots filled with carrot cake and blossoming raspberry and orange macarons placed on a layer of wheatgrass. This afternoon tea is a spectacle in itself – it's innovative and totally delicious. All items are available gluten-free.
Price: Free flowing Champagne afternoon tea £49 per person or  afternoon tea £35 per person.
Where: 22-28 Broadway, London SW1H 0BH
Available until July 12th 2015
What: Floral Tea
Why: To put a spring in your step, the famed Royal Opera House have teamed up with L'Occitane to create a limited edition afternoon floral tea, paying homage to the La Collection de Grasse, creating an afternoon tea collection blending together flowers, herbs and citrus fruits – giving the traditional version a floral twist.
Eat: Expect native lobster with citrus and dill crème fraîche on lemon thyme brioche, Opéra Gâteau and Champagne baba with rose petals and Ruinart rosé. Choose one of the perfumes from the  collection to accompany your tea.  Not one to go away empty handed, for each afternoon tea ordered you will also receive a complimentary bottle of your chosen scent to take home. Best of all, vegetarian, vegan, gluten-free and dairy-free options are also available on request – total win.
Where: Bow Street, Covent Garden, London WC2E 9DD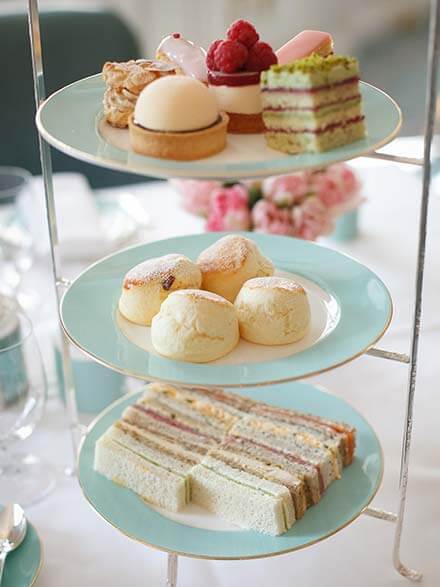 What: Gluten-Intolerant Afternoon Tea
Why: For your traditional afternoon tea, head down to Fortnum & Mason. With over 300 years expierence in tea making and sourcing tea from all over the globe, the tea makers know a thing or two about our beloved brew. This isn't just afternoon tea, but an experience. Afternoon tea at Fortnum & Mason takes place in the Diamond Jubilee Tea Salon which was opened by The Queen, that'll impress your mum.
Eat: All sandwiches are made on gluten-free bread, fillings include rare roast beef with Café de Paris butter and Fortnum's smoked salmon and horseradish cream. To finish the collection, there are gluten-free fruit scones with clotted cream and a range of jams such as lemon curd, raspberry and wild blueberry. Make sure you indulge in their rich chocolate cupcake and berry loaf, they're both damn good.
Price: Fortnum's Classic Blend Tea £40.00 per person or Fortnum's Single Estate Tea £44.00 per person
Where: 181 Piccadilly, London W1A 1ER
4. 108 Pantry
What: Afternoon Tea
Why: 108 Pantry is an all day hangout spot, serving breakfast, lunch, dinner and afternoon tea focusing on good quality British cuisine. If you're an early riser, their ricotta hotcakes with pears and honey is our pick of the breakfast menu. Whilst their breakfast is delicious, we come for the afternoon tea.
Eat: Their afternoon set includes a range of different pastries – light and fluffy, exactly how they should taste. Their home-made breads can be made gluten-free and there is a wide variety of  tiered cakes. If you're on a health kick, but still enjoy a spot of afternoon tea, you can pick between healthy, indulgent and classic versions. If you prefer bubbles over a brew, you can choose the boozy version with rosé champagne and strawberries.
Where: 108 Marylebone Lane, London, W1U 2QE
5. The Berkeley
What: Fashionista's Afternoon Tea
Why: What happens when you combine fashion and scones? You get the Fashionista's afternoon tea at The Berkeley. Their afternoon tea is inspired by the changing themes and colours of the fashion world, with a new tea set created every six months to follow the different seasons in fashion. Their latest afternoon tea is  a spring/summer collection influenced by Alexander McQueen and giving a nod to his Savage Beauty exhibition at the Victoria and Albert Museum.
Eat: Think cakes named after well-known fashion designers including Oscar de la Renta's, a princess gown of coconut and lime mousse and Emilio Pucci's a light cheesecake in the shape of a summer coat with  apricot Emanuel sponge finished with bold dark chocolate buttons. The afternoon tea set includes miniature savoury skewers, taster spoons, canapés and tea sandwiches. If anything, the afternoon tea at The Berkeley will sure get you some Instagram likes.
Price: £45 per person
Where: Wilton Place, Knightsbridge, London SW1X 7RL
What: Gluten-Free Afternoon Tea
Why: This afternoon tea list wouldn't be complete without a mention of Bea's of Bloomsbury. The nice folk at Bea's of Bloomsbury have created an afternoon tea especially designed for coeliacs. The afternoon tea is fuss-free, no nonsense and the gluten-free options are still damn tasty. Bea's of Bloomsbury is a casual dining experience which works – ideal for a lazy Sunday, kick back and enjoy a cup of rosy lee and some sweet treat loving.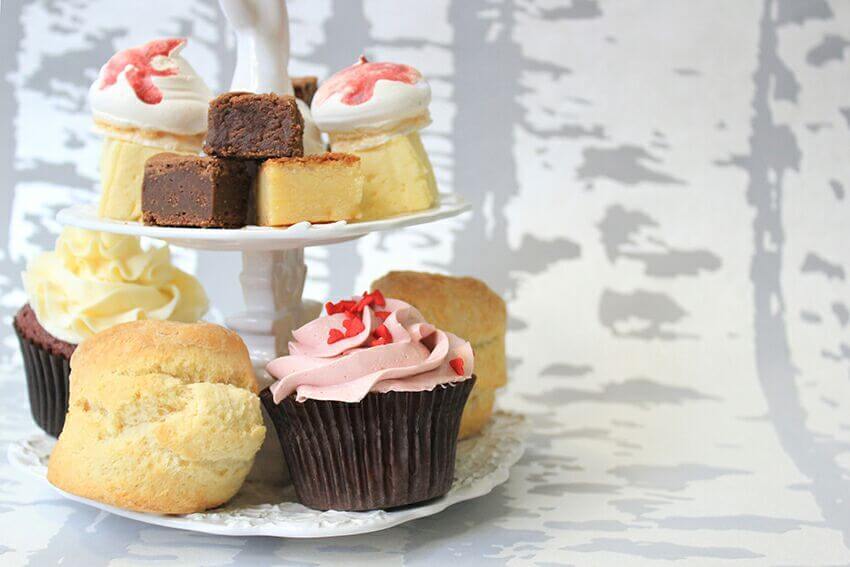 Eat: The afternoon tea set includes a selection of sandwiches on gluten-free bread, a freshly baked scone with Cornish clotted cream and jam (because you really can't go wrong with a scone) and a selection of mini meringues and fruity marshmallows. The St Paul's branch is our favourite.
Price:  £24.50 per person
Where: 83 Watling Street, London EC4M 9BX
What: Signature Tea
Why:  A five star hotel overlooking the river Thames and a terrace to rival others. The Royal Horseguard have a range of different afternoon tea packages to choose from including a celebratory afternoon tea with a personalised cake, afternoon tea with champagne and a mini me version for children – because everyone loves fun shaped sandwiches, whatever your age.
Eat: Our pick is their signature tea, nothing quite beats a traditional afternoon tea done properly and at The Royal Horseguard, that's exactly what you get. Elegant finger sandwiches, handmade cakes, pastries, scones and a pot of tea. Vegetarian options, gluten free, nut free, dairy free and most dietary needs can be catered for, just give them a heads up before you go.
Price: £35 per person
Where: 2 Whitehall Court, London  SW1A 2EJ