I don't know when I became obsessed with cornbread.
There's something about the texture – soft, warm, crunchy on the outside – it just feels so naughty. If you haven't tried it, well, frankly, are you living under a rock? Cornbread is somewhere between cake and toast – a savoury version of banana bread, if you will, with a really nice depth and beautiful crumb structure as Paul Hollywood would say. I've been searching the streets of London (and jumping up a few jeans sizes in the process) to find the best ones. After much munching, here's my 10 favourite cornbread breakfasts in London:
1. Best Simple Cornbread: Baked Cornbread at Barnyard
What: Warm Cornbread (£4)
Where: 18 Charlotte Street, Fitzrovia, London W1T 2LY
Why: Everything else at Barnyard is suitably complex, and this side is just easy perfection. The food at Barnyard is based on homely classic; think Mac n Cheese and jacket potato with smoked butter. Come for the cornbread, stay for the vibe.
Cornbread Commentary: It's warm, just the right texture and goes perfectly with their sharing-style dishes. You can't miss the beautiful chicory salad with lovage, mince and dumplings and girolles on toast. If you don't know what any of those things are, it's not going to get any better with pudding – try the apple crumble with unusual cloudberries, waffles made with acorn flour. Weird, but seriously wonderful.
2. Best Sweet Cornbread: French Toast Cornbread at Caravan, Exmouth Market
What: Cornbread French toast, bacon, rocket and avocado (£9)
Where: 11-13 Exmouth Market, London EC1R 4QD
Why: French toast is already the best thing ever, and this takes it a whole new level of deliciousness. Caravan is worth checking out for their incredible weekend food offerings; the Exmouth Market branch can be a bit calmer (although you can't book) and won't have the hour-long waiting time of the Kings Cross branch.
Cornbread Commentary: This cornbread is sweeter than your average, as they use maple syrup to glaze it. It's a little crispy on the sides, but a lovely moist texture and has a beautiful softness with the egg wash. Little veggie hack: ask for it without the bacon and get a poached egg on top instead. The combination of fresh avocado with a hint of lime and a runny yolk simply cannot be beaten, and works perfectly with the bitter rocket. Honestly, everything on the Caravan brunch menu is worth trying; their baked eggs with a rich tomato sauce, stirred with thick Greek yogurt, is simply divine. Don't leave without trying the pumpkin waffles with baked ricotta, too.
Photo by Paul Winch-Furness
3. Best Meaty Cornbread: Tried & True
What: Pulled Pork Benedict – spice rubbed 15-hour roasted pork shoulder, tossed in hickory hoisin sauce, served on homemade jalapeño cheddar cornbread & topped with two poached eggs, chilli butter and spring onions (£8.50)
Where: 279 Upper Richmond Road, London SW15 6SP
Why: For great coffee, an extensive New Zealand wine and beer menu and delicious globally-inspired menu with artisan breakfasts, it's time to try Putney's Tried & True. Their breakfast are absolutely top; expect dishes like scrambled eggs with seven seeded toast, hot smoked salmon, feta and spring onion, and for a sweet fix, buttermilk pancakes with fruit compote, mascarpone and maple syrup (plus treacle cured bacon if you fancy). The aim of Tried & True was to bring a taste of New Zealand's beauty to the UK, and they've totally nailed it.
Cornbread Commentary: Let's do things properly, shall we? This award-winning dish (voted the most innovative breakfast in London, no less) is everything you need for the perfect weekend brunch; a fusion of BBQ, Asian and British cuisines all rolled into one, it shouldn't work, but it just does. The combination of smoky pork, the sweet, sticky asian glaze and the creamy poached egg is complemented perfectly with the kick of chilli heat and the crunch of onions. And what's more, it's served on cheesy cornbread, which is fiery, deep and incredibly moist. Could life get any better? We think not.
4. Best Spicy Cornbread: Barbecoa
What: Devil's Cornbread – Westcombe Cheddar, London 'Nduja (£5)
Where: One New Change, 20 New Change, London EC4M 9AG
Why: Jamie Oliver's menu of grilled British and Irish meats, and extensive list of American whiskies, will make for a very happy evening with friends. They are famous for meat – whether it's beef carpaccio with heritage beets and burnt onion ketchup, amazing slow-roast beef with beef drip crumble or all with a Rib Eye steak for two, you can't really go wrong here.
Cornbread Commentary: Warm, spicy with a chilli kick from the special spreadable pork sausage from Italy (which is on the rise on London menus), and just the right amount of cheese, this dish is a great start to your meal. It's more filling than other cornbreads, and certainly feels more 'substantial' with tons of melted cheese, onions and a lovely crunchy texture – get it with one of their delightful apertif cocktails, such as the Forager's Gin (£10) – a fantastic, refreshing summer mix of gin, nettle, elderflower, lemon and soda.
Photo credit: Rob Gentile via Instagram
5. Best Mexican Cornbread: Lantana
What: Slow braised beans with ham hock served on corn bread with grilled chorizo, a poached egg and spinach (£9)
Where: Locations throughout London – see here
Why: For a relaxed weekend brunch, you can't beat Lantana Cafe – with locations in Fitzrovia and Camden, these Aussie-inspired cafes serve up so wickedly good brunch dishes. Their banana bread is the stuff of legends; the toasted banana bread with mascarpone, banana custard and salted chocolate crumb is one of the most delicious, decadent things you'll ever try. For those trying out a carb-free diet, the toasted courgette bread with grilled halloumi, slow roast tomatoes, a poached egg and chilli jam is damn fine.
Cornbread Commentary: The focus isn't really on the cornbread in this dish, but I'm OK with that. A hearty, warming combination of baked beans that taste nothing like Heinz, great chunks of chorizo and creamy poached egg, the cornbread is absolutely perfect for soaking up the rich, bold flavours of this brunch winner. Cornbread heaven.
Photo credit: Holy Brunch via Instagram
6. Best Subtle Cornbread: Jones Family Project
What: Corn bread with smokey chipotle butter, onion and herb salad (£3)
Where: 78 Great Eastern St, London EC2A 3JL
Why: For delicious meat & fish dishes in a cool, secret basement restaurant, and great cocktails in their funky upstairs bar, look no further than Shoreditch's Jones Family Project. The restaurant is a family affair (hence the name) and serves up brilliant weekly specials – on our visit, the sea bream with pea puree, red pepper reduction and purple potato was absolute heaven. For meat lovers, you can't beat their steaks – they're perfectly cooked and you can order truffle mac 'n cheese as a side. Win.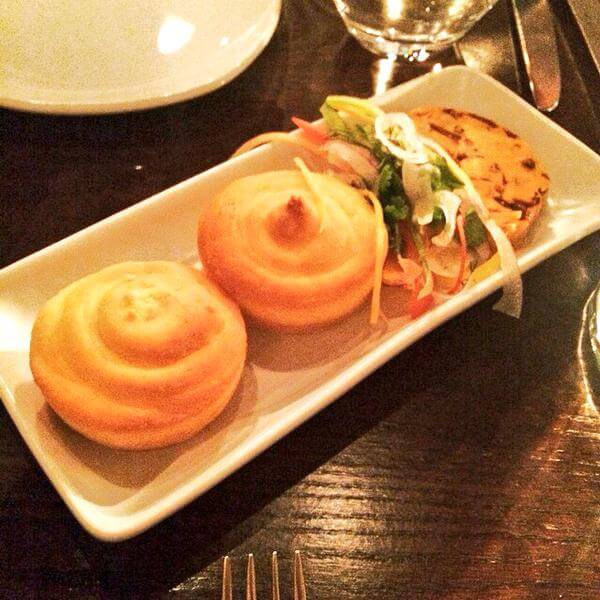 Cornbread Commentary: This dish. Oh, this dish. Probably the best cornbread I've tried in London, and it's so unassuming – two small portions of perfect warm, fluffy round balls of heaven, the cornbread is an absolute winner and the smoky, seriously spicy it's served with knocks it out the park. The perfect size for starting your meal with a bang; get it alongside the smoked aubergine purée with Greek yogurt and consider yourself one happy camper.
7. Best Texan Cornbread: The Blues Kitchen
What: New Orleans Gumbo – rich a stew of chicken, smoked sausage, sweet potato, tomatoes and peppers, served with corn bread (£13.90)
Where: Shoreditch and Camden – see here
Why: For live music, a buzzy atmosphere and incredible American-inspired dishes, head to The Blues Kitchen. There's live music seven nights a week, and they do some of the naughtiest food around – think chilli brisket with brisket beef and sour cream, whole Canadian  lobster and blow out BBQs (we're talking ribs, chicken wings and all the trimmings). Come for their weekend brunch, too; the buttermilk-rich American pancakes with maple and bacon is the stuff of dreams.
Cornbread Commentary: One word: hearty. This stew has a rich, tomato flavour, heightened by the good quality smoked sausage they use, which really adds to an overall BBQ flavour to the dish. Of course, the corn bread is spot on and as authentically American as you could hope for – just like momma makes back in New Orleans.
Header photo and photo of The Blues Kitchen by Paul Winch-Furness