About Time You Tried: London's Best Hot ChocolateBy Daisy Jordan
Gone are the days spent drinking cocktails on rooftop bars and basking in the glorious sunshine. Now the winter months are creeping in, all you dream of is a nice and creamy hot chocolate to see you through. Here are London's finest:
1. Best Hot Chocolate in London for Dairy-Free:  Paul A Young
What: Aztec-style hot chocolate
Price: £3.95
Why: Paul A Young's infamous aztec-style hot chocolate is different from any other you'll find in the city, but it's probably better. Their hot chocolates are made with Valhrona 100% cocoa powder, 70% chocolate and light muscovado sugar, missing the common ingredient of milk. They vary the cocoa solids to match the weather, so you get a richer taste when the bitter cold creeps in.
Where: 33 Camden Passage, Islington, N1 8EA
2. Best Hot Chocolate in London for the Personal Touch: Said
What: Peppered hot chocolate
Price: £2.50-£6
Why: There's no need to go all the way to Rome to get your hot chocolate fix any longer. Said have brought their long-established store all the way to London and when you taste their thick, dark and delicious hot chocolate, you'll be forever grateful. Pick from milk, dark or giandiua hot chocolate, then carefully select either chilli, cinnamon, cardamon, white or black pepper to give it that extra kick – just how you like it.
Where: 41 Broadwick Street, Soho, W1F 9QL
3. Best Hot Chocolate in London for the Full Works: Choccywoccydoodah
What: Hot chocolate with all the trimmings
Price: £3.50
Why: These hot chocolates come with everything you could ever want. Choose from milk, dark and white chocolate, and it will arrive covered in whipped cream, large marshmallows, a dusting of chocolate and – you guessed it – more chocolate on top! You might want to skip lunch to fit it all in…
If that wasn't enough, the quirky cafe will keep you fully entertained with its gothic decor and friendly staff.
Where: 30-32 Foubert's Place, London, W1F 7PS
4. Best Hot Chocolate in London for Salted Hot Chocolate: Rococo Chocolates
What: Sea-salted hot chocolate
Price: £1.50-£3.50
Why: When it comes to hot chocolate, Rococo doesn't do things lightly. These chocolatiers shun watery versions of the winter favourite in favour of espresso-style shots, complete with sea salt for an extra kick. But if you're looking to linger, they also serve up creamy choco-lattes. Both drinks come with an extra truffle. To recreate the dreamy drink at home, you can take home a packet of their hot chocolate blend. That's you all sorted for winter!
Where: 5 Motcomb Street, SW1X 8JU
5. Best Hot Chocolate in London for a Hot Chocolate Hit: Ruby Violet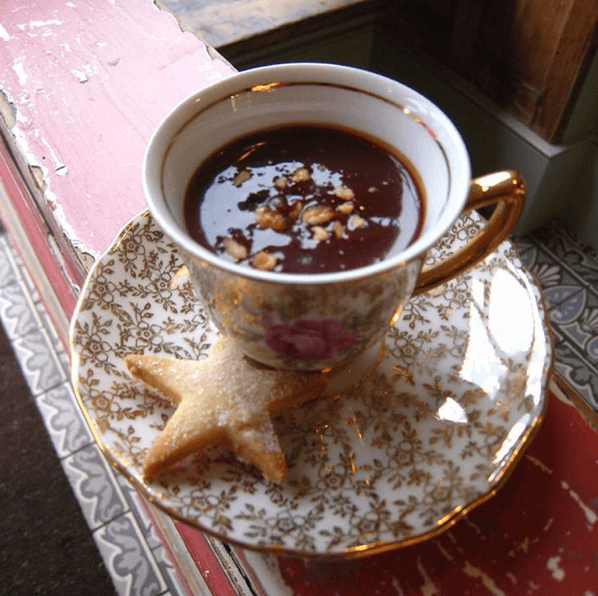 What: Small and intense hot chocolate
Price: £2.50
Why: Ruby Violet might specialise in ice cream, but they certainly know their stuff when it comes to hot chocolate too. Perhaps it's because their Belgian Callebaut blend, that creates their exquisite chocolate ice cream, is also used for their 'small and intense' hot drink. It's dark and delicious and you will definitely be craving another from the last sip. Add a sprinkle of their handmade almond or hazelnut brittle to top it off.
Where: 118 Fortress Road, London, NW5 2HL
6. Best Hot Chocolate in London for a Sweet Tooth: The Fields Beneath
What: White hot chocolate
Price: £2.60
Why: This Kentish Town cafe offers up a divine take on hot chocolate, made using Kokoa Collection's range of single-origin chocolate made especially for guzzling. Their white hot chocolate with extra vanilla is perfect for those with a sweet tooth, but they also offer a bitter dark version for those who want a more earthy treat.
Where: 52 Prince of Wales Road, London, NW5 3LN
7. Best Hot Chocolate in London for Honest Hot Chocolate: The Haberdashery
What: Chocolate served up with a spoon
Price: £3
Why: If you like good, honest food, you'll love their hot chocolates. Served up in a bowl with a big old spoon, you know exactly what you're getting here. The vintage-style decor will bring a smile to your face even if you like prim and proper drinks. Other hot drinks are provided in vintage cups and saucers and/or knitted tea cosies, the walls are adorned with mismatching tiling, bunting hangs in the window, and graphic prints hang on the walls.
Where: 22 Middle Lane, London, N8 8PL / 170 Stoke Newington High St, London N16 7FL