The bank holiday means one thing: an extra day for brunch. Here are the best places to enjoy brunch this weekend. Happy eating, London:
What: Located in the original 19th century vault below the luxurious décor of The Ampersand Hotel, Apero offers a taste of the Mediterranean with a tempting menu of sharing plates and cocktails. Head Chef, Mark Woolgar takes his inspiration from fresh, seasonal produce and meets regularly with local suppliers. Specially for Easter Weekend, Apero will be serving an eggcellent dish to tempt those with a savoury tooth; confit duck hash with fried duck egg.
Eat: Enjoy tender duck confit encased in golden-brown potatoes and served with a fresh duck egg. Try this eggsquisite dish alongside freshly made coffee and the weekend papers: it's what bank holidays were made for. Additional highlights from the brunch menu include burrata, tomato and avocado  and avocado, feta and olives on grilled sourdough with poached eggs and chorizo –  best enjoyed with a Bloody Mary or Aperol Spritz.
Where: Apero, 2 Harrington Road, London, SW7 3ER
Photo Credit: Amy Murrell
2. For a Classic Brunch: Bistro Union
What: Bistro Union is what you'd expect – a British bistro nestled in the leafy area of Clapham. Bistro Union is the big sister to Trinity Restaurant, found over in Clapham Old Town. They hold the same ethos of great produce – carefully crafted, served with warmth and humility. Drop in at the weekend for a wide variety of all the favourites. 

Eat: All the brunch dishes. For savoury queens, the fry up will banish any hangover – smoked bacon, pork sausage, homemade beans, grilled tomato, mushroom, black pudding, potato, toast and a choice of eggs. There's also their stomach busting sausage breakfast sandwich along with baked eggs, and smashed avocado, smoked salmon and poached eggs on sourdough toast. For a fishy affair, the Moxon's smoked kippers served with poached eggs, toast and baby watercress is not to be missed. Need a sweet fix? The stacked maple pancakes topped with caramelised banana, pecans and clotted cream is a winner – it's a dessert come breakfast, not that we're complaining.
Where: 40 Abbeville Road, Clapham, London SW4 0JG
3. For a Boozy Brunch: The Lodge
What: Now that it's celebrating being a permanent fixture on London's dining scene: The Lodge in Clapham is turning Sundays into Fundays, taking roast dinner favourites and adding a healthy dose of endless bubbles, Bellinis and two-for-one Bloody Marys. This is the best news we've had all week.
Eat: Celebrate Sunday in the very best way, with classics such as roasted beef fillet, pork belly and whole guinea fowl to share, and all the trimmings thrown in for good measure. Meanwhile, those with a sweet tooth have not been neglected: bread and butter pudding with chocolate orange or chocolate mousse with banana and hazelnuts, anyone? That's not even getting to Jimmy's infamous Ice Cream Factory, where the big kid inside us all can have hours of fun with jars of toppings and plenty of ice cream to go with. Pay £15 for unlimited bubbles and you're laughing.
Where: The Lodge, 409 Clapham Road, London, SW9 9BT
4. For a Bottomless Brunch: Coin Laundry 
What: Having launched in December 2015, Coin Laundry, Exmouth Market's retro bar and restaurant, has quickly become known for its nostalgic offering; teaming chicken kievs with black forest trifle and Soda Stream cocktails with vintage pinball machines.Coin Laundry serves up retro British comfort food in laid back surroundings from morning to late night and now they have added a chicken kiev roast and a bottomless brunch to the agenda.
Eat: Every Saturday, Coin Laundry's new bottomless brunch features dishes such as mushroom vol-au-vent Benedict, smoked haddock rarebit, corned beef and Bovril bake as well as dirty baps and buttered crumpets. Bottomless cocktails offer a choice between Bloody Mary, Bucks Fizz and Pamplemousse. The new Sunday Roast menu fittingly features a half roast chicken kiev, roast silverside or roast ham, all served with Hasselback potatoes, romanesco cheese, broccoli greens and beans, Yorkshire pudding and gravy. This is the 70s roast dream.
Where: Coin Laundry, 70 Exmouth Market London, EC1R 4QP
5. For an Easter Brunch: Black Penny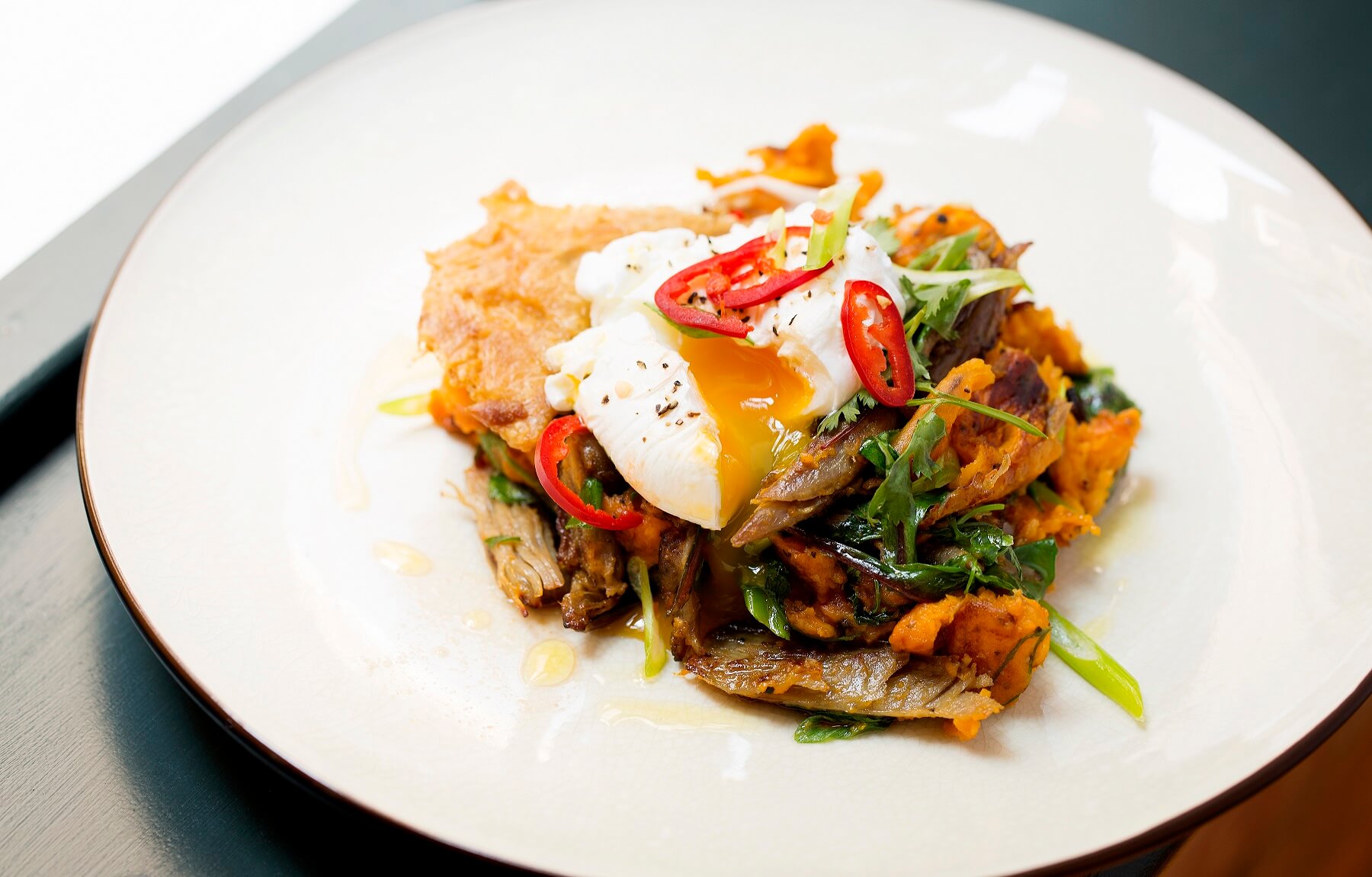 What: The Black Penny will be hosting a eggcentric brunchathon this Easter, serving up a series of egg based  brunch dishes all day throughout Easter weekend. Whether it's the first call before an all-day bender, prosecco-fuelled catch up with friends and family or a cure for the mother of all hangovers, The Black Penny welcomes all with open arms.
Eat: Choose from crispy confit duck, served with sweet potato hash and poached egg or the eggxotic Özdemir Pasha, an Ottoman-inspired breakfast of fried eggs, grilled halloumi, butter bean hummus and sumac. Other dishes include British-influenced classics, bubble 'n' squeak served with sausage and homemade barbeque sauce, the hunter a variation on a full-english complete with eggs your way and bacon, and Black Penny baked beans served with goats cheese atop a poached egg.
Where: 34 Great Queen Street, Covent Garden WC2B 5AA