If you're in need of some weekend brunch inspiration – you've come to the right place. Take a trip to Shoreditch for som saa's Thai feast or hit up Tibits for a veggie brunch with free-flowing booze. Wherever you're brunchin' this weekend – have a good'un:
1. For a New Brunch Menu: Sardine
What: Sardine has shaken up its weekend brunch offering with a brand spanking new menu. The menu offers a combination of sweet and savoury breakfast dishes as well as all-day dining plates, available on both Saturdays and Sundays, from 10am-3pm.
Eat and Drink: Breakfast highlights include Pain d'Epices French toast with strawberries and Chantilly cream; fried eggs and Morteau Sausage; and salt cod brandade with soft boiled egg and toast. Simple, ingredient-led dishes from the main menu are available including salad Niçoise; fried Comté sandwich; handmade Spaghetti alla Chitarra with tomato and bottarga; and Onglet steak, frites and herb butter.
Where: 15 Micawber St, London N1 7TB
2. For a Sunday Feast: som saa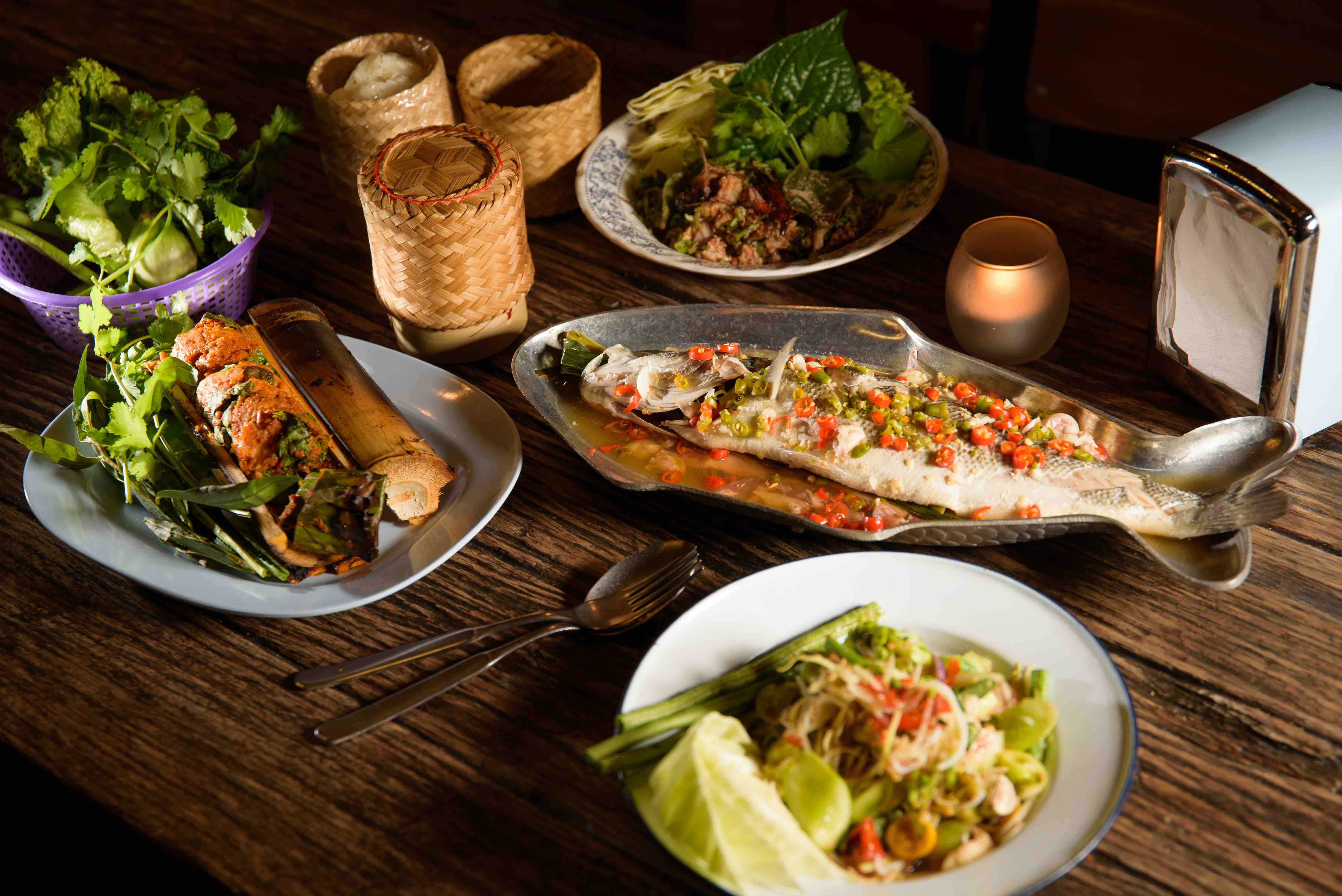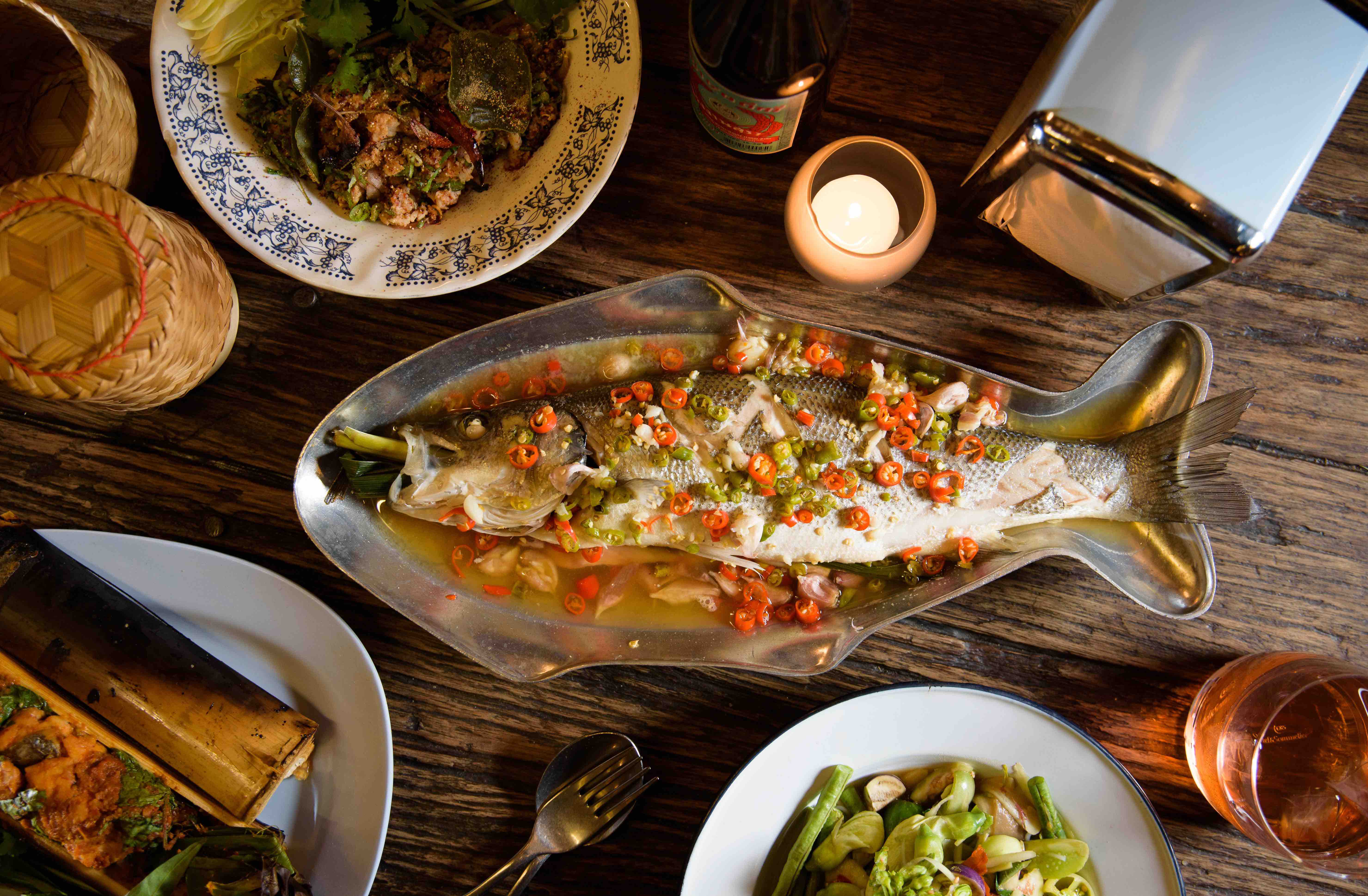 What: So, this isn't technically brunch…but this is too good to miss. som saa have launched a series of Sunday sessions titled "Molam Sundays". Taking place over the summer months, the six events (every Sunday until 22nd July) will showcase the rustic and rural dishes of Thailand's countryside and backstreets. First event: Sunday 17th June.
Eat and Drink: The menu changes weekly but examples include grilled dishes like mu yaang – grilled pork jowl with jaew dipping sauce; spicy larbs (served with raw vegetables and sticky rice); and larb plaa dip – a chopped raw salad of stone bass with Thai herbs and roasted rice powder. Salads and curries also feature like tam hua plee, a pounded salad of banana flower, snake beans and fermented fish sauce. And larger sharing plates such as grilled salt crust wild seabass with herbs, leaves and noodles to wrap, and whole duck served different ways – fried offal, larb of minced breast – hot and sour soup, and coconut smoked and grilled legs.
Where: 43A Commercial St, London E1 6BD
Photo Credit: Ben Broomfield
3. For a Bottomless Brunch: The Bull Pub x Gorgeous Brewery
What: Looking for some booze with your brunch this weekend? Good news: Highgate institution, The Bull Pub and on-site Gorgeous Brewery have come together to create a bottomless brunch menu, featuring an unlimited supply of its beer, and beer-infused Bloody Marys.
Eat and Drink: Pay £35 and drinks unlimited pints of Gorgeous Brewery's eight unique beers, which can be enjoyed bottled, or on tap in the pub, or fresh from the brewery in the Gorgeous Brewery Beer Garden. And if you're not a fan of beer, unlimited glasses of the venue's classic Bloody Mary that has been infused with Gorgeous Brewery's beer are available. For eats there's all the classics like scrambled egg on toast, avocado on toast, and a full English fry up.
Where: 13 North Hill, Highgate, London N6 4AB
4. For a Classic Brunch: Wellbourne Brasserie
What: Acclaimed chefs Ross Gibbens and Michael Kennedy are the duo behind Wellbourne Brasserie in White City Place. Come here over the weekend to dig into homemade crumpets, artisan coffee and fresh, seasonal delights.
Eat and Drink: There's eggs aplenty on the menu; Eggs Florentine served on homemade muffins, mushroom and coddled egg on Wellbourne sourdough toast, and English muffins topped with fried eggs and halloumi. If you need a sweet treat, try the homemade granola and meadowsweet infused milk or the French Toast. The hot smoked mackerel with wild horseradish on homemade crumpets are not to be missed.
Where: Westworks Building, 195 Wood Ln, London W12 7FQ
5. For a Veggie/Vegan Brunch: Tibits
What: On Sunday (17th June), Tibits are hosting a bottomless brunch with live music. Held at their Bankside restaurant from 1pm-3pm, the brunch includes live performances from up and coming artists, bottomless drinks and dishes from tibits' delicious Food Boat.
Eat and Drink: The veggie and vegan menu includes dishes such as Tibits' signature maple pancakes, samphire salad and the spicy chakalaka bulgar. And no bottomless brunch is compete without free-flowing booze – the drinks menu features the likes of Freedom Brewery's Vegan Larger, Dodd's Vegan Gin and Tonic, and a selection of tibits own mocktails.
Where: 124 Southwark St, London SE1 0SW
Tickets here