You know the drill by now – if it's covered in Hollandaise, we're in. Up your brunch game this weekend with these top picks. Happy brunching, London:
1. For a New Brunch: Smokey Tails 
What: We love the mac n' cheese number from Smokey Tails, so when we heard about their new breakfast menu – we went wild. After settling into their new home on Hoxton Square, co-founder Michigan-born DJ Seth Troxler has expanded the menu to offer a variety of  home-style BBQ and authentic Midwestern American dishes, perfect for a post-night out pick me up.
Eat: Now bringing its 'Midwest Modern' style to breakfast, Seth and the team are rolling out some serious heart-stoppers including beef brisket hash with eggs and horseradish; Mama T's pancakes, made just how Mama Troxler makes 'em; Midwest biscuit, fried chicken and gravy; and the Smokey Tails muffin – a killer combination of egg, twice-smoked bacon, Monterey Jack cheese and Smokey Tails' signature BBQ sauce. The new breakfast menu also covers healthy options such as peanut butter and hazelnut granola with yoghurt and agave syrup, acai bowls, and fresh fruit salad with orange blossom honey and vanilla figs. There's superfast WiFi, bottomless coffee and a sun drenched terrace. Sold.
Where: Smokey Tails at Hoxton Square Bar & Kitchen, 2-4 Hoxton Square, London, N1 6NU
2. For a Middle Eastern Brunch: Strut & Cluck 
What: Newly opened Shoreditch restaurant, Strut & Cluck, has now launched a fantastic weekend brunch menu, with a range of dishes all inspired by the founders' Eastern Mediterranean heritage. There's boozy earl grey cocktails, classic Bloody Marys, and peach and rose iced tea. Strong drink choices, right there.
Eat: Highlights from the menu include the Tel Aviv style brunch with a choice of eggs accompanied by a selection of mazetim, or small plates, including labneh with za'atar, feta with honey, sesame and sumac, zhoug, and homemade preserves. You can also choose from dishes such as shakshuka of eggs cooked with tomatoes, peppers, onions, a touch of chilli, and served with fresh pita. There's also the Persian herb frittata, and  fried egg on hand-pulled turkey shawarma with dates, pine nuts, tahini and pita; and sabikh on grilled sourdough with aubergine, soft boiled egg, tahini and sumac.
Where: 151-153 Commercial Street, London E1 6BJ
3. For a Brunch Event: 100 Wardour St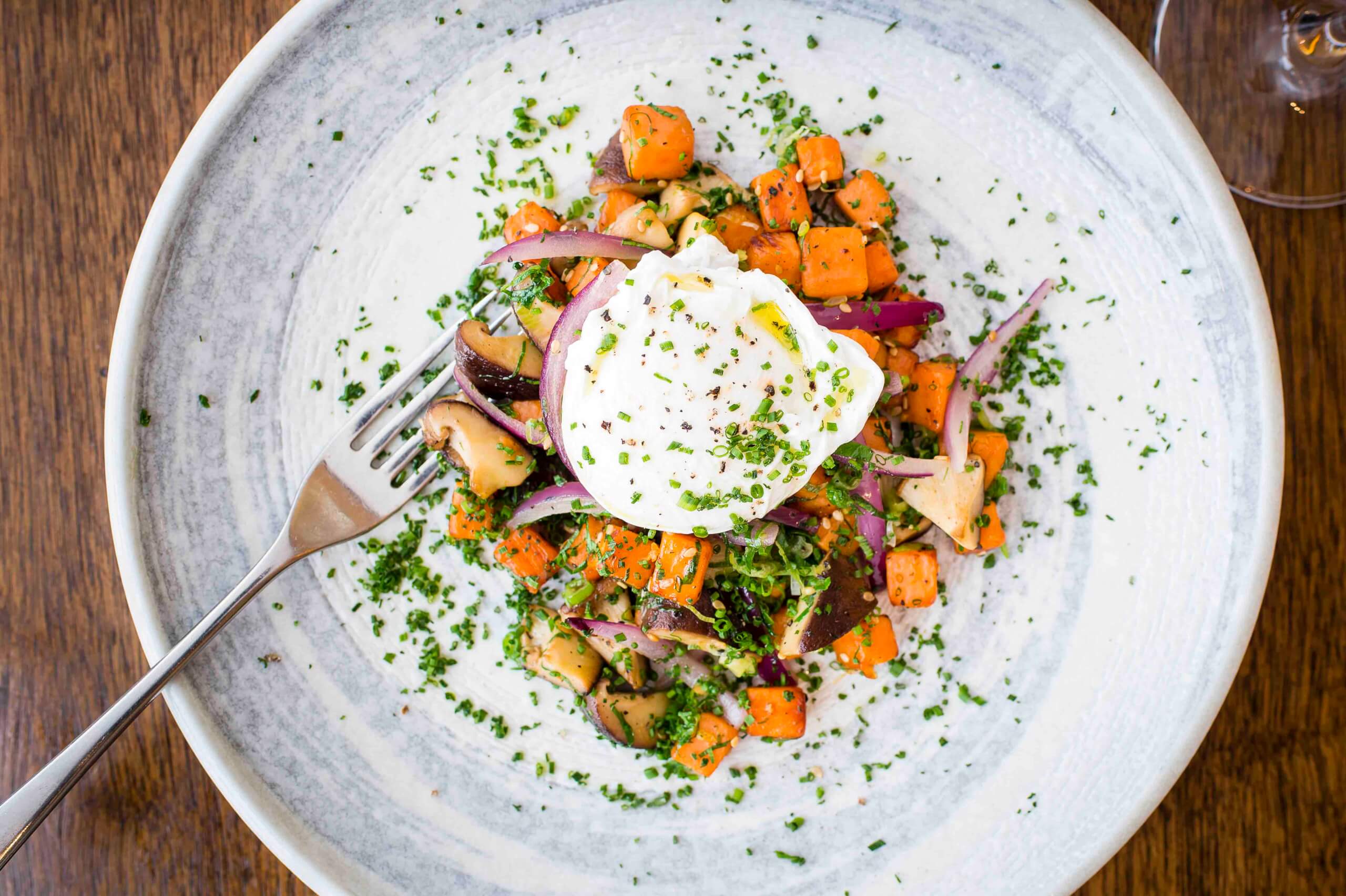 What: 100 Wardour St and Image Media have joined forces to launch the first exclusive gay brunch, Morning Glory, in support of the Terrence Higgins Trust, on Sunday (31st July) at the Soho hotspot. The trust campaign and raise awareness on various issues relating to HIV and AIDS and envision a world where people with HIV live healthy lives free from prejudice, and good sexual health is a right and reality for all.
Eat: Tuck into their special brunch menu for the afternoon with three courses and unlimited Prosecco for £30, or for those that want to enjoy some of their cocktails instead there will be a three course only option for £18. Choose from a wide selection of dishes from the healthy to the hearty including crispy fried squid, chilli and lime, coal-fired baby chicken with wilted greens, seafood spaghetti with tomato and chilli, and aged 200g Basque sirloin steak and chips. Desserts include blueberry poached pineapple carpaccio and profiteroles with salted caramel and hot chocolate sauce.
To book a table please email info@100wardourst.com or call 0207 314 4000.
Where: 100 Wardour St, Soho, London W1F
4. For a Boozy Brunch: bubbledogs
What: From Saturday (30th July) bubbledogs will partner with artisanal spirits company, The 86 Co., to launch their Saturday brunch parties, complete with Bloody Marys, gourmet hot dogs and old-school Hip-Hop. Jazzy shirts are not compulsory (but you'll look pretty, pretty cool). And, in true brunch style, they'll be a rotating menu of Bloody Marys, made using the three reigning spirits from The 86 Co. collection; vodka, tequila and gin, curated by some of the finest bartenders from drinking dens in New York and London.
Eat: A brand new Bloody Mary menu will be introduced every two months, and first on the tins and spoons will be Matt Whiley who has created the Peg + Patriot Mary using Tequila Cabeza, a third generation Tequila from the mountainsides of Arandas with an earthy, sweet taste, distilled oyster shells, spiced sherry vinegar and smoky Scotch. Sustenance will come from the bubbledogs kitchen, where their full menu of gourmet, hot dogs will be served, including the brekkie dog made with fried egg, tomato relish, crispy bacon and black pudding. bubbledogs will also be offering the option to go sunny side up, with a free fried egg atop any dog, and their usual selection of all American sides will be available, from sweet potato fries to togarashi tots.
Where: 70 Charlotte St, London W1T 4QG
5. For a New Brunch Pop-Up: Ask Italian

What: ASK Italian are expanding from their well-loved pizzas and salads to bring their all new Pop-Up Breakfast Kitchen to three sites across London. Only available for a limited time, the new morning menu features a range of classic brunch eats, along with special dishes with an Ask Italian twist.
Eat: Served until midday, the menu includes porridge, fresh fruit with yoghurt, granola and filled pancakes, ideal for for a quick bite. For something heartier, there's The Full Italian, a strong combo of Luganica sausage, smoked prosciutto and poached egg on toasted sourdough bread topped with mushrooms, served with diced potatoes and roasted tomato. Eggs can be served poached, with a variety of toppings; baked with pancetta and roasted peppers in a rich tomato sauce, or in a frittata. There's avocado on toast, mushrooms on toast with poached egg, and a veggie fry up. We can confirm their iced lattes are amazing.
Where: Branches including: Islington, Grafton Way and Spice Quay