What time is it? It's not Chico time. It's brunch time. From a Mexican brunch to a new bottomless brunch – here's 5 fantastic brunch hangouts in London you need to hit up this weekend:
1. For a Healthy Brunch: Christopher's
What: We're not the biggest fans of this January health malarky, but the new light brunch at Christopher's in Covent Garden ticks all the boxes. It may be free from sugary pancakes, and greasy fry-ups, but it's not free from taste; we'll tell you that for free. Swap your coffee for one of their smoothies, and bask in all the healthy goodness.
Eat and Drink: Curb your hunger pangs with their trusty avocado and tomato on toast with lime, chilli, flax seeds and walnut pesto. Pimp it up with the addition of poached eggs, smoked salmon or Devonshire crab. Pancakes have been given a wholesome twist thanks to buckwheat flour, and toppings of camu powder, cinnamon dust, haskap berry compote and maple syrup. And sweets have also been given a makeover, including the coconut and almond milk pannacotta with lavender poached pears, and the fudge-y cacao nut brownie with macadamia nuts, dates, raspberry and beetroot compote. Try the early chocolate shot smoothie made with almond milk, raw cacao and peanut butter for a chocolatey sweet hit.
Where: 18 Wellington St, London WC2E 7DD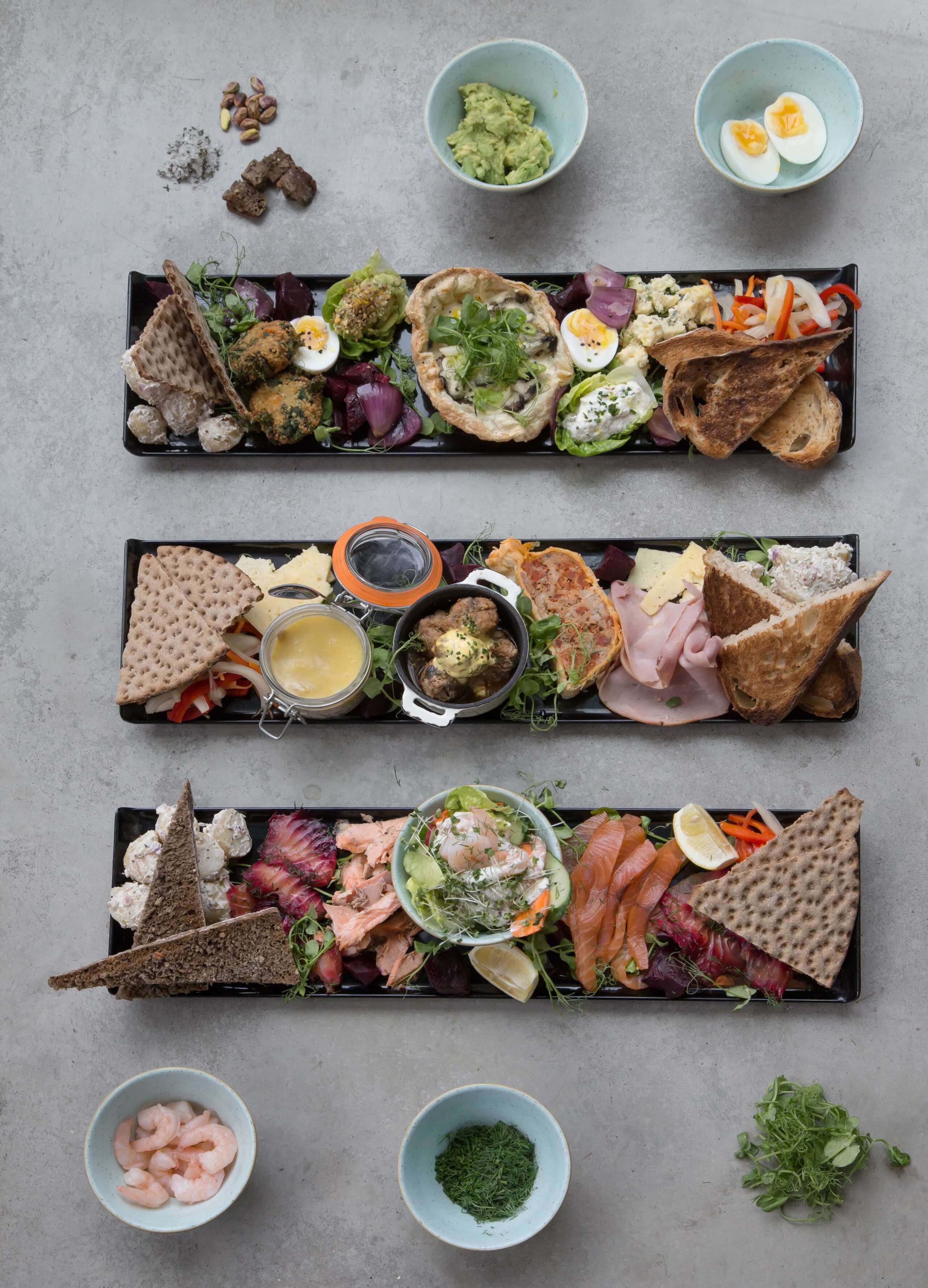 What: Excellent news, meat-free pals. Joining their famed bottomless Smörgasbord Brunch is KuPP's new veggie bord packed with nutritious ingredients inspired by all the plant powered hunnies out there. For £30 per person, KuPP's Bottomless Brunch includes 90 minutes of unlimited smörgasbord refills alongside a choice of herb and spice infused bottomless cocktails. 
Eat and Drink: The veggie bord includes wild mushroom and tarragon tart, oven baked quinoa, kale and butternut bites, chilli lemon and goats curd dip, smashed avocado and dukkah, soft boiled egg, Danish blue cheese, roast beetroot and smoked red onions, Västerbotten cheese, pickled vegetables, Leksands Knacker crispbread and toasted sourdough. Not feeling the veggie vibe? Order the signature KuPP bord featuring a meat-tastic bonanza of house smoked pork meatballs, potted rabbit, chorizo sausage roll, home smoked and pressed ham, mustard dill sauce, KuPP potato salad, Västerbotten cheese and pickled vegetables. 
Where: 5 Merchant Square, Paddington, London W2 1AS
3. For a Mexican Brunch: Corazón Taqueria
What: In case you missed the memo, Corazón Taqueria opened in Soho at the end of last year. Famed for their tacos, stella Margaritas and punchy cocktails; this Mexico City inspired neighbourhood restaurant should be on the top of your brunch list this weekend if you like your eggs with a spicy kick.
Eat and Drink: Their new brunch menu is available on Saturday and Sunday, and offers Mexican brunch dishes, alongside their divine tacos. If eggs are your thing, you're in heaven. Eggy heaven. Try the bacon, egg and cheese taco filled with soft scrambled eggs, bacon lardons, cheese, pico de gallo and salsa ranchera. There's also the hueveos rancheros, a delicious combination of baked eggs in ranchero sauce with black beans, crispy tortillas, jalapeños and guacamole, and the chilaquiles rojo, a generous helping of sautéed tortillas in salsa rojo, eggs, crema, raw onion, queso fresco, with the option of adding on grilled hanger steak.
Where: 29 Poland St, Soho, London W1F 8QR
4. For a Sunday Brunch: Tanner & Co
What: What's better than Sunday lunch? Bottomless Sunday lunch. Tanner & Co. in Bermondsey has just launched their bottomless roast offering on Sundays, which includes 2 courses served feasting style, and two hours of a bottomless selection of beers, wines and cocktails, all for £35 per person.
Eat and Drink: The meat varies from week to week, but expect sides such as goose fat roasties, Yorkshires, honey roasted root veg, seasonal greens and lashings of proper gravy. For pudding, there's bramley apple and blackberry crumble with jugs upon jugs of brown sugar custard. Pick your weapon from a range of alcoholic numbers including Bloody Mary, Mimosa, Prosecco, Tanner & Co 4% and Stelle Cidre. Remember: all of the above is unlimited for two hours. What a steal.
Where: 50 Bermondsey St, London SE1 3UD
5. For a Not-Quite-a-Brunch: Bistro Union 
What: Ok, so we admit it-this may not be brunch, but this offer is too good to miss. And ideal if you can't get yourself out of bed for eggs and coffee. Launching on Sunday (15th January), Bistro Union's Sunday Supper Club is the perfect way to end the week. Bring friends and family, and enjoy three courses of classic British comfort food for just £26. (Kids under the age of 10 go free and those between 11 and 14 pay a reduced price.)
Eat and Drink: Snacks to share will be brought to the table for everyone to dig into followed by main dishes which, for this week, includes Roast Old Spot pork belly with boulangère potato and anise carrots. And remember to leave room for dessert; Bistro Union's sticky toffee pudding is not to be missed. Bistro Union also offer complimentary corkage at their Sunday Supper Club, so you can bring that special bottle of wine your mum palmed you off with at Christmas, and enjoy it with your meal free of charge.
Where: 40 Abbeville Road, Clapham, London SW4 9NG