In association with Lizi's Granola, we've searched the streets of London for the best bowls in town. Granola is a breakfast staple and no breakfast menu is seen without it. As much as we love granola, sometimes the classic granola needs a makeover. We've searched the city for the quirkiest granolas we could get our hands on. No boring granola here, that's a promise:
1. For Flavoursome Granola: Sticks 'n' Sushi 
Order: Organic sheep milk yogurt with homemade matcha-granola and fruit compote (£4.50)
The Lowdown: If you're not familiar with sticks 'n' sushi here's what you need to know; it's one of the most successful restaurant groups in Denmark and the Danish media have dubbed the restaurant the market leaders in Japanese cuisine. Founded 18 years ago, the restaurant draws on both Danish and Japanese fare –  creating a unique cuisine combining both culinary traditions. The decor in the Canary Wharf branch is industrial, sleek and the open kitchen being the focal point of the dining room.
Granola points: Matcha is ingredient of the moment – London is fully embracing the stone-grounded green tea, boosting a list of benefits longer than my arm. The rhubarb compote is the bottom layer of the dish and is perfectly matched with the sheep milk yogurt – a tangier version compared with your standard yogurt. The dish is finished with a slight sprinkling of home-made granola, including plenty of seeds, pistachios and other types of nuts, all coated in the good stuff – matcha.
Where: 1 Crossrail Place, London, E14 5AR
Order: Quinoa granola, dairy-free coconut yoghurt, tropical fruit salad (£8.50)
The Lowdown: First opened in February 2011 in Soho, L'ETO now has six locations across the city. Known for their cakes, savoury treats  and fresh juices, they recently launched a healthy breakfast menu with gluten-free options. Think, egg white omelette with spinach, tomatoes and sourdough toast and buckwheat pancakes with yoghurt, berries and fruit compote.
Granola points:  Their quinoa granola has a different texture to a classic nuttier granola, and a bit sweeter with a chocolatey- flavour, but it's super tasty. All the dairy-free coconut yogurt is homemade, don't you know. The tropical fruit salad and quinoa go hand in hand and makes for a pretty cracking breakfast option.
Where: 243 Brompton Road, London, SW3 2EP
Order: Grawnola – Sprouted buckwheat, almonds, seeds, dried fruit, blueberries and probiotic cashew yogurt (£7.50)
The Lowdown: Nama is the hip hangout in West London. Surrounded by independent clothing shops and boutique children's  stores – this cafe is frequented by yummy mummies of Notting Hill – don't let the pushchairs outside put you off.  They aim to buck the trend that the vegan and raw lifestyle can be limited, creating dishing of sushi made from kohl rabi rice and Asian mushrooms to their incredible pizzas with a courgette and walnut base.
Granola points: The grawnola is less sweeter than their supermarket counter parts, using sprouted buckwheat as a base creates a grain like flavour as well as being gluten and wheat-free and packed full of protein. The dried fruit and fresh blueberries are a welcome combination, along with the pot of home-made cashew yogurt gives this grawnola a well needed nutty boost.
Where: 110 Talbot Road, London, W11 1JR
4. For Crunchy Granola: Plum and Spilt Milk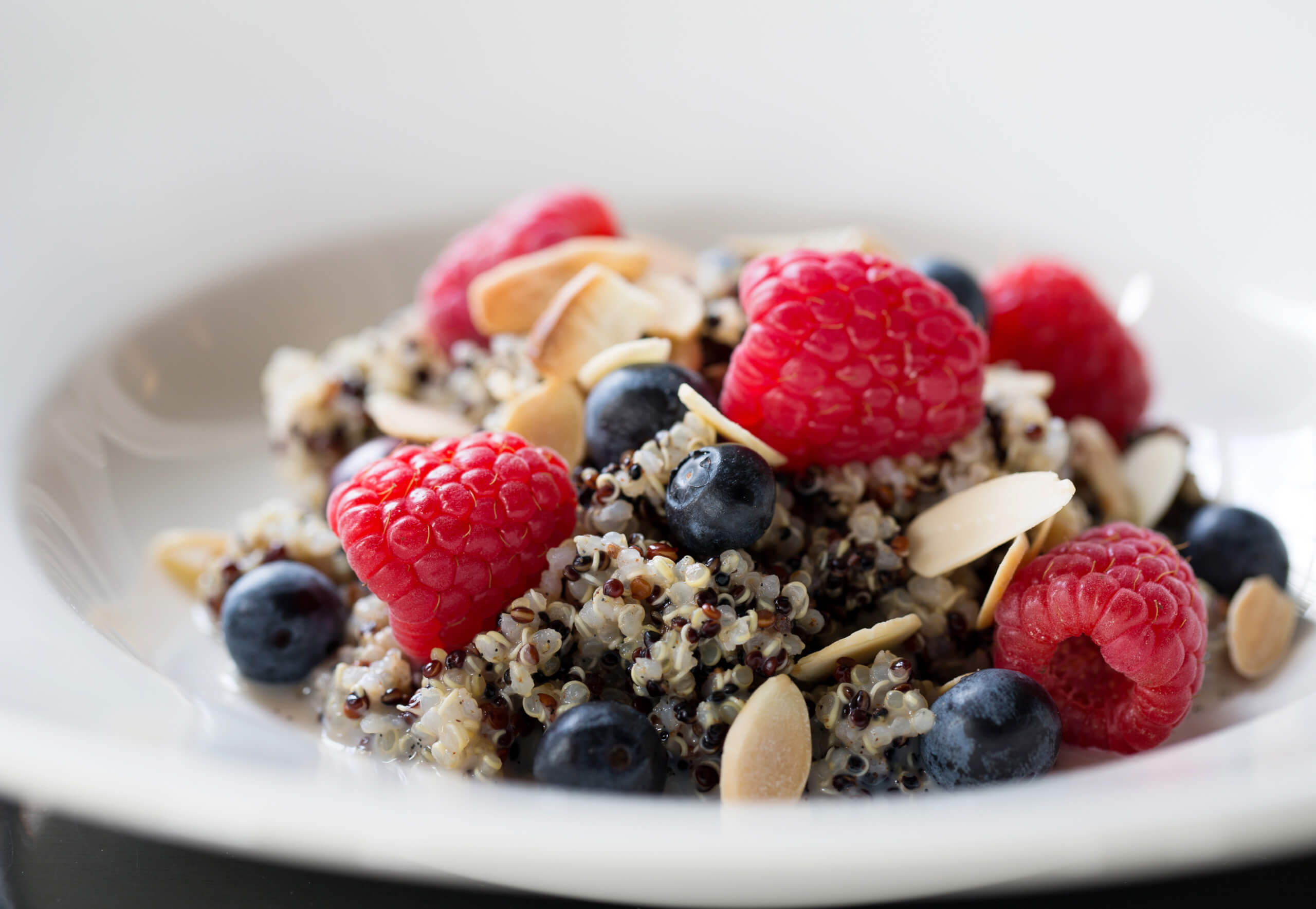 Order: Quinoa and pumpkin seed granola, low-fat yoghurt, apple and golden raisins (£8.50)
The Lowdown: Housed in one of the most beautiful dining rooms in London, Plum and Spilt Milk is an elegant breakfast destination. Favouring healthy breakfast options over calorific dishes (don't worry, there is still a cracking eggs Benedict on the menu), the restaurant offers a  menu using wholesome alternative grains and milks, natural sweeteners and superfoods. From buckwheat crepes with coconut yoghurt, mango and agave to the morning sundae with low-fat natural yoghurt, strawberries, passion fruit and muesli – the menu is hearty, fresh and utterly delicious. Total breakfast win.
Granola points: For the early risers seeking a granola with a punch, this certainly is the one. Substituting grains and nuts for quinoa, the granola is flavoursome, crunchy and a lot less sweeter. Throw a few pumpkin seeds on top for a different texture and apple pieces for a fruity kick, this granola is delicious and has the added bonus of being full of fibre and iron.
Where: St Pancras Station, St Pancras International, Pancras Rd, Kings Cross, London N1C 4TB
5. For Gluten-Free Granola: The Good Life Eatery 
Order: Granola Bowl – Homemade gluten-free Granola, strawberry, blueberry, coconut flakes, bee Pollen served with either dairy-free coconut yogurt or Greek yogurt (£6)
The Lowdown: Another West London gem, The Good Life Eatery goes back to the old fashioned roots of rustling up simple, honest and healthy food. No additives and food nasties here. The menu caters for gluten-free, vegans, vegetarians and diary-free and spans from breakfast to dinner with highlights including their chestnut and almond waffles to the sunset chopped salad full of all the good stuff and baked sweet potato with quinoa falafel and avocado butter. They also have no wifi, so switch off for a morning, relax and enjoy your cocobutter superfood smoothie.
Granola Points: This granola bowl is packed full of different flavours, all complimenting each other. The generous serving of home-made granola, full of nutty flavour is a perfect companion  to the fruity taste of the fruit and the sprinkling of coconut flakes. It's the bee pollen that makes this granola bowl even more satisfying, the intense floral flavour with a slightly sweet taste is a sensation, opt for the coconut yogurt and you're onto a winner. It'll leave you full for hours.
Where: 59 Sloane Avenue, London SW3 3DH
One to make at home.. 
Order: Lizi's Granola – Pistachio and passionfruit
The Lowdown: Lizi is the queen of granola. Having made her mark on the supermarket shelf and fast becoming the go to granola brand, she knows a thing or two about making a good granola with well-balanced flavours.  From treacle and pecan to mango and macadamia and the popular Belgian chocolate – there's a granola for everyone. No bland granola here.
Granola Points: The pistachio and passionfruit is packed full of all the regular granola ingredients with the added bonus of a generous helping of the pistachios for added crunch. The passionfruit is a subtle hint which doesn't overpower this breakfast favourite. For those wanting a granola with less sugar, choose their low sugar one – it's still great tasting.
Where: Supermarkets across the UK
Post in association with Lizi's Granola as part of #LizisBrekkieWeek