The health benefits of dark chocolate have been trumpeted loudly over the last few years. But going one step further in the healthy chocolate stakes is raw chocolate. As we become more conscious of what we stuff in our mouths, raw cacao is enjoying its moment in the limelight. Not only is it raw, meaning it contains living enzymes and its full nutritional value, but also most raw chocolate products are dairy free, vegan and free from refined sugar. In plain terms, chocolate just got healthier. And as big chocolate fans, we bring you London's most delicious raw chocolate treats.
1. Best Chocolate Truffles: Sweet Virtues
The classic chocolate truffle has been given a healthy twist thanks to Sweet Virtues. These super food infused, cacao dusted truffles come in three different flavours – chia seeds and lime, baobab and vanilla and maqui berry. Although some may think Sweet Virtues sound a little too healthy to taste any good, trust us when we say that these are seriously delicious, chocolate truffles complete with soft, melt-in-the-mouth centres.
Where: Various locations – here
2. Best Chocolate Tart: Raw Chocolate Ganache Tart, Nama Foods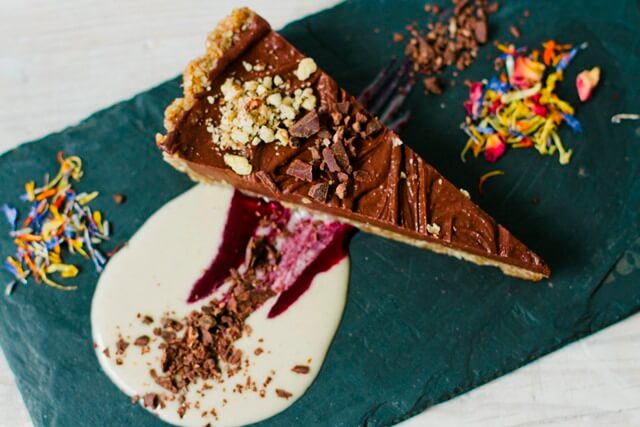 Surely a healthy version of one of the ultimate chocolaty desserts would leave one feeling a little empty? This is not the case with Nama's raw chocolate ganache tart. If anything, this pud leaves you wanting more than the one slice. It tastes rich and indulgent, just the way a chocolate tart is meant to be.
Where: Nama Foods, Notting Hill
3. Best Chocolate Protein Balls: Amaze-balls from Press London, Selfridges Food Hall
For those gym-bunnies looking for their next protein hit, look no further than the raw cacao Amaze-balls from Pressed. These are made with nuts, seeds and raw cacao (obviously!) and can be picked and mixed with a whole range of other yum flavours (there is even a salted caramel one). And at only 50 calories per ball, you can gobble a few for the calorific-price of a protein shake. Seriously amazeballs.
Where: Press at Selfridges Food Hall
4. Best Chocolate On Toast: Rawtella on Un-Toast, Tanya's Cafe
Tanya's in Chelsea has become a haven for London's healthy-eating pack. Everything on the menu is raw, and incredibly healthy including the chocolate spread on toast. However, this isn't Nutella on toast as you might know it. Instead, Tanya has created a raw chocolate and hazelnut spread which is free from refined sugar and vegan. You can spread this yumminess on slices of "un-toast" which is soft, raw raisin bread. And if you want to go a bit bonkers on the raw chocolate front, team your rawtella on un-toast with Tanya's Sweet Surrender cacao and hazelnut mylk. Raw chocolate heaven.
Where: Tanya's at myhotel Chelsea
5. Best Chocolate Mylk: Creamy Cacao Almond Milk, Juice Baby
Who doesn't love chocolate milk? Juice Baby has come up with the yummiest guilt-free alternative so you get your choccy milk fix but without the refined sugar or the dairy. The bottle of liquid chocolate is made from almond milk, raw cacao, dates, vanilla and Himalayan salt. Once you have tried this choccy milk with your cookies, you will never buy that sugary, dairy stuff again!
Where: Juice Baby, Chelsea
6. Best Chocolate Smoothie: Forgotten Ecstasy, Wild Food Café
If you are one of those people who love a thick shake, then this one is for you. The Forgotten Ecstasy blows the socks off any other chocolate smoothie. Although it doesn't come cheap, it is packed with super foods and a lot of rich raw chocolate (and we mean A LOT!). It is one of those treats that you wish would last forever but you can't help but guzzle it because it is so darn delicious. This is chocolaty ecstasy which won't be forgotten in hurry.