Our Tasty Tuesday column is slightly late this week (apologies, we were eating mince pies and wading through gift guides), but never late than never right? From gluten-free meals to new launches, here's 5 foodie products you need to try this week:
1. Gluten-Free Meals for Kids: Kids' Kitchen
What: Award-winning gluten, wheat and dairy free brand, Kirsty's, has created a gluten, wheat and dairy free range specifically aimed at children – Kids' Kitchen. There's everything from cottage pie with sweet potato mash to beef lasagne with a bolognese sauce. 
The Lowdown: Kids' Kitchen is a healthy and convenient new range for children, aged 2 to 9 and is currently the only free from chilled ready meal brand for youngsters. The arrival of a dedicated range for kids follows extensive research, drawing on feedback from Kirsty's large and loyal fan base. Containing no added sugar and low in calories, fat and salt, the meals contain at least one of your five a day and reinvent children's favourite meals using healthy food swaps.
Price: At an introductory price of £1.50
Stockists: The all new Kids' Kitchen range will be available in selected Asda stores nationwide from 22nd September.
2. For Spanish Food: The Haciendas Company
What: The Haciendas Company produces a range of high quality wines and Cavas from its home in Salamanca, in the heart of the Duero valley – and this hamper is perfect for Christmas. The core range includes cavas, produced using the traditional champenoise method, Hacienda Zorita Natural Reserve Syrah, a premium wine, aged for 24 months in new French oak and three Riojas, two traditional, one contemporary in style.
The Lowdown: Champions of the Slow Food movement, the estate also produces a range of delicious and typically Spanish cheese, oils meats and charcuterie from the heart of the Duero valley. Their exclusive hamper, including a selection of Marques de la Concordia wines, olive oil, cheeses and ibéricos is a great present to spoil any foodie or wine lover this Christmas.
Price: £99
Stockists: Online here
What: BOUNCE new Cacao Orange flavour – the newest and liveliest addition to the Bounce Energy Balls range. A tasty mix of Cacao Nibs, Whey Protein and Sunflower Seeds – a zesty new addition to the team, bursting with natural goodness from Cacao nibs, rice bran and high quality protein. This all-time favourite combo delivers on taste and nutrition – we love.
The Lowdown: Bounce Energy Balls are an amazingly convenient and tasty way to nourish your body, satisfy your hunger and sustain your energy. They're great nutrition for when you're on the go – or at any time you don't want to compromise on what you eat.
Stockists: The new Bounce Cacao and Orange Protein Burst will be available in Whole Foods, Planet Organic and independent stores in the UK
Price: £1.99
4. For Chocolate: Le Comptoir de Mathilde
What: We love these Chocolate Spoons by Le Comptoir de Mathilde – perfect for adding a bit of fun to your Christmas dinner table. On their website, you can also buy hot chocolate stirrers – our favourite is the Chocolate Pistachio – simply heat milk, pour into a mug, immerse the spoon to dilute the chocolate and enjoy your delicious hot chocolate. They've got a range of fantastic flavours, such as white chocolate and nuts, and dark chocolate and pepper.
The Lowdown: With a small team of six people, Le Comptoir de Mathilde combines their creativity and expertise to produce the best range of gastronomic delights. The proof is in the taste with this one.
Price: £11.80
Stockists: Available from Grabble
5. For Pasta: The Geometry of Pasta
What: A great gift, this stuff is absolutely gorgeous, designed by Caz Hildebrand who wanted to bring the idea that certain sauces match certain pasta shapes – something that Italians have a tradition of and actually have an instinct for.
The Lowdown: After collaborating with chef Jacob Kenedy on the critically acclaimed The Geometry of Pasta cookbook, Caz decided to work with some artisan producers from Tuscany to create a range of pasta and sauces, made in small batches in the time-honoured  way. The range draws on the best of Italian regional cuisine – from authentic slow-dried, bronze- drawn pasta to celebrated wild game sauces – made from the finest ingredients in the heart of  Tuscany.
Price: Sets from £12.99
Stockists: You can pick it up at Selfridges, or order from Ottolenghi.co.uk right up until the 21st December for it to arrive in time for Christmas!
And one for luck…
6. For Christmas Condiments: Colman's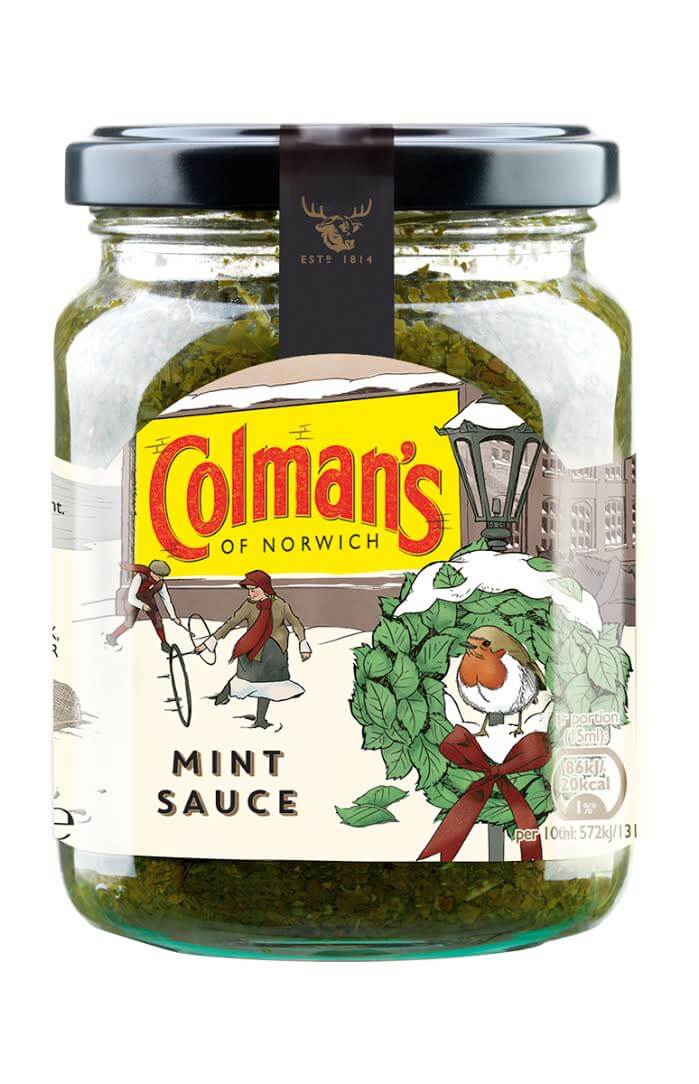 What: The British Christmas dinner wouldn't be complete without a choice of must-have accompaniments for a mouthwatering festive feast. This year, add festive charm to the table with Colman's classic range of British condiments that have been redesigned with vintage labels, taking inspiration from original designs, for the Christmas season.
The Lowdown: Whether it's mint sauce adding a taste of the kitchen-garden to your lamb, British Bramley apple sauce to add sweetness to your stuffing, horseradish to add a fiery kick to your beef or tangy cranberry to complement the richness of your chicken or turkey, make sure the best condiments grace your table this festive season. And when the Christmas Day feast is over, what better way to liven up your Boxing Day leftover cold meats than with a dollop of mayonnaise. Try Hellmann's, which has also been given a festive twist this year.
Price: From £1.29