Looking for the best Valentine's Day menus in London? Good news: the search ends here. Whether you're looking for a slap-up dinner in town, or a quiet, romantic meal for two at a hidden gem, here's our favourite Valentine's Day set menus in London
Best Valentine's Day Menus in London: For Modern Romance
For Valentine's Day Specials: 108 Brasserie
What: 108 Brasserie, Marylebone's luxurious all-day dining destination, provides the perfect backdrop for a special and romantic Valentine's Day date night. Celebrate in true luxury at 108 Brasserie with a delicious menu created by Executive Chef Russell Ford. The dishes on this menu, meant to be shared between loved ones, create the perfect romantic meal.
Eat: Highlights include a rich braised fillet of turbot, with Scottish langoustines, diver scallops, leeks and wild herbs. Also available will be a delicious lobster risotto, served with crispy claw and sea vegetables. For dessert, guests can indulge in 108 Brasserie's dark chocolate and passion fruit Baked Alaska.
Price: These Valentine's Day specials will be available alongside 108 Brasserie's regular a la carte menu, 14th February from 6pm.
Where: 108 Marylebone Lane, W1U 2QE    
For a Kensington Dinner: Town House
What: Spend this Valentine's Day at Town House with a delicious four-course menu created by Executive Chef Steve Gibbs for a truly romantic and magical evening. Nestled in the heart of one of London's most desirable neighbourhoods, Town House is located on the corner of two of London's iconic thoroughfares, Queen's Gate and the Old Brompton Road, and is spread across three classically designed drawing rooms, serving locally-sourced, seasonal modern British cuisine.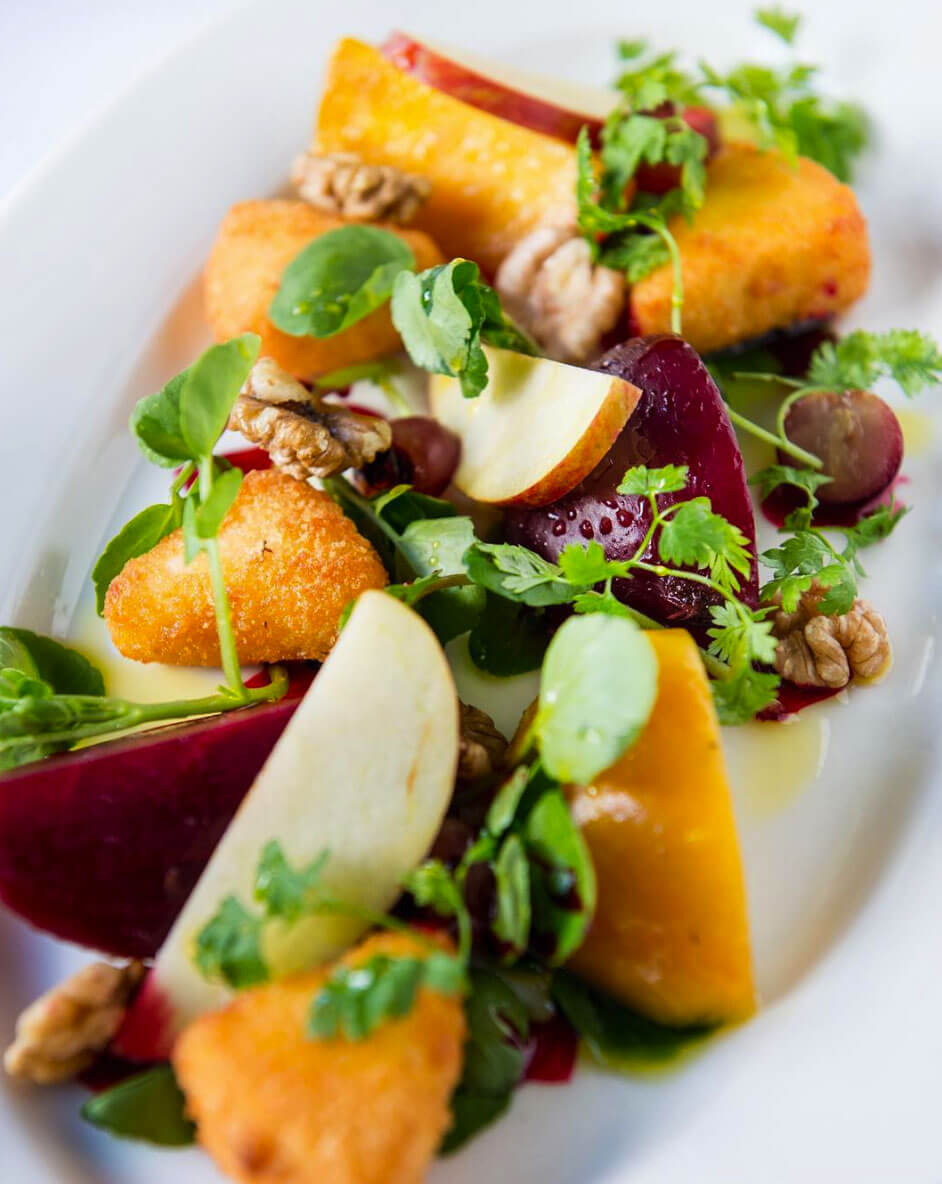 Eat: To kick off the perfect date night, guests will be welcomed with Town House's romantic Rose Petal cocktail on arrival, as well as an amuse bouche of tempura oysters served with horseradish mayonnaise. Highlights of this special menu include Town House's marinated salmon served with a refreshing avocado salsa. Also available will be a delicious slow cooked neck of Cornish lamb, served with artichokes and wood roasted peperonata. To finish off the perfect romantic evening, enjoy caramelised banana, served with a delicious honeycomb, rum and raisin ice cream.
Price: This Valentine's Day menu, priced at £75 per person, will be available at Town House 14th February 2017 for dinner.
Where: 109-113 Queen's Gate, SW7 5LR 
For Romance and Wine: Les 110 de Taillevent
What: This Valentine's Day, celebrate with your loved one in the truly romantic surroundings of Les 110 de Taillevent. Taking the art of pairing to new heights, Les 110 de Taillevent continues to revolutionise the world of wine matching with its cracking list of fine wines alongside its seasonal French dishes. For Valentine's Day, Chef Raphael Grima has created a truly luxurious five-course set menu accompanied by a selection of 20 paired wines. This special set menu will also include a glass of champagne, for extra romance.
Eat: Highlights of the menu include an amuse bouche of smoked mozzarella, beetroot and red onions pickles jelly, as well as a sumptuous roasted filet of duck, served with caramelised endives, honey and Xérès, a delicious Spanish sherry. For dessert, guests can indulge in a romantic macaron heart, served with fresh raspberry coulis. Each of these dishes will be served alongside a selection of paired wines at various prices.
Price: 14th February from 6pm for £45 per person, including a glass of champagne.
Where: 16 Cavendish Square, W1G 9DD
For Italian Romance: Bernardi's
What: Highly acclaimed Marylebone Italian restaurant Bernardi's is a perfect sophisticated spot for couples to enjoy a Italian tipple in the cosy downstairs bar, The Dog House, before dining on expertly crafted pasta and Italian sensations upstairs in the beautifully designed restaurant. The restaurant is open for breakfast, lunch and dinner on Valentine's Day.
Eat: Enjoy Valentine's Day in the stylish setting of Bernardi's for either breakfast, lunch or dinner. Dine in the morning on dishes such as mushroom crostini, pesto and aged balsamic, experience the lunch set menu featuring dishes such as hake, butterbeans and salsa verde or have full Italian fare with the exceptional a la carte set menu in the evening with antipasti such as rose veal tonnato, parsley, crispy caper & red onion, primi of truffle fettuccine and secondi of venison loin, potato tortino, mushrooms and polpetta.
Where: 62 Seymour Street, London W1H 5BN
Photo credit: Paul Winch-Furness
For a Special Surprise Stay: Aviary
What: Outfit chosen, table booked and… toothbrush packed? Diners at Aviary, London's hottest new destination on the 10th floor of the Montcalm Royal London House Hotel, could be in for surprise this Valentine's Day. All loved-up couples who present their toothbrushes ahead of their dinner à deux on Tuesday 14th February will be in with a chance to not only have their bill covered by Aviary but also extend their romantic night by winning a stay in one of the stylish rooms at the hotel. After finishing their meal, one lucky pair will be informed of their win via the delivery of a room key to their table in place of their bill. Magical.
Eat: Against a backdrop of effortlessly romantic views of the City, Aviary's Valentine's menu will include a glass of Champagne on arrival, four indulgent courses including choices of confit duck egg with heritage potato, leek and buckwheat, poached Brixham lobster with King scallop and coal-roast Cumbrian dairy cattle sirloin, cooked and served on the bone, with beef fat fondant potato. All rounded off with Yorkshire rhubarb with chocolate, and coffee with petit fours.
Price: Aviary's Valentine's Day set four-course menu is priced at £95 per person.
Where: Aviary, 10th Floor, Montcalm Royal London House Hotel, 22-25 Finsbury Square London, EC2A 1DX.
Best Valentine's Day Menus in London: For Old-School Romance
For Classic Romance: Christopher's
What: Located in the heart of Central London's theatre-land, Christopher's of Covent Garden is designed for romance. The stunning art-deco martini bar, steeping staircase and the historic grade II listed dining room overlooking Waterloo Bridge is amongst London's most evocative spaces, and has been for the past 25 years. This Valentine's Day, they are bringing their contemporary twist with a special Valentine's Theatre Menu for those on a thespian date, along with three speciality cocktails.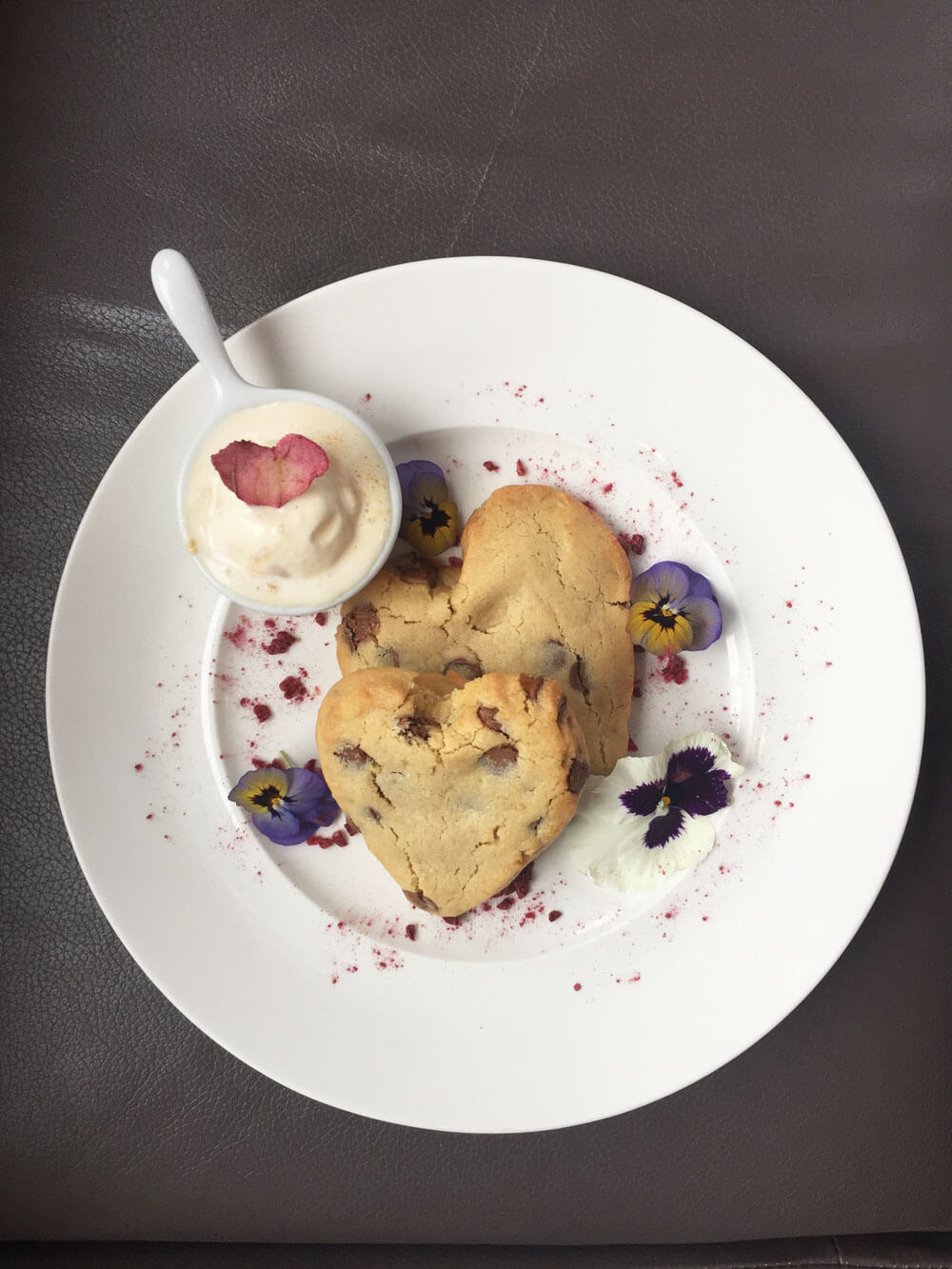 Eat: Lovebirds can dine on two or three courses off the Theatre menu, starting with dishes including house-smoked sea trout, mains of barbecue-rubbed Bavette steak or roast tomato risotto, finished off with half-baked Cookie, topped with vanilla ice cream and Valrhona chocolate sauce. This is all accompanied with one of three special cocktails, My Cherry Amour-etto, Closer to the Clouds and Cupid's Strawberry Mar-Tea-Ni.
Price: Each guest can dine on two courses for £26 or three Courses for £29, with cocktails costing £13 (or £6 for the non-alcoholic Cupid's Strawberry Mar-Tea-Ni). Served on Tuesday 14th February from 5-6pm and 10-11.30pm.
Where: Christopher's, 18 Wellington Street, Covent Garden, WC2E 7DD. 
For Covent Garden Romance: Clos Maggiore
What: London's most romantic restaurant is always a favourite this time of year. Be sure to book your table in advance – and treat your loved one to the special Valentine's Day tasting menu topped with a glass of rosé champagne. This is a London favourite for a reason, just *look* at those flowers. 
Eat: Highlights of the menu include the king crab and lobster tortellini to start, with the goat's cheese and truffle wrapped in crispy vermicelli. Delicious. 
Price: Five course menu with a glass of champagne on arrival £175 per person, with classic wine pairing £50 or with discovery wine pairing £100 supplement. Available for dinner from 6.30pm to 10.30pm.
Where: 33 King Street, Covent Garden, London, WC2E 8JD
For Luxury Dining: Ormer at Flemings Mayfair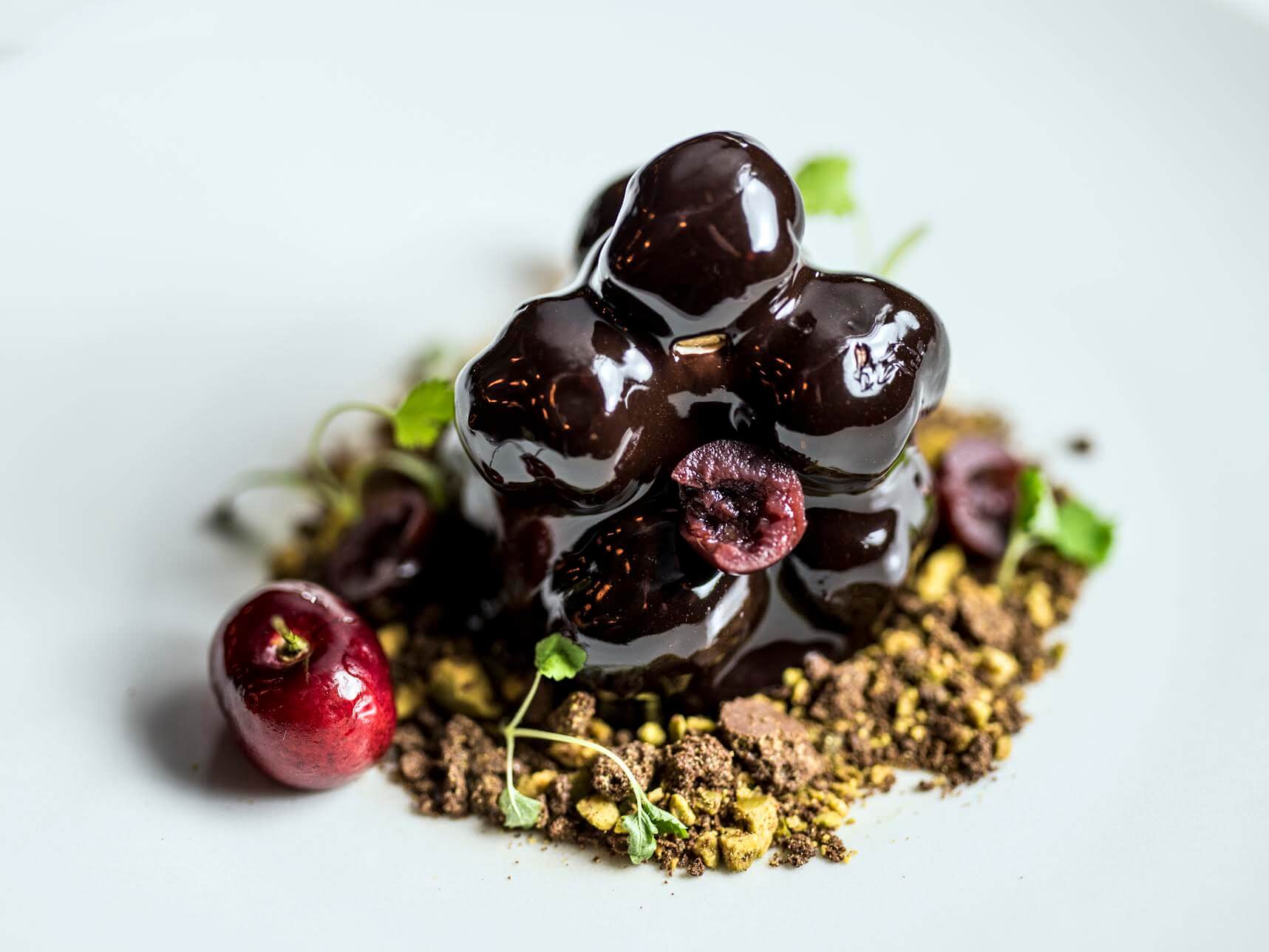 What: This Valentine's Day, treat your loved one to the ultimate luxury at Flemings Mayfair. We recommend starting the evening at Manetta's Bar where you will be seduced by one of the alluring cocktails such as Rose is a Rose and tempted to recline on one of the cosy sofas. Following this, the newly opened Ormer Mayfair awaits with its exclusive, passionate 5-course tasting menu created by renowned chef Shaun Rankin. Indulgent dishes include poached royal bay oysters, beef fillet with truffle terrine and chocolate profiteroles.
Eat: Indulgent dishes include poached royal bay oysters, beef fillet with truffle terrine and chocolate profiteroles. In addition to the decadent feast of perfectly executed dishes, there is the option of making the experience even more special by paring each course with a carefully selected wine or Champagne chosen by Ormer's talented Head Sommelier Andreas Rosendal.
Price: Prices start from £105 per person, drinks not included with the addition of paired wine for +£65 per person or paired Champagne +£95 per person. 
Where: Half Moon St, Mayfair, London W1J 7BH
For a Belgravia Dinner: The Hari
What: This Valentine's Day, head to The Hari in picturesque Belgravia, to experience a romantic evening under the stars with a delectable four course menu, served on the intimate, heated Garden Terrace. The evening doesn't need to end there – Valentine's room rates start at £270 ex VAT and include a turndown with romantic touches. From 10th – 15th February guests will find rose petals on their beds with homemade chocolates upon request.
Eat: Guests will begin the evening with oysters and champagne to set the romantic tone, before indulging in delights including; veal belly confit served with spicy rhubarb and sautéed wild garlic, wild turbot papillote, cherry tomatoes, prawns, mussels and mushrooms. The decadence is complete with a heart-shaped chocolate mousse and raspberry cake, designed for sharing.
Price: Prices start from £79 per person
Where: The Hari, 20 Chesham Place, London, SW1X 8HQ
Best Valentine's Day Menus in London: For Michelin Star Dining
For Pure Magic: Alain Ducasse at The Dorchester
What: Executive Chef Jean-Philippe Blondet and Head Sommelier Christopher Bothwell have created a delightful Valentine's menu and wine pairing to mark this special day. To add to the romance of the evening guests can also book the most romantic table in the London, Table Lumière. Cocooned by 4,500 shimmering lights the semi-private table cleverly immerses you in the buzz of the restaurant whilst dining in your own private, glimmering world. Guests are also able to select their own table décor from a selection of vintage Hermes crockery and Saint Louis crystal to further personalise their Valentine's Day experience.
Eat: Available exclusively on the 14th February for dinner, the menu features five bespoke courses, along with a glass of Rosé Champagne. Dishes include Scottish langoustine, swiss chard and caviar, fillet of Cross Continental beef, 'Black-tie' of agria potato and to finish A Heart For Two chocolate and passion fruit, a dessert to share exclusively designed for Valentine's Day.
Price: Valentine's Day Menu, £215 per person, Dom Pérignon Experience for two, £590 (includes the 5-course Valentine's Day Menu for 2 guests, with 1 bottle of 2006 Dom Pérignon Champagne). 
Where: Alain Ducasse at The Dorchester, The Dorchester, Park Lane, London, W1K 1QA
For a Hot Ticket: MARCUS at The Berkeley
What: Spoil your loved one with an evening of luxury at the 2 Michelin starred, critically acclaimed restaurant, MARCUS. Offering exquisite fine dining from a carefully curated 2-Michelin star menu, MARCUS delivers dishes of supreme quality and taste that exude culinary brilliance, perfect for treating your loved ones this Valentine's Day. Located in the splendid setting of the Berkeley Hotel, MARCUS's unique and luxurious setting acts as the perfect backdrop to a romantic Valentine's evening. Every year the restaurant is fully booked for both lunch and dinner so be sure to get in there early. 
Eat: The lunch menu consists of a special 5-course tasting menu with dishes including oyster, caviar and smoked egg and Galloway beef with beetroot, pomme puree and kale and pudding of chocolate, blood orange and rosemary. Dinner's 8 course tasting menu – specially created by Marcus Wareing himself and Head Chef Mark Froydenlund – will not disappoint. What's more, guests will be treated to a complimentary glass of champagne on arrival and handmade chocolates to take home with them at the end of the evening. Dishes include Lobster bisque with confit lemon, seabass with cauliflower and purslane and puddings including rhubarb, yogurt and almond.
Price: 14th February – 5-course lunch menu at £110 and 8-course dinner menu at £170, both including a glass of rosé Champagne on arrival and chocolates to take away.
Where: Marcus, The Berkeley, Wilton Pl, Knightsbridge, London SW1X 7RL
For Michelin Star Indian: Gymkhana
What: Enjoy a mix of classic and contemporary Indian cuisine with your loved one this Valentine's Day at the highly acclaimed Michelin restaurant Gymkhana in Mayfair. Experience boldly spiced delights with their unique Valentine's Tasting Menu in the opulent dining room inspired by the old Gymkhana clubs in India, while also appreciating the expertly matched wine pairing or Billcart-Salmon Champagne pairing that is also on offer.
Eat: Showcasing the best of Gymkhana's skilful cookery, the menu features famed dishes such as Saunfian stone bass tikka, Andhra masala pata legra cheek and langoustine pakora. There is also a vegetarian menu available with dishes such as malai morels, mushroom tikki and girolle raita.
Price: Gymkhana's Valentine's Day set menu is priced at £80, wine pairings with an additional £60 and Billecart-Salmon Champagne pairing with an additional £75.
Where: 42 Albemarle St, Mayfair, London W1S 4JH
Best Valentine's Day Menus in London: For Something Different
For an Indian Tasting Menu: Jamavar
What: Dine like your loved one deserves in the visual splendour that is Jamavar, equally stunning is the five-course vegetarian and non-vegetarian tasting menus on offer. Leading the team of highly experienced chefs is revered executive chef Rohit Ghai. Pair the delectable dishes with Jamavar's Botanical Garden menu, a collection of sip-worthy gin and tonics, which are an exotic union of herbs, roots and spices.
Eat: Skilfully intertwining delicate spices to create wonderful dishes include trio of crab and tandoori scallops, the popular Malai stone bass with avocado chutney and Bharawan Mirch Korma, sweet peppers stuffed with paneer, purple potato and saffron. To finish it'll be hard to choose between the rose and berry dessert of caramelised rose petals and berry chutney and the rhubarb falooda… but you could always share.
Price: £45 vegetarian and £50 non-vegetarian
Where: Jamavar, 8 Mount Street, London, W1K 3NF
For a Special Cocktail and Dinner: Royal Garden Hotel
What: Seal Valentine's Day with an Aphrodite's Kiss and four-course dinner at the Royal Garden Hotel in Kensington. The love potion concocted by the five-star hotel's mixologist Onofrio La Monica includes Absolut Citron, lime and lychee juice, crème de menthe, strawberry liquor and gomme syrup. Couples dining in Park Terrace will enjoy gorgeous views of Kensington Gardens and a delicious menu of seasonal delicacies from Executive Head Chef Steve Munkley and his talented team.
Eat: Meticulously prepared starters include pan-seared diver scallops, ricotta cheese and potato gnocchi, and West Country beef fillet. For mains, diners will have a choice of seven dishes, from roast North Sea cod steak and pan-seared Aylesbury duck breast, foie gras nugget to chargrilled T-bone of halibut and lavender and herb crusted Essex lamb. Desserts to dream about include Grand Marnier double-baked soufflé, Amaretti cheesecake and nanana tarte tatin. Finish with a delicious Neal's Yard cheese selection.
Price: £45 per person for the four-course meal and a cocktail on arrival on 14th February.
Where: Royal Garden Hotel, 2-24 Kensington High Street, London W8 4PT
For a Valentine's Burger: Ben's Canteen
What: Famed for their impressive burgers Ben's Canteen is launching a Valentine's Day celebration with a twist. Alongside the heartbreak-curing food and drink, there'll be a slightly safer twist on a boyfriend-burning party – take an item of your ex's clothes to Ben's Canteen, and you'll get a martini on the house, not to mention good karma from donating clothes to charity.
Eat: Food may not be love, but it comes pretty damn close – especially when it arrives in the form of Ben's Canteen's Heartbreaker burger. We're talking 6oz beef patty, topped with ox heart and chorizo chilli, Gorgonzola cheese and coriander infused sour cream with white onion slices. This is then accompanied by bottomless prosecco or a bitter berry martini.
Price: £11 for the burger and £7.50 for the martini
Where: Both Battersea (140 St John's Hill, SW11 1SL) and Earlsfield (422 Garatt Lane, SW18 4HW) sites. Available from 14th-28th February from 5pm.
What: This Valentine's Day, KIRU, the contemporary Japanese fine dining restaurant located on Chelsea Green, will be launching a new Valentine's Day Menu, comprised of their most exquisite dishes. Priced at £65 per head with a glass of rose bubbly, the menu has been created by executive chef, Taiji Maruyama, who spent nearly seven years honing his skills at both Nobu Berkley and Nobu London, mastering the techniques of Pan-European cuisine.
Eat: The special menu features delights such as tuna tacos, yellowtail with smoky aubergine and cured pollock with truffle. There's also pan-fried poussin, chef's selection of the finest sushi and, of course, to finish, the most delicious chocolate fondant with ice cream. Dreamy.
Price: £65 per person
Where: KIRU, 2 Elystan Street, Chelsea Green, London, SW3 3NS
For a Special Heart Menu: Gunpowder London
What: This Valentine's Day will see Gunpowder celebrate the special evening with a dedicated heart menu. Gunpowder's menu, created by Founder Harneet Baweja alongside Head Chef Nirmal, takes influence from family recipes and the vibrant flavours and confident spicing that comes from the kitchen, reflects their love of Indian home-cooked food.
Eat: The exclusive one-night only menu will feature dishes to make your heart skip a beat, including Back Pepper and Garlic Chicken Heaty Skewers; Dakshni Duck Heart Fry and Ox Heart Cutlets available alongside Gunpowder's signature dishes of Spicy Venison and Vermicelli Doughnut; the signature Maa's Kashmiri Lamb Chops and Aloo Chaat, all paired with cocktails including the Bow Barrack Gimley and Whiskey & Tea.
Price: Dishes from £7
Where: 11 White's Row, Spitalfields E1 7NF
What: El Pirata is a Mayfair institution, open for over 22 years, the Spanish tapas bar and restaurant serves some of the best and most authentic Spanish food in London. This Valentine's Day, you can treat your loved one to a taste of Spain at El Pirata with a seductive tapas menu, specifically designed for couples to share, for an intimate and romantic evening. Spain's rich culinary culture of sharing, socialising and eating is perfect for a romantic evening, encouraging interaction and conversation alongside delicious tapas dishes.
Eat: Highlights include Bacalao Fresco con Pisto, fresh grilled cod, served on a hot bed of vegetable stew. Also available will be a delicious Presa Iberica, Iberian pork shoulder served with roasted peppers. For dessert, guests can indulge in El Pirata's Torrija con Frutas Frescas y Helado – Spanish bread pudding with fresh fruits and ice cream.
Price: Priced at £26.50 per person, this Valentine's Day menu will be available alongside El Pirata's regular a la carte menu, 14th February 2017 for dinner. Additionally, a separate vegetarian menu will also be available, priced at £25.50 per person. Both of these special Valentine's menus include a glass of cava on arrival and a coffee to end your meal.
Where: 5-6 Down Street, Mayfair, W1J 7AQ
Best Valentine's Day Menus in London: For Feasting
For a Seven-Course Tasting Menu: Avista
What: What better way to celebrate Valentine's Day with your loved one than treating them to an incredible seven-course tasting menu in one of London's most sought-after postcodes? For one day only, Avista at Millennium Mayfair Hotel will be serving a special seven-course tasting menu. Guests will be greeted with canapés and a glass of Moet & Chandon to start their evening before moving on to the Italian tasting menu created by Head Chef, Arturo Granato who prides himself on his ability to create dishes with a fresh, modern take on traditional Italian fare.
Eat: Mouthwatering dishes from the seven-course tasting menu include Orkney scallops with a black ink, fennel and coral dressing, saffron risotto served with candied ginger and buffalo mozzarella and Mediterranean sea bass with shellfish, chickpea hummus, fregola and kale. When it comes to dessert, guests will be treated to the decedent chocolate passion followed by petit fours to round off their seven-course Valentine's experience.
Price: The Valentine's Day seven-course tasting menu costs £65 per person.
Where: Avista at Millennium Mayfair Hotel, 39 Grosvenor Square, Mayfair, London W1K 2HP
For a Meaty Menu: Smith & Wollensky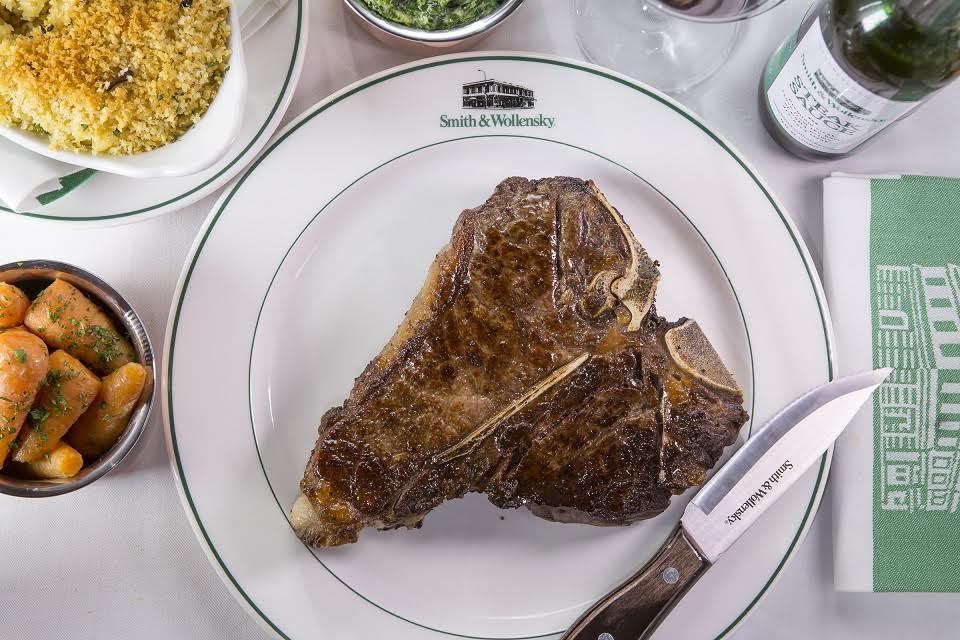 What: Steak your claim at Smith & Wollensky this Valentine's day with their exquisite five-course menu. Located in the historic Grade II-listed building just off the strand, Smith & Wollensky is a truly beautiful setting to spend an evening with your loved one. The boutique steakhouse's first opening outside of the US, guests can expect the warmest American hospitality, combined with USDA Prime dry-aged steaks alongside Scottish cuts, premium seafood and award winning wine and cocktails.
Eat: On the menu for one night only, guests will first be treated to an Amuse Bouche of cucumber stuffed with beetroot and mint jelly. A selection of starters follows with renowned aphrodisiac – oysters on offer, as well as hand-dived scallops with garlic and parsley butter. For the main course, Smith & Wollensky's speciality, steak, is of course on the menu in the form of a USDA Prime dry-aged 395g sirloin or a traditional beef wellington. Rounding off the menu is a sumptuous selection of deserts such as Champagne beignets and a red velvet gateaux.
Price: £68 per person for a five-course menu, excluding drinks.
Where: The Adelphi, 1-11 John Adam St, London WC2N 6HT
For Delicious Basque Cuisine: Eneko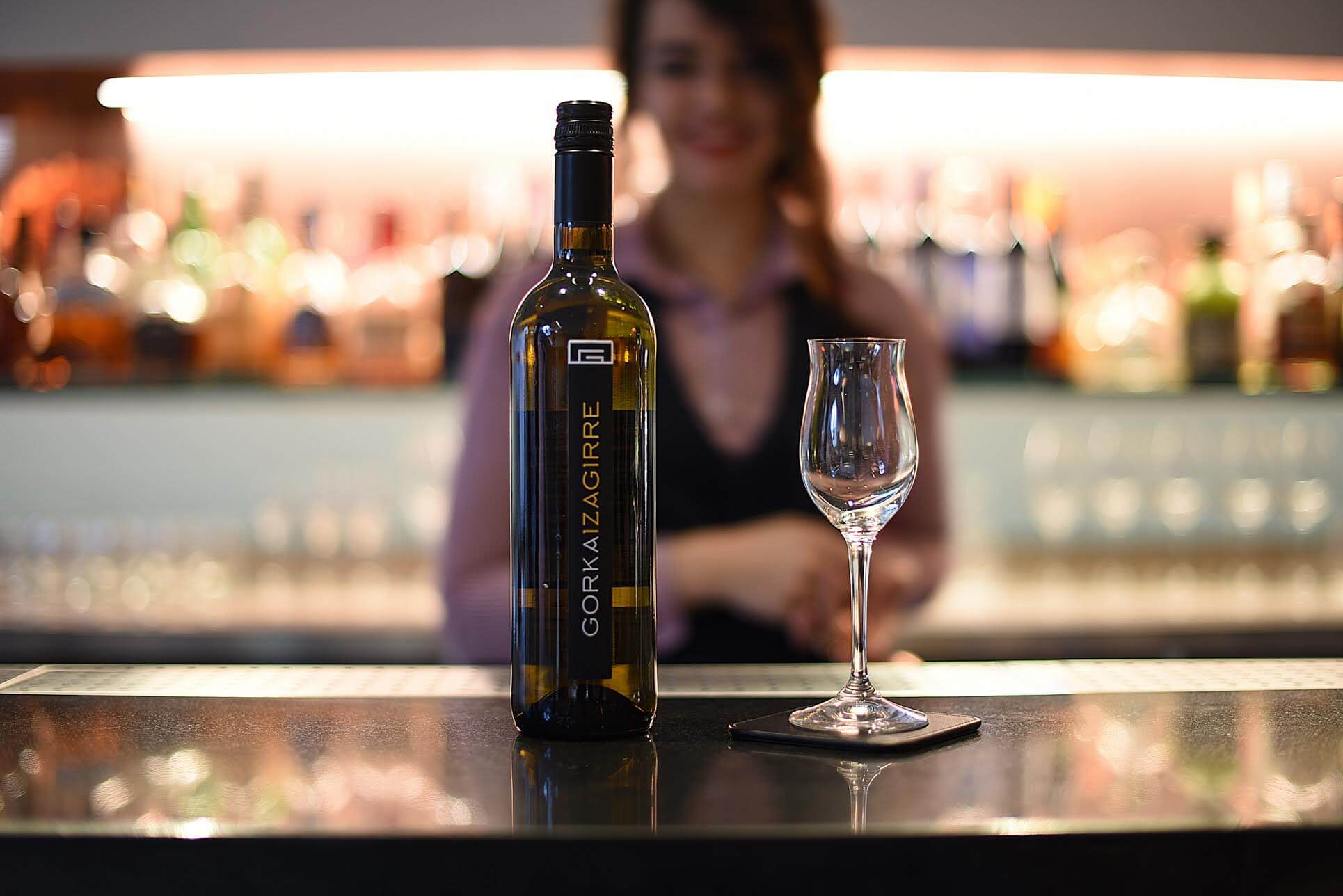 What: Spend this Valentine's Day in the heart of Covent Garden at newly opened Basque restaurant by three Michelin-starred chef Eneko Atxa. This five-course set menu features Eneko's innovative take on Basque cuisine and is paired with exclusive Spanish wines with some taken from his very own vinyards.
Eat: Showcasing the very best of Eneko's informal Basque menu with beautiful presentation, dishes on this special set-menu include his famous traditional Talo, grilled langoustine, Basque-style hake in tempura, seared duck breast with julienne of king oyster mushrooms and Basque chocolate passion. What's more romantic than a Spanish tasting menu with carefully selected wines by a three Michelin-starred chef with dishes inspired from the Basque country?
Price: £129 per person
Where: Eneko at One Aldwych, London WC2B 4BZ
Best Valentine's Day Menus in London: For Vibes
For Food and Live Music: Quaglino's
What: Experience a four-course bespoke Valentines Menu. The meal will be accompanied by four piece London band, Kings Parade, who will be performing a selection of original songs from their stunning self-penned collection as well as classic love songs covers in their own unique style. Exclusive cocktails have been created for the occasion including Eyes Wide Shut – a sharing cocktail featuring Gin Mare, apricot brandy and goji berries.
Eat: The menu is filled with natural aphrodisiacs. Dishes will include Colchester's rock oysters, beef tartare with confit peppers and Avruga caviar followed by a roast saddle of lamb or wild mushroom gnocchi with cime di rapa and hay smoked onions. Dessert is a choice of a sharing Melt My Heart chocolate and cherry dessert, or a strawberry cheesecake with meringue kisses.
Price: £75 per person including Amuse Bouche and 3 courses excluding cocktails.
Where: Quaglino's at 16 Bury St, St. James's, London SW1Y 6AJ
For Jazz and Food: 100 Wardour St

What: Soho's exciting dining, dancing and all round destination serves up its best 'Love in Soho' cocktail and an accompanying three-course which will include sides and an Amuse Bouche. Live music will start with the talented Refael Mirila, playing a mixture of smooth jazz inflected funk and soul covers of popular hits. Followed by a selection of jazz, blues and soul with Ray Charles classics from the amazing Jeremy Quartet from 9pm.
Eat: Menu with include a range of dishes including devilled oysters served with chorizo, lemon and chilli crumbs, a cured fillet of beef with fine bean salad and horseradish cream and pea shoots, followed by a roasted monkfish tail or an 18oz Chateaubriand, saving the best for last: desserts including a passion fruit, mango and praline vacherin or a warm chocolate fondant.
Price: £75 per person, excluding beverages.
Where: 100 Wardour St, Soho, London W1F
Best Valentine's Day Menus in London: For a Night to Remember
For Dinner on the Thames: Bateaux London
What: Cupid will swap his bow for a boat this Valentine's Day, with the most romantic dining venue in London. On Tuesday, 14 February, Bateaux London's Symphony vessel will take to the Thames for a dinner cruise, combining fine food with live entertainment against a backdrop of iconic sights, such as The Globe Theatre, St Paul's Cathedral, The Shard and the Houses of Parliament.
Eat: A reception glass of Champagne will be followed by a four-course meal, created by Bateaux London's chefs, with a selection of wine, beers and soft drinks. Dinner will begin with an hors d'oeuvre and a starter of mackerel pâté, smoked halibut and quail's egg will be followed by seared lamb with sweetbread, pea purée, fondant potato and veal jus with a dessert of dark chocolate tart with cherries and kirsch rounding off the meal.
Price:  Prices start at £145 and reservations can be made by calling 020 7695 1800, emailing reservations@bateauxlondon.com. 
Where: All Bateaux London cruises depart from Embankment Pier, Victoria Embankment and guests are expected to adhere to a smart dress code. Boarding will begin at 19.30hrs, with Symphony departing half an hour later. The cruise will last approximately three hours.
For a 5-Course Indian Menu: Trishna
What: A coastal inspired 5-course feasting menu, specially crafted for Valentines Day only, in the beautiful atmosphere of Michelin starred restaurant Trishna, Marylebone. The menu features Trishna's highly acclaimed seafood dishes and can be paired with an expertly chosen wine pairing or to make it an extra special occasion a Billcart-Salmon Champagne pairing.
Eat: Featuring the best coastal Indian cuisine, the 5-course set menu features dishes such as Nandu Varuval, soft shell crab, green chilli, white crab, tomato chutney and Kerala Seafood Curry with drumstick, raw mango, mustard seed and coconut.
Price: Trishna's Valentine's Day set menu is priced at £70, wine pairings with an additional £55 and Billecart-Salmon Champagne pairing with an additional £70.
Where: 15 -17 Blandford Street, Marylebone Village, London, W1U 3DG
For Sharing Plates: Malmaison London
What: Makes Valentine's a night you'll never forget with Malmaison London. Treat your date to the red carpet experience, starting with a cocktail on arrival then settling down for a taste of Malmaison's celebrity service and unmissable sharing plates. Whether you're staying the night or simply wanting to dine in style, enjoy the candle-lit brasserie and let Mal take care of the finer details.
Eat: Dine on delicious sharing plates that have been designed for couples that can't keep their hands off each other's food. Starters include chicken liver parfait and iberico charcuterie slate before dining on a succulent herb-crusted 8 bone rack of West Country lamb, followed by a hot Valrhona chocolate fondant soufflé – perfect for rounding off a night of romance.
Price: From £95 per couple with a free taster cocktail on arrival. Mal's Valentine's cocktail start from £9.
Where: 18-21 Charterhouse Square, London, EC1M 6AH
What: What better way to celebrate the celebration of love, than overlooking stunning views of London over a romantic 3 course menu. Exclusive cocktails for the evening ,will include options such as, the Valentine's Sunrise featuring a lychee mixed with Rose Liquor and topped with fizz and a sharing cocktail the Love Potion both which complement the menu perfectly.
Eat: Menu features sautéed scallops and bacon or seared venison loin and black fig followed by sharing plates of Lobster briand or a monkfish tail with rosemary and lemon, romesco sauce and purple sprouting broccoli. Finishing with a delectable dark chocolate and praline fondant, cherry compote and milk chocolate ice cream.
Price: £80 per person, including Valentines Sunrise cocktail.
Where: Madison – One New Change, 1 New Change, St Paul's, London EC4M 9AF