Fourth of July, one of America's biggest celebrations is just around the corner, so it's time for this side of the pond to join in the festivities and indulge in all the great flavours from the states. Frank's are essential to any Independence day cook-off, and this year, the team are helping Brits to create an authentic American feast. Time to cook (and eat):
All American Potato Skins with RedHot Salsa
Crispy potato skins with creamy, cheesy macaroni – 2 in one of your favourite things!  Using frozen jacket potatoes speeds up the cooking time but if you prefer, just cook jacket potatoes in the oven as you would and then scoop them out when cool enough to handle.
Serves 4
Prep time: 30 mins
Cook time: 30 mins
Ingredients:
4 frozen, ready cooked jacket potatoes, defrosted
125g dry macaroni
550ml semi skimmed milk
1tbsp. French's®  Classic Yellow Mustard
110g mature cheddar cheese, grated
150g tomatoes, seeded and diced
1 small red onion, diced
2tbsp. chopped parsley
2tsp. Frank's RedHot® Original sauce or Frank's RedHot® Chilli n Lime sauce
Method:
Halve the jacket potatoes lengthways and scoop out the flesh leaving half cm with the skin – you can use the potato flesh as mash another day.  Lay the skins on a baking sheet.
Preheat the oven to 200C fan.  Place the macaroni and milk in a saucepan over a medium heat and bring to the boil. Reduce the heat and gently simmer, stirring occasionally to prevent it sticking, for 7-10 minutes until just cooked and thickened.  Remove from the heat and stir in the mustard, half the cheese and the spring onions.
Spoon the macaroni cheese into the potato skins, scatter over the remaining cheese.  Bake for 15-20 minutes until golden and crisp.
To make the salsa, combine the tomatoes with the onion, parsley and Frank's RedHot® and serve alongside the skins.
Tip: For extra crunch scatter with French's® Crispy Onions just before serving.
Franks RedHot Peanut Butter Ice Cream Sandwiches
Make this no churn ice cream in a matter of minutes, ok then you have to wait for it to freeze, but it's so worth it!
Serves 8
Prep time: 5 mins
Freezing time: 4-5 hours
Ingredients:
150g crunchy peanut butter
200ml double cream
200ml condensed milk
1 tbsp. Franks RedHot Original Sauce, plus extra to serve
16 peanut or shortbread cookies
Method:
Place the peanut butter in a large mixing bowl and gradually mix in the cream.  Stir in the condensed milk and the 1tbsp. of Franks RedHot.  Spoon into a lidded freezer container and freeze for 4-5 hours.
   To make the cookie sandwiches, scoop the ice cream spreading it onto 6 peanut cookies.  Drizzle over a little extra sauce if liked, top each with another cookie and serve straightaway or freeze for a short time until required – don't freeze for more than an hour otherwise the biscuits lose their crispness.
Tip: Remove the ice cream from the freezer 5 minutes before scooping giving it time to soften.
Frank's Ultimate Buffalo Chicken Wings
The ULTIMATE wings recipe – the only way to enjoy them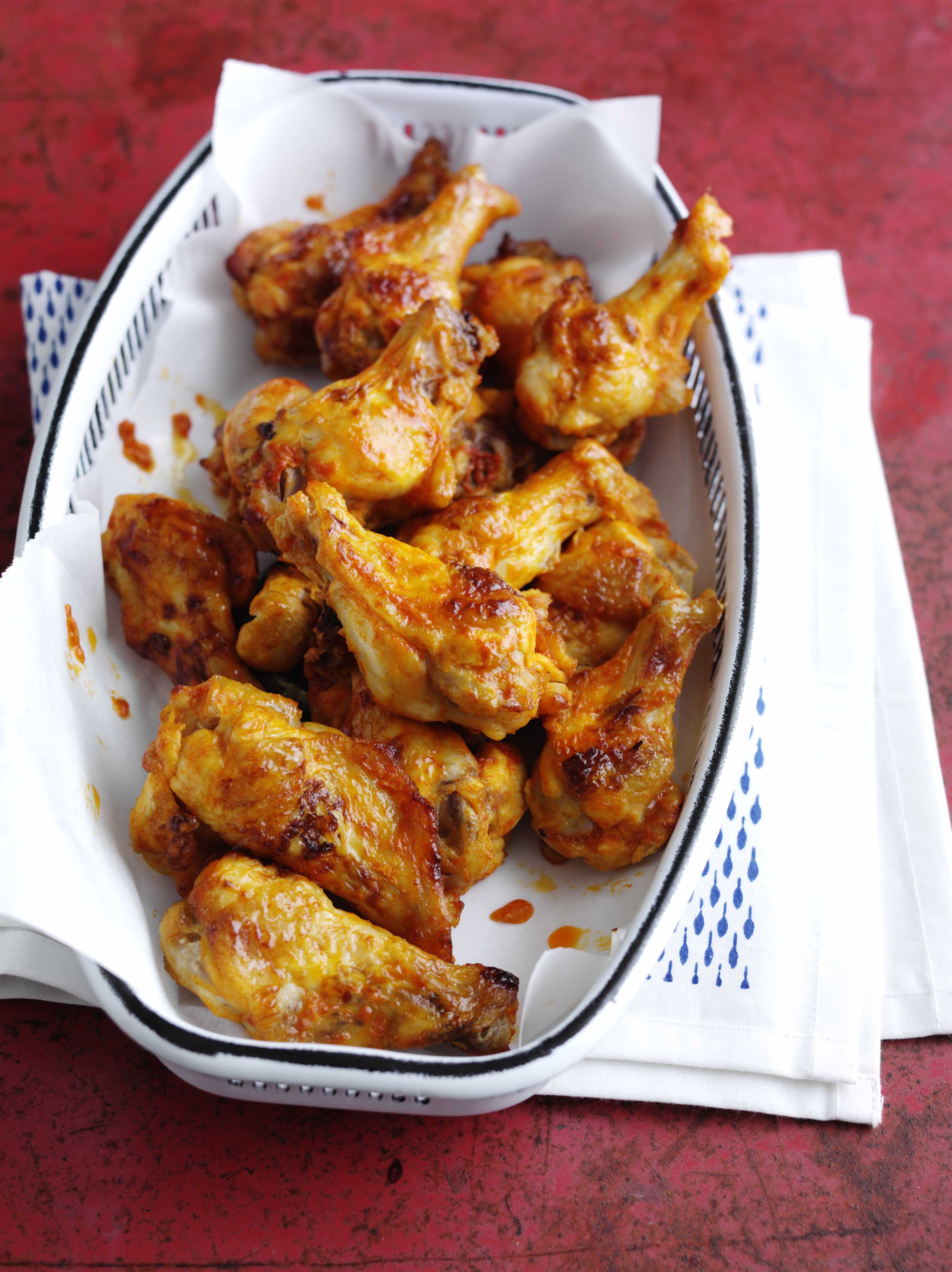 Ingredients:
175 ml Frank's RedHot® Buffalo Wing Sauce
1.25 kg chicken wings
Method:
Pre-heat the oven to 260°C.
Bake the wings in a foil-lined pan on the lowest oven rack for 20 to 25 minutes until crispy, turning once.
Toss wings in sauce to coat.
Alternate cooking methods: Deep-fry the chicken wings at 190°C for 10 minute, or BBQ over medium heat for 20 minutes, turning often.
Tip: You could combine 125 ml Frank's RedHot® Original Sauce with 75ml melted butter, to create an authentic American flavour for the Buffalo Wings Sauce.